These days the trend of piercing and tattoos has increased a lot. For some people, it has become more like an addition and as a fashion statement which they can flaunt in front of others. It is more like a gateway drug that many people in the world of piercing would want to do. Definitely to get a piercing is not an easy job. You have to consider its pros and cons and also understand whether it suits your body. You have to keep in mind that such type of piecing is quite painful and a daunting task. But once you understand the depth of pain which you will have to bare, later you may not come across the same.
The piercing which is ruling the most:
There are different types of bodies where piercing can be done. In research, it has been also noted that people love to get their genital parts pierced. This obsession of piercing someday might not even be trending but people who are keen to do this must understand the safety measures and the care which needs to be followed. Of all the piercings and modifications that are done on the body, cartilage piercings are the common one. It gives a unique experience in terms of pain, looks and also the style. If you are a beginner and wish to start with a piercing on your body part then you must opt for cartilage piercings provided it suits you because it is one kind of a long term investment that you would be doing on yourself.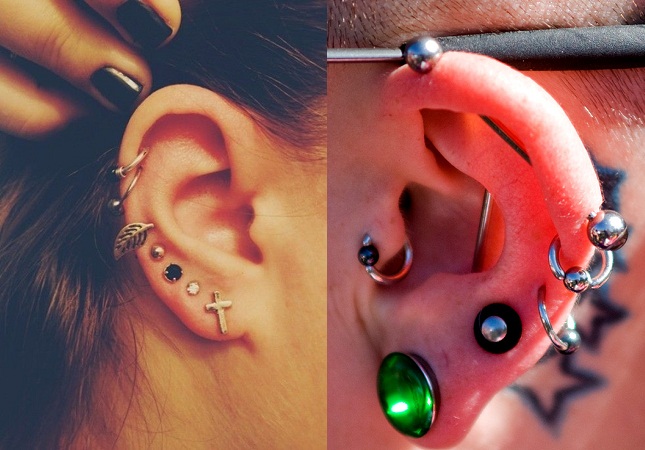 What are cartilage piercing and its types?
The cartilage is located in your nose and ears which are the harder than your flesh but is also soft than your bones. It is a tough tissue which is quite flexible and is located around the ear and nose area. It can easily be pierced and can be less painful but may create certain discomfort at the beginning as the foreign object is attached to the body. However, every spot of ear and nose has a particular name of piercing which many people usually do such as Helix piercing is a part of the ear while nose tip is the bottom of septum located at the nose.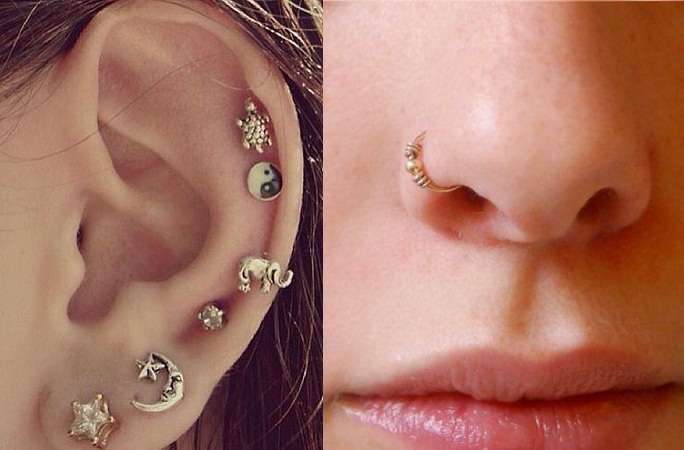 Ear Piercings: As compared to any other part of the body, ear has got many cartilages. Talking of which, it contains the soft fleshy lobes which are located at the lower part of the ear.
Nose Cartilage Piercings: Just like ears, the even nose has got many cartilages and is considered to be quite fashionable to get pieced. If you feel your nose in a careful manner, you will understand that it has certain parts that are flexible till the bone of the nose begins.
Understand the reason to get cartilage pierced:
There is no doubt that piercing is trending these days and if you want to do cartilage piercing done then you must first be sure if it is suiting your personality or not. There are some dainty and extreme piercing as well which some people chooses as their life personality. The trend of piercing has increased more since the 1990s simply to enhance the look. Cartilage piercing not only looks enticing but also gives a better way of self-expression while some do it as a part of healing. Some people also do such type of piecing as a mark which creates the most important event in their own life.  By choosing a right area you can keep it a secret and stay happy within yourself or flaunt it with some great accessories as well.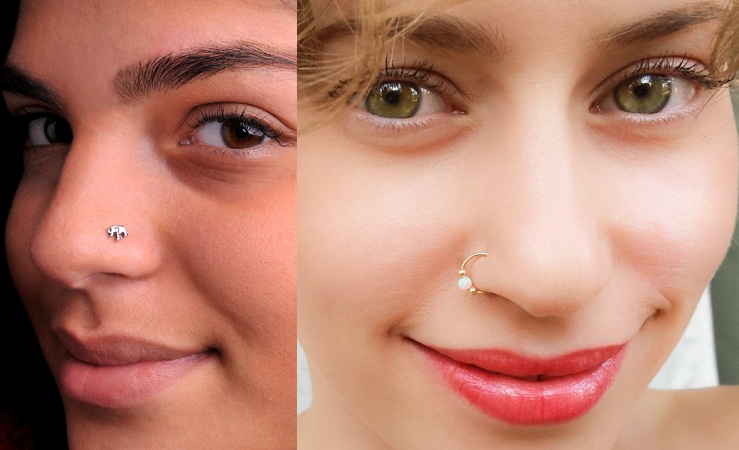 How to get the cartilage piercing done?
There is no hard and fast rule to do this type of piercing but as you undergo this process you have to make sure that extra precaution is being followed in terms of health and hygienic condition. Cartilage part consists of the fleshy skin but along with the connective tissues which make the entire area surrounding a little hard. It is necessary to make sure that such type of piercing is done only by the expert who has done this job previously to avoid future complications.
The piercing is done with the help of a gun which is helped for getting different ear and nose parts pierced. The area is little clamped and then pinched that the insertion of the needle does not become a difficult process. While the needle starts piercing the cartilage, there is a plastic shaft which leaves behind in which the jewellery can easily be inserted. This shaft is then later removed so that jewelry can be properly inserted.
Things to do during a cartilage piercing:
As compared to other parts of body piercing, this is one of the easiest parts as it does not cause much pain. It is comparatively easy and can be safe only if you follow certain things such as:
You need to wash the area of the piercing which needs to be done well with water or using the saline solution.
You can let the gentle shower water also run over the area and ensure that the soap from the shampoo cover it
While making the area dry you have to pat it well and then apply the hypoallergenic jewellery which would easily fit the pierced area.
It is also necessary to make certain healthy lifestyle changes such as eating more food rich in iron and have a proper sleep as it helps to reduce the pair. You must also work out regularly so that a strong immunity system gets build up to fight against infection.
Things to avoid while getting cartilage pierced:
There are many things that you need to avoid while getting such type of piercing to increase the chances of healing process such as:
You have to make sure that you don't touch the pierced part frequently as it increases the chances of infection.
You need to stop using any harsh soap or cleaners that make the area pierced rough or more prone to infection.
After piecing, you need to stop swimming for a while as the chances of infection are quite high then
Quit smoking and reduce the intake of alcohol to ensure that your body don't come across any kind of irritant or fluid which increases the infection chances.
Frequent twisting of the piercing may break the crust which is a necessary part of healing process.
The healing process and time:

Every body part has a different healing time and may take certain span to get healed from the root. If the piercing of tongue, inner Labia ear hood is done, it may take approximately 2-8 weeks to get healed while eyebrow, earlobe, and nostril make take around 2-6 months of healing time.
Now that you have understood everything about cartilage piercing, make sure you choose a right expert and then go ahead with the process. The person undertaking such job of piercing must have a good experience and knowledge about the same. Also, the person must ensure that such type of piercing is done while maintaining a good hygienic condition. Eventually, it is one of the most delicate parts of your body and you have to make sure that you choose every step from the selection till the method used in a right manner so that you don't have to repent of it in near future.