Kurti has become a part and parcel of dresses that the women are fond of. And when you think of something stylish to get a cool look, you will get a variety of kurtis in the market. Both the traditional stores and the online portals are flooded with these kurtis and they are available at prices you can easily afford. Just below Rs. 5oo, you will be able to get a vast assortment of kurtis and you will be able to liv up to the popular trends when you have such a good collection at hand. Affordability and price complements each other and you will be able to get in touch with some of the best looking and feasible clothes when you buy these kurtis.
Here are some of the kurtis which will come within your budget and you will be able to get a great look when you avail these.
Varanga Black & White Solid Kurti: This is a classy style by which you will be able to bash up the look. The black and white combination presents a good contrast and this is popular among the film stars. You will get it within your budget and wear it as a casual wear. People have loved this one due to its simplicity and elegance.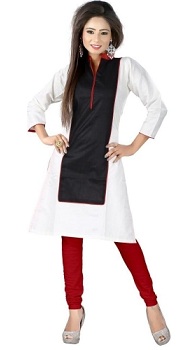 Abhishti Pink Art Crepe Boat Neck Kurti: This is one of the best outfits that you can wear on a date. When properly paired with leggings, you can wear it as a formal dress as well. The bright pink colour can be matched with white leggings. Apart from that, you will get a nice look if you prefer to get in touch with a tight legging. The boat shape at the neck is the best feature that you will get.

Aks Peach Printed Kurti: This one goes well with ankle-length types of denims. You will really enjoy a good look with the peach colour. There are designs in white and internal arts that will live up to your taste. You will really get the right combination when you wear it with a dark green legging.

Yepme Multicolor Sleeveless Printed Kurti: This is one of the best outfits that you can wear at your office. There are nice combinations that you can wear with leggings and jeggings. The kurti looks like a tunic as it is sleeveless and goes well for formal purposes. Apart from that, you will be able to get a great taste with the elegant colour that it presents to you.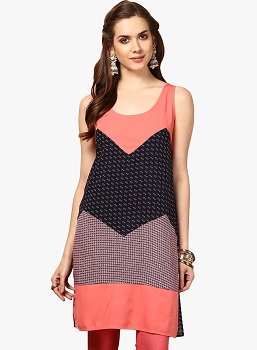 Aks Blue Printed Mandarin Collar Kurti: The design at the neck is what you need to lookout for. This goes well with narrow leggings and jeans. The blue colour of the kurti matches the jeans and jeggings perfectly. With the slight red combination, you will get one of the best looks when you consider the contemporary trends.
Aks Blue Solid 3/4 Sleeve V-Neck Asymmetric Kurti: If you are seeking a change from the traditional wear, you just need to switch to this style. There are several variations of this asymmetrical kurti, and it comes to you with a V-neck. When you consider the styles, there is no end to it and you will like to experiment with all the possible varieties available to you.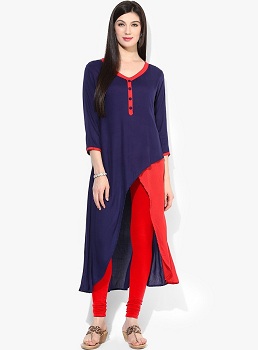 Abhishti Black Art Solid 3/4 Sleeve Crepe Kurti: This is a rare piece of kurti that you will not find everywhere. The asymmetrical kurti will come in black colour and look like crepe. Apart from that, you will also like the bottom strip of colour.  There are different strips of colour that are placed at the bottom, including blue and orange that match well with black.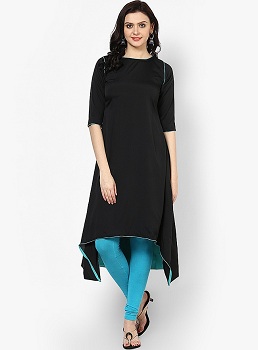 Ives White Striped Sleeveless Straight Kurti: This is an amazing combination of black and white and goes well for people with thin figures. The strips which are drawn here are narrow and you will like the outfit when you look for a casual wear. There are two options for the leggings. You can go for the black or the white ones, depending on your choice.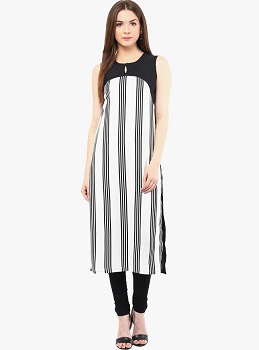 Riya Orange 3/4 Sleeve Solid Kurti: This is actually an A-line kurti that has gained a lot of popularity in the market. It comes to you in orange colour and you can pair it up with a black legging or blue jeans to get the desired look. With the classy look, the quarter length sleeves go well and you will definitely get a great look when you count on this particular variety of kurti.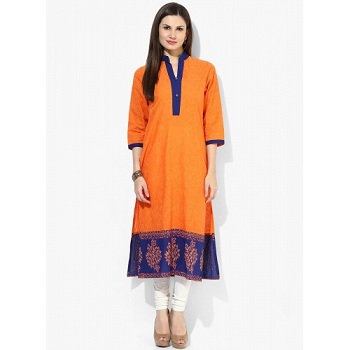 Shree Cream Printed Cotton Kurti: This is one of the best colour combinations of kurtis that you can avail from the market. There are bright colours like cream and blue and you will really love the combination. There are other accessories that you can bank on when you have this particular look, and the best option is to go for matching black footwear, that will enable you to get a great outfit.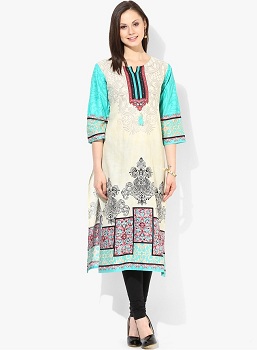 Libas Black Printed Ankle Length 3/4 Sleeve Kurti: When you look out for the best outfit to wear to a party or a friend's house, all you need to do is to bank on this kurti. This goes well with flared trousers and you will definitely like the designs that it presents you with. There are floral designs that you can avail, and the ankle length kurti can be perfectly matched up with a black legging.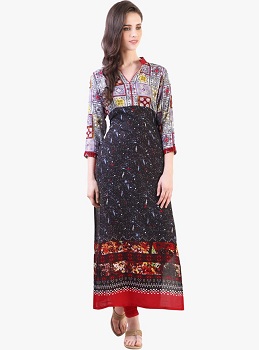 Sangria Blue StraightKurti: There are a number of options as far as the bottom wear is concerned when you wear this kurti. The kurti can be perfectly matched with narrow legged jeans or a legging. You will find this comfortable if you have a thin figure. People with rectangular face-cuts and elongated body shapes will find the perfect match in this kurti.
There are a number of options open for you. These are the most popular trends that are found in the market. You can customize them according to your choice and aptitude and enjoy a good deal of clothing accessories along with them.
Things to remember while trying the latest style kurtis
While making the selection of Kurtis there are certain things which you need to keep in mind.  It's a fact that all kurtis will not look perfect on all and so you need to pick the one which is just too perfect for you. Points which you need to remember while making selection of kurtis:
Your complexion: If you are having a dark complexion then don't try light coloured kurtis as this will highlight your skin complexion which will create a messy look. For dark skin it is always best to go with dark colors. If you are fair complexioned then any color will suit you.
Your Figure: If you are having a slim fit body then kurtis made out of any fabric will match your personality and figure well. But in case you are having a hefty figure then does try such fabric which doesn't create a fatty appearance. For tall figure go for 3/4th sleeves kurti as it will make the lady look perfect.
Accessories: Too much accessories and jewelleries will not go well with kurtis. Keep the accessories simple and elegant and this will give you a classy look which will be appreciated by all.
It's a known fact that low priced kurtis are best suited for daily use and especially loved by college goers. Keeping in mind the demands and expectations of the college girls the fashion designers are coming up with latest trendy designs kurti below INR 500. If you can check online you will get to see that the leading online stores are having the best collections of kurtis of this range.  If you are looking for tailor made kurtis for you then you check the designs online and get the same design stitched by your tailor on your favourite fabric.
Shopping online is fun as here you will get the many designs under one roof by the leadings brands in the market. You need to pick the kurti of your choice and add it in cart. After adding in to cart you need to proceed for making the payments using either your debit or credit card. Once paid the price of kurti you will get an intimation in your mobile and registered mail ID. The product will get delivered at your doorstep within given timeline. We are sure that you will look like a Diva in your selected kurti. If you are confused as which kurti will look best on you, the take suggestions of friends or mother. They will help you to make the right choice within budgeted price. Don't compromise on quality as there are many brands which are offering superior quality kurti within INR 500. Designs are many and you can easily pick quite a few online for your college. We are sure your parents will not find to provide the money to buy some exclusive and budgeted kurti for your college days. Search online today and pick the best kurti for you.