Style and comfort seldom come together. The most stylish and fashionable outfits are, most of the time, not as comfortable as to wear for long hours. On the other hand, highly comfortable clothes, in most cases,lack style. So, if you are desiring to wear something which is a combination of both style and comfort, you must go for a long split tunic. Even in the hot weather, it provides you with the soothing touch of air as it is split on the sides or in front. And showing a little skin on the sides, it makes you look all the more stylish and sexy.
You get a variety of this stuff:
Certain outfits do not go well with every body type and size. Moreover, one can be very choosy about the look and the aura of a particular style-wear. But there is nothing to worry about when it comes to split tunics. There are myriads of designs available to satisfy various preferences. There are a large variety of these tunics varying in texture, color, design, the material of the fabric and so on. Thus, a split tunic can occupy the cupboard of anybody.
A touch of elegance with a dress-over-a-pant look:
Although the style and elegance of a dress are always coveted, it is not always possible to wear one on casual days. The modern daily life doesn't afford the aristocracy of wearing a long dress every day. But that desire can be compensated with a long split tunic which gives you the dress-over-a-pant look. When pants are your daily companion, it is wise to make it look interesting and somewhat elegant with a kind of a dress over it. A long tunic can give you this look added to which is the comfort of the sides being split.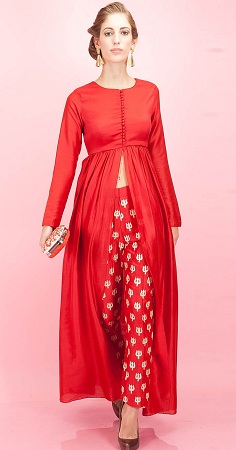 Wear it with shorts for the sexy look:
While on one hand wearing a split tunic with your jeans and trousers can make them more interesting, on the other hand, it can give you the sweet and sexy look you covet if you wear it over shorts. On hot summer days wearing a full-length pant is a way to uncomfortable and boring. To enhance your summer look you can wear a chiffon-paneled semi-transparent tunic over shorts. You can also wear it over a bikini to give your beach look a new twist. After all, the beach is one of those places where you explore the summer fashion!

Split front tunics:
If you find side split tunics way too clichéd and want to experiment with split tunics, you can go for the split front tunic. Instead of the two sides being split, a split front tunic either has only one slit in the front parallel to your left leg (usually) or two slits, one of them being in the front parallel to your leg and the other being on the side like that of a side split tunic. It can even have only one slit from above your navel descending down below your knees forming a v-shaped look. This not only gives you sexy look but also brings about a variation while exploring long split tunics.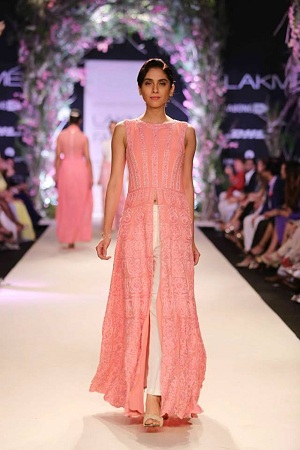 Get cool with the side-slit tank tunics:
If you do not prefer the formal tinge of the usual tunics, you must choose to wear the side slit tank tunic. This is a fusion of an informal tank top and long side split tunic. The material, texture and the design of the tank tunics have the cool and casual look of T-shirts, making it comfortable to wear. But at the same time, due to its length and split sides, it has an unusual look that a mere T-shirt or a tank lacks. These tunics are the best ones for those whose style statement is all about being cool and casual.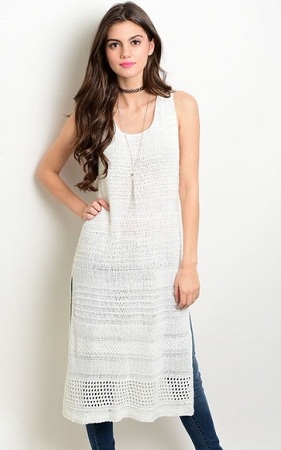 Go lacy:
If a sensuous look is highly desired out of a long split tunic, the best option is to try out the huge collection of lacy mesh tunics. The texture and look of the mesh make a long split tunic all the more sensuous and charming. It can steal away the attention of others at once. The various patterns and motifs created by the network of laces can make it even more attractive. So, there are lots of options and possibilities of exploring the several designs of lace tunics.
Choose your favorite color:
Split tunics are available in as many colors or shades as to satisfy all the color preferences. If you like to wear bright and colorful clothes, you can readily go red or blue or green with the various shades of long split tunics. These tunics will not only fit any size or body type but also whet your appetite for colors. So, if you are a color freak you can celebrate a rainbow week with seven long tunics of seven different colors.
Want to get a printed one?
If you find plain and monochromatic clothes too boring, you have a have a lot of options to explore printed tunics. You get myriads of print patterns such as the floral print or the tribal print on your favorite side split tunics which can do away with the plain and blunt looks of the usual old-school tunics.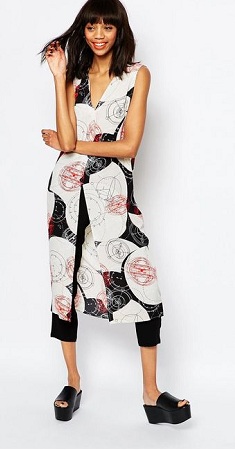 Highlight your curves:
Possessing a beautiful and sexy body is not enough unless you enhance it with the right outfit. One of the best means of highlighting and enhance your physique is by wearing a split tunic. The slits on the sides show your toned waist making you look all the more attractive and hot. Wearing a split front tunic with shorts can enhance the look of your sexy legs giving you a bold presence altogether. So, it is time to explore the possibilities of the body with long split tunics.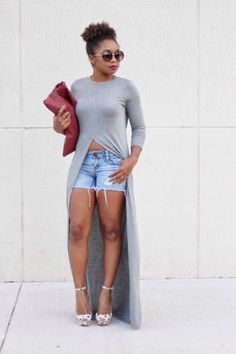 Typically, a comfort wear of ancient Greece and Rome, tunic has stood the test of time and has evolved through ages to be found in a myriad of designs, colors, prints, and patterns. One of the most popular and elegant looking of them is the long split type which is found in various designs. The variety and the longevity of its existence explain its reception by a huge number people across the globe. So, why not explore this most coveted combination of style and comfort right today?