Women these days are quite conscious about what they are wearing and the latest trends in fashion. Working women especially needs clothes for everyday wear. They need clothes that are extremely comfortable yet quite classy and can be worn at formal places. It is said that be picky about your clothes and it is quite rightly said. If you are a woman then you would know how important it is for you to dress light and dress right at all occasion.
India is one of the most popular markets for fashion nowadays. People have become quite conscious about what they wear and when they wear. Fusion clothing is very much in swing and ladies are paring up western clothes with urban ethnic pieces and making a fashion statement for themselves. Well these fusion clothing is quite interesting and it is a mix-n-match trick that makes you look uber cool.
You need a wardrobe that plenty of mix-n-match clothes. This helps you to have more clothing options than you actually buy. There is no need to have separate pairs of tops and bottoms. Rather a collection of tops with a few pairs of bottoms can actually help you make a whole wardrobe. All you need is an eye for those little details.
Kurtis
If you are thinking that tops only belong to western wear then you are quite wrong. Ethnic wears also consists of some great variety of ladies tops. Yes, kurtis are quite in fashion these days and the Indian market is flooded with these ethnic Indian long tops in a variety of cuts, styles and a spectrum of colours. You have plenty to choose from and they are available in abundance. So if you are looking for long tops which are in fashion these days you should have a few kurtis of latest styles and designs.
Kurtis generally comes in a straight cut with round neck. You can have the option of having a small opening with button on top. Kurtis are long tops that help you cover up all those places that you do not wish to flaunt. Kurtis are best worn with leggings. However you can also wear them with long flowing skirts and jeans.
Tunic tops
When you are searching for long tops that are really comfortable and looks stylish then you should go for tunic tops. Tunic tops are great for women of all ages. These tops have a specific style that makes you look more feminine. The delicate cut of the tunic gives your body a nice fall. Tunic tops are often associated with belts in the middle. However you can do without the belts too. Previously tunic tops were mostly worn by teenagers and young adults. But nowadays with more and more styles coming up in tunics women over 40 are also wearing these tops paired up with leggings.
Casual long shirts
When you are looking for a long top that is formal yet comfortable enough to go as a casual wear then the best choice for you would be long shirts. Yes, long shirts are very stylish and classy and they look good on every woman. The long shirts can be used for regular office use that gives you a formal look with collars and full sleeves with cuffs. You can either tuck this shirt in or keep it loose for a more casual look. Long shirts offer great comfort and are available in georgette, cotton and chiffon fabric to be worn in summer mainly. Satin long shirts are also available for a casual party look.
Blouses
Blouses are the most favourite among women when it comes to choosing a top. Blouse tops have come a long way and nowadays you can find thousands of designs and cuts on a blouse top. Long blouses are quite in these days. Gone are those days when you would need to tuck in your blouse inside your skirt and keep it firm. Blouse tops have gone long and casual and thus more and more women are opting for their most favourite blouses that are long and offer great comfort in wearing. Long tops can be teamed up with formal trousers, palazzo pants and leggings.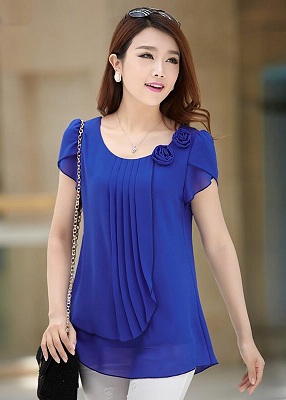 Asymmetrical tops
This is the new kid on the block for women who love long tops. Asymmetrical tops are long tops with uneven edges. Usually these tops are thigh length with two side hanging till knew. The asymmetry makes these tops really trendy and stylish. These tops look great on young women with knee length boots and fitted leggings. Lot f women may choose not to wear a bottom and just the knee length boots which looks absolutely cool.   Asymmetrical tops are very fashionable and can be worn at parties or just a cosy date night.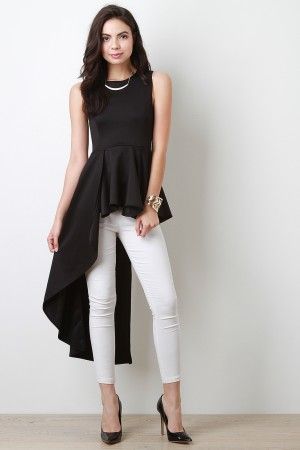 Long sweaters
When it comes to long tops we generally discuss about summer tops. But one of the most fashionable among all the long tops that are available in the market in the long sweater. Long sweaters are highly fashionable and they are mostly available in turtle necks. These tops come with short sleeves so that you can layer it with a full sleeve t-shirt underneath. These sweaters go till knees and all you need is a pair of leather pants and boots to make yourself look fabulous this winter. Thermal leggings can also look good with these tops.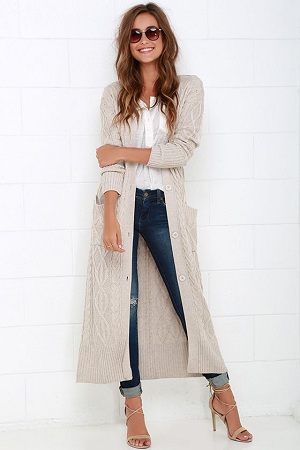 Conclusion
Ladies tops are a must have for all women. Whether you are living in India or anywhere else in the world you will need a good collection of tops to team up with your jeans, skirts or shorts. Long tops are hugely in fashion these days and it also makes you look chic and classy. Long tops are suitable for all body types and so you do not need to have that perfect figure to wear these tops. The best thing about these long tops is that they look good on all women and they can also be teamed up with all types of bottoms.