Whether on a day out with your dear friends or at a festival, kurtis has always been one of the classiest and most ethnic garments. Different kinds of designed kurtis are now available in the market and they definitely can offer you the stylish appearance that you wanted for every occasion. You have the casual kurtis that goes perfectly well in a casual situation or day out like shopping with your close friends and you have the ones also which suits you simply the best on a traditional festive evening. One of the most famous kurtis are the ones those are made of the georgette material. The gorgeous look and the sheer texture of these kurtis are completely able to steal all the attention of the onlookers away. Thereby, its time to know something more about the georgette kurtis!
Comfort and style:
If you prefer the touch of elegance and ethnicity in your outfit, perfect attire for you will be these georgette kurtis. At the same time, it is stylish and comfortable as well. It's totally free from all the issues which are related to other ethnic garments like managing a lehenga or saree draping. You can wear kurtis in no time simply by putting them over your jeans or leggings, and you are totally prepared for the day with your ethnic appearance you wish. Hence, it's really an appealing combo of elegance, comfort, and style.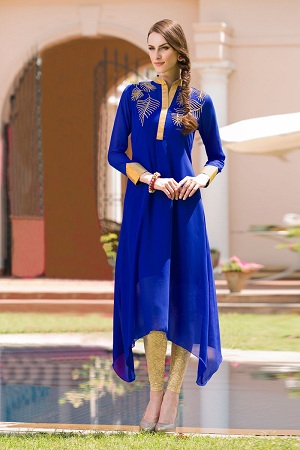 In all possible shades and colours:
Various shades and colours can be explored while choosing these kurtis for your own wardrobe. The online stores are filled with these exclusive kurtis of various shades and colours. So, there is no better substitute of a vibrant coloured kurti. Additionally, you can try the printed as well as the multi-coloured ones for adding to the grace of the georgette kurtis. Designers are showcasing a lot of georgette kurtis with some creative innovations like floral prints. Thereby, you are going to have lots of options for experimenting with some unique kurti designs and finding out which prints and colours are just beyond perfect for you.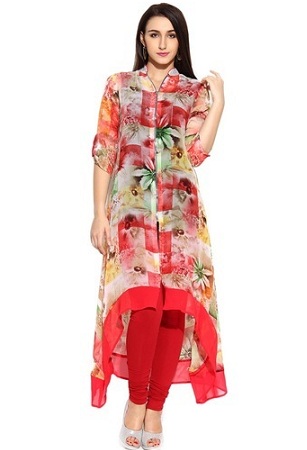 Embroidered kurtis:
The georgette kurtis are not just available in different colours and prints but in sophisticatedly embroidered designs as well. The elegant thread work on the georgette's semi-transparent base makes appealing patterns as well as motifs which are able to draw the attention of all your dear friends and getting the gratitude of the spellbound watchers. So, if you still have not decided what you will wear on a particular occasion, it's the time for exploring the most unique and innovative embroidered designs of the georgette kurtis available on the web for making your festive season special.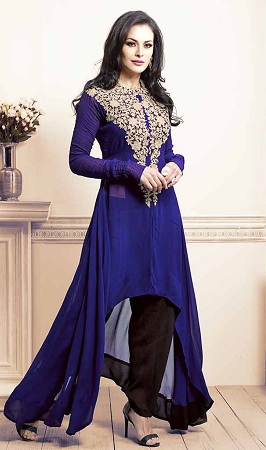 Different designs and shapes:
There are numerous options open to you for picking among the different types of fit as well as designs of your kurtis. Based on your own choice you can select a tight bodycon kurti or a straight fit long kurti. Well, the experiment can be done also with a sheer georgette jacket wearing it over the kurti for giving yourself the majestic as well as ethnic look which goes perfectly well with every formal occasion.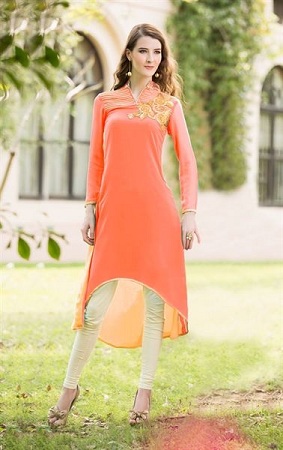 Conclusion
So, with these lots of options available online you can simply make both your festive seasons as well as your regular life sensational and charming. So, do not just wait anymore. Now you just need to browse online stores to check out the collection of georgette kurtis in order to find out the perfect one for you. You are simply going to be mesmerised with these gorgeous collection for sure.
Happy shopping!