Going on a vacation, visitors coming home to stay or it is that special occasion, wear these stylish pajamas for a sleepover.
Get spoilt for choice and comfort, browse through these varieties and buy pajamas for women online at best price.
Pajamas are more comfortable as nightwear due to the freedom of movement it gives us compared to full-length nightgowns.
There is also a choice of materials. One can choose whether a thermal or cotton, rayon, polyester-cotton choice of material that you choose depends upon your comfort level, the season; for example, in summer, you could select a cotton pyjama. During winter, a knit cotton, thermal or fleece. For a special occasion, you could choose between rayon silk or even Satin. Satin has a richness to the feel of the material.
Depending on your preference, you can choose a wide-legged pyjama or a narrow legged pajama. The pajama length depends on your use, like ankle length, three-fourths, sleep bottoms above knee-length shorts or maternity.
There are a variety of prints one could choose from, whether it be jungle floral Halloween or valentine. Stripped, printed, or plain colour pajamas can be paired well with a comfortable tee. Wear the pajama with a cropped top or a camisole. You could, of course, use an overcoat or a housecoat or even a tee-shirt to wear over it or as loungewear in case you are conservative or need to present yourself in front of other members of family or friends.
The colour of pajamas that you could choose from are the darker shades of blue, brown and black. For a maiden look, pink, red, white background printed pajamas also look good. Pastel shades that are light colour are more suited considering that light shades have a mild and suiting effect, ensuring a good and relaxing night sleep.
Here are a few suggestions for some stylish PJs for a sleepover-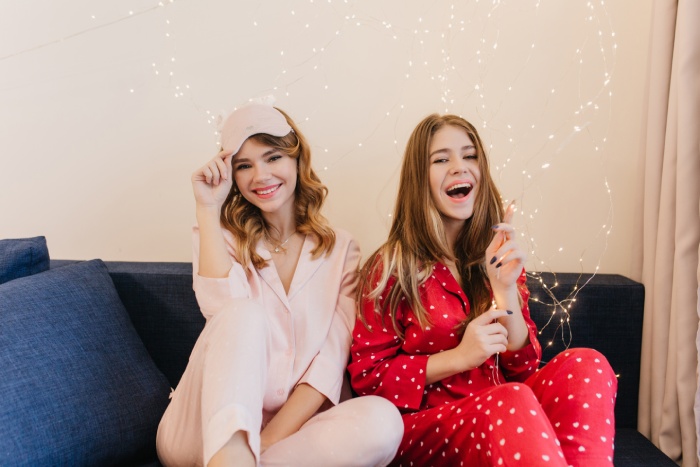 Sleepover with friends – ankle length pajamas with matching top and layered with robe or overcoat of the same fabric and shade. Preferably pastel shade.
Sleepover with loved one and spouse – you could pair a lacy top or camisole with a short above the knee length pajama.
Sleepover with kids – three fourth pajama with a tee works best. You could plan a Halloween or Jungle theme with an appropriate bedtime story for that feeling to make them feel special.
Sleepover at a relative's place – full-length pajamas with a camisole, tee-shirt, or a cotton loose sleepwear top. Do pair it with a robe.
The list can go endless on what style to wear according to what occasion or location. You can feel free to choose the fabric that makes you feel comfortable. Keep the shades lighter in colour, keeping in mind you have to go to bed, and the colour and material should have a relaxing effect on you.
Once you browse through these pajamas for women online, you will not wait for any event or sleepover to wear them. Every evening will be special, and celebrate every day of your life, buy these pajamas for the best price online.