Gone are the days when tattoos were a man's business. With the ever-increasing popularity of body art, the trend has also made girls fall head over heels for it. Nowadays, more and more ladies are opting for getting inked, which is certainly not only to follow the drift but also to express themselves through their body arts. Though most girls are comfortable with cute, chic, or elegant designs, there is also high demand for bold and quirky tattoos. Minimalist-style tattoos are also pretty voguish these days as many girls prefer them over the ink-heavy ones due to lesser pain, ease of coverage and affordability.
However, it might be tricky for a girl to select the right tattoo design that will match her personality and enhance her style the right way. Well, we have got you covered, ladies!
Find below 15 highly impressive tattoos for girls that will stay in style and make you look ravishing across years:
Sensational Butterfly
Butterfly tops the chart of the most popular tattoo designs for girls. This small and colourful creature makes striking tattoos and women simply cannot help but get fluttered by it. Typically, a butterfly symbolises the transformation of a girl into a lady, which is utterly graceful and forever elegant. Whether it is a simple subtle outline of butterfly with a delicate touch of colour or a lavishly inked one with an abstract design and bold appearance, a butterfly tattoo always looks stylish, sensual, and sexy. You can choose the back of your neck, shoulder, wrist, belly, waistline, hip, ankle, and even chest to place your classy yet cute butterfly tattoo and make a chic statement.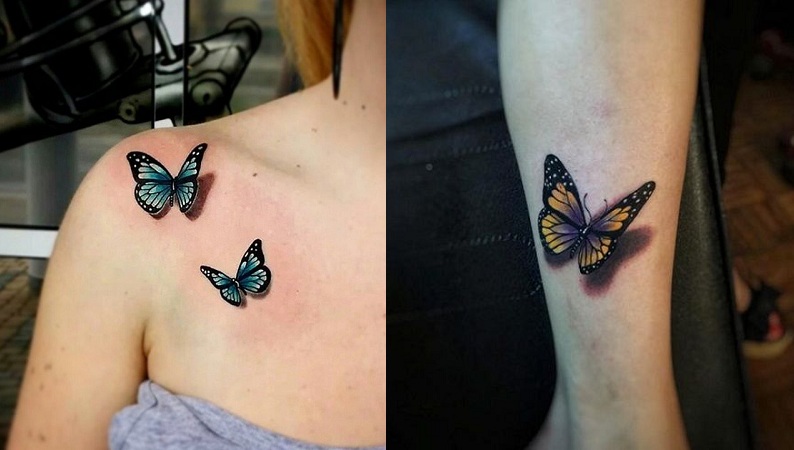 Catch Your Dreams
Dreamcatchers have become extremely popular in the body art industry due to their strong historical and cultural meaning along with their amazing aesthetic appearance. The symbol of American Indian heritage features an eye-catching willow hoop decorated with a woven mesh of Mandala flowers while delightful feathers and beads hanging from it add to its underlying beauty. Place this highly detailed design on any part of your body and see how it works like a charm to 'catch' your good dreams!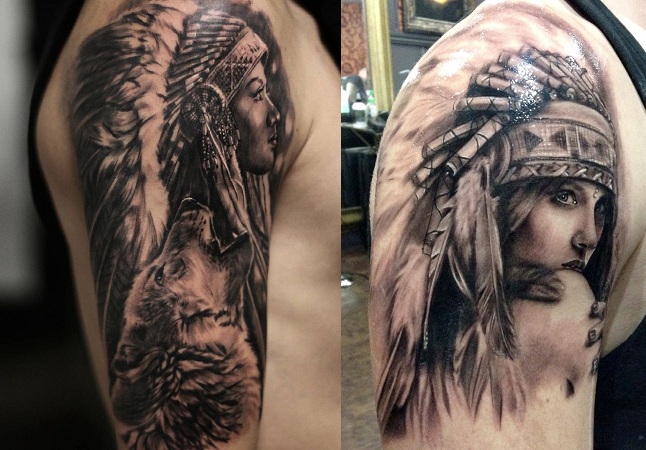 The Floral Vibe
Flower tattoos are beautiful, refreshing, and super girly. They become even more enchanting with not-so-elaborate blooms and intertwining stems. Most of all, with so many scopes for experiment with the type, designs, and colours of flower, you might truly feel spoilt for choices. All you need is an artistic impression with a hint of shades to make your lovely flower tattoo stand out on your inner wrist or shoulder blade. Rose is the most admired one, which exudes utmost poise and has also been known to stand the test of time. Some other trendy options are sunflower, dandelion, daisy, gardenia, etc. A floral tattoo mainly signifies delicate love and elegant beauty. However, it can also stand for the personality traits, month of birth, or place of living.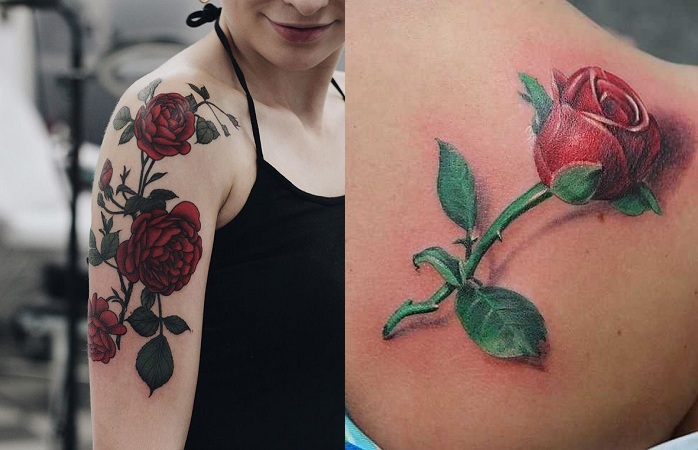 The Blooming Lotus
Here is another gorgeous version of floral tattoo design. No matter from which part of the globe you are, the splendour of a blooming lotus right on the skin is sure to grab your eyeballs. Lotus tattoo designs are not only aesthetically pleasing, but they are also quite rich in significance. Though the meaning of these tattoos can broadly vary based on religion, the colour of the flower, or the way of depiction, a lotus traditionally signifies 'purity and divine beauty'. Moreover, if the tattoo is designed with the leaves unfolding gradually, it basically indicates the enlightenment of soul as well as the awakening of spirit. Embrace the beauty and femininity of lotus by getting a tattoo at the centre of your back or on any other part of your upper body as per your preference.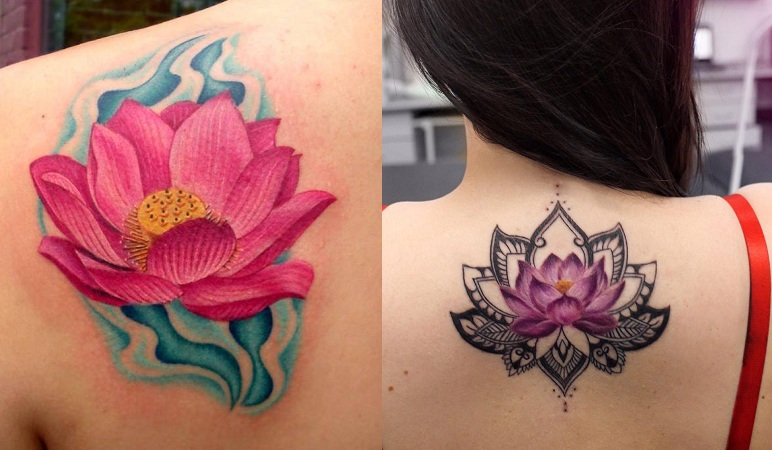 A Heart Full Of Love
What can be more adoring than a small and simple red heart tattoo to show the world your most romantic side? Being the classic symbol of love, heart has always been a timeless choice for tattoo designs and needless to say, it never fails to get us enamoured with its warmth and loving charm. Get a sweet little heart right at the base of your hairline to look amazingly pretty or adorn your ring finger with a subtle pair of tiny red hearts to signify the lifelong relationship between you and your partner. Having heart tattoos in solid colours is an artsy choice, which can give you a drop-dead gorgeous appearance anytime. A tiny black heart just behind the ear is a fantastic statement and is also a wildly popular one.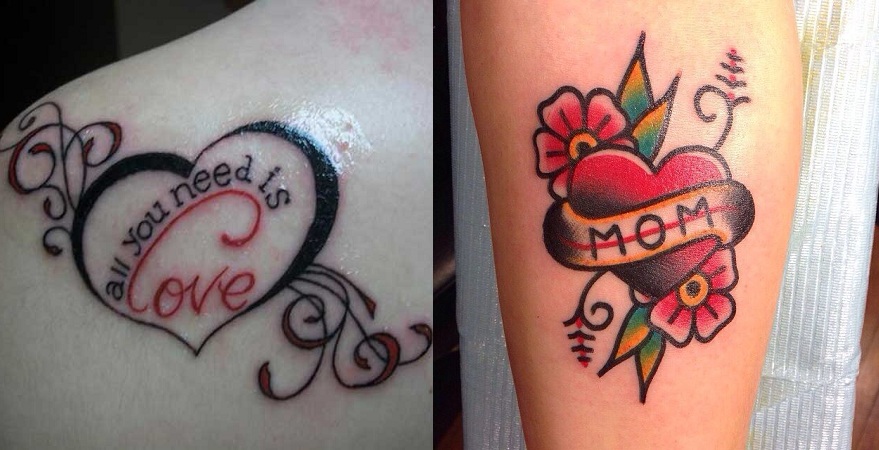 The Bow And Arrow
The smart look and versatile meaning of this unisex design has made it one of the hot favourites of tattoo lovers. The bow and arrow tattoo represents the primitive weapon, which had been used widely for hunting as well as ensuring protection. In short, the design symbolises great strength, enormous power, and endless spirit. Sometimes, the duo can also stand for something delicate, such as Cupid's bow or shooting stars. But whatever it means, it looks highly feminine on the wrist or the leg of a lady and creates a beautiful statement as well. You can even adapt the design to your own taste by adding tiny hearts or fancy flowers to it.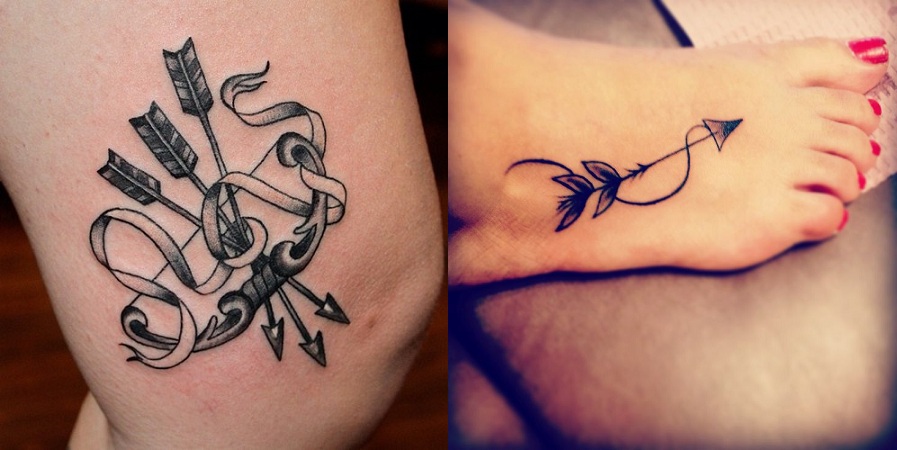 Vibrant Mythical 'Unicorn'
When it comes to getting inked, whimsy and breathtakingly beautiful unicorn designs always impress girls. This mythical beast with a large spiral and remarkably pointed horn has long been considered as a symbol of love, hope, peace, and magic. Apart from the majestic charm, unicorns are also appreciated for the way they make us feel exceptionally strong and proud. The designs look perfect on forearm, leg, or even back. Pick your own style and colours to come up with a spectacular piece of art.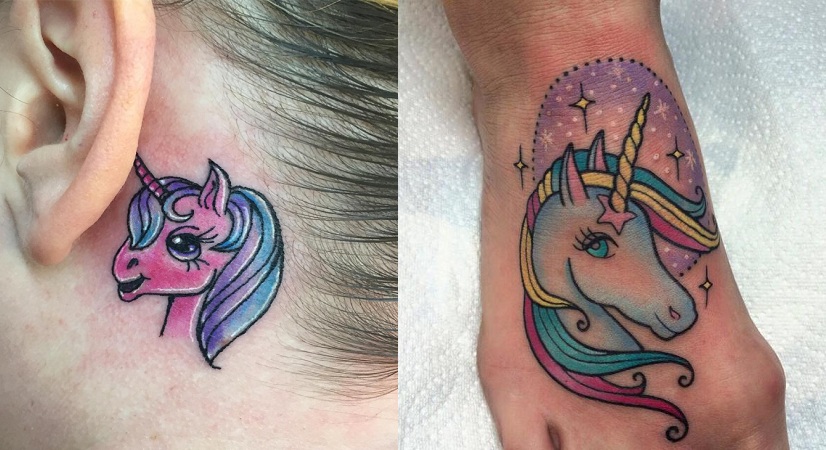 Bright Twinkling Stars
Be it one big bright star or vivid scattering stardust, girls can never have enough of it as tattoo designs. Stars not only look fabulous as tattoos but they also offer countless variations in terms of size, design, style, and colour. Girls usually prefer to get a string of stars or a dazzling night sky inked on their wrist, collar bone, arm, shoulder, waistline, lower back, or ankle. The intricate details make the stunning designs even more dramatic. Being a symbol of hope, persistence, goal, achievement, and protection, it is often believed to bring good luck as a tattoo. Sometimes, a star tattoo can also stand simply for the birth of a child.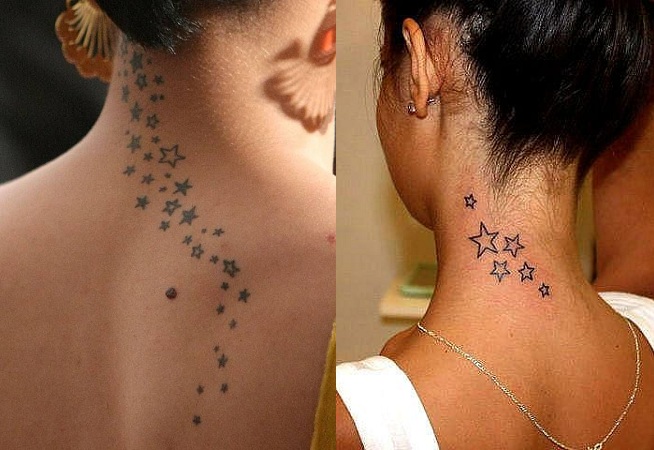 The Out Of The World Moon
Moon is one of those awe-inspiring cosmic gifts which we have always been fascinated by. The wondrous celestial body is considered as a powerful symbol of boundless dream, ultimate exploration, and infinite vastness. We simply cannot ignore the way it illuminates our imagination. It is no surprise that realistic moon tattoos have made tattoo-lovers fall in love with them. Though you can opt for a full moon cycle design, the half crescent moon looks more elegant and too womanly. So, flaunt the cosmic masterpiece on your body and feel the supreme universal balance.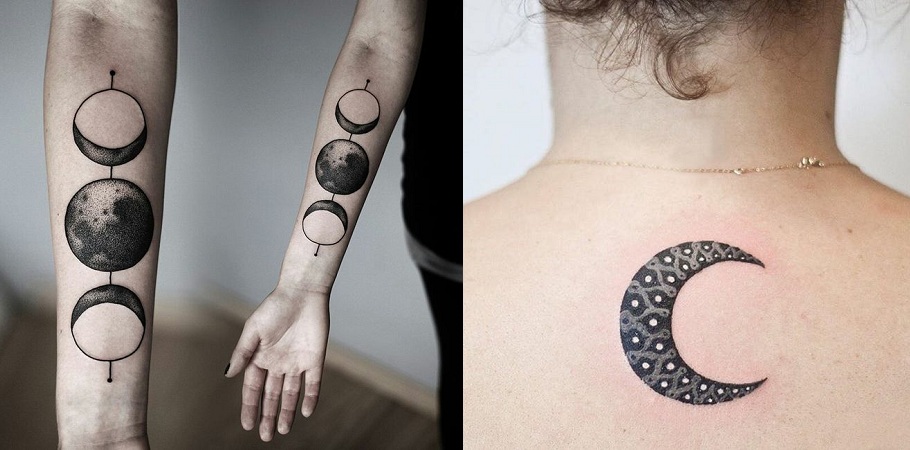 That Funny 'Ghost'
If you want something beyond 'too girly' and do not mind using your skin as the canvas to get some eerie feel, cartoon ghost tattoos will win your heart for sure. Started as a Halloween-favourite theme, these teeny-tiny ghosts have made its place to the list of popular tattoos for girls mainly for their minimalist designs and added cuteness. Yes, they are fun, sweet, and adorable instead of being scary as hell. Get one on your forearm or at the back of your waist if you are game for it.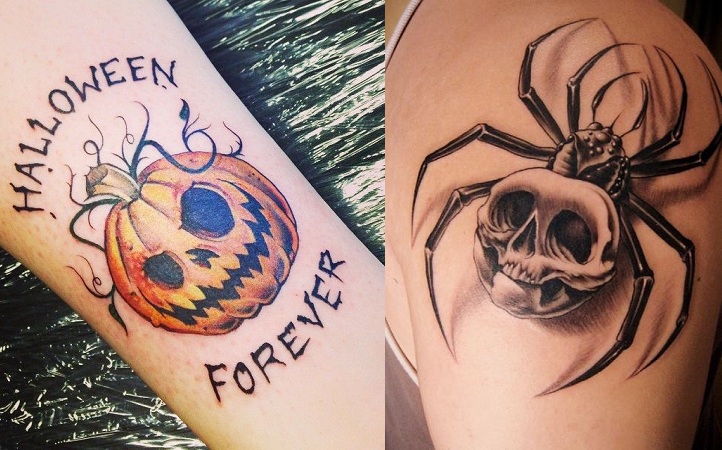 Letters And Words
You do not need to be a nerd in order to get a letter or word tattoo. In fact, these are the simplest forms of tattoo that one can try to look pretty without experiencing too much pain. Choose a letter that is really special for you and get it inked on your skin in the most eye-pleasing font. It can be the first letter of anything from your name, to the first name of the special person in your life to the name of an event that means a lot to you. If the initial does not seem to be sufficient, just be brave and go for the full word. You are free to choose from the name of your partner as a lingering reminder of your everlasting relationship, an inspirational word with deep meaning, or even something totally random and fun. However, make sure that you pick the font smartly based on how bold or flirty you want your tattoo to look.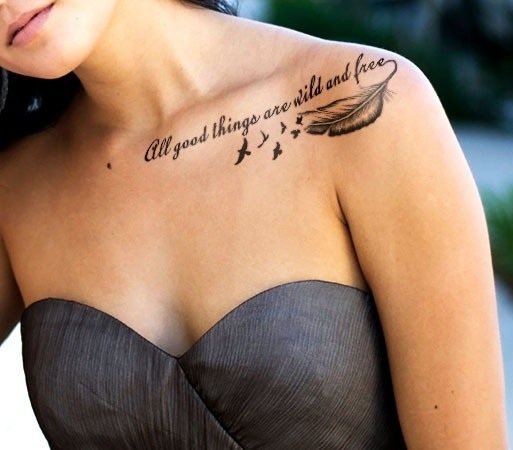 Language Of Music
If you are crazy about music and want to flaunt your passion in the most pleasing way, a musical tattoo will be the perfect thing for you. The language of music is universal and you can never go wrong with it while getting inked on your wrist, forearm, waist, ankle, back of the ear, or any other part of your body. Express your love for music with your favourite music elements including wonderful lyrics, small notes, microphone or other symbols, album arts, music quotes, or even your desired musical instruments. A dainty line of note revealing the emotions of the person the best is hugely in style as a musical tattoo. On the other hand, the demand of guitar or piano tattoos is also quite high among girls as they look brilliant when executed flawlessly.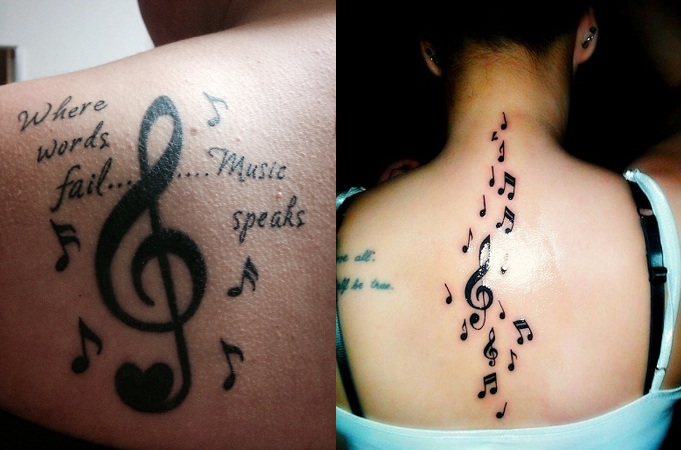 Shapes From Geometry
These days, non-traditional tattoo designs are all in rage and geometric shapes are the hottest among them. Geometric tattoos are not only considered sacred but they also have cool symbolic significance. It is believed that incorporating geometric shapes into incredible imagery can bring health, healing, and harmony to our body. They are also used to represent symmetry and consistency in life, which are needed to make it happy and fulfilling. Another great thing about geometric tattoos is that they are extremely versatile. You can choose from a mammoth collection including square, triangle, circle, tetrahedron, octahedron, icosahedron, dodecahedron, abstract shapes and patterns, or sometimes even geometric interpretation of well-known images.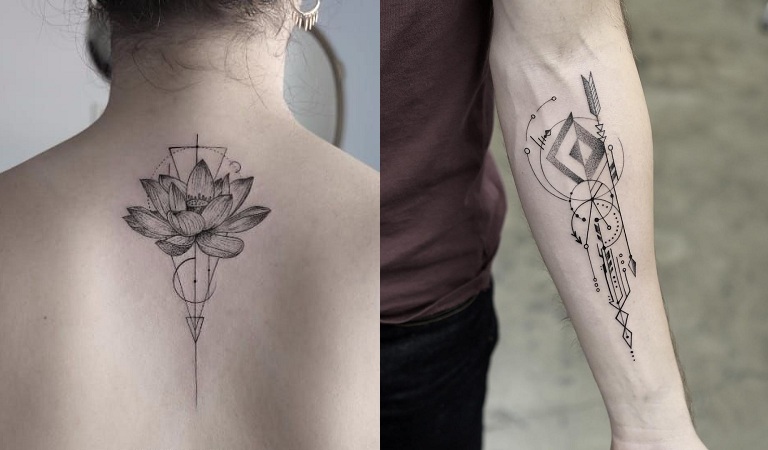 Fly Like A Bird
Bird tattoo designs are all about the love for freedom, the carefree nature, and the attraction to adventure. If travel is in your blood, nothing can be more perfect for you than a bird tattoo etched on your skin. A huge 3D design of a flying bird covering the entire back, shoulder blade, or a limb of a person is intricate and empowering. It looks incredibly feminine on girls and inspires them to overcome challenges by spreading their own wings. If you want something more delicate, get a small flying bird or lovebirds sitting in a branch of a tree as they signify love, peace, and grace. There are plenty of choices for bird tattoos, which include seagull, eagle, dove, owl, raven, and even some mythical birds like phoenix. Also, add a splash of colour to your design so that it makes the tattoo come to life and you can actually feel that flight.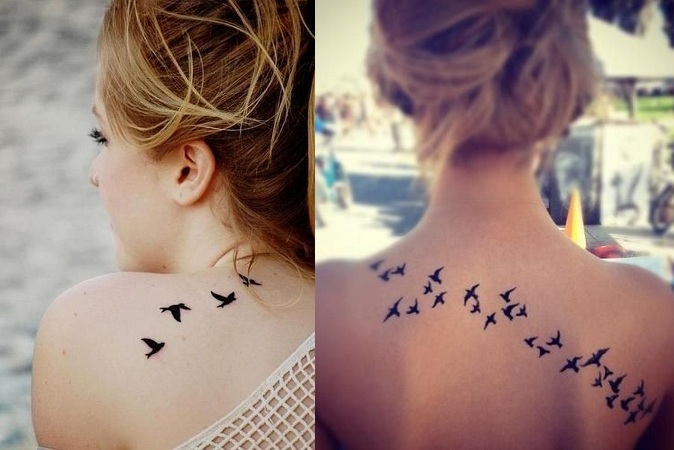 Stunning Jewellery Tattoo
Forget expensive jewellery and embrace tattoos as they will give you a super trendy appearance at minimal investment. From a sexy and seductive ring tattoo for adorning your delicate finger to an enormously graceful necklace for embracing your neckline, jewellery tattoos will provide you with so many stunning pieces that you will never run out of choices. Most of these jewellery tattoos pair detailed patterns with bright colours, which result in elaborate styles oozing glam and sophistication. Girls who find it challenging to wear fancy ornaments everyday to their work can opt for a cute pendant tattoo with lots of vibrant colours or a cool earring tattoo featuring a unique design. There are also exclusive ring tattoos for couples that both you and your partner can give a try.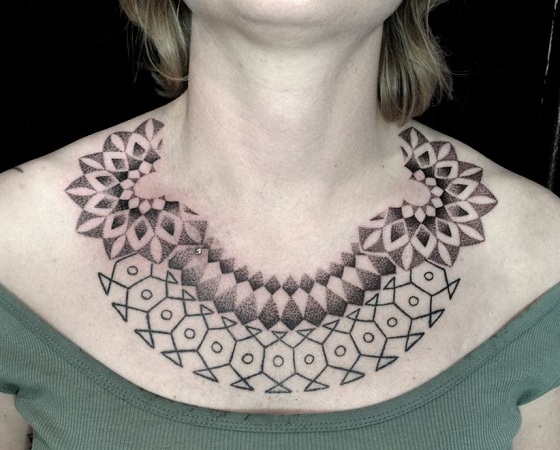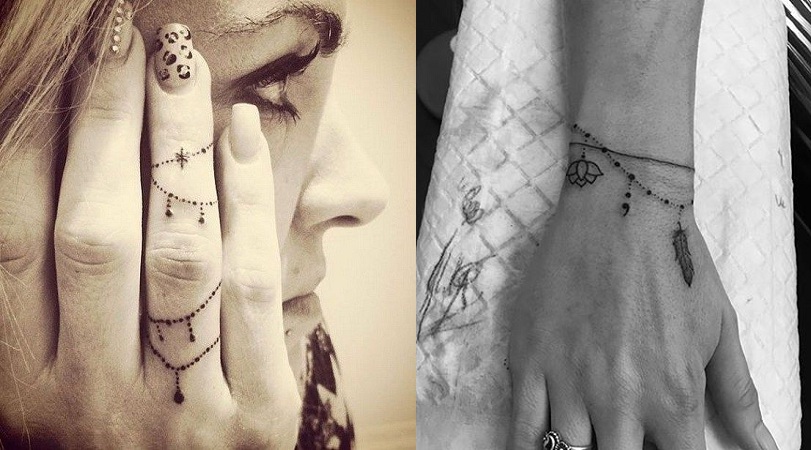 The pretty designs and classy charm of all these tattoos make them absolutely oh-so-feminine! Explore them well to find out the best piece of art for yourself and flaunt your statement style with confidence.