You trend up your wardrobe, beautify your skin, and style your locks. Why not put some efforts in making your nails look gorgeous too? Well, your nails are also craving for your attention and you should leave no stone unturned to accentuate their beauty. Dig into the latest nail art obsession and figure out the best designs that can add an oomph factor to your entire look.
From simple dots to dazzling bling, there is no dearth of choices for nail art lovers who are looking for great inspirations. In addition, these designs can be created without the help of a professional nail artist and that too by using a few basic tools and accessories only. Do you need more reasons to start?
Find below 17 awe-inspiring nail art designs that are sure to make you stand apart from the rest:
1. Polka Dot Nail Art
When confused about the simplest nail design to try, go for polka nails. These adorable dotted designs are all about picking contrasting colours to create eye-catching combinations. You are absolutely free to choose your favourite shades or themes for the base paint. Top it with polka dots of various sizes for cute and quirky looks and your nails are ready for a summer holiday. Red, black, white, golden, etc. are some of the most popular colours used for this while you can follow funky patterns for adding dots to make the nail art more fun.
2. Striped Nail Art
Nail striping is the smartest way to create a neat and defined look for your fingernails. In fact, the ultra-thin striping tape has now become the most favourite tool of nail art lovers as it offers salon-quality precision at home easily and quickly. Paint your nails with two or more colours of your choice and stripe them up as you wish (horizontally, vertically, side to side, slanted, and so on) to generate unique patterns. From classic black and white stripes to a completely random design, just a few strips of this taps can offer minimal nail looks with a smoother finish every time.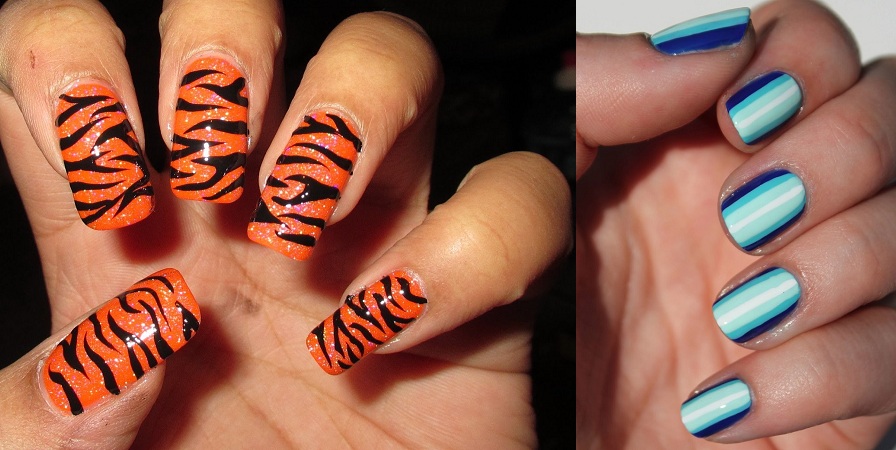 3. Floral Nail Art
Flowers are for everyone, every occasion, and every season. Though blooming flowers are considered as a symbol of spring, a gorgeous floral nail art can actually add that 'little extra something' to your style and glam you up instantly. There are tons of unique and super pretty flower nail designs, which can be created without professional help. So, get petals on your fingers, choose a half flower design, or simply sprout a few beautiful blooms from each of your nails with some intense shadow effects. The choice is yours!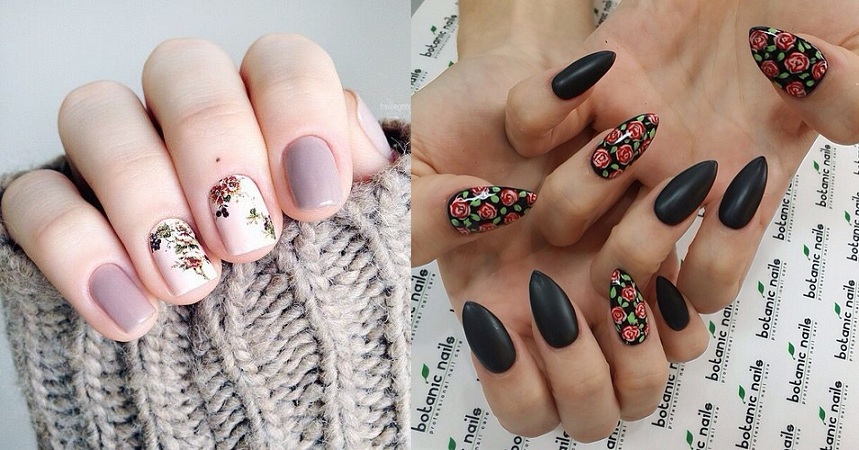 4. Snowflake Nail Art
If you are looking for some easy, quick, and cool winter nail art inspirations, give this theme a try and let it snow on all your nails. It is also one of the most popular nail fashions to try during the festive season of Christmas. Recreate the breathtaking sight of a snowy night by painting your nails with your favourite shade as well as making crispy snowflakes on them by using the sharp edge of a toothpick. For some added sparkle, deck out all your nails with some glitter.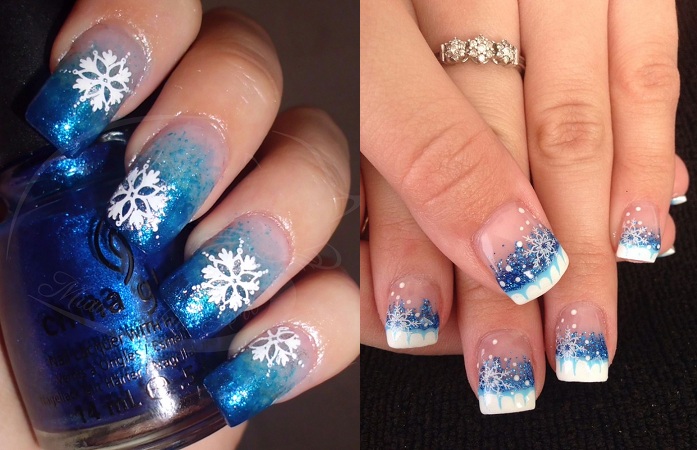 5. Ombre / Gradient Nail Art
Just like ombre hair, ombre nails are also in vogue these days. This stunning art basically features a colour gradient, which is created by using two or three shades of a single colour or any two colours that complement each other. Mix the shades and produce a smooth transition with a small piece of sponge or some beautiful glitters. If creativity is in your mind, pair the ombre gradient effect with your favourite theme or boost it up with some beads to make your nails look elegant and impressive with minimal effort.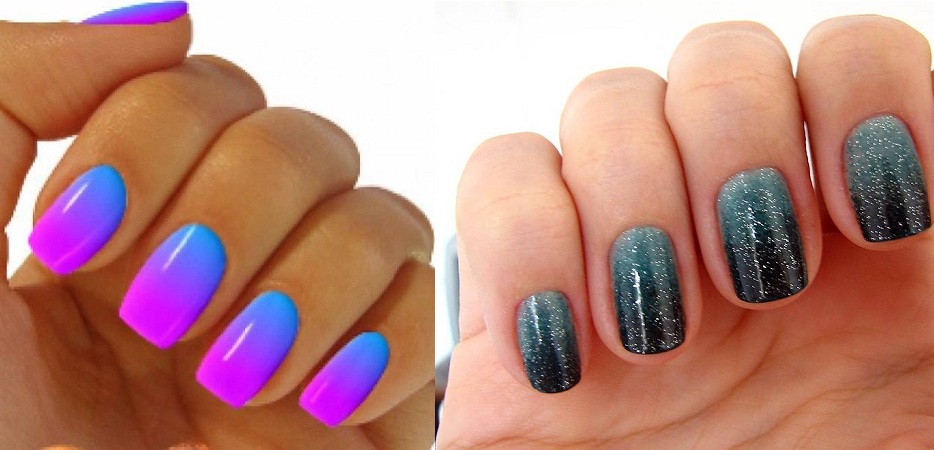 6. Rainbow Nail Art
Life is too short to get blue. Follow the rainbow nail art trend to lift your spirits and live life to the fullest. Those vibrant colours of rainbow will make your life more exciting, Pick bright shades of colours and paint your nails the way you want. Keep them solid bright or deck them up with accessories. It is all about adding some colour to your life by putting different colours on your nails. You can even create rainbow effects on your French mani with the help of striping tapes. Rainbow nails are also quite a popular choice for the gloomy days of monsoon.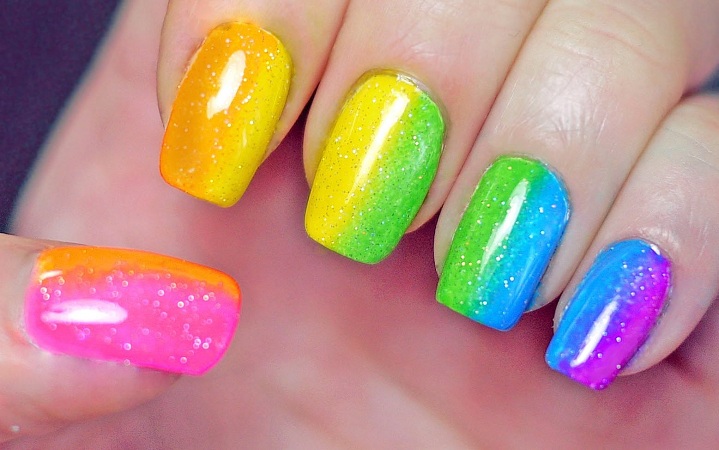 7. Neon Nail Art
Neon nails are fun, bright, and spectacular. It allows nail art lovers to combine incredible colours with funky designs to come up with some attention-grabbing looks that are sure to stand out. The super cool trend is just perfect to make a bold summer statement and you simply can never go wrong with it. Yellow, pink, green, etc. are some of the most appreciated colours for creating neon nails that can put you in a better mood naturally. However, make sure that you pick shades that complement your skin tone and give your personal style a boost.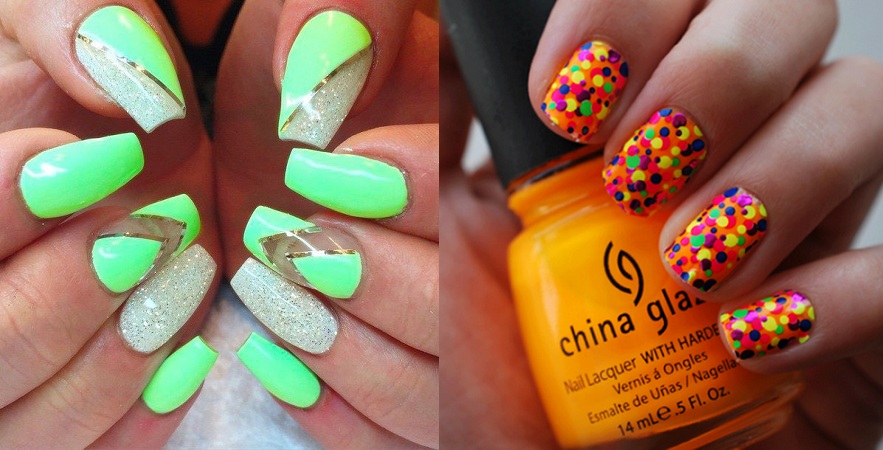 8. Watermelon Nail Art
How about painting your nails with cute watermelons, especially during those warmer months of the year? Well, this bright fruity nail art has been taking over the nail world lately and it indeed looks delicious! Though you can follow a number of approaches to make watermelon-accented nail designs, nothing can beat the 'coolness' of a yummy slice of the fruit. Pick the shade of peach, which is the closest to the pulp of a juicy ripe watermelon and line it up with lime green. The seeds can be created by using black with the back of a toothpick.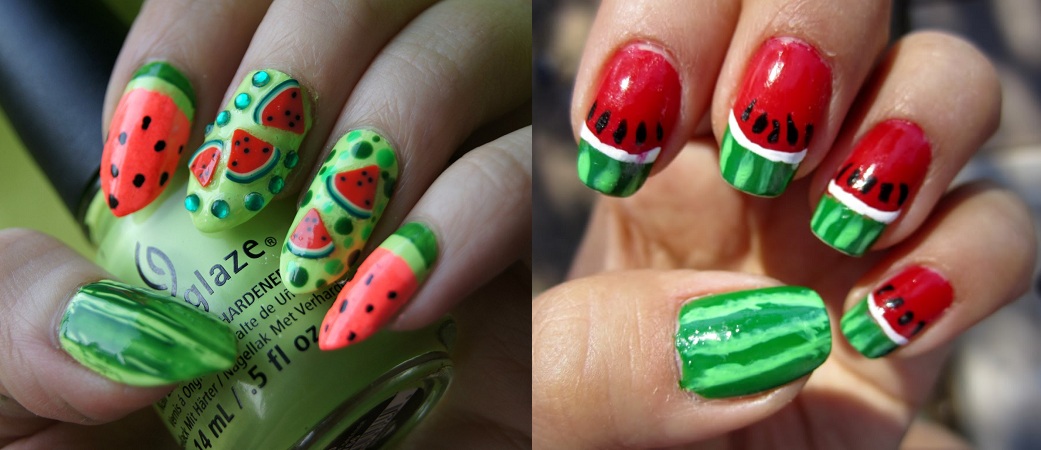 9. Animal Print Nail Art
From clothing to nails, animal prints are everywhere. This interesting design not only shows your immense love for animals but it also reveals your wild side pretty clearly. If you want to sport animal-themed nails, you have plenty of choices including leopard, cheetah, zebra, giraffe, cow, and so on to take inspiration from. Keep it minimal by painting only one nail with animal print while leaving others simple or go for all ten nails for an amazing look. While drawing such prints on nails demands some level of expertise, you can easily fake these by using animal-themed stickers, 3D stick-ons, wraps, etc. intended for nails.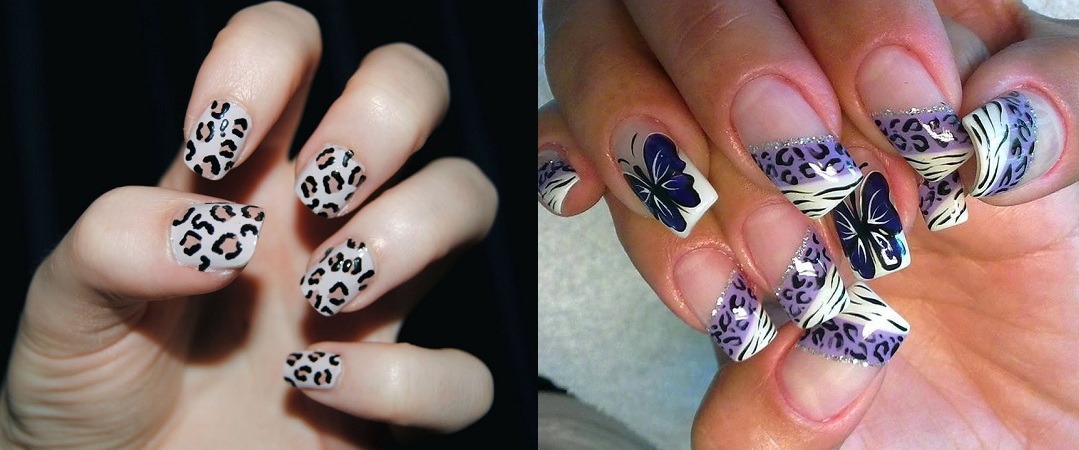 10. Colour Blocking Nail Art
The hottest fashion trend of colour blocking has entered the nail art arena and needless to say, it is going to stay here. Colour blocked nails look extremely simple yet surprisingly classy when created the right way. There are tons of ways to create this vibrant nail art, but you must follow the basic rule of colour blocking by pairing two or four colours together that are placed at opposite positions on the colour wheel. These complementary colour combinations will make the design chic and stylish while maintaining an overall sharp and clean appearance. You can even block up your nails with various colours strategically in order to produce beautiful mosaic nails.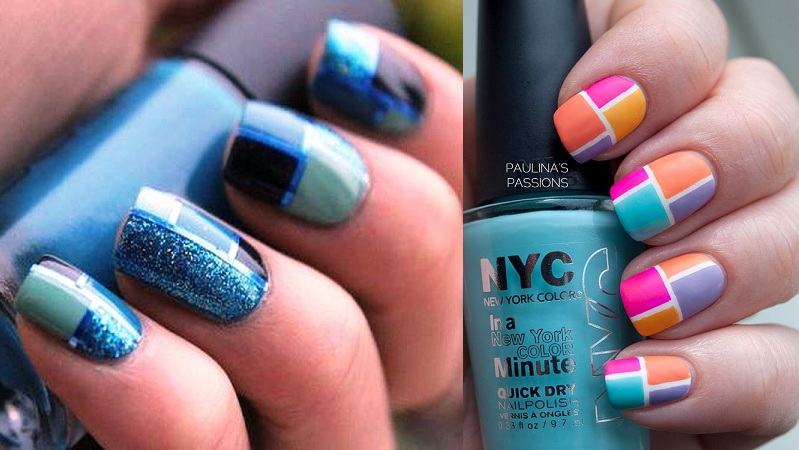 11. Mix N Match Nail Art
These mix n match designs are very easy to create and absolutely fun to sport. Consider your nails as your canvas and get as creative as possible with your art. You can choose different shades of a colour for each of your nails or even completely different colours for every single nail. Also, if you want to experiment with themes, this will be the most convenient choice for you.  Combine two themes to decorate one nail from each hand and paint the remaining ones with various colours. Just try new things for each of your nails and keep surprising yourself.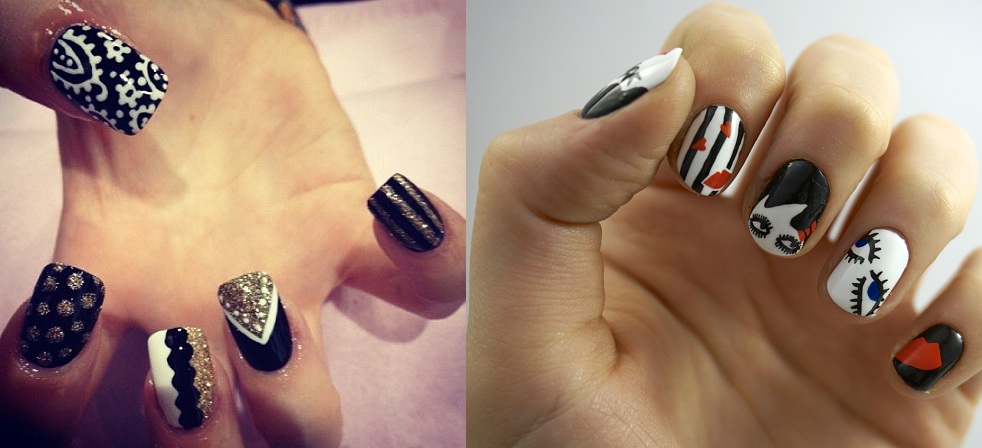 12. Water Marble Nail Art
Water marbling is certainly not the way to decorate your nails in a fast and tidy manner, but it is a fun and creative method to flaunt some fabulous nail designs. You need to create the marbling effect by dropping droplets of your favourite shades into the centre of a cup of water in a strategic way and, swirl the water with a cocktail stick to blend the colours, and finally, dip your nails one by one into it. Thus, intricate patterns of colours will transfer onto your nails and each of them will be amazingly different from others. The tie-dye technique is pretty innovative and takes a little more time than its other counterparts, but the design masterpiece is well worth the effort.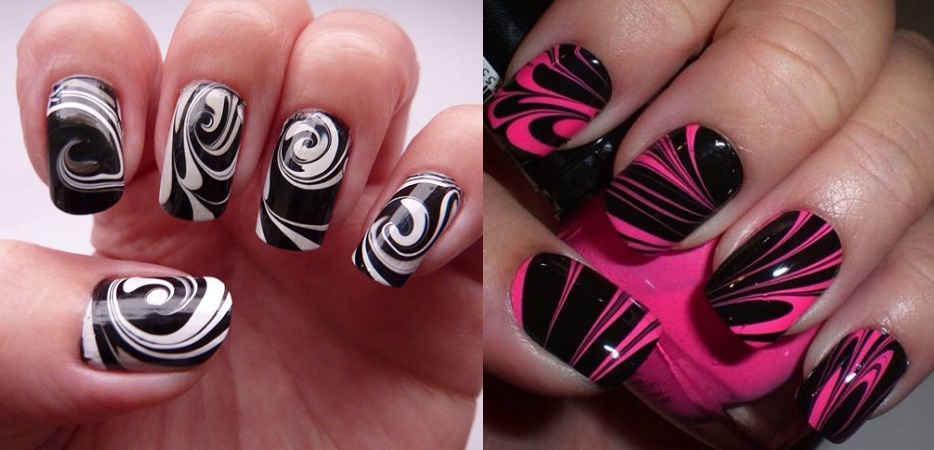 13. Textured Nail Art
Modern nail art is not all about painting the nails evenly and creating a smooth finish. Nail lovers have taken the art to an all new height by introducing texture in nail painting. Texturization not only just accentuates the look and feel of nail paint, but it also adds a significant edge to the style. With tons of options including microbeads, appliqués, heavy gloss, satin, sand, and so on out there in the nail art industry, textured nail is going to be the next big thing for sure.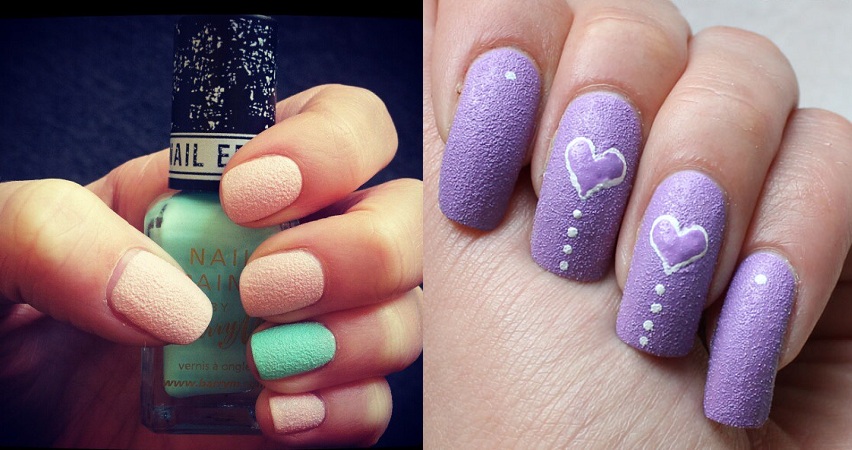 14. Glitter Nail Art
Those, who are a bit tired of applying colours to their nails, can opt for glitters to create shiny and sassy nail art. The best thing about glittery nails is that they can brighten up your day in moments with an awesome sparkly sight. It can easily be done by applying a glitter top coat over a light base polish. However, if you want an elaborate art, get your hands on loose glitters or eye shadow shimmer. You can also experiment with your glitter nail look by using the glitter all over the nails, across the tips, or only along the specific design you want to have on your nails.
15. French Nail Art
If you want to give your nails a classy and polished makeover, you have to give French nail art a try. It is one of the most simplistic yet most versatile nail art ideas that can be donned with all kinds of outfit. It suits nails of all shapes, sizes, and styles and can lead to a dramatic look. The most traditional French nail designs use nude, beige, pink, cream, etc. as base shades while the tips of the nails are painted pure white. However, you can add bold and chic twists to elegant French nails by choosing vivid base colours, fascinating themed designs, or even other accessories, such as glitter, beads, and rhinestones.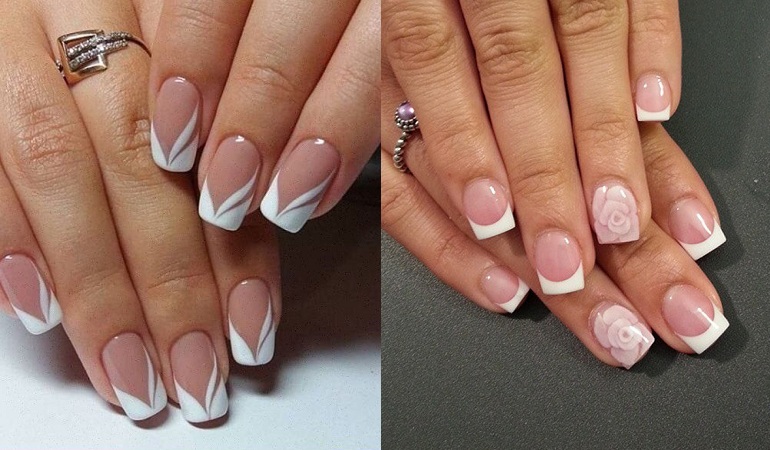 16. Half Moon Nail Art
The practice of half moon nail designing started way before the modern nail art trend came into existence. However, it has stood the test of time and is still considered as one of the most well-liked nail art ideas. A basic half moon nail art is more of an everyday style that features two contrasting colours. You easily can create a small half moon-shaped portion at the base of your nails by using sticky hole reinforcers. To add more twist to your nail look, choose three or four vibrant base colours and keep the colour of half moons pure white. You can sport this pretty nail design with both retro and contemporary outfits. Moreover, it will consume neither much time nor much effort.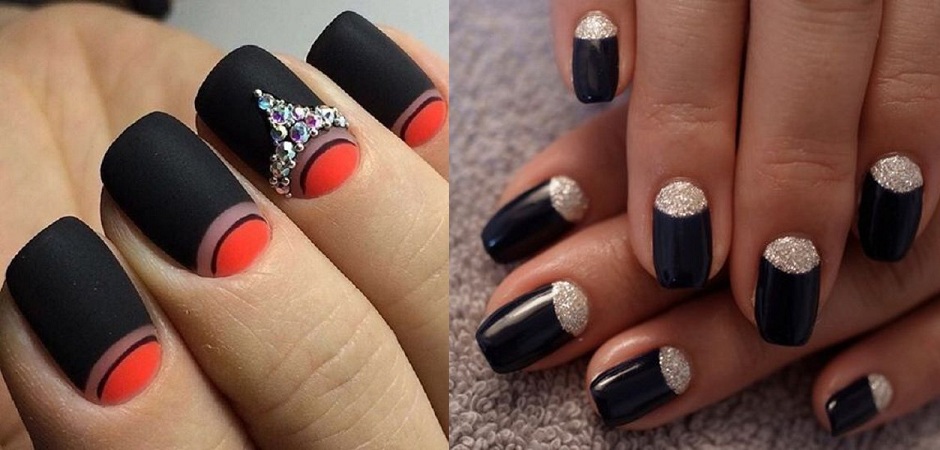 17. Jewelled Nail Art
Whether you are a beautiful bride or a woman of elegance, jewelled nail art is the thing for you. Colour your nails with your favourite nail shades and deck them up with attractive embellishments, such as rhinestones, pearls, bows, and so forth. These jewels for nails are also available in different shapes and sizes so that you can make the right choice to suit your taste and make a strong impression. Moreover, you do not need to be a pro to bedazzle your nails as they can be stick over the nails simply by using nail art glue. For more intricate jewelled nail art designs, apply bright shades like red, black, gold, etc. and combine multiple embellishments to adorn the polish beautifully.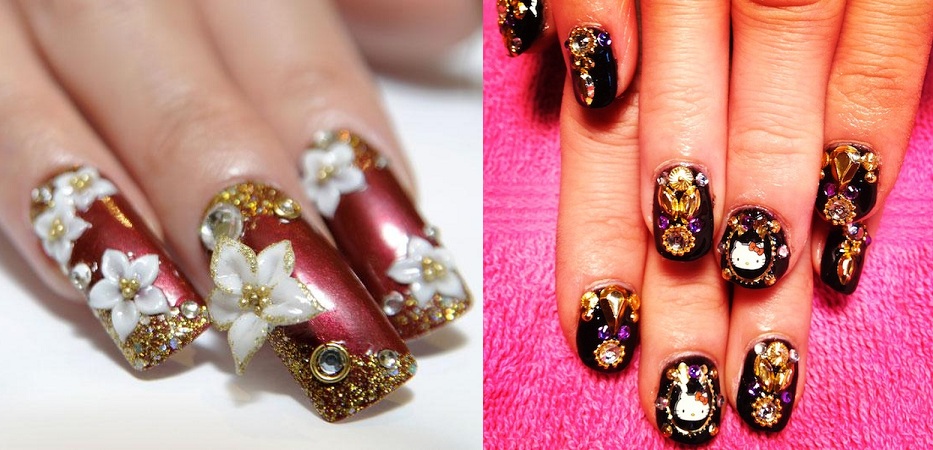 Nail art designs are for everyone irrespective of having long or short nails. All you need is a few simple nail art tools and passion for creating stunning nail designs. Hence, if you have already found your favorite nail art design for the upcoming season, go ahead and give it a try!