Irrespective of your age, whenever you get to know about your siblings' wedding ceremony it makes you feel happy and at the same time, you start thinking how to look the best among all your relatives without outshining the bride.
Sari and lehenga are the most common choices among girls for the wedding function whereas experimenting with other ethnic wears can also be good for the engagement or 'sangeet' ceremony. Choosing bright hues or backless styles for such occasions can really make you elegant and add an oomph factor to your look. Here are some of the modish alternatives you can choose from for your sister's wedding. Scroll down for more!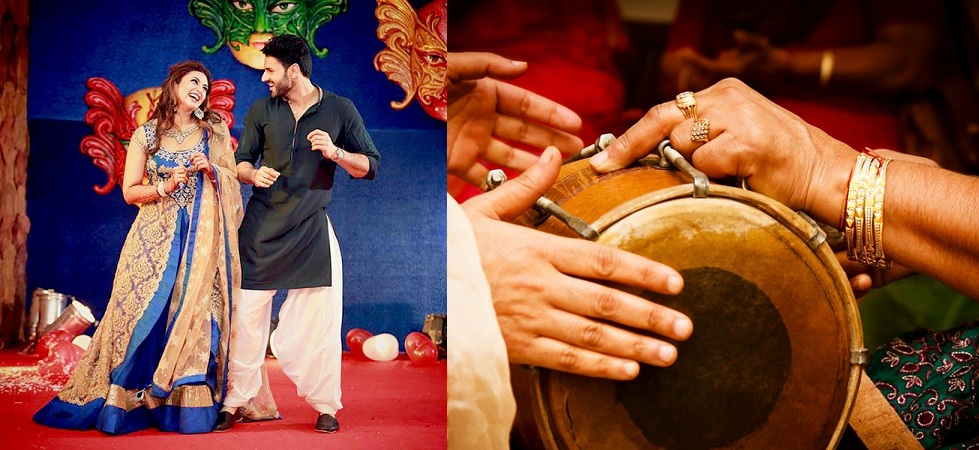 The common trend to show up at your sister's wedding is to put on some heavy jewelry, embroidered clothes, some sequins and a little makeup. But following the age-old trail is too monotonous. As it is your sister's wedding, you will be bogged down with lots of responsibilities on the wedding frenzy, from beginning to end, plan your look for every occasion beforehand. Make such mind blowing experiments that take you away from the crowd and you get appreciated for embarking on the super stylish trends. No matter what you choose to put on for your sister's wedding, it should suit your age and personality. Before giving you a long list of style tips, we would suggest picking one of your favorite Bollywood stars you would love to drool over. Since you are surely going to gain the attention of the mass as the bride's sister, why don't you try something different? Let's make the attention worth it!
Follow the Royal Trend of Kareena Kapoor
Kareena Kapoor has always been carrying every look perfectly, be it an Award ceremony, wedding reception or some other occasion. Choose the bright colors such as emerald green, lemon yellow, sunshine yellow or vermilion red in anarkali kurtas. These anarkali kurtas are good for those who want to look decked up with a relaxed appearance. Some other peppy colors you may also pick with a pair of neutral colored leggings. And if bright colors are not your cup of tea, go for the ivory ones with broad sequin borders. Pair it with a pastel shaded dupatta or any bright colored dupatta to compliment the look.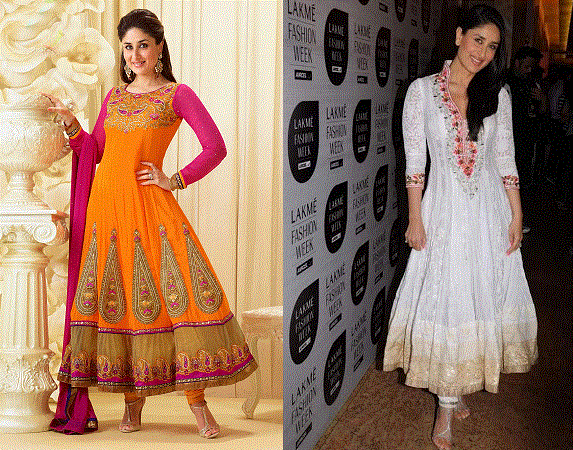 If sari is your utmost favorite choice, taking a cue from Begum Kareena Kapoor Khan will be quite helpful for you. Keep it simple with an orange or emerald green sari and a net blouse. Creating a unique style statement with a simple sari becomes easy when you pair it with an innovatively styled blouse. Team it up with a stunning pair of earrings and a complete nude makeup. If chosen wisely, you can take everyone to surprise with a white based sari even. Lehenga can steal the show if the mirror worked ones are picked instead of the conventional embroidered ones. A bun or a simple fishtail with a few hair accessories and mogra flowers will be all good to go for your sister's wedding. The heavy pattern works on kurtis can actually help you create a perfect traditional look. Just be confident and wear a smile, the best curve one can ever have!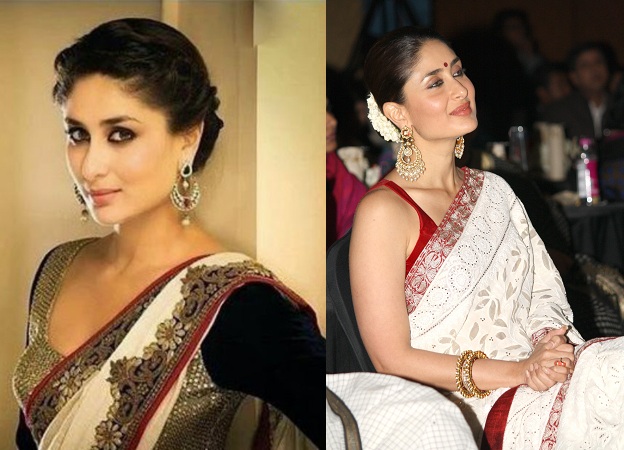 Get the Enchanting Look from Priyanka Chopra
Take it from the Quantico series or the Desi Girl look – Priyanka Chopra has always been experimenting with style and in most of the cases, she has been pretty much successful. Various shades of pink, neon, red, ivory and beige, are good for a traditional look. Don't fall for the primitive idea of choosing a blouse as per the base colors of the sari. Rather rely on contrasting the borders or picking a different colored blouse. The same rule will continue for the lehenga also. Opt for a heavily embroidered and bright hued dupatta if your outfit is simple to look at. While wearing a heavy lehenga-choli, your dupatta should be lightweight. For the season of winter, velvet can create a style statement instantly. Be it a quarter sleeved or full-sleeved blouse, velvet is suitable for any style, especially if you are choosing the rich hues like royal blue, off-white, almond or maroon. Experiment with your style in such a way that makes you feel comfortable in what you wear. Keep it simple and minimal on your choice of accessories. Diamond neck pieces or costume jewelries will be enough to enhance your look. Kitten heels or pumps can make it really high!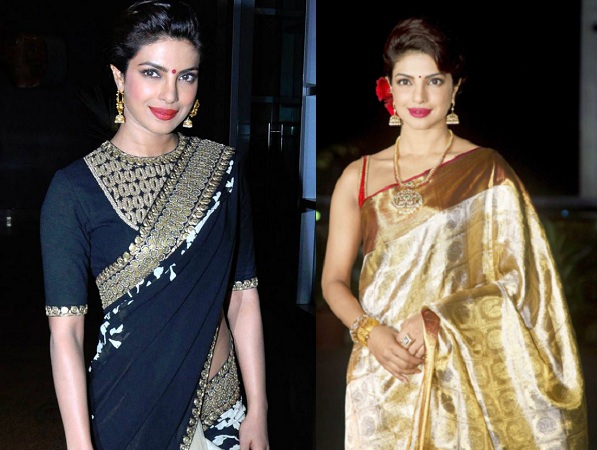 Make it Look Mesmerising with Deepika Padukone
Few actors are there in Bollywood who give us new fashion goals whenever they show up on screen and Deepika Padukone is one of them. Sari, lehenga, shorts, kurti, or jeans – she is popularly known as one of the fashionistas in Bollywood and now on international lists as well. Long length Kurtis can be the best choice for you if you share the same height with this ravishing actor. The magnificence of Mastani can be yours with heavily decked up kurtas and studded jewelries. If you want to don the perfect look from Naina in 'Yeh Jawaani Hai Deewani', then georgette, chiffon, or crepe saris should be your best picks. But to wear her style, you really need to work hard on your physique. Keep the sari tied under our belly button and add an extra dose of seductiveness with bikini choli. You can go for the net blouses also if bikini choli sounds too 'hot' for you. Champagne gold, coral, dark navy blue, royal blue, neon orange, or any other color can look good our Bollywood Diva Deepika, may be on you too. Still be careful of your complexion and shape while choosing the color. If you want to play safe, black should be the choice to make you look gorgeous in no time. Concentrate on your hairstyle, accessories and makeup – everything should be planned properly according to your choice of outfit. And a pair of glossy pumps is must-have to complete your look.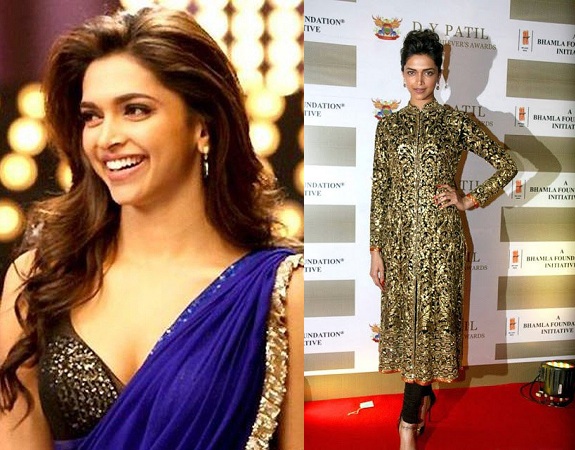 Bring the Elegance on with Sonam Kapoor
Remember that pigeon dance from Delhi 6? How stunning did Sonam look in kurti! Not only Deepika, the 'Neerja' famed Sonam Kapoor is also counted as one of the most stylish actors in Bollywood. She is blessed with the talent of carrying any style with ease and comfort. Give her a traditional design or contemporary one, she will anyway rock it and you can follow her steps also. Common colors such as orange, red, magenta and pink can be quite interesting. Or else, try out the unconventional combination of various hues like neon, black, blue, pink, grey and so on. Wedding functions can be truly exciting when you have so many options to experiment with and Sonam can definitely help you out in this. Kurti, backless choli, designer sari, lehenga, flared skirts, or a simple short dress, Sonam can be your style guide and every single look. And for the footwear, trust your own comfort zone. If you are not too good in handling stilettos, it won't be so impressive to stumble over things here and there! So better to be careful.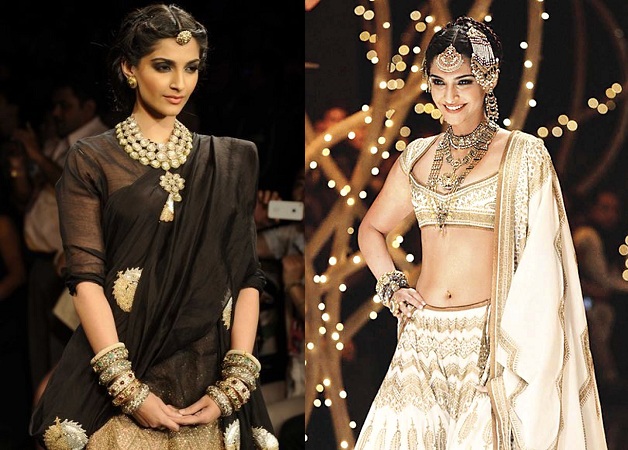 Lend the Vivacity of Jacqueline
The Chitiyaan Kalaiyaan diva is just too awesome when it comes to put on amazing looks. So if you are also in search of some style that can make you the diva in your sister's wedding, obviously without overshadowing her, Jacqueline can be your style mentor! A jacket style kurti with sharara pants can ease all the problems at once. For a fusion look, you can also try a crop top with lehenga and a sensuous waistband around your sleek waist. This will surely give you a mermaid look. And when sari is your only favorite outfit for occasions, keep it simple yet elegant. Common combinations like red and black, blue and champagne gold, grey and pink – can help you look chic and strikingly different from the rest. Collared neck blouses do well with these saris whereas corset is also in trend. Not just in the wedding occasions, these looks are suitable for pre-wedding ceremonies as well. Make your eyes smoky, tie a bun on your head, wear a nude look and take designer clutch – none can beat you in style!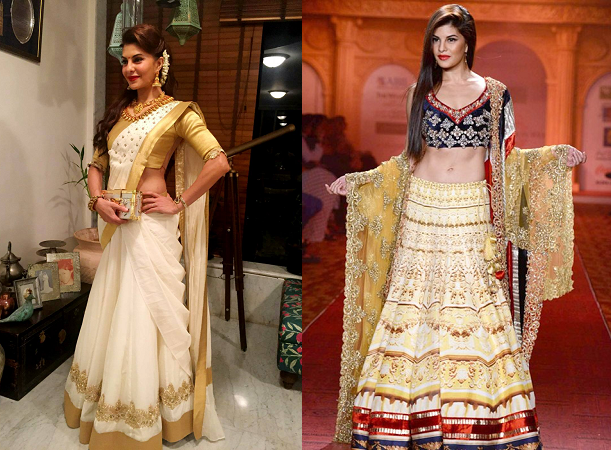 Embrace the New Trends for experimental look
Apart from these common trends in Bollywood, some more styles we have in store for you. Gotta Patti, Phulkari saris are also favorite among the folks. They are lightweight, bright and a glamorous choice for any subtle look. Just choose the vibrant hues such as crimson red, pastel shades, fleshy pink, lime green or something else – it would look mesmerising on you. Lehenga saris are also in trend to keep the flame up by showing off your chic waist with a seductive kamar bandh around it. Often lehenga saris are presented with heavy borders and patch works on the pallu. Pairing them with mirror-stitched blouses can add a strong style quotient to the entire look. You can also try out the heavily embedded anarkali kurtis with cigarette pants for a fusion style.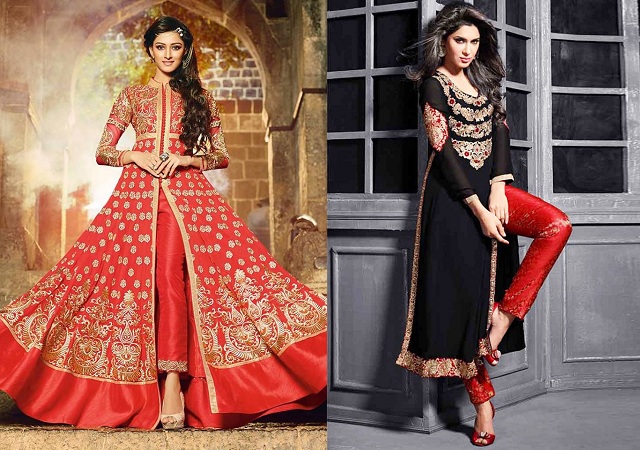 Hope your queries are answered now. If you want to know more about the ethnic styling or traditional look, write us today. We're awaiting your response!