Choosing a picture-perfect outfit for Spring can be too tough to deal with. Having a dresser's block in any occasion, it's natural. Most of the women have lots of tees and bottom wears in their wardrobe but they hardly think of 'mix and match' for with the existing ones and create a new outfit. And especially when it's Spring, we just can't leave you clueless without any dose of inspiration.
Here are the best 'fusion' outfit ideas from our end to assure a super chic look this spring.
Go back to '70s:
Have you ever tried the '70s look for a party? If not yet, then it's time to go for the ruffled shirt and high waist jeans combination. No matter what kind of hairstyle you prefer, this look is suitable with every style.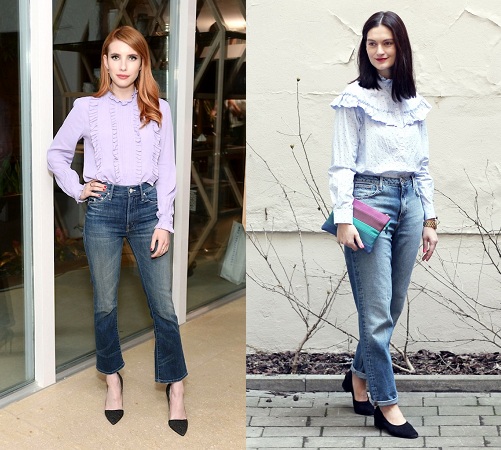 Button-down with white jeans:
Keep it short and simple with white jeans, dark colored button-down and an excellent pair of sneakers. We choose sneakers as we are discussing about both your comfort and style. But a pair of stiletto can work well also.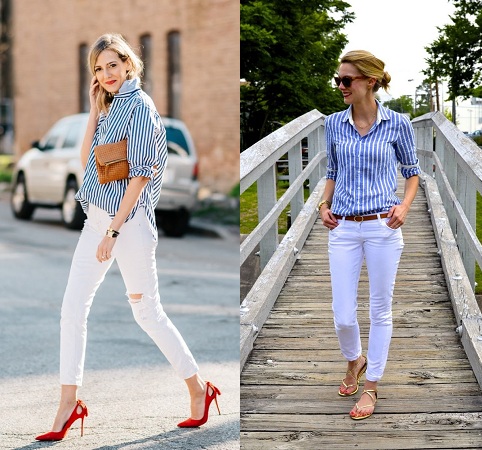 Lehenga with Sharara:
Forget your saris in your friend's wedding. If it's an important invitation, try sharara pants with lehenga. Transparent lehenga is cool as well as appealing for Spring season. Just make sure you are not looking more gorgeous than the bride herself.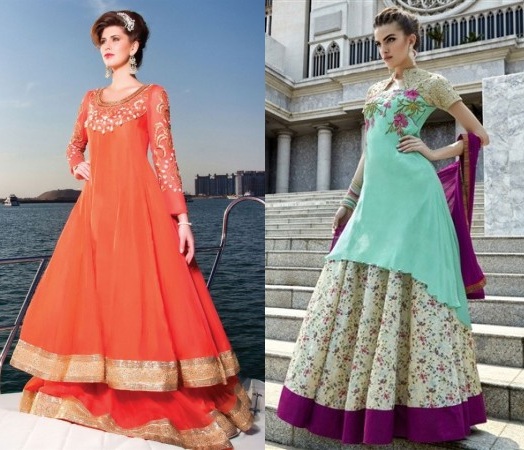 'Hi' to ripped 'Boyfriend's:
For a holiday look, pick a pair of boyfriend jeans with bright colored heels, and a stunning satchel. Wear a no makeup look with charm bracelets. They look too cool when you are hanging out with your friends! You can also go for a shirt and sweater combo with rippled jeans.
Play with Bold Colors:
Long skirts with bold colors can be an awesome choice for Spring season. Polish your entire look with classic long sleeve shirts and a pair of excellent pumps. Turn on your style quotient with a multi-colored scarf and small jhumkis. It's easy to go, fashionable and flawless choice for Spring outfit.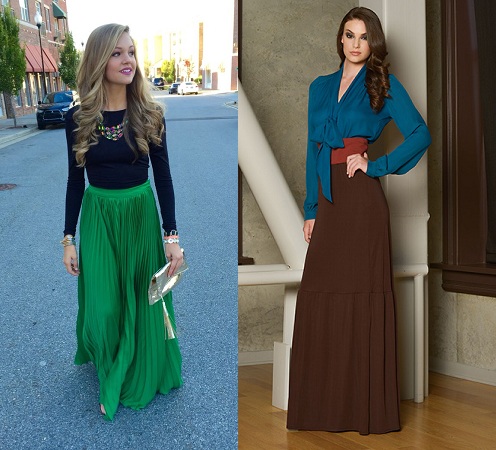 Trench Coats longer than its size:
It's beautiful to watch someone wearing a trench coat longer than its ordinary version while leaving a silhouette impression. Trust the red heels for a seductive look from office party to cocktails!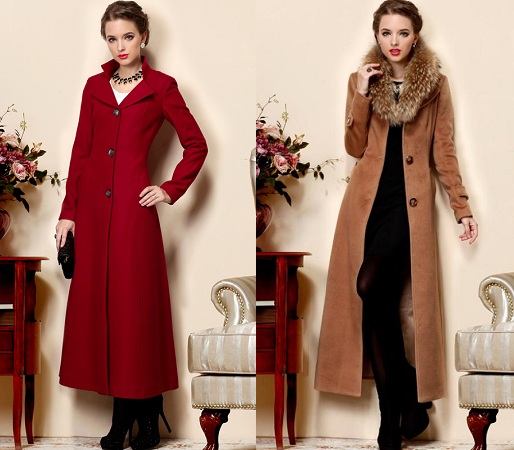 Tank tops with soft pastel shades:
For those who love to stay in cooler environs, go for pastel-shaded tank tops with trendy skinny blazers (preferably white or black) or mules. If blazers are too mainstream, layer your tees with crispy spring button downs.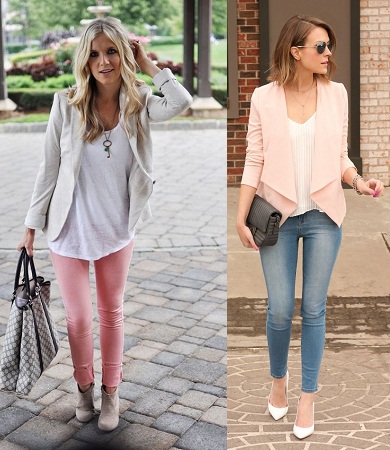 Leather Shorts with knit sweater:
If you are always feeling a little bit cold, knit sweater can be your best friend. Just cut off your full-length pants and pick a pair of leather shorts. Textured leathers can be your favorite choice.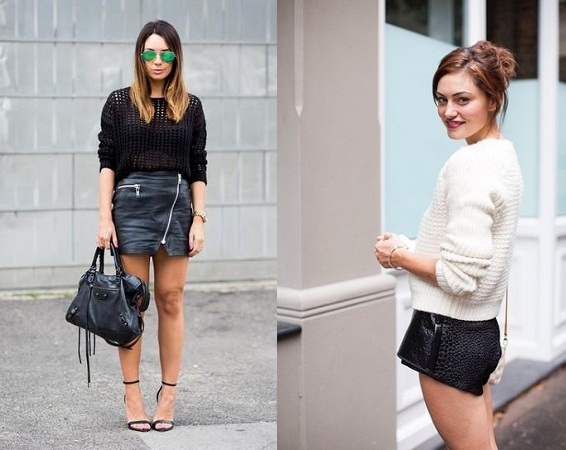 Have fun with Girlie ballerina skirt:
These skirts are transparent and lightweight to look cool but keep you warm throughout the spring season. Add a full-sleeve denim to your ballerina skirt with a pair of Ballerina.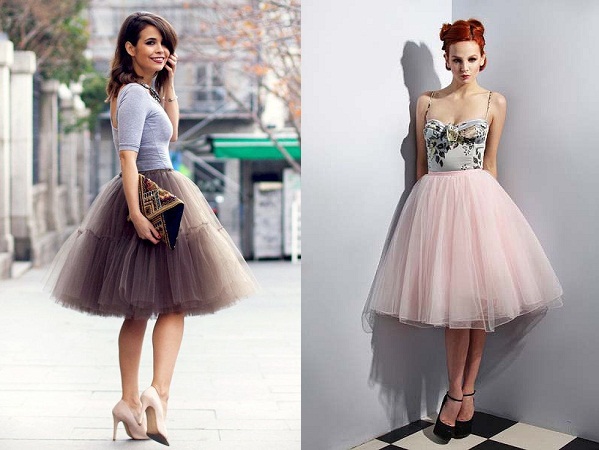 Denim jackets for a Springtime Vibe:
Get the vibe of spring with trendy black and white jackets. Can't find a suitable dress to go for a date with your hubby? Put on a denim jacket with light makeup and not so high heels.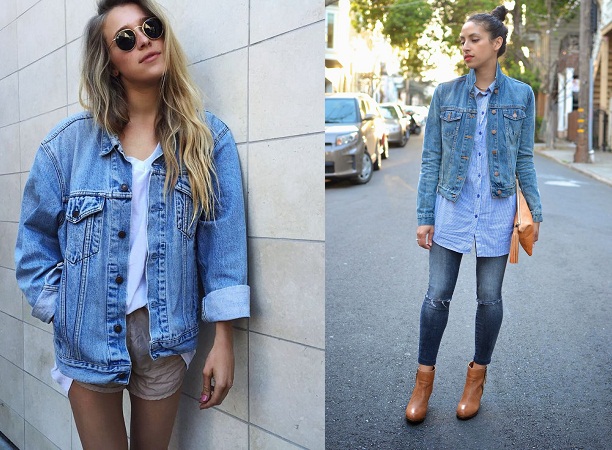 Chic Springy Floral Prints:
Spring seasons are just too incomplete without floral prints in your wardrobe. Chic floral prints are superb to pick for any occasion during this season. It's not just about the clothes, you can wear floral printed bright accessories as well. Lavender colored blouse or sweaters and leather jackets are also in trend. Give it a try with white accessories to stand out in the crowd!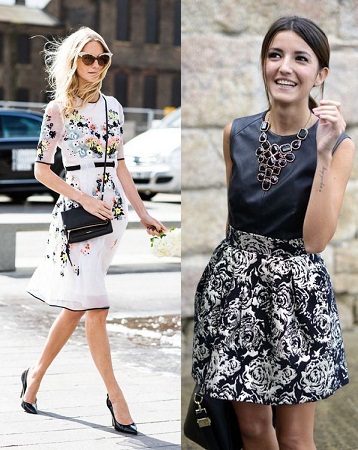 Time for transition with white denim:
White jeans can be an ideal option if you are looking for transition between Winter and Spring. Play with prints or various shades of denim for a superb cool spring look.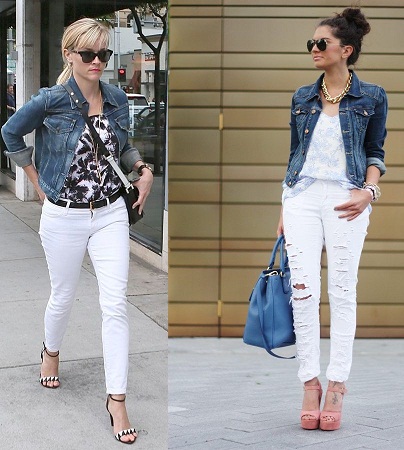 Sandals with Winter wear:
Yes, we have got something unpredictable for you. It's time to bring out the lightweight black knit that you purchased for the winter days. Try it with well-fitted collared grey shirt and formal pants. Inspire a simple and fabulous style quotient also with a pair of statement sandals. These outfits are perfect to transit between the seasons.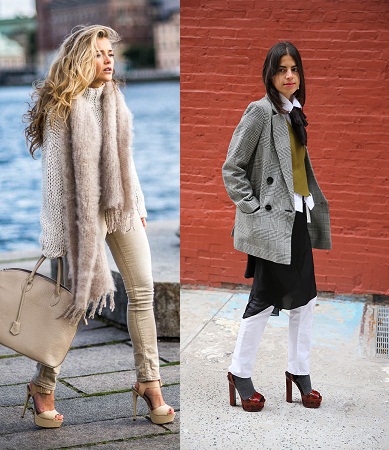 Salmon Pink with Yellow jacket:
Embrace the colors of spring to get an amazing look with a Salmon pink shirt, black skirt and yellow blazer. You may opt for the white skinny jeans also instead of skirts. Don't forget to put on a checkered pattern scarf with it.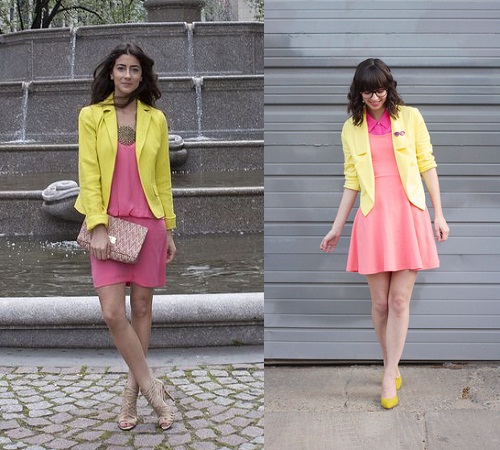 Make it Comfortable with Sneakers:
Instead of high heels, pointed stilettos or boots, celebrate the springy look with comfy pair of sneakers. Go cool, casual and cheerful this season!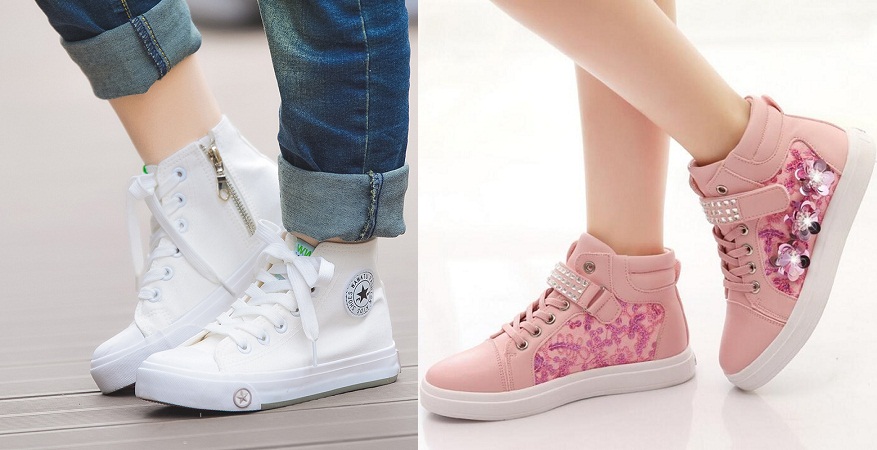 Double Denim with trench Coats:
Wear a double denim look with an eye-catching trench coat. Don a cool hat to complete your colorful Spring look.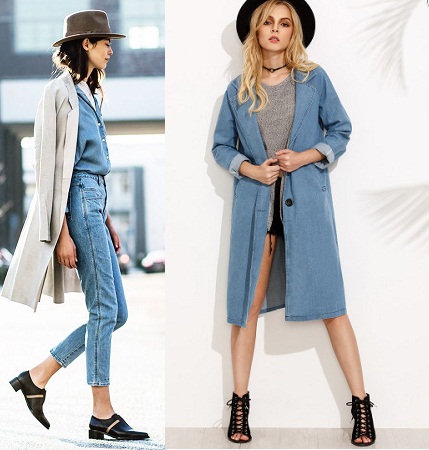 Skirts with Sweatshirt:
Tempering a Spring look with dressy skirt and sweatshirt can be ideal for semi-formal as well as casual look. Get yourself a funky cap if you are going for a day out.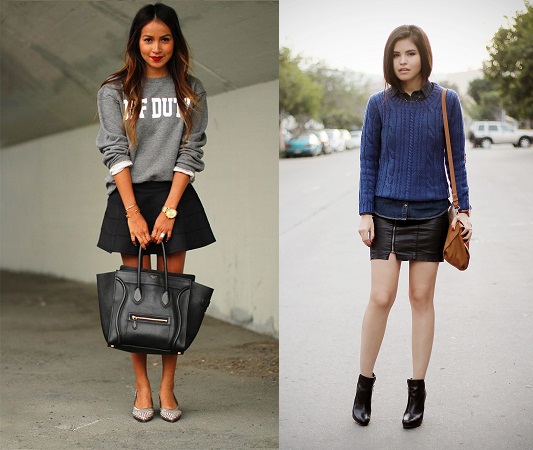 Seasonal Chinos are always in:
They are something more than comfortable. Get a pair of chinos, which will look modern, trendy and fashionable. Wear a pastel colored classic shirt with beige loafers.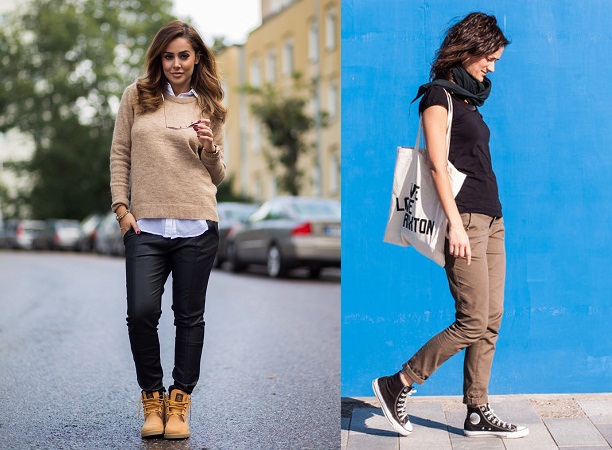 Wide-legged pants:
Looking elegant should be your type. Try wide-legged pants with cool graphic tees and a trendy satchel. You are ready for any casual date.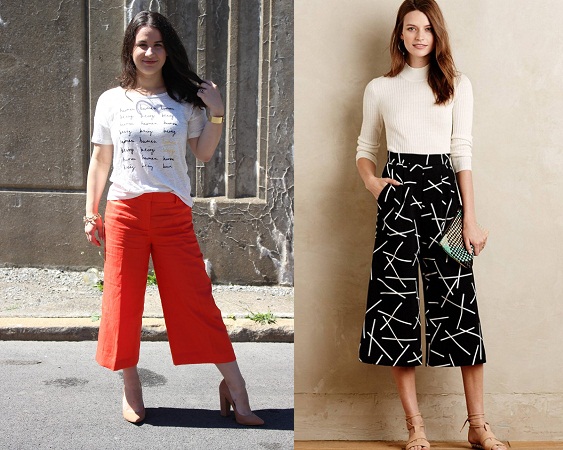 All in One:
Black is classy, especially when you try an 'All black' look. If not black, opt for white as well. Midi skirt, vintage t-shirt, jacket and a pair of black knee-length boots – you are ready to rock!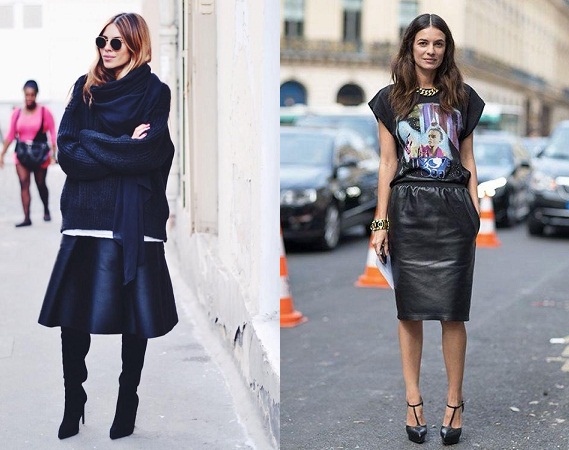 Maxi dresses can never go wrong:
Though it sounds perfect for the summer season, printed maxi dresses can create the difference in spring. Not convinced yet? Try a solid leather jacket. It can instantly add a tinge into your spring outfit.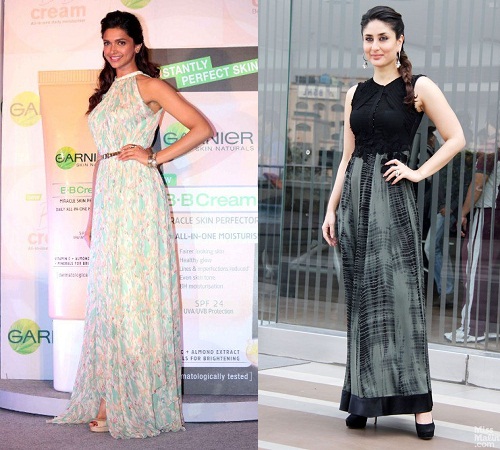 Have some more ideas in mind? Write it to us and allow us to spread it to our readers.