Kota Dariya sarees, also known as Masuria Malmal, is one of the most popular finely woven textiles from India. These sarees actually hold a rich history behind these. The name Masuria has come from Masuria, the earlier name of Mysore and the weaving of this saree was originated from there. The weavers of these sarees were brought to Kota from Mysore between 17 and 18th century and therefore they settled in Kota. This is how this saree has got its name.
The traditional touch
At that period, these sarees were adorned for different religious occasions as the material used to weave these sarees was considered auspicious. Besides, the weaving pattern was so intriguing that these were very much appreciated by the women of elite society. Later, these sarees went on to be one of the most popular and fashionable fabrics available in India. Nowadays, these are manufactured in different small villages in and around the main Kota city. And even at the present time, the conventional methods of preparing graphs, setting patterns, dyeing and setting the yarn have changed just a little because of the high efficiency of the entire procedure.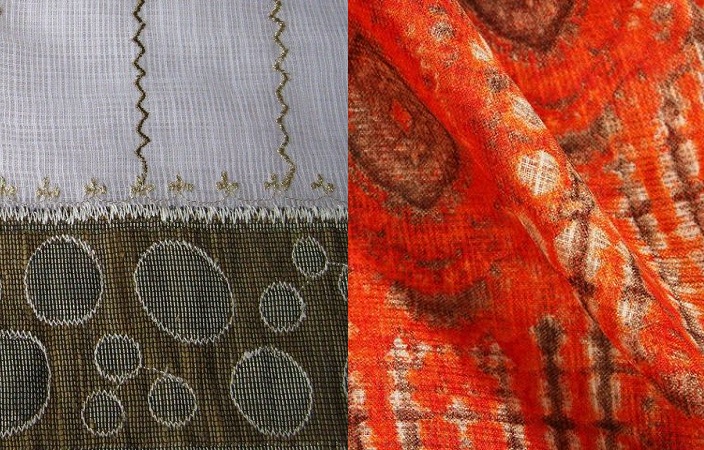 The techniques used
Generally, the Kota Dariya sarees are made of silk or cotton and these come with "khat" or geometric square like patterns crafting a checkered effect and offering the saree a unique gossamer finish. This pattern is one of the things that make this saree so popular among the wearers. The checks created in these sarees often vary in sizes starting from too small to a bit larger. Six silk yarns and eight cotton yarns are generally used to prepare every "Khat". On an average, 300 to 350 khats are there on the width of these sarees, which are therefore woven on the loom. This is the reason why the final saree prepared is so delicate in nature.
Though these sarees are woven in both silk and cotton, but cotton weaves are more popular as these just look outstanding. But sometimes, translucent muslin material is also used to weave these sarees. In a number of cases, these sarees also come with narrow borders edged with Zaris.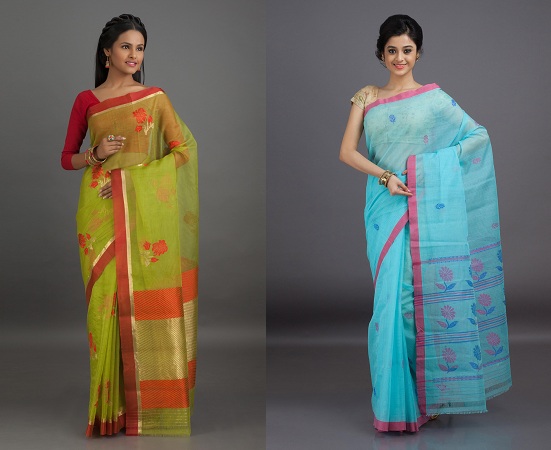 The weaving of the saree
The Kota Dariya yardage is mainly woven in white thread and therefore dyed in different shades. The coloring process is done here with batik, tie-dye, printing or solid dyeing procedures. But in some cases, pre dyed silk and cotton yarns are utilized for the purpose of weaving. As this saree is woven on the conventional pit loom, here the threads are woven delicately with one another and therefore smeared with rice paste and onion juice to make the yarn of the finished product long-lasting and strong enough. Being really comfortable to wear, light textured, super transparent and light in weight, these sarees look very dignified. Besides, being very airy, these sarees are just perfect for the summer days to have a graceful drape.
Mostly the motifs woven in these sarees are borrowed from other crafting techniques like Banarasi sarees. The patterns of these saree are kept as minimum as possible to bring a weightless feel. Besides, often vine and floral motifs woven in similar shades of the same tone or solid colors are utilized. Floral patterns in high repetition and small size are known as "buti". Another popular pattern of this saree, which is highly appreciated by the wearers, is alternate stripes of silver and gold on the borders.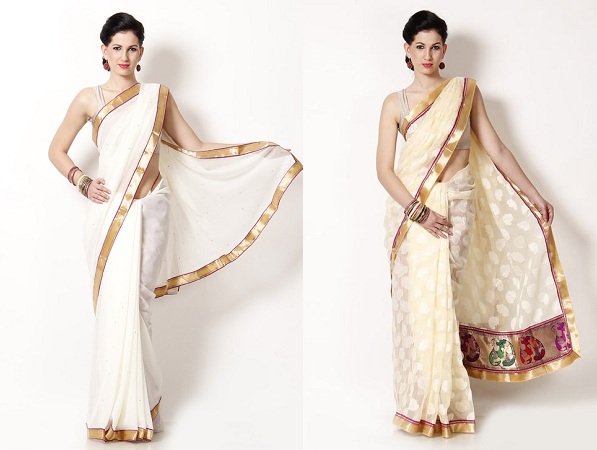 Conclusion
These days, these sarees are widely available in different parts of India as well as other parts of the globe. As these sarees are really lightweight and graceful, therefore people of different classes choose to wear these to look stylish at the workplace or in any casual evening get together. While middle class people mainly choose to wear Kota Dariya sarees made of simple cotton for prevailing hot climate, the people of noble gentry mostly look for embellished opulent Kota Dariya sarees with fine silk strands and brocade work.