Fashion is a manner of expressing yourself in the way you want. Styles come and go, but some contravene the odds to become long-running trends, such as the universal peplum.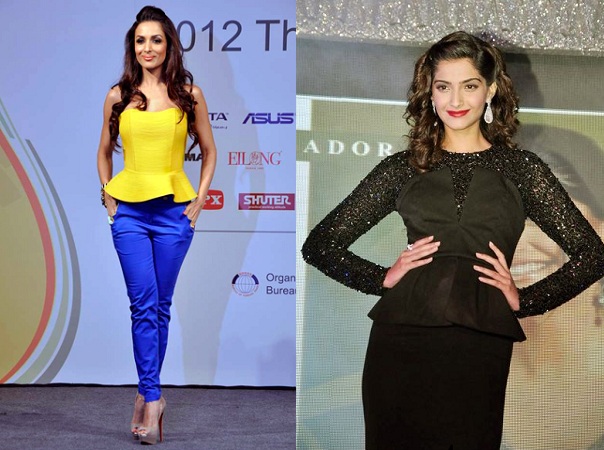 The peplum is the latest trend that has faded in and out of fashion history over the decades. Ancient Greek women used to wear peplos, a tubular garment that was gathered at the waist and folded that is now known as peplum, perfect for hot weathers.
Give your body a Peplum look:
The peplum looks awesome on all the shapes of the body but if you are the one with the pear shaped body then the peplum dresses are meant for you. Since this body type has a beautifully defined waistline the ruffle around it works wonders. It also works well for the Hourglass Shape too.  And if you are skinny then you can wear peplum dresses or tops to add curves to your shape. But small hip girls must avoid wearing this as it would draw attention to this less curvy.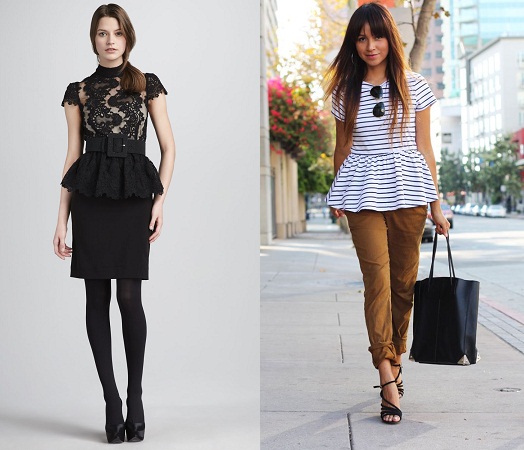 Outfits that go well with Peplum:
For perfect looks pair up your peplum top with skinny jeans of any colour and high pointy heels. Flaunt with minimal makeup and light accessories. It gives a real swag look.

Apart from jeans, you can carry your peplum top with palazzo Pants that gives you best casual look and is also very comfortable to wear.

Pencil skirt along with peplum is a preferable option and used mostly as a semi-formal or formal dress. So, if you want to look like a style diva you can pair up peplum top with a pencil skirt and classy heels.

Are you confused what to wear to a party? Don't worry dress up a printed peplum top along with plain shorts!

Stay comfortable and elegant at the same time, put on your cropped pant with a peplum top and give yourself a perfect formal look.

What'shotter than this? A perfect chic look with the distressed denim shorts and peplum blouse in summers.

Accessories to flaunt with your peplum:
Try to keep it simple. If you have to accessorise, use a chunky bracelet or neckpiece for your peplum. Also, you can add a very slim waist belt if you wish. A blingy or Metallic chain link beltswork wonders giving perfect look.

Since this dress has a retro feel, winged eyeliners will go best with it. Use light nude lip colour with dark coloured peplums or if you are wearing light colour peplum then go for sexy red lip colour.

A messy bun is a perfect hairstyle to carry with this outfit.  A high ponytail behind or a little puff on the top also goes well. Complete your look with a small clutch. Carry pastel shade studded clutch with simple accessories.At last, simply put on high heeled pump shoes or stilettos. Try out pencil heels to give a sharp appearance to your complete outfit and avoid wedges for this look.

At last, simply put on high heeled pump shoes or stilettos. Try out pencil heels to give a sharp appearance to your complete outfit and avoid wedges for this look.

Celebs, who rock the Peplum:
Nowadays you can see many actresses flaunting peplum styles dress or top.
Kim Kardashian with her ultimate voluptuous body has seen wearing peplum many times.

Aishwarya Rai Bachchan: The former miss world flaunted a champagne coloured floor-length peplum dress at one of the many events at Cannes in 2011 and got big ups from the fashion fraternity. Parineeti Chopra is also often spotted in solid coloured peplum dresses or skirts well contrasted with plain tops.

Rihanna often confederates her peplum with gorgeous belts highlighting her slim waist.

Sonam Kapoor was recently spotted in the gorgeous floral print peplum for the very first at the L'oreal Paris Femina Women Awards 2012.

Have I convinced you to give the peplum trend try this season? If so, then immediately modernise your look with the peplum dresses or blouse and let yourself experiment your Peplum look with a top, skirt, dress (or jacket).