Mehendi– a beautiful body art which originated in ancient India and is still an integral part of all the traditional festivals in modern India.No wedding is complete without a mehendi. Mehendi completes women shringar. From weddings to karwa chauth to all festivals, women cover their entire hands – back and front and feet with mehendi. Each mehendi design carved at each occasion has its special meaning attached to it.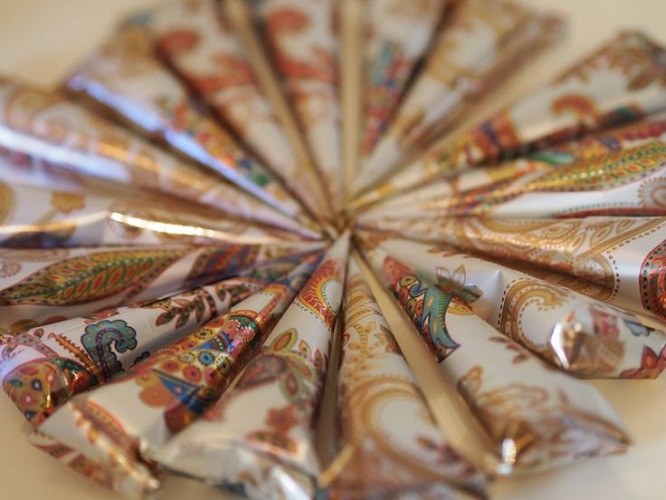 How to prepare mehendi
To apply mehendi , readymade cones are always available in the market. But purity is a major concern for the purchased mehendi cone as their colour fades out soon . They are often mixed with chemicals which can be hazardous. So ladies often opt for making mehendi cones at their homes instead of buying . Preparing mehendi cones  at home is simple and you get natural dark red color which is long-lasting and chemical free.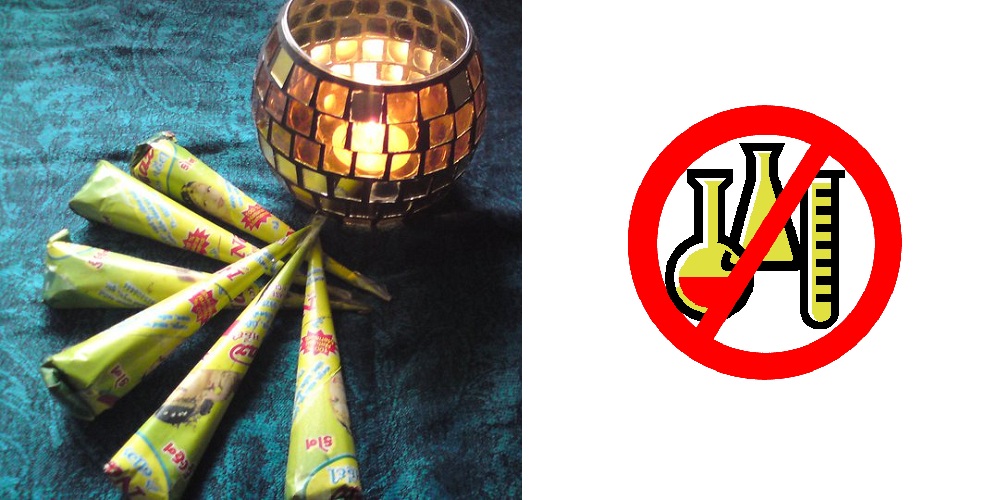 Steps to prepare mehendi.
1.)Gather some  clean mehendi leaves and dry them in sun until they turn crispy.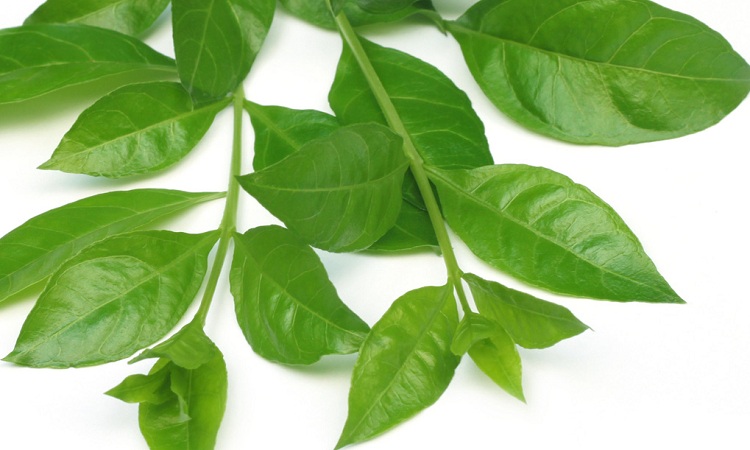 Grind them all to produce powder. Sieve the powder twice or thrice to form very fine powder so that it doesn't contain any coarse particles. Keep the fine powder aside.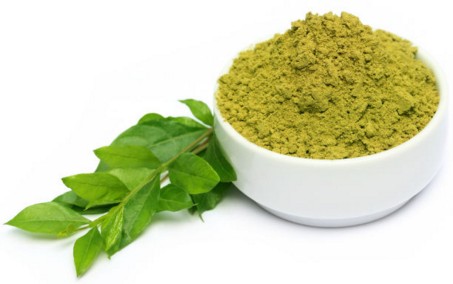 2.)Prepare a mixture of water and lemon. Lemon juice should be added with 3 parts of water.
3.)Now add 3 drops of eucalyptus oil to the fine powder created above and mix it well with the lemon water juice created in step 2.Blend this entire mixture together to produce very smooth paste. Make sure no lumps are present in the mixture.The paste shouldn't be too thick or thin, it should be smooth and creamy.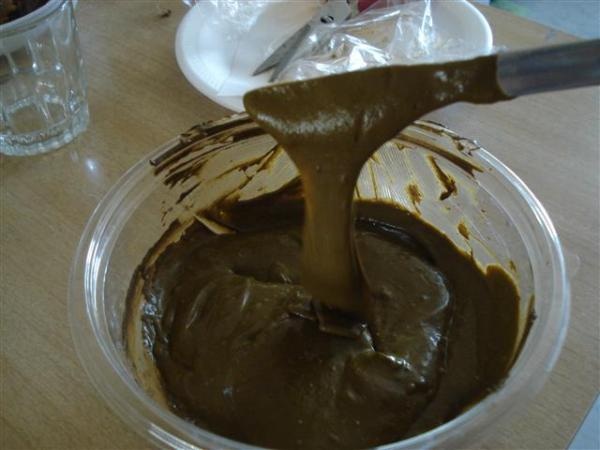 4.)Cover the mixture with plastic wrap and let it to rest for 6 to 7 hours as it will soak the lemon juice and become more smoother.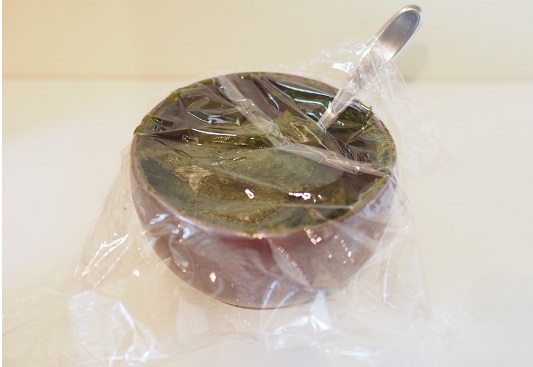 5.)After 6-7 hours, add scoop of this paste in conical shaped plastic cones. Prepare small cones as they are easier to apply .Make sure the space is  completely filled, close the cone with cello tape from the top .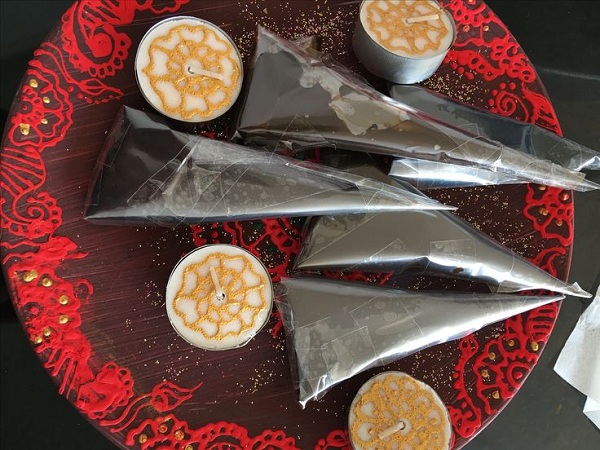 6.)Ta-da the mehendi cone is prepared.So start designing with this pure and safe mehendi you just prepared.
Things to do before applying mehendi
1.)Wash your hands and feet properly with soap to remove any dirt or oil as clean hands and feet absorbs mehendi faster.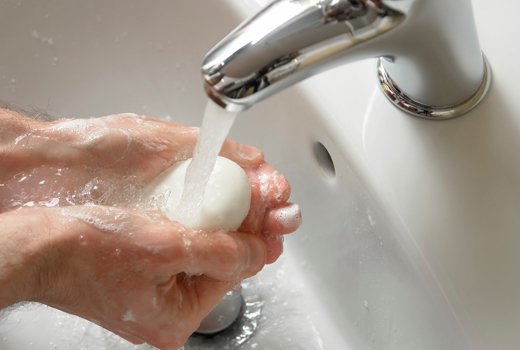 2.)Apply eucalyptus oil before applying mehendi . The oil applied  helps in getting darker mehendi color  which every girl craves for.


3.)Keep extra scrap of newspaper or old piece of cloth to avoid making your area dirty.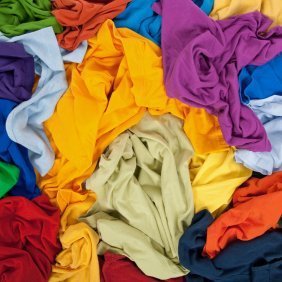 4.)Wear comfortable clothes as you need to sit for long hours and sit in a properly lit area with less noise.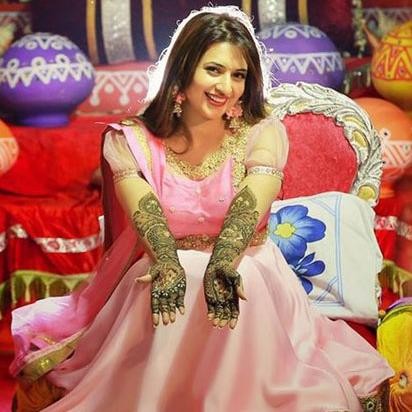 5.)Make sure you have your tummy filled before starting your mehendi session.
Things to do while applying mehendi
1.)Do not move your hands up or down much as it might smudge, ruining the design.
2.)Avoid drinking too much liquid while mehendi is being applied as it affects the darkness of the mehendi.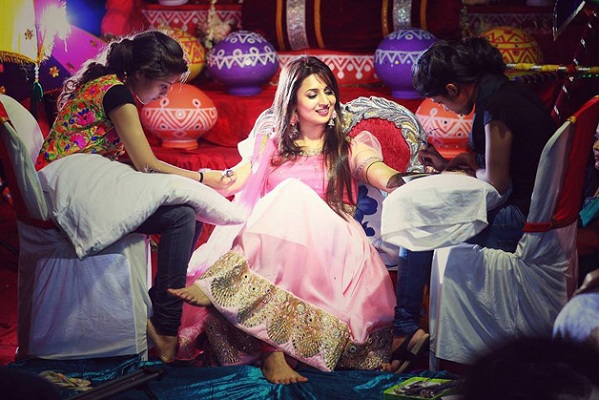 3.)Sit in a proper airy room when applying mehendi.
Choosing the right mehendi design for the right occasion may sound simple but in fact is tricky considering the wide variety of mehendi designs available on the internet. To help you decide you on the mehendi design for your next occasion, here are some of the tips to help you choose.
Simple Mehendi Design
As the name suggests, it's the simple design carved from the thumb of your hand till the index finger. These designs are simple to carve and takes much less time.Best for those who like simple and hassle-free designs. Suitable for all the occasions.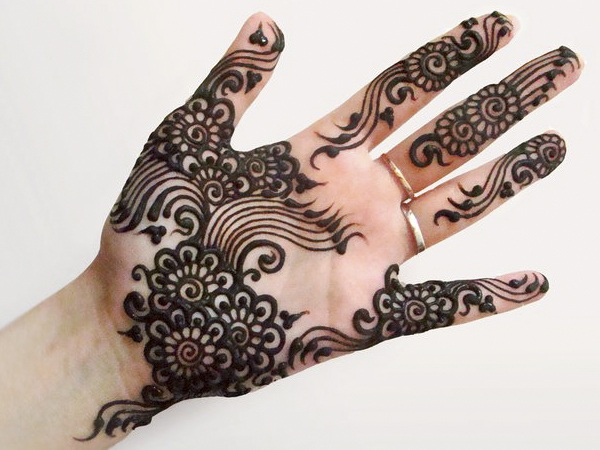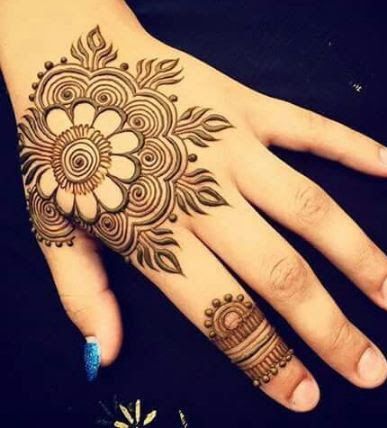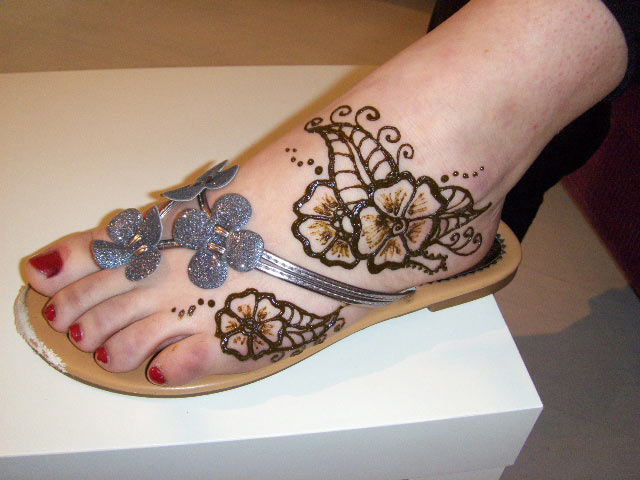 Festive Mehendi Design
This mehendi design is apt for all the major festivals in India  ranging from Eid to Diwali. No festivals are complete without these traditional mehendi designs carved on the full hands and the feet. Check out below some of the designs applied at different occasion.
Mehendi for Eid: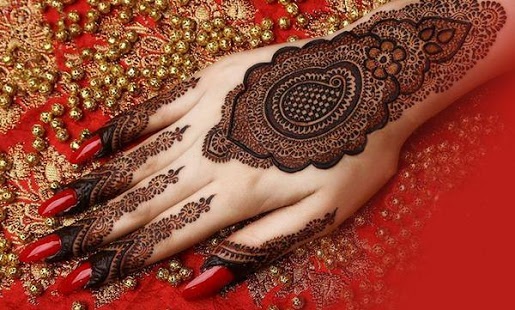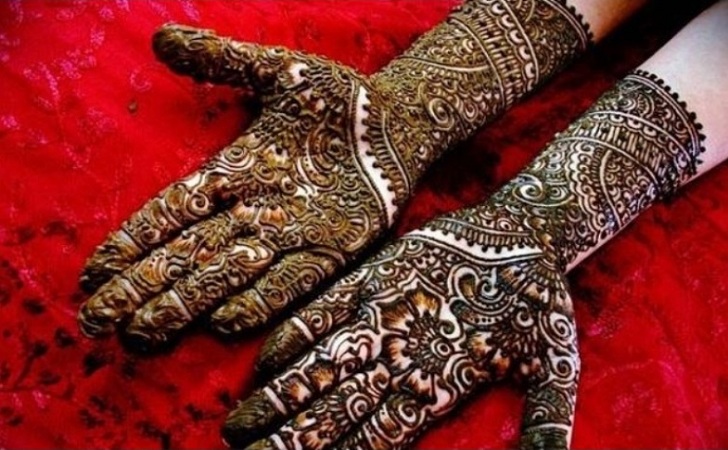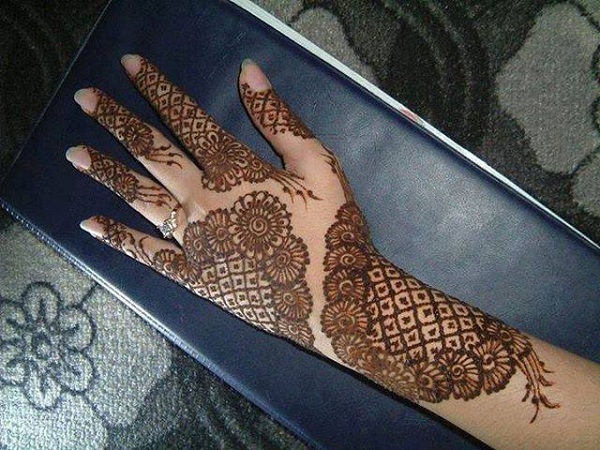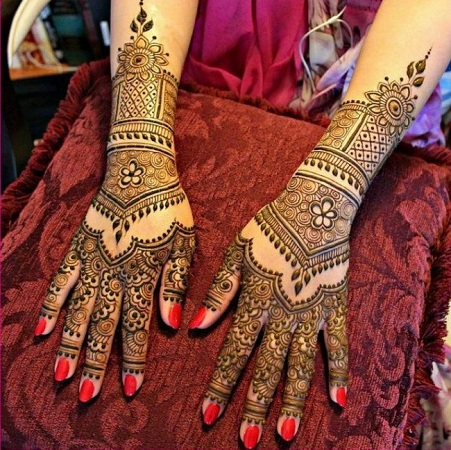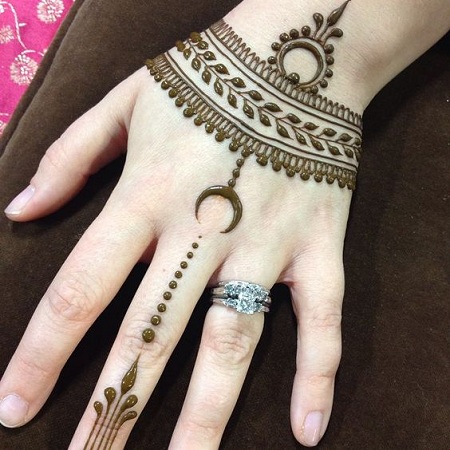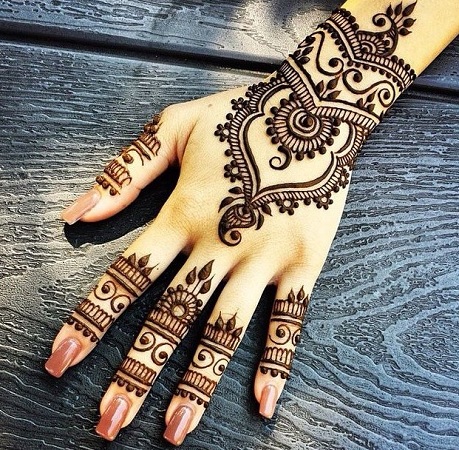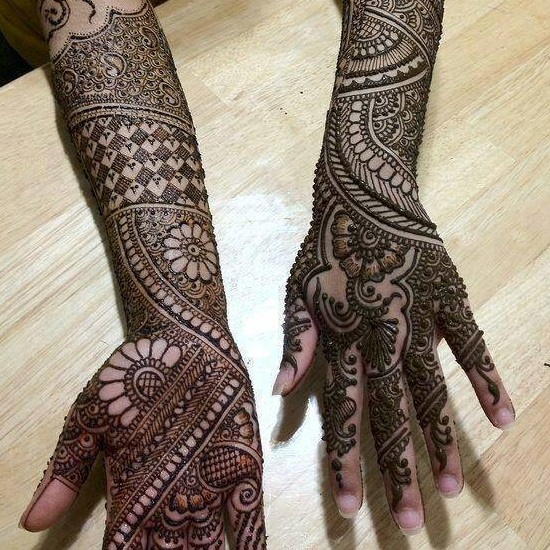 Mehendi For Karwachauth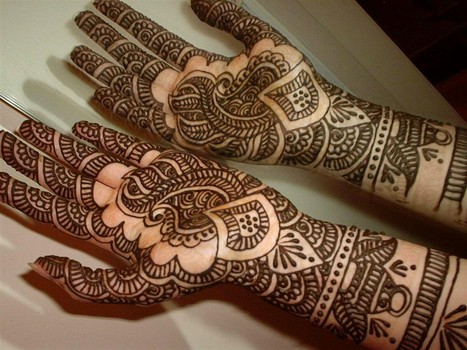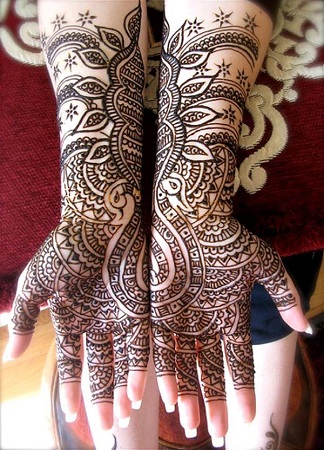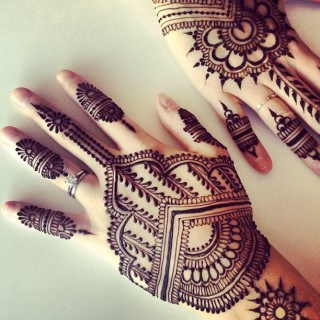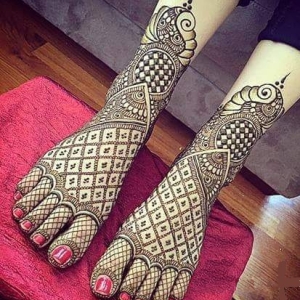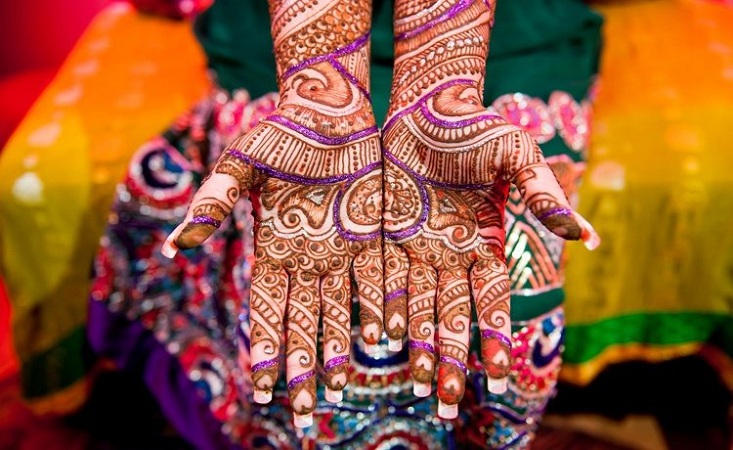 Mehendi for Diwali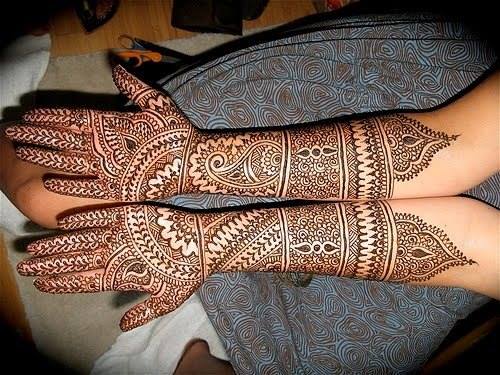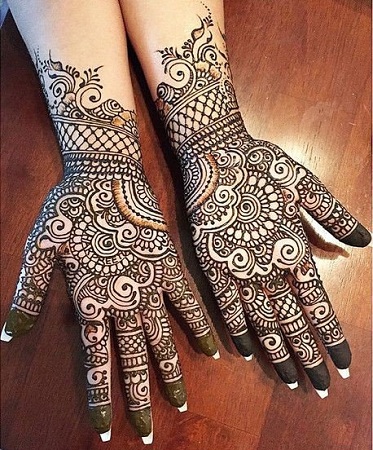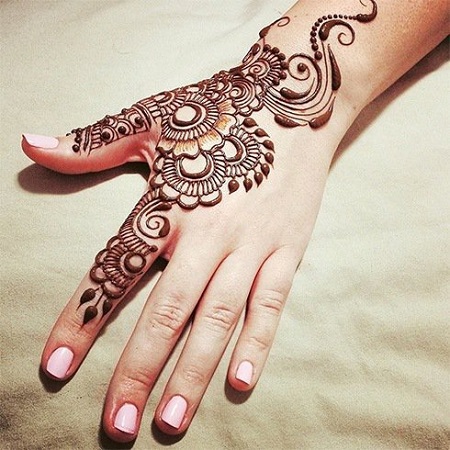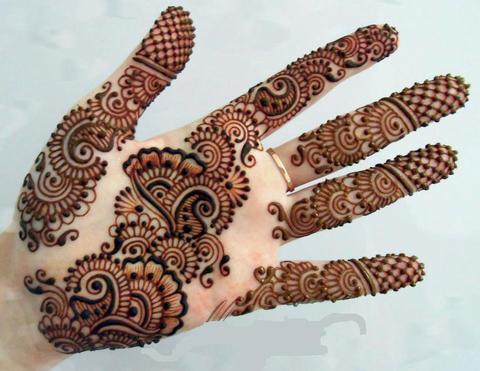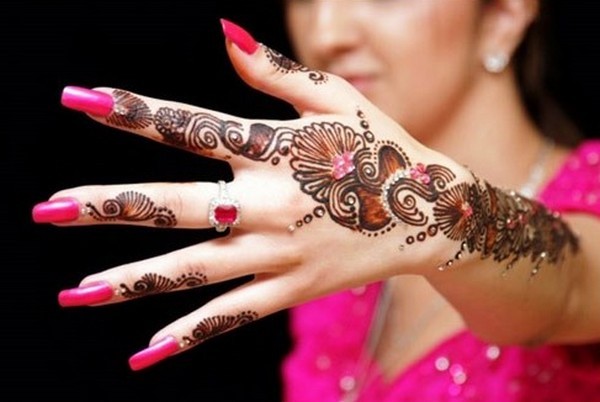 Punjabi Mehendi Design:
This mehendi design is very detailed and so its requires a lot of practice. But once applied looks magical. To make your mehendi design stand out more, add some contrasting nail colours. Its an absolute choice for a bride-to-be. This mehendi design is perfect choice for all the occasions.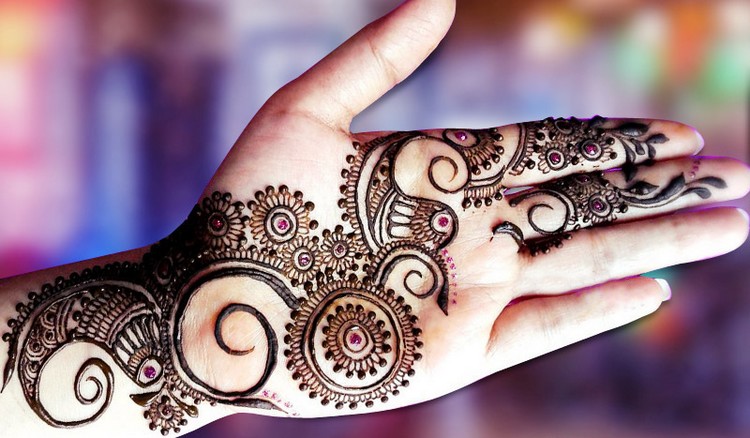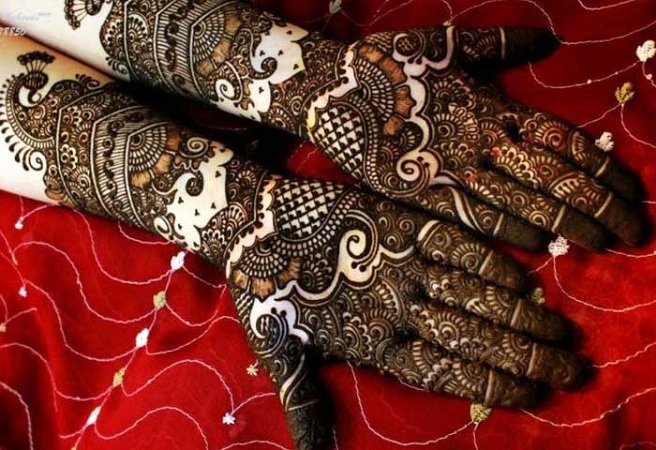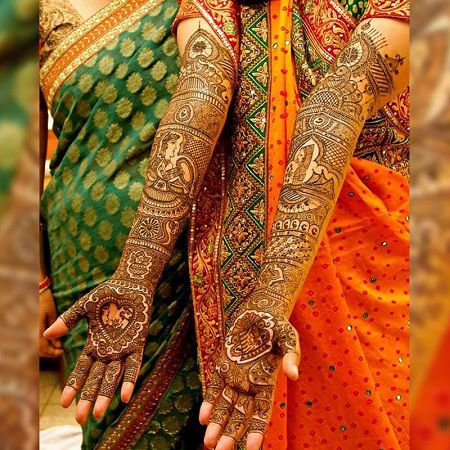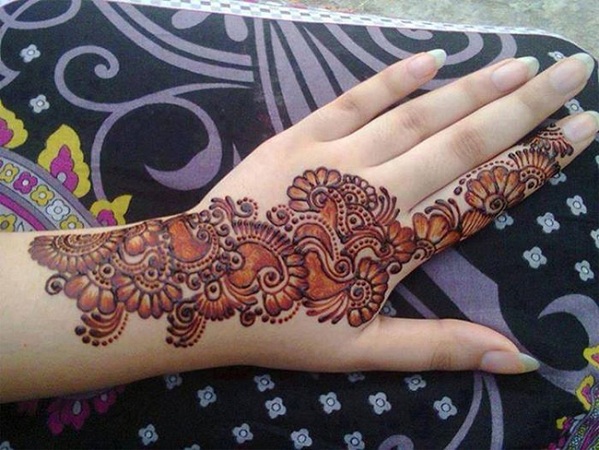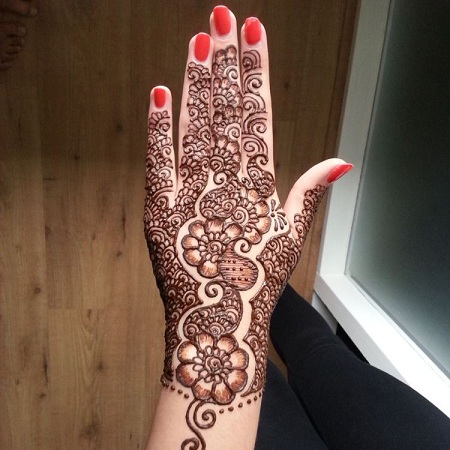 Arabic Mehendi Design
Originated from the Arabian countries, this mehendi design became a huge craze in India. It majorly involves outline or the border patterns which stretches from the tip of the index finger diagonally till the elbow. It is characterized by its bold design and flowy design. Suitable for all occasions. It's scattered spacing makes it look clean and delicate.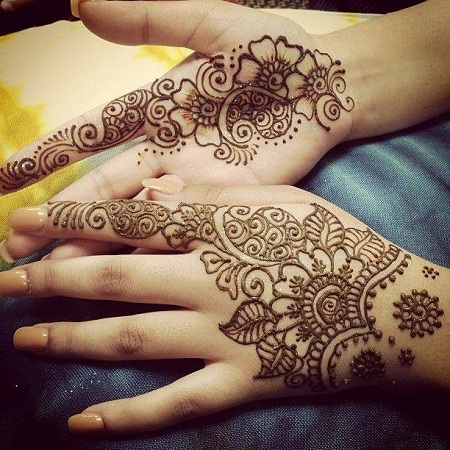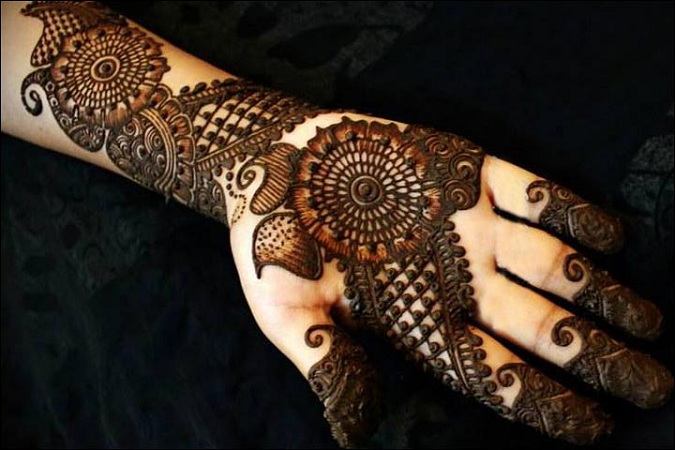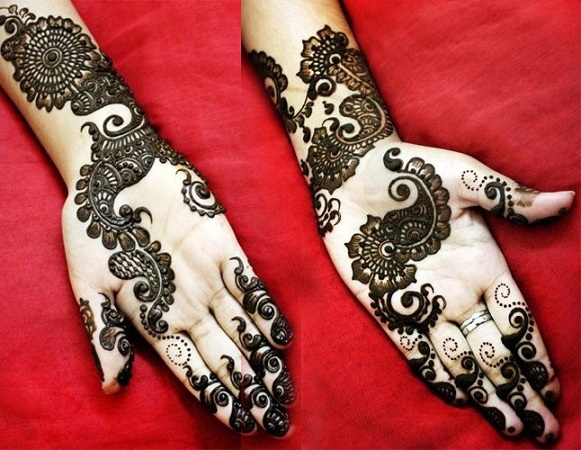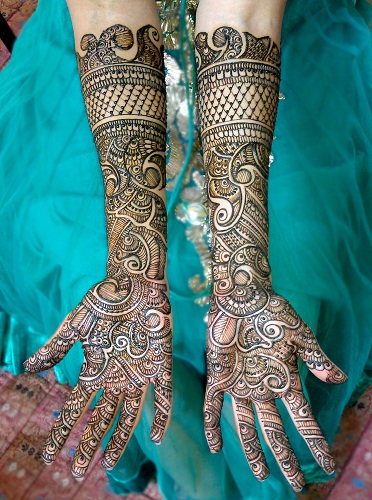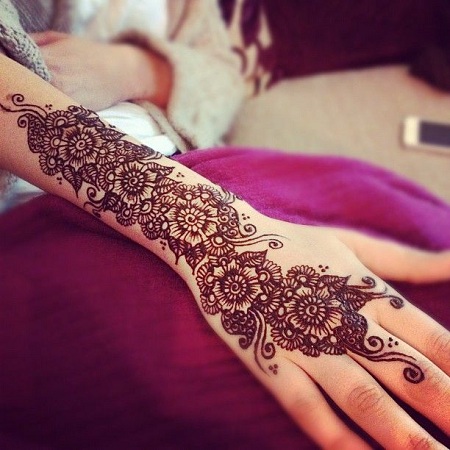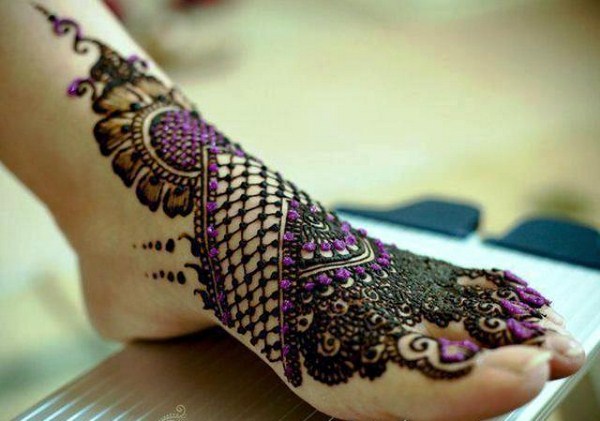 Pakistani Mehendi Design
It's a fusion of Indian design with the Arabic Design and brings out the best mixing the two designs.The outlines are done with black mehendi and the inner sketches may be any of the various Indian designs available. Popular choice among the Pakistani brides and weddings. Beautiful huge complex designs are drawn which makes hands look fuller and elegant.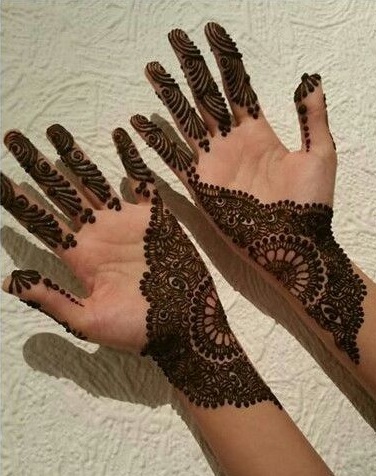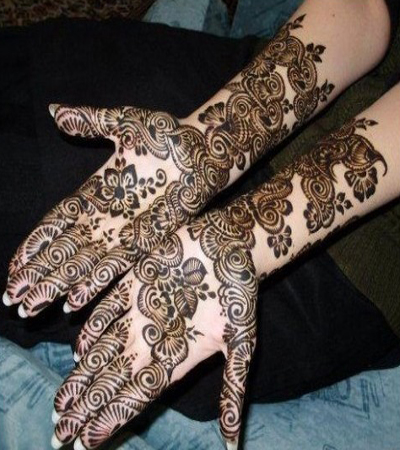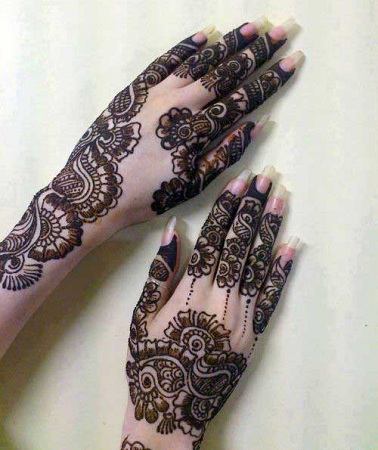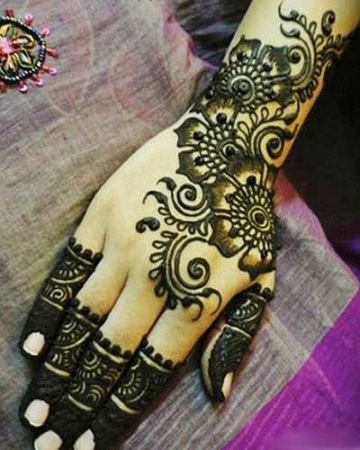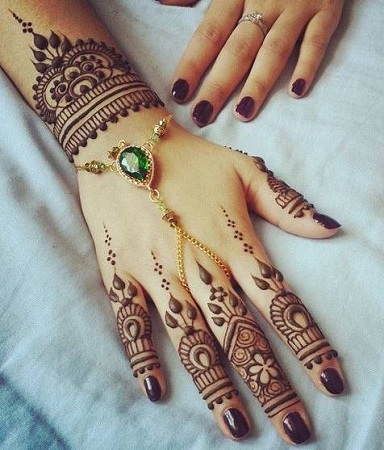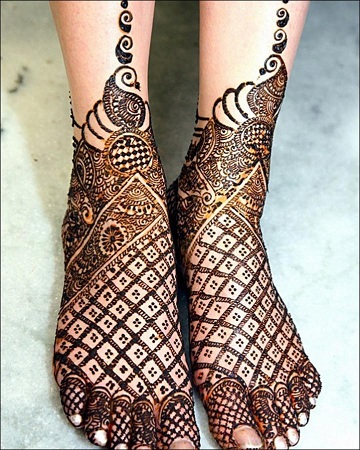 Multi colored mehendi design
Adding colors to your regular mehendi design to look more fashionable and trendy. Raise the design to look more gorgeous by adding some crystals.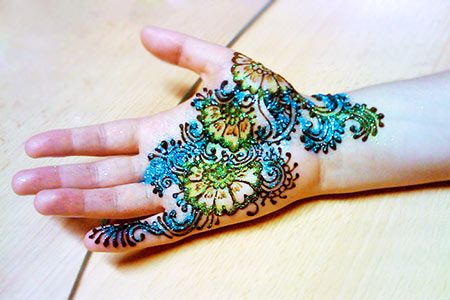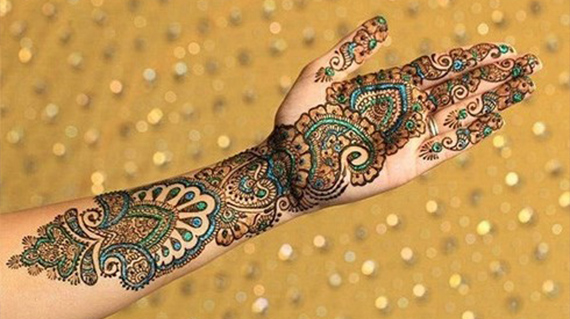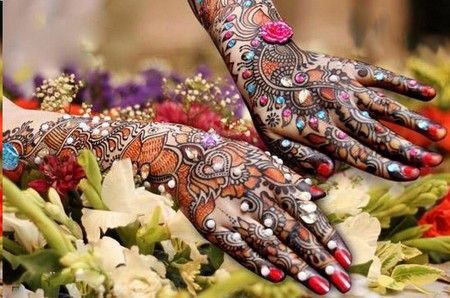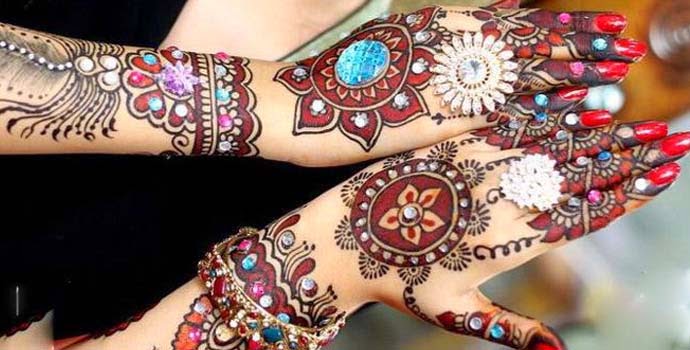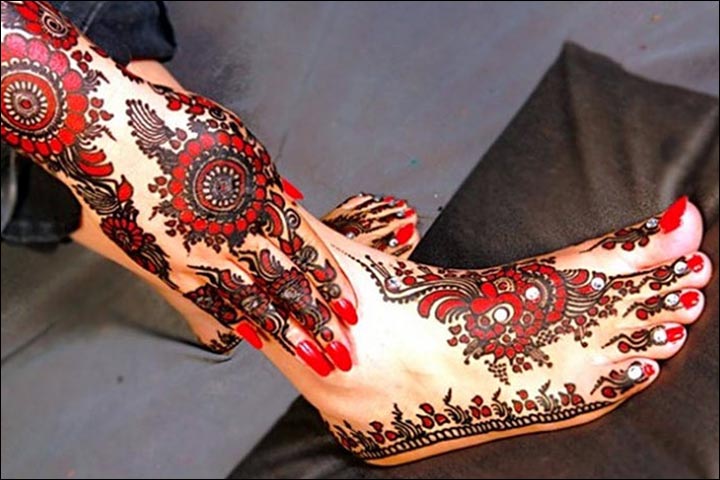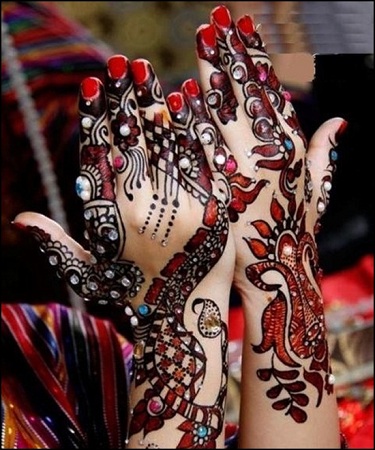 Glitter
Glitter mehendi is a new trend followed nowadays and is becoming quite popular. Adding colors to your regular mehendi makes it more attractive and tempting. Added with rhinestones, beads and diamonds, the designs look even more classy and stylish.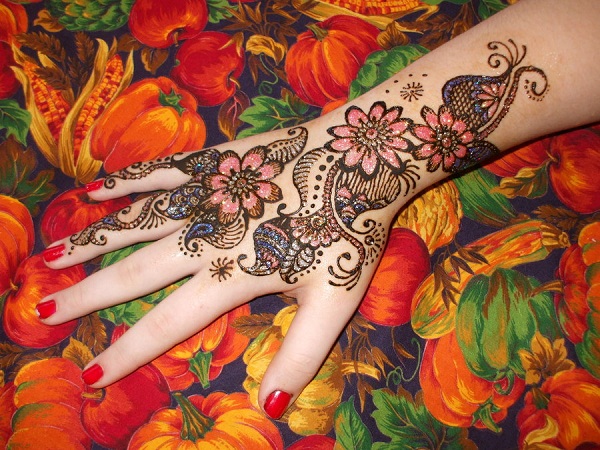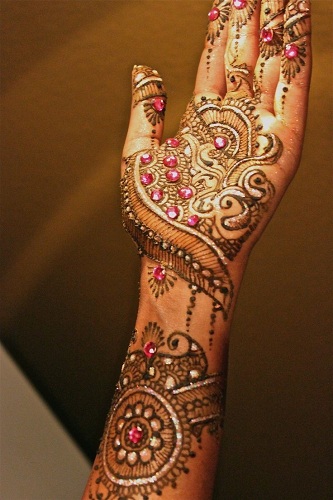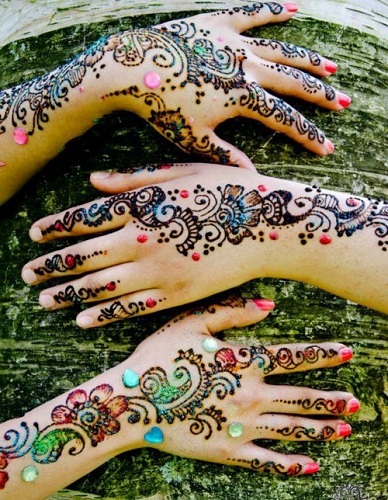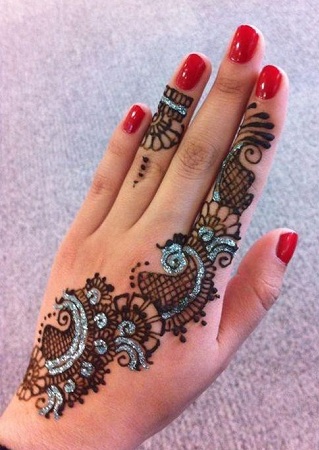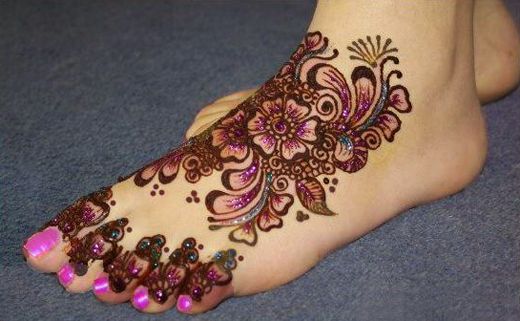 Bridal
No wedding is complete without a bridal mehendi. Every bride needs to pay special attention and decide on a mesmerizing design pattern. Bridal mehendi is applied on complete hands and feet. The design is highly intrinsic and requires hell lot of time to apply.Today internet is full of bridal mehendi designs, so explore from the wide variety of designs and make your wedding day a memorable one with the touch of the auspicious mehendi. Here are some of the designs you can choose from.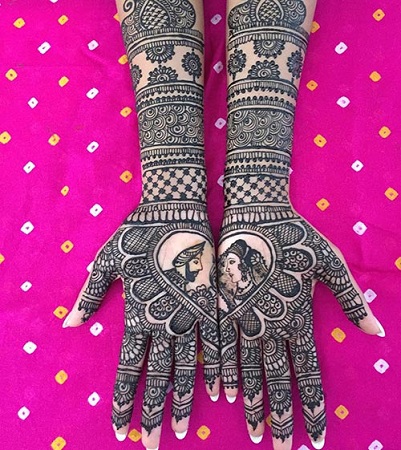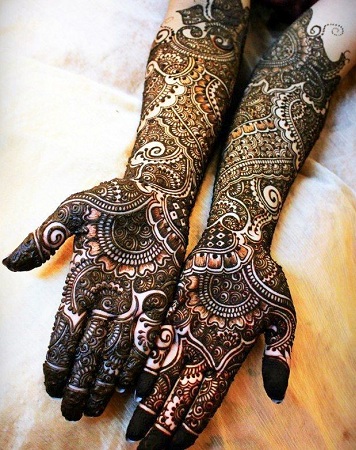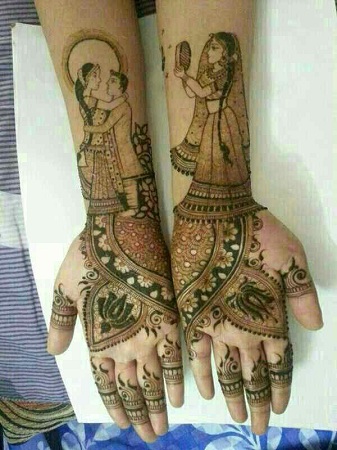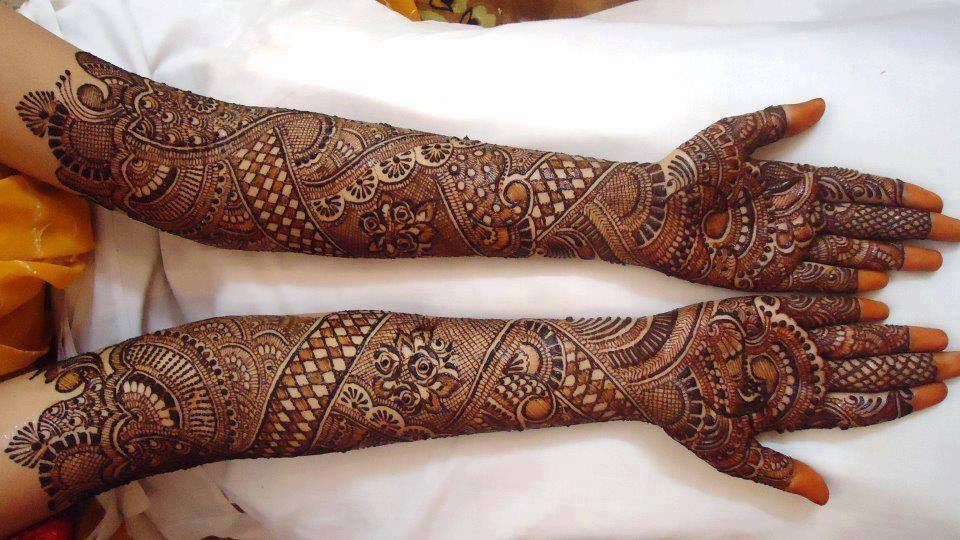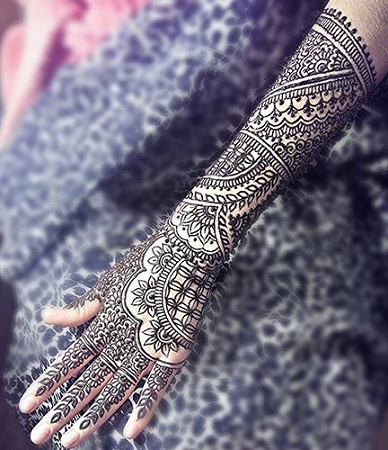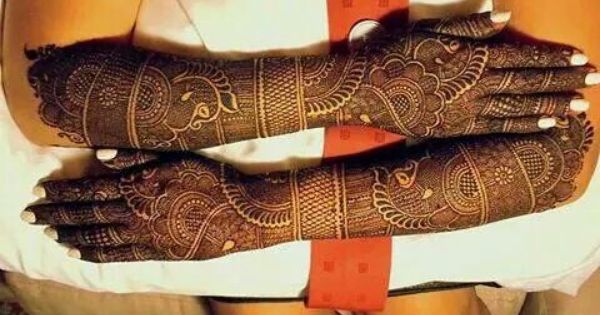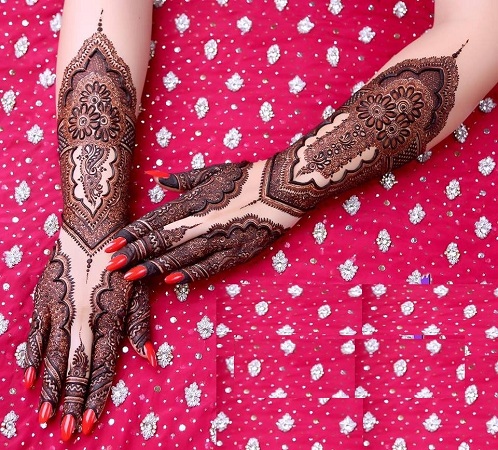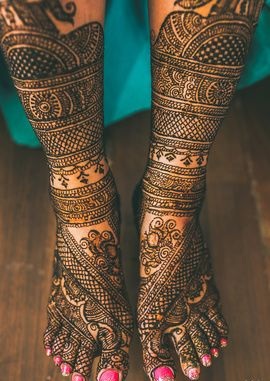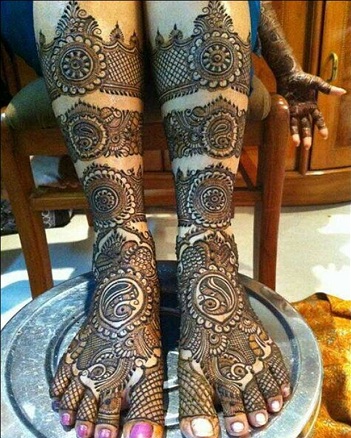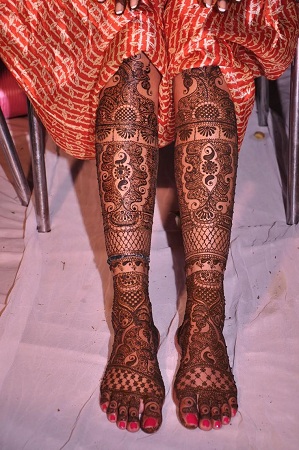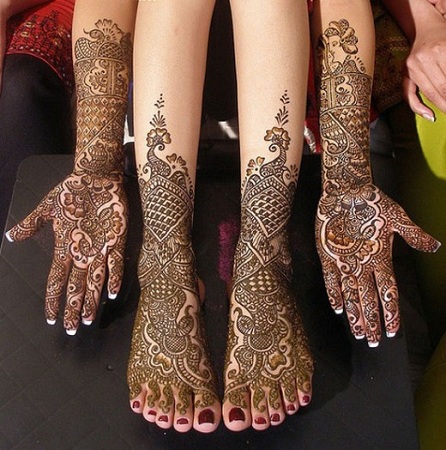 Having a fascination to apply mehndi but confused what design to apply? No worries, here are some of the trending mehendi designs to choose from.
Peacock Mehendi
Of all the various animal motifs available for mehendi design, peacock is the popular choice among females as they easier to carve and improvise. Peacock is seen as a symbol of grace and allurement and it truly imparts that classy charm once applied. Check out some of the simple to contemporary peacock designs below.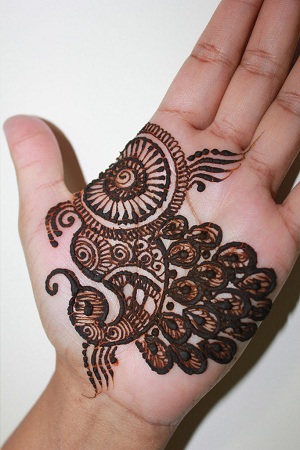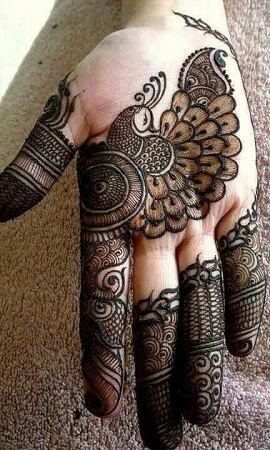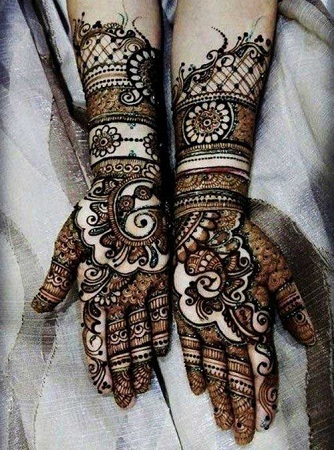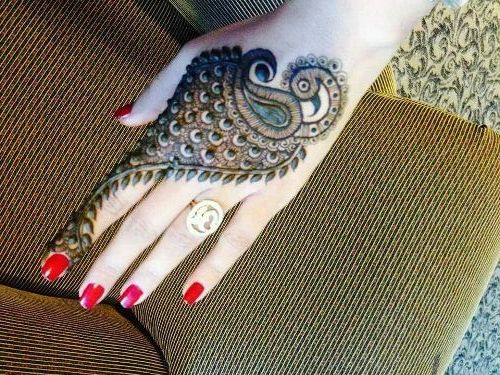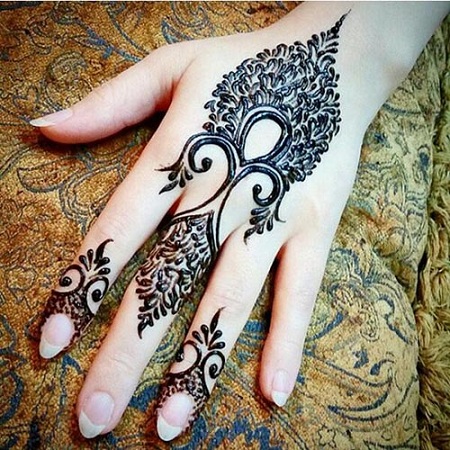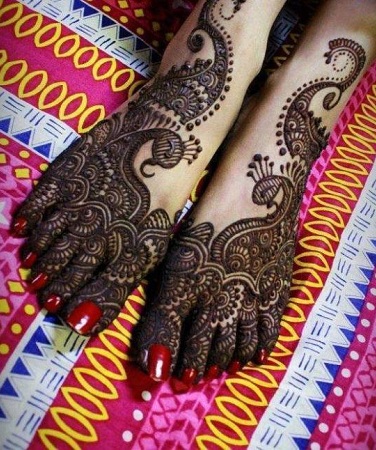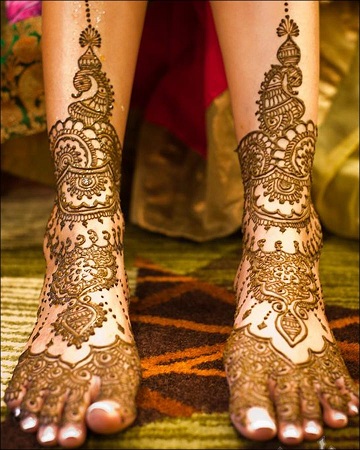 Paisley Mehendi Design
Paisley is an all-time favorite classic design consisting of curved motifs spread all over your palms. Coalesced with floral prints it looks stunning and is a delight to our eyes. Here are few designs which you can try on.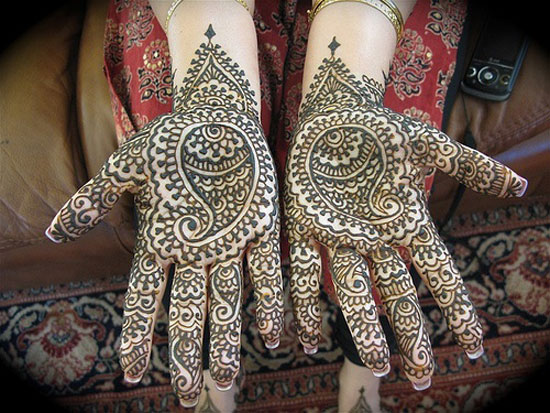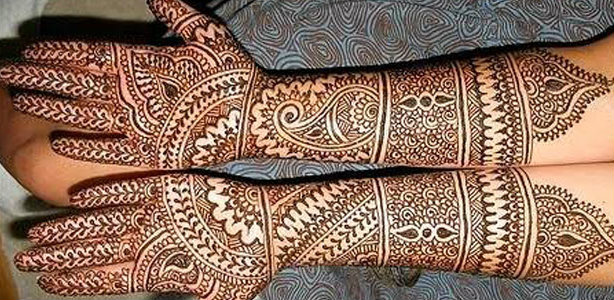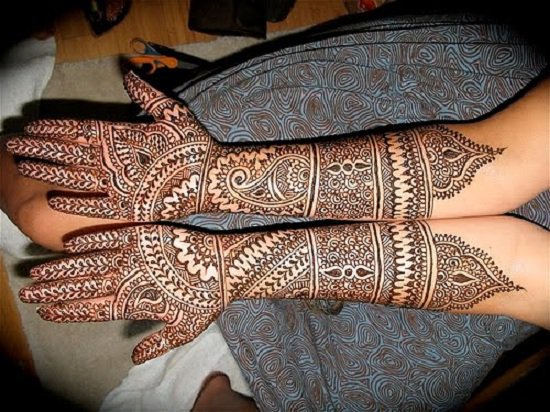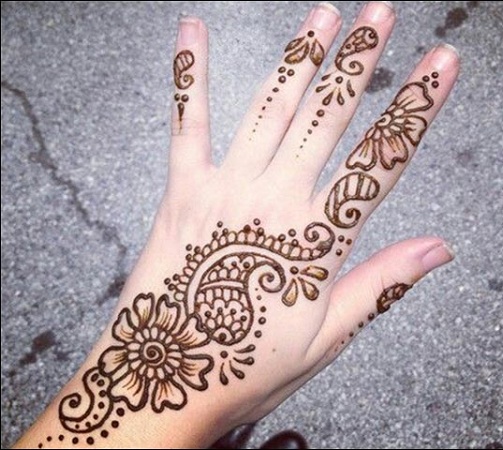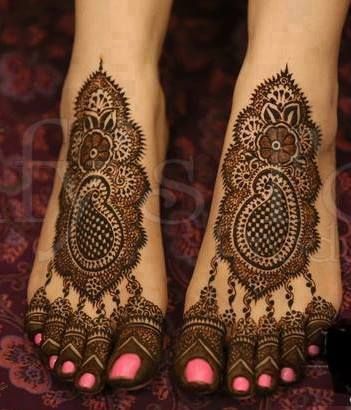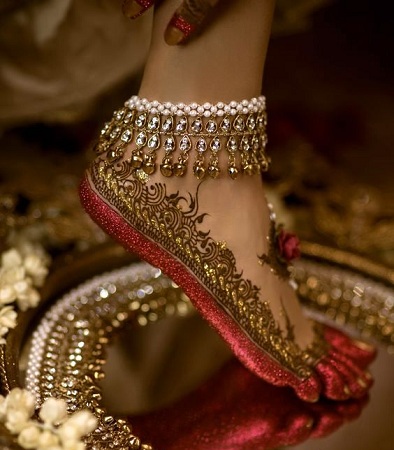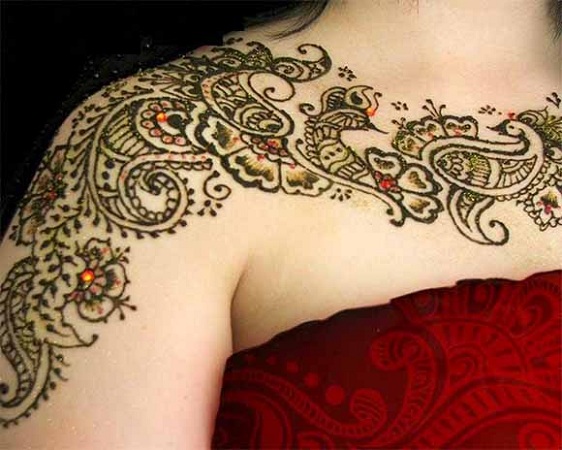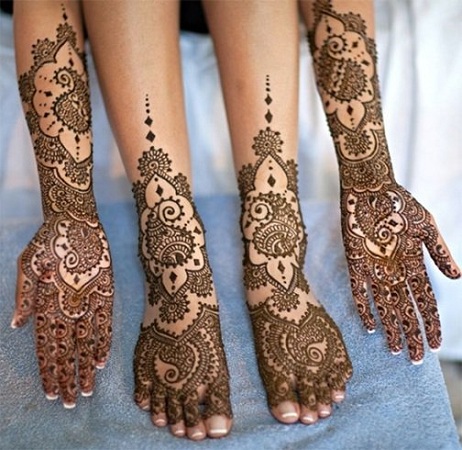 Round mehendi Design
Most of the basic mehendi designs consist of patterns made by lines and various geometrical shapes. The shape which stands out the most is the round mehendi design. They form a large center part of your palm surrounded by beautiful, delicate and intrinsic work. The round design can be flowers, sun, moon or any animal motifs followed by exquisite patterns all around to give a complete and a neat look.The patterns added near the tip of the fingers further beautify the design.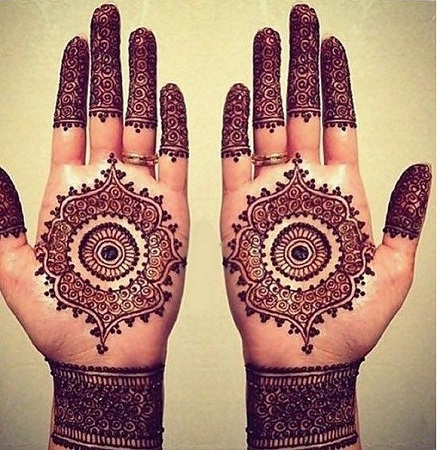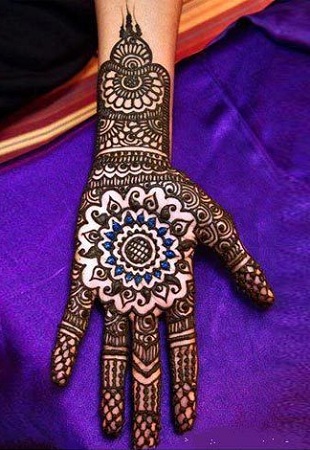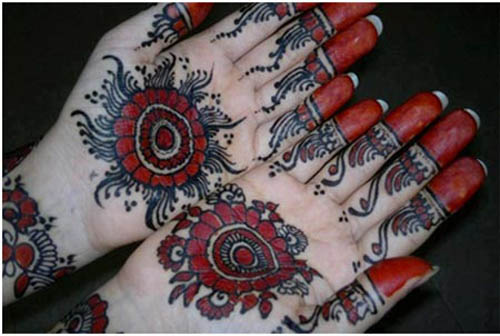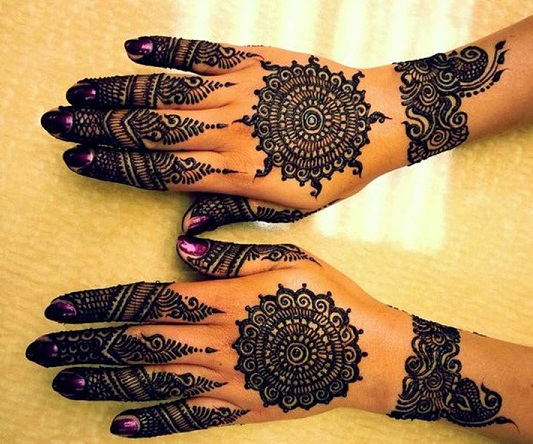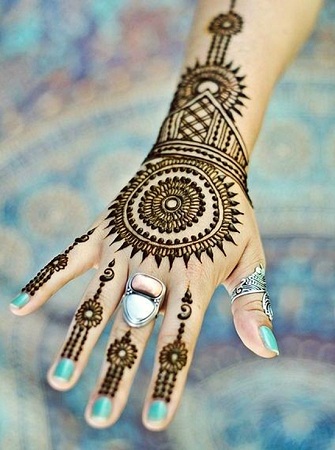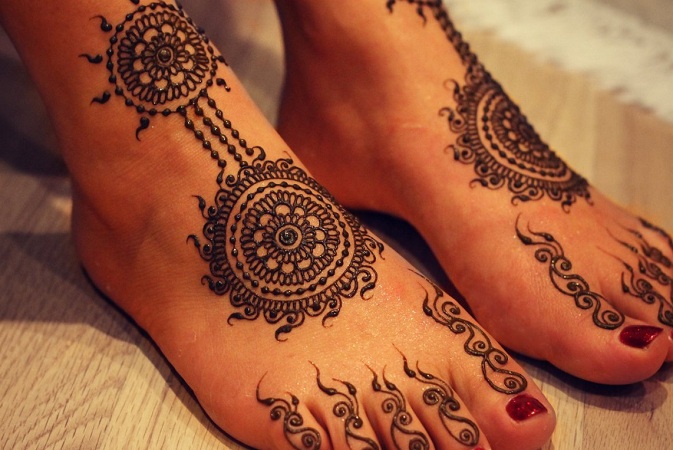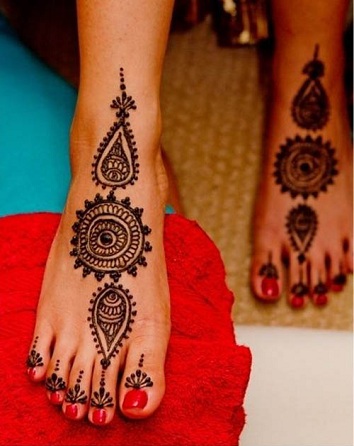 Floral Mehendi Design
No mehendi design is completed without floral design. Often seen as a sign of fertility and happiness, floral design are the number one choice for any bridal mehendi design. It can be used in any Indian, Arabic or Pakistani design. Ladies love simple and continuous flowers as they look classical. Most brides prefer having lotus in their design  as it symbolizes soul uniting with God and a blessing for their new beginning. Flowers are beautiful and pure and when added as a mehendi design, it looks pleasing and alluring to everyone eyes.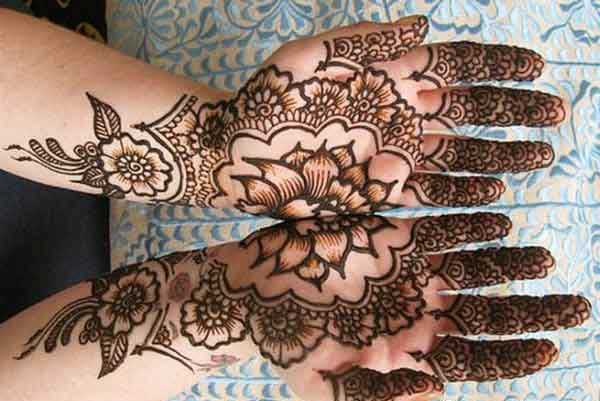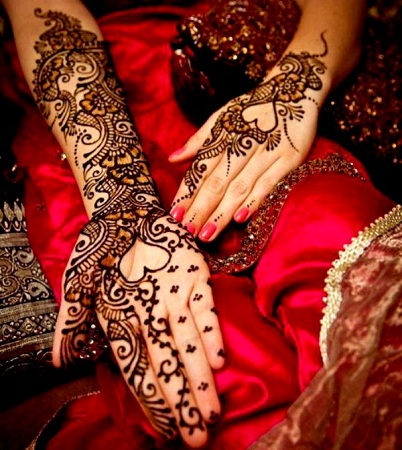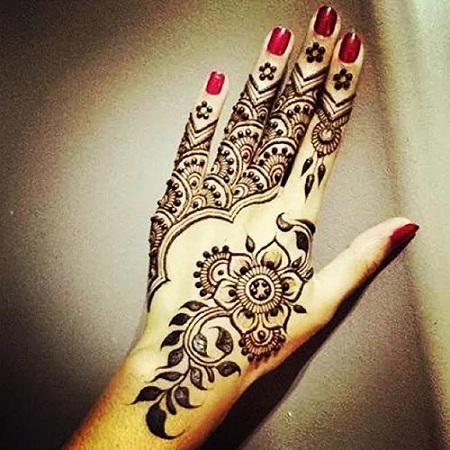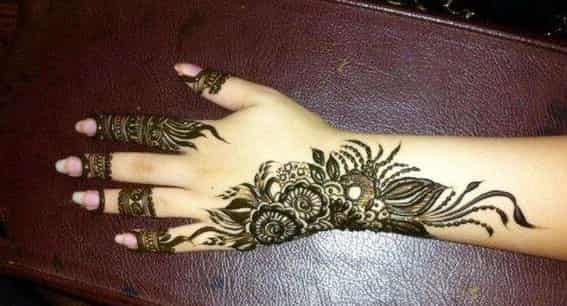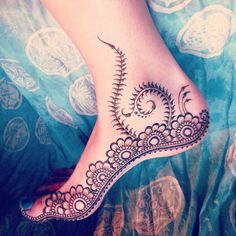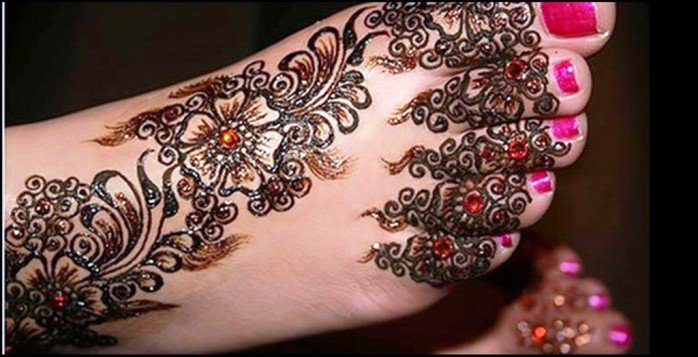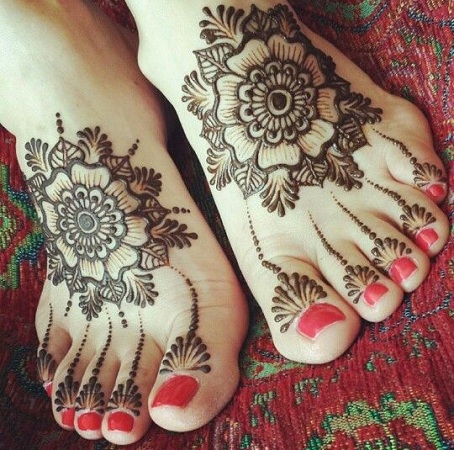 Moroccan Mehendi Design
Emerging from Middle East, moroccan design consists of lines and is geometric in shape unlike the floral and curvy patterns seen above. It is easy to draw and can be used for every occasion you can think of.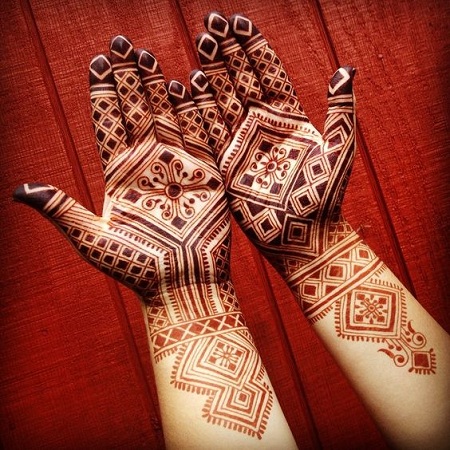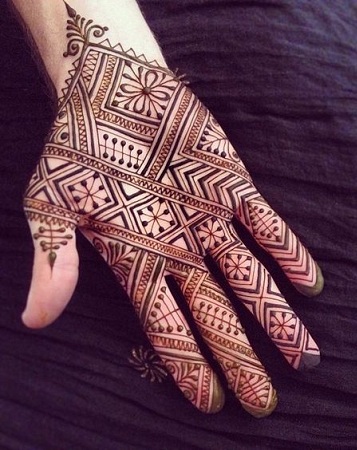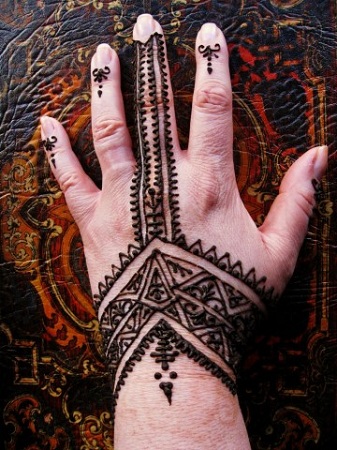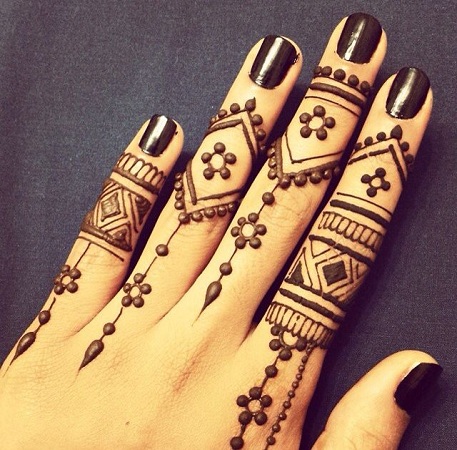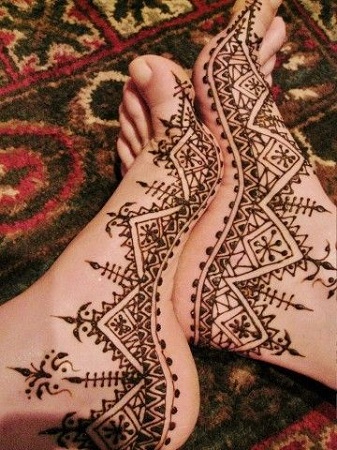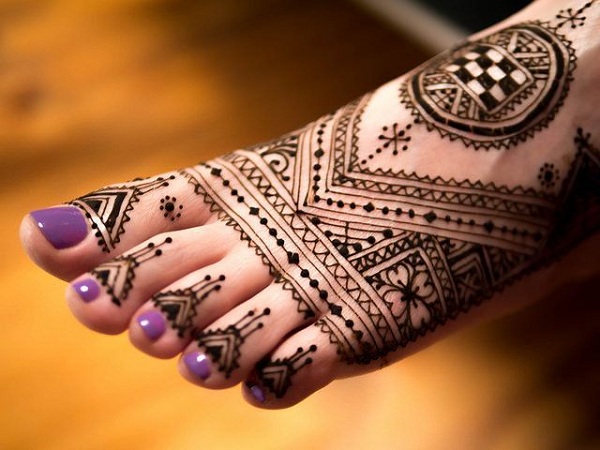 Shaded Mehendi Design
Shaded mehendi designs are popular among the mehendi design artists who wish to give their customers an exotic look from their regular mehendi design. The Arabic designs are often drawn with shades as they are thick and have space for adding light shading as against the Indian designs which are clustered near each other providing very little space. Glitter added to shaded mehendi design looks striking and mesmerizing.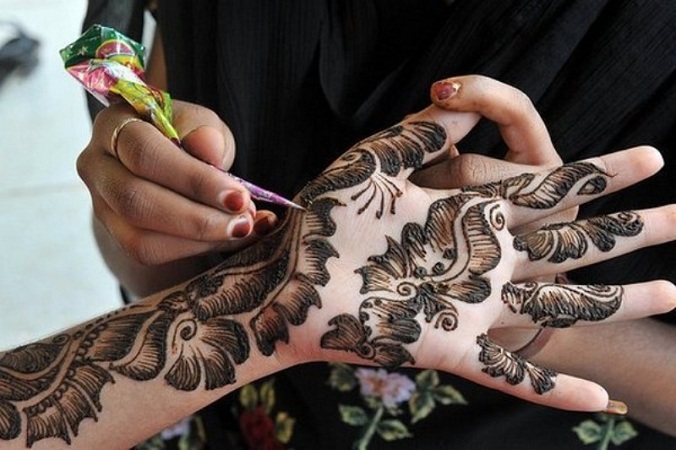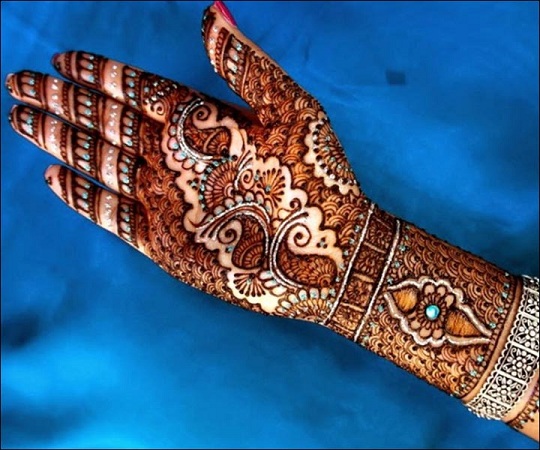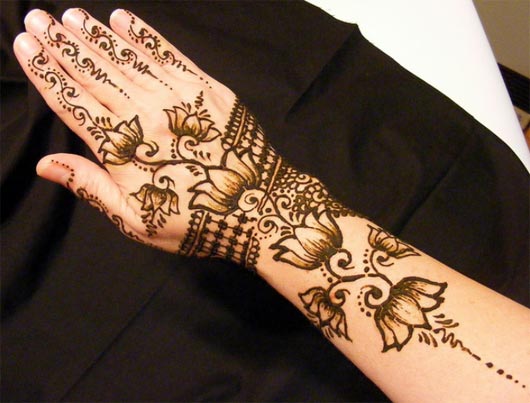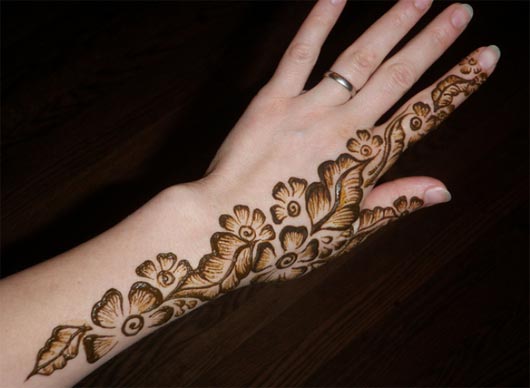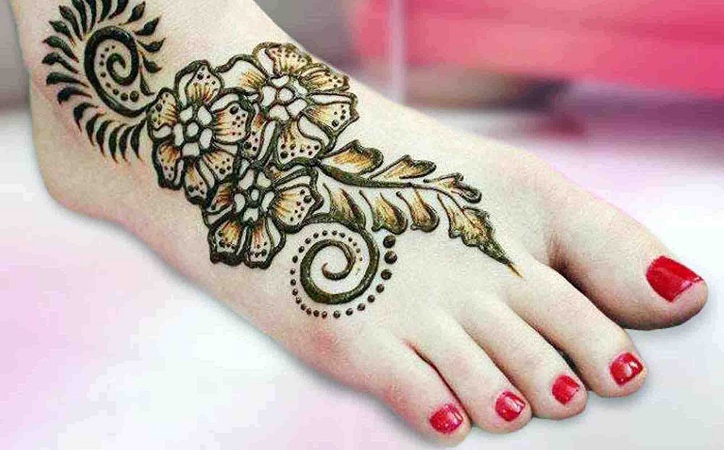 Net mehendi design
Net mehendi designs are the weaving patterns covering the entire hand. Combined mostly with the floral or the paisley design, it looks stunning and gorgeous. The intrinsic details added to the net pattern drawn at the back of the hand also looks ravishing.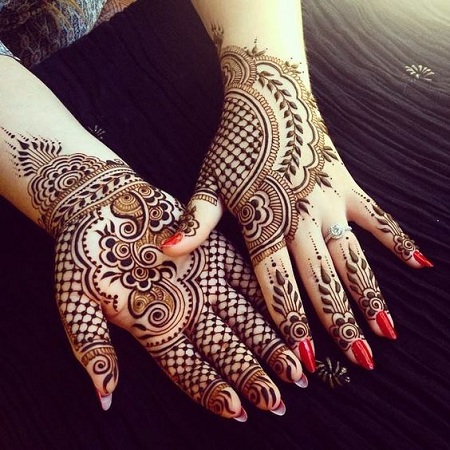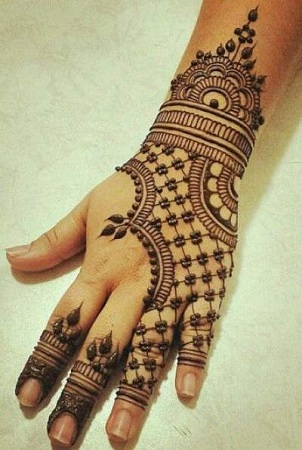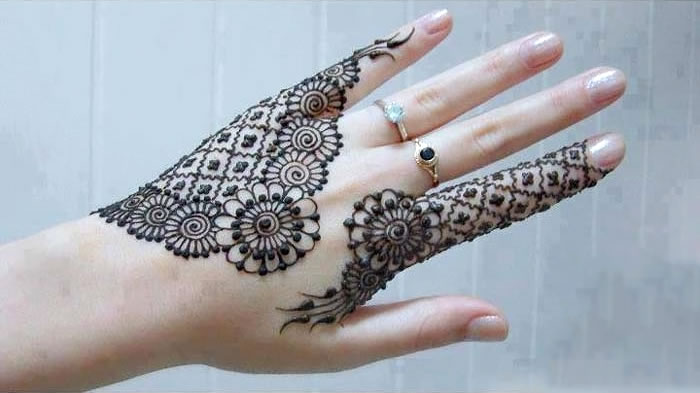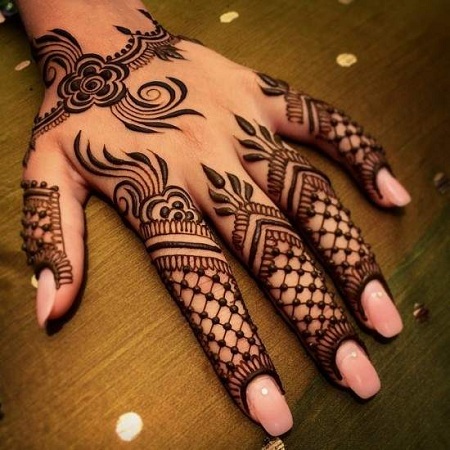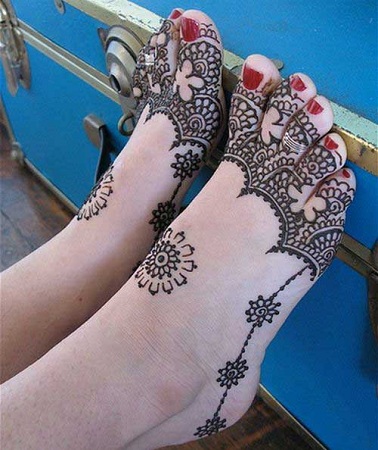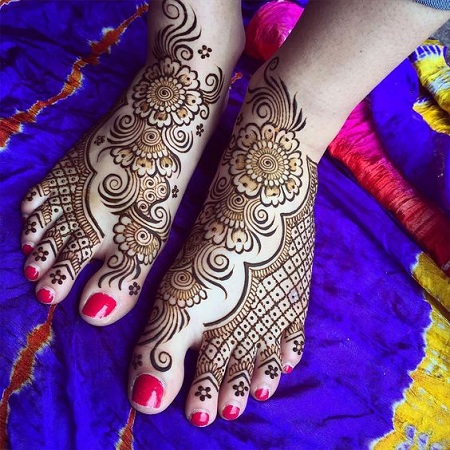 Portrait Mehendi  Design
A new trend which has become immensely popular among brides is the portrait mehendi design. The bride carve out their and their groom's face in the middle of their palm.
It is a complicated process and hence expensive. Mehendi artiste Bishwanath Mondal is the one who experimented this style.He says "It involves sketching the photo of bride and groom and them make a decal of it. After that it is stuck in the bride's palm and water is applied for it to stick. After peeling off the sticker, the mehendi is applied on the area. After mehendi dries off, the sticker is removed and the designs are drawn around it."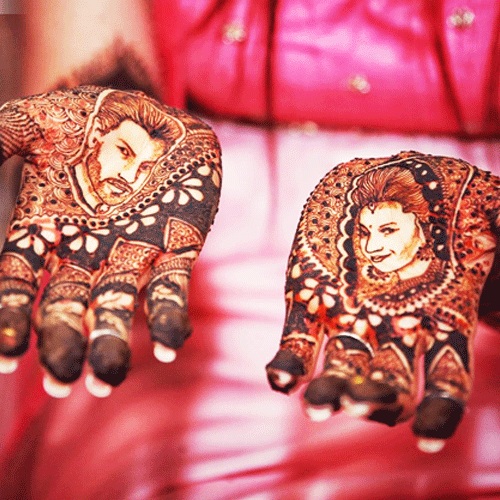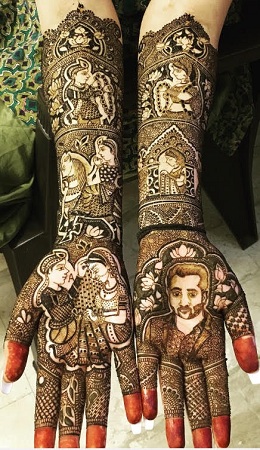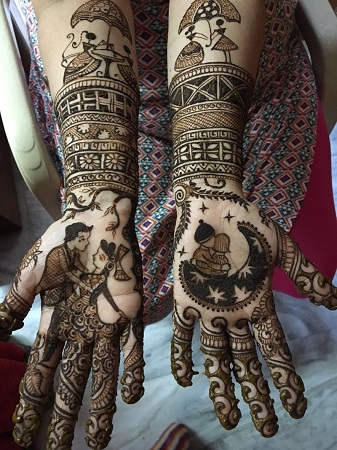 Lacy glove mehendi design
Inspired by the western brides wearing gloves on their D-day, Indian women follow this suit by applying lacy glove mehendi design. These intrinsic mehendi designs are drawn at the back of the hands to give you an illusion of a lacy glove worn. Ladies can give a try at wedding or any occasion. Here are some of the designs to inspire this mehendi design.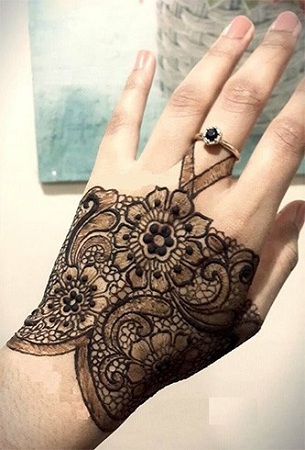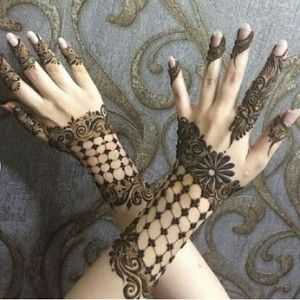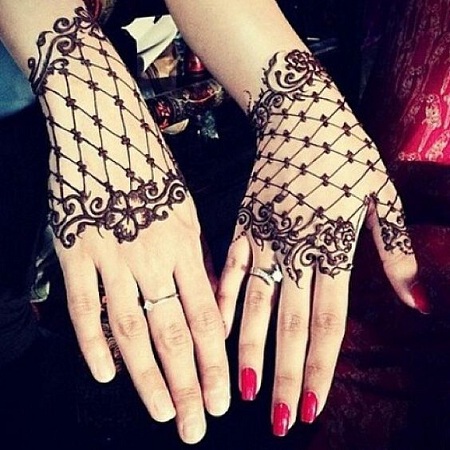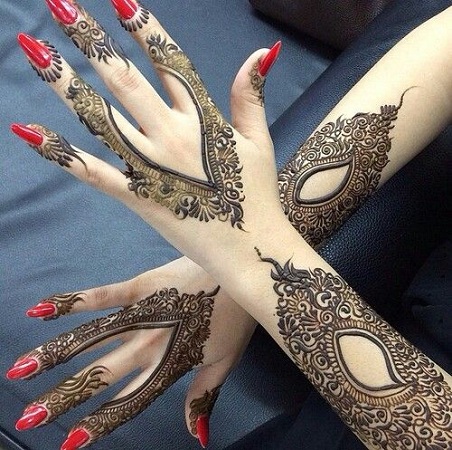 Minimalist Mehendi design
Minimalist mehendi design is much in demand as females today are preferring minimal design as against filling their entire hands and feet with elaborative design. These designs are simple yet look beautiful and classy at the same time. Check out some of the new minimal mehendi designs below.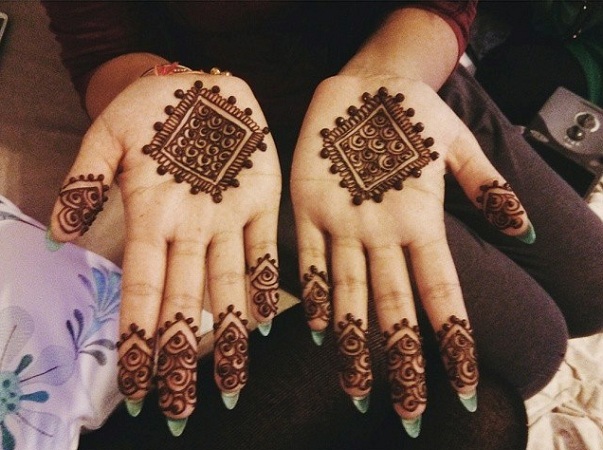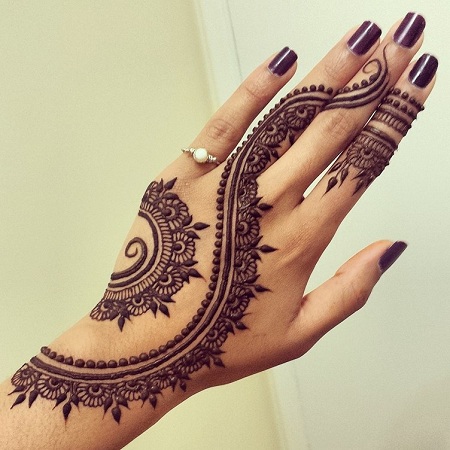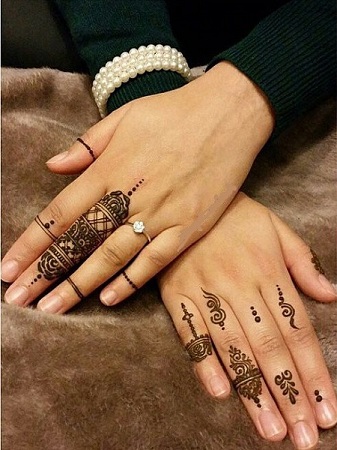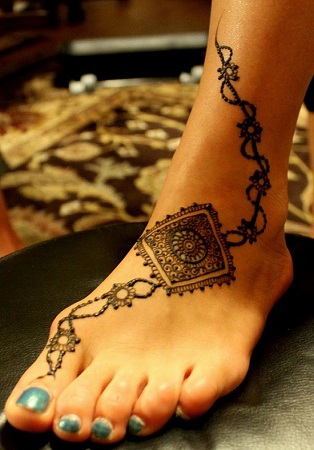 Jewellery Mehendi Designs
Jewellery mehendi designs are a  new crave developed among women these days. Ornamental mehendi designs mostly drawn at the back of the hand or the feet looks cute and elegant. These jewellery designs are versatile enough and settles with every festive mood.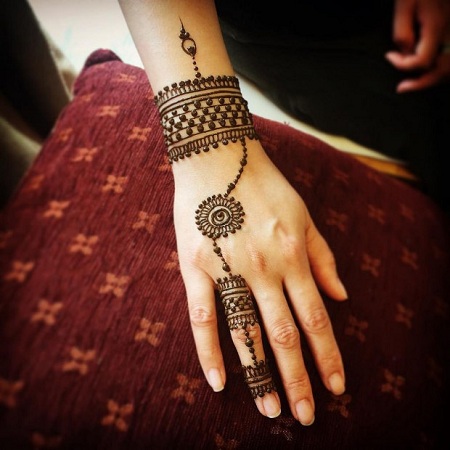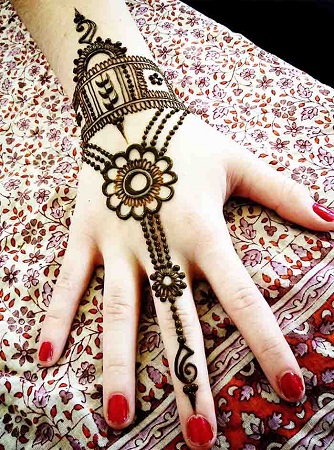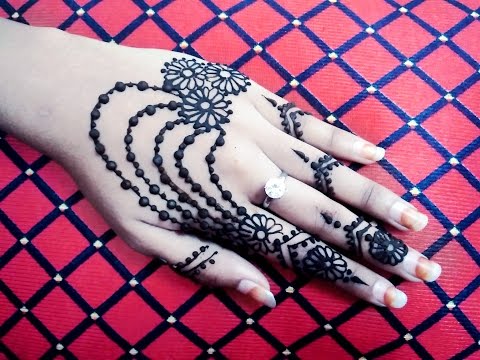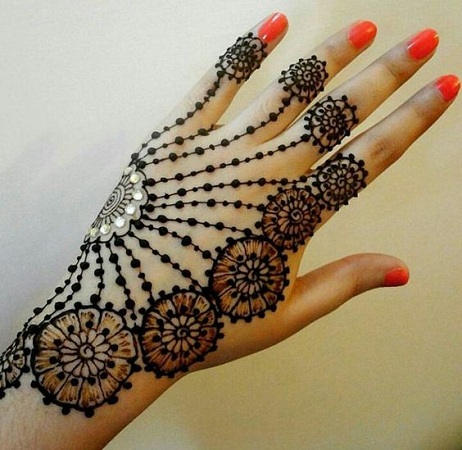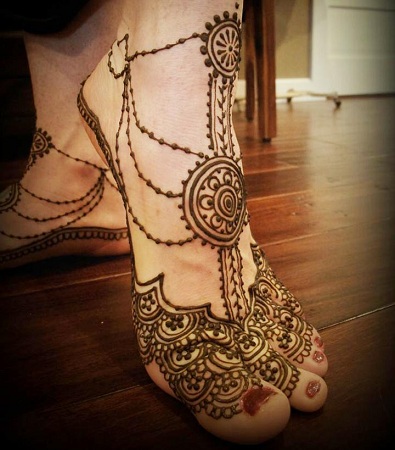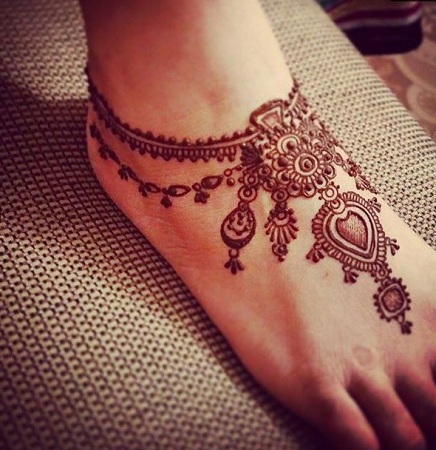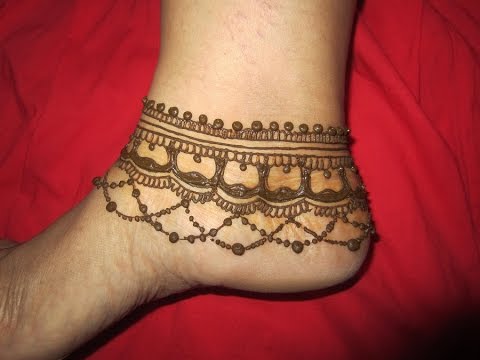 Try  some of the jewellery mehendi designs this festive occasion to look classy and trendy.
Women these days like to experiment and infuse some fun element to their mehendi design. One of the way is to apply mehendi on the shoulders and wear it like a tattoo which makes them look graceful and sensual. Wanna look more sexy, try filling your entire back with stunning mehendi design or apply around your belly button and flaunt it by wearing shorts and tube top. Check out some of this beautiful and modern henna tattoos carved at the back and on the shoulders which are a treat to your eyes.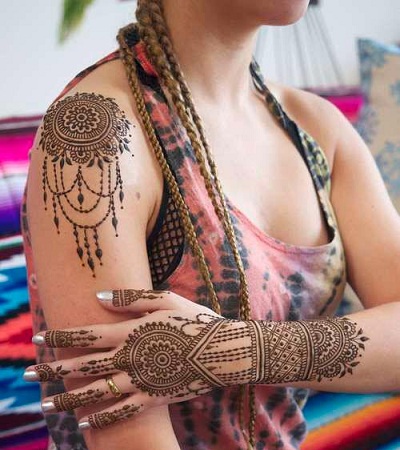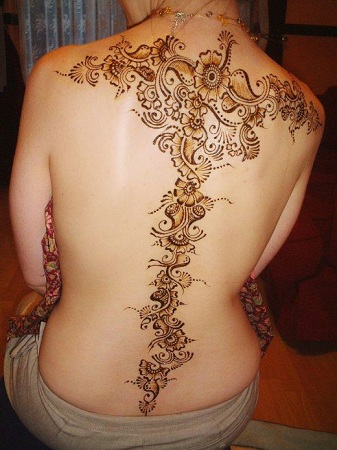 Mehendi craze during weddings
Celebrated as a pre-wedding ritual , mehendi is one of the prominent and must-have event for every wedding. As per the traditions, mehendi is one of a part of bride's solah shringar and hence is applied all over her hands and feet before marriage. Once applied a bride cannot step out of her house until married. Even the groom applies a small portion of mehendi on his palm as a part of shagun. Nowadays, the mehendi ceremony is organized by the family for the bride and is celebrated with great opulence along with friends and all relatives.Mehendi artists are hired as a part of function to apply decorative mehendi designs to all the ladies present. The entire ceremony is filled with fun and frolic combined with sangeet function to make it a lively and musical celebration filled with joy and happiness.
[wonderplugin_slider id="3″]
Significance of darker mehendi
The mehendi color has lot of old beliefs attached to it.It is believed that:
Darker the color, the deeper will be the love between the marrying couple.

The colour of the mehndi reveals the bond between a bride and her mother-in-law

The longer the mehendi retains its color, more propitious will be the relationship for the newlyweds.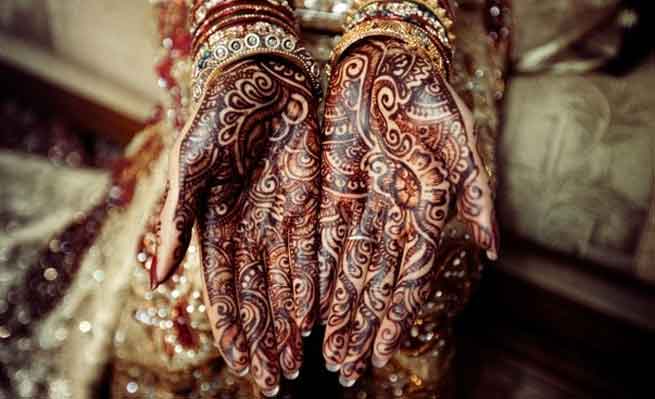 So, every bride takes extra care while applying mehendi to result in darker color.
Tips to have a darker mehendi colour
The most important rule is not never wash off your mehendi with water. Keep them away from water as long as possible for at least 12 hours as applying water may lighten the colour and won't give you the best results.
Always apply mehendi before 1-2 days of any occasion as it takes 1- 2 days to darken.
Once mehendi is applied it will dry off after 1-2 hours. Prepare lemon sugar mixture by first boiling sugar with small portion of water and allow it to cool. After the solution has cooled down, pinch some drops of lemon juice in it and mix it. Dab this sugar-lemon solution onto your mehendi with light hands using a cotton ball. Do not take large amount as it will spoil your design. Do this atleast 2 times before removing off your mehendi.
Once your mehendi is dried, scrape it off using a table knife. Make sure you don't use water to remove any dried part.
Apply some kind of balm like Vicks or Tiger balm after scrapping off your mehendi as it further enhances the colour.

Go for a 'bhaap' of cloves fumes to further stimulate the mehendi color. Put some clove buds in a pan and heat it on the gas . When fumes start appearing, rotate your hands above them and remove them only after it starts hurting.

It is believed that wrapping a clingfilm around your mehendi design after application gives a richer darker colour. Never try to do it on your own as it may smudge your design, always take help from someone before proceeding.

Always let your mehendi to dry at its own pace. Never sit in sunlight or near a fan or shake your hands too much  to dry quickly.
So, girls, wedding season is nearing and so are the festive occasions,  take inspiration from some of mehendi ideas above and try out these creative and beautiful mehendi designs to have an unforgettable mehendi experience.