The wedding season is finally afoot and all the backlogged weddings are happening all together in succession. So you definitely need outfit ideas, and a number of those! The weddings might be smaller in participation but are still as grand as ever. So let's get right into it if you would like to be the belle of the ball in the next wedding you attend.
1. Jacket Over Skirt Look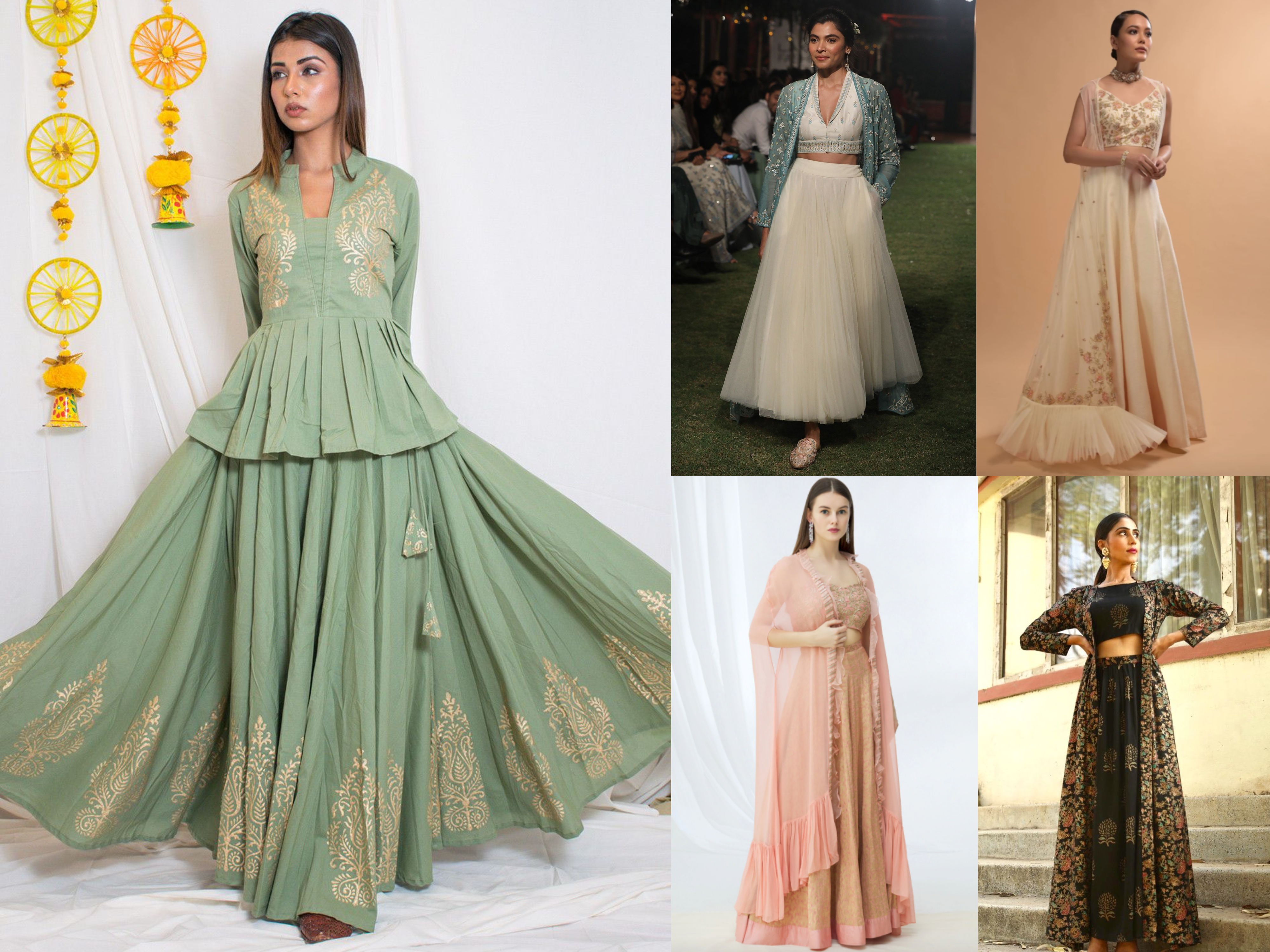 Very in trend this season, pair your favourite skirt and blouse duo with a matching jacket instead of a dupatta for a more unique and indo-western look. The jacket can be the centrepiece of the outfit by being heavily embellished and floor-length. Or you could just add it as an added accessory by wearing those made of soft floaty materials and feathers. You won't have to worry about handling a long and heavy dupatta the whole evening. As an added bonus, you won't be chilly if it's a winter outdoors wedding.
2. Gharara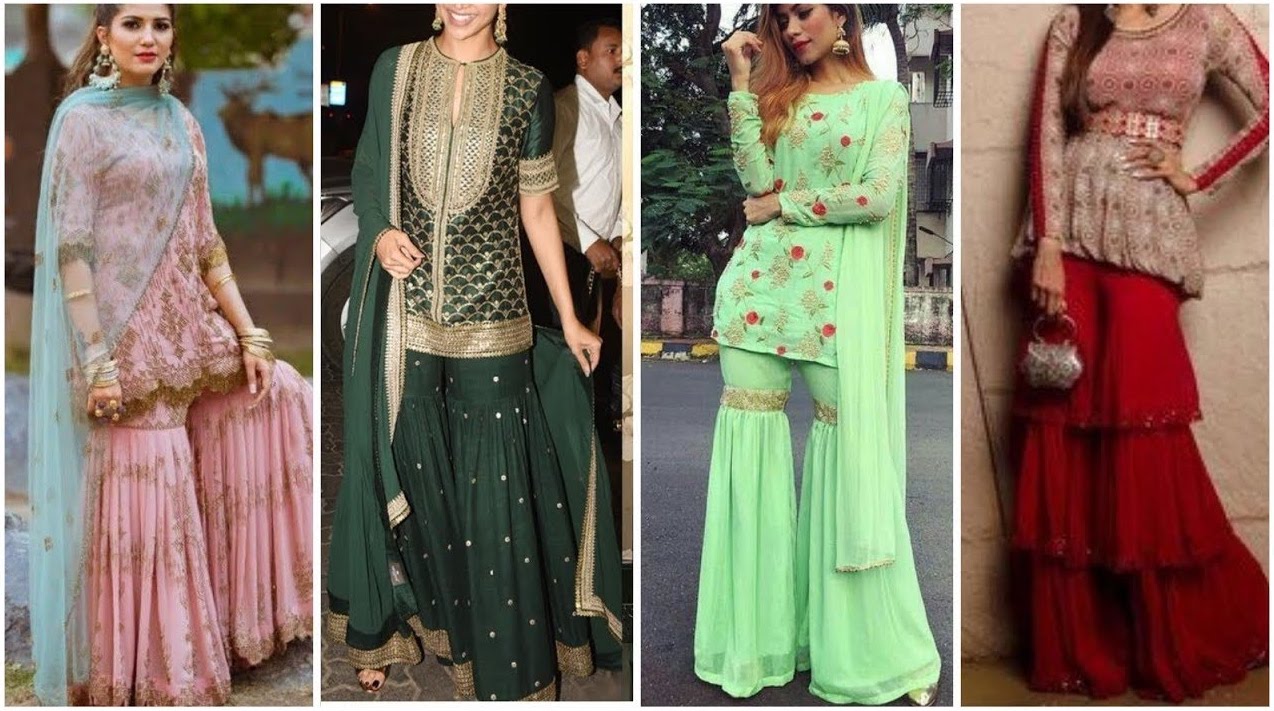 The gharara has taken over 2020 and can be seen everywhere nowadays! A traditional Pakistani outfit, ghararas are a modern take on a basic salwar suit. Not to be confused with shararas, ghararas are fitted from the waist to the knee and then flare out after a distinct band. Whereas shararas are wide flowy pants which are loose throughout and almost look like a skirt whilst standing. You can wear ghararas in simple floral prints if you like the look but not the weight for smaller functions. Or you can go all out and wear heavily embellished one's to the main wedding and reception. There is a gharara style available for each function.
3. Ready-To-Wear Sarees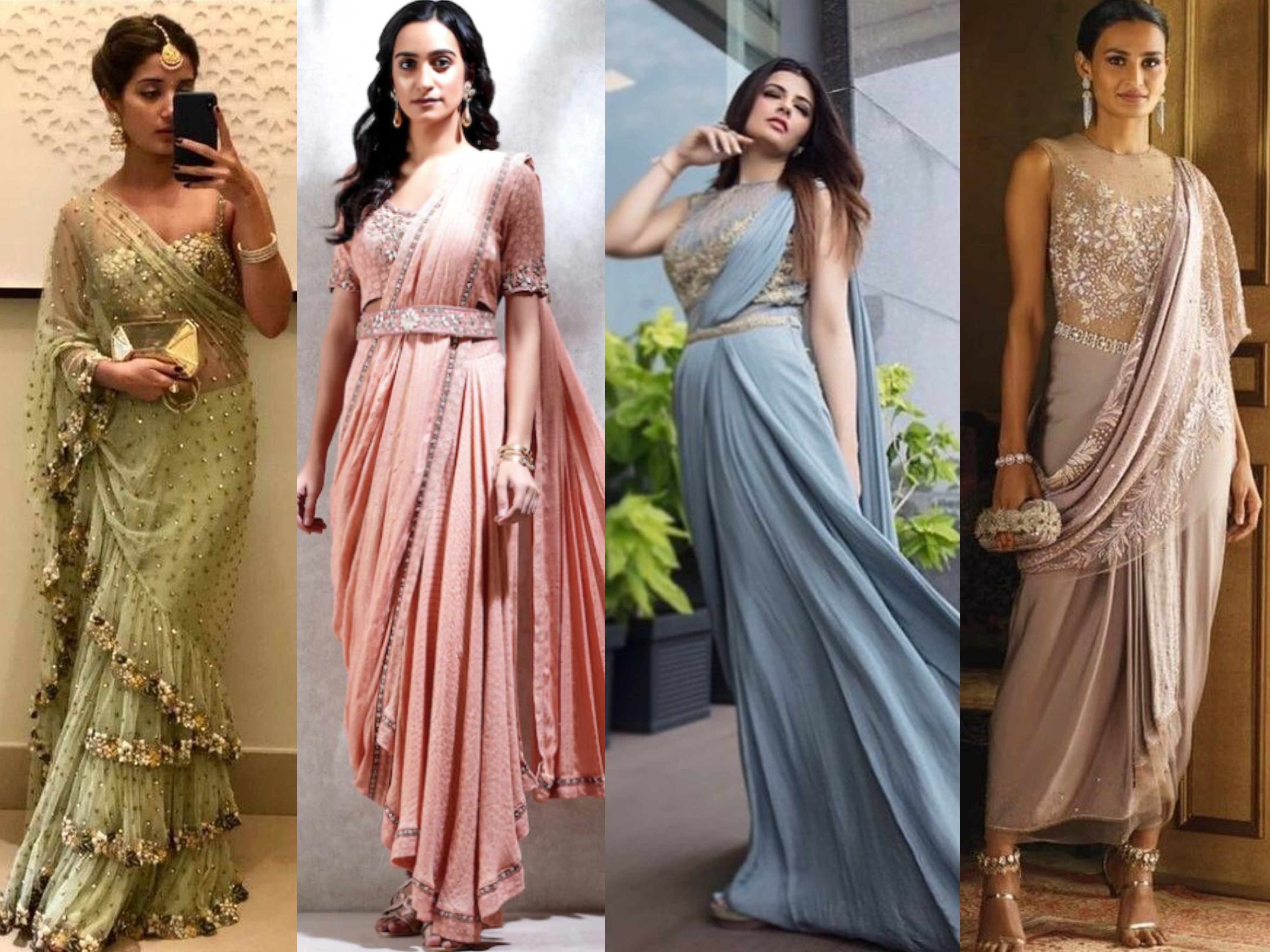 Been in circulation for a while now, readymade sarees are finally receiving the well deserved traction. Sarees are the quintessential Indian outfit apt for any event. The one and only major argument against them from newbies is that they are tough to drape and there's a high fear of a wardrobe malfunction (veterans will know, this rarely or never happens). So we have the ready-to-wear saree to rescue! A pre-draped saree in the form of a skirt which you put on like any other skirt with an attached pallu. The final result from all angles looks like a sleek saree you've expertly draped. You can dance your heart away in the baraat or any function without the fear of your front pleats unravelling. It's a win-win for everyone.
4. Caped Lehenga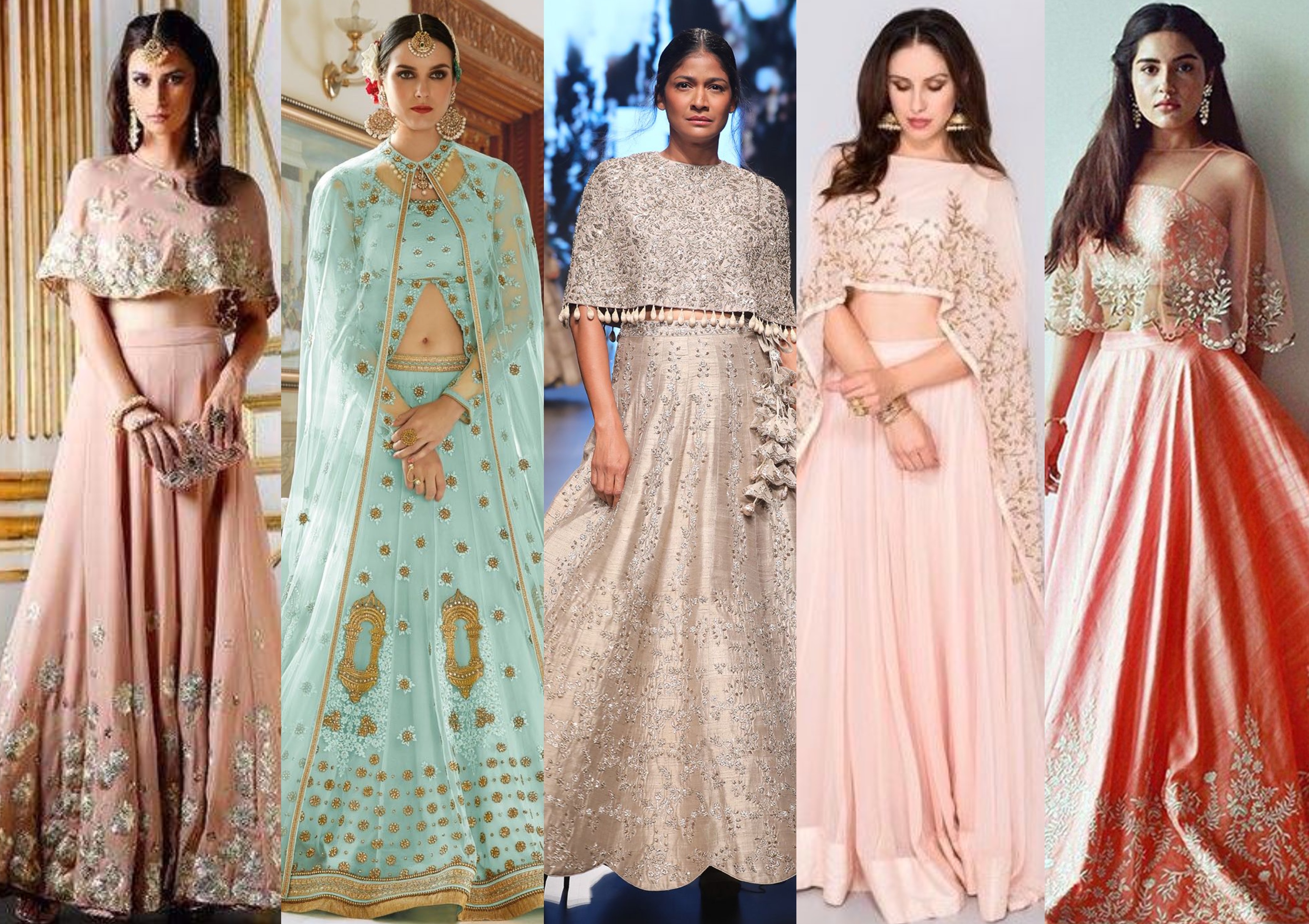 Similar to the jacket skirt combo but a little more extravagant (for the bride's sisters maybe?), caped lehengas are the newest sensation in town. There isn't much you can do with a lehenga and a dupatta in terms of draping. So you have to rely entirely on the design of the fabric. In this style, the dupatta is replaced with a cape giving it a more modern and almost evening gown-esque look. Now you don't have to tackle a pesky and heavy dupatta. Instead you can enjoy the party and secretly feel like a superhero!
5. Dhoti & Pant Style Sarees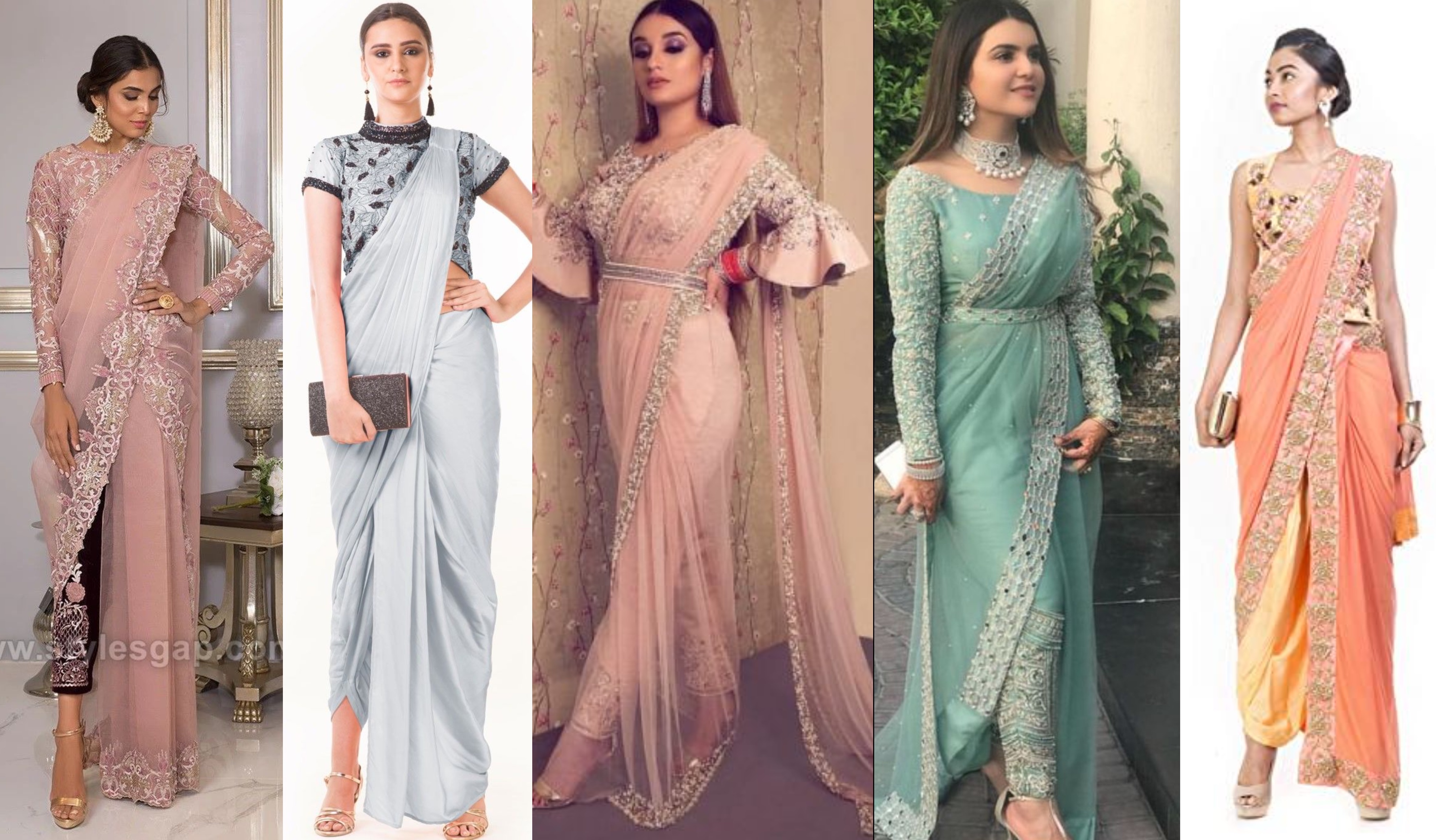 The dhoti look is back and it is here to stay. Similar to the readymade saree, you can get ready to wear dhoti sarees. You can also drape your regular saree dhoti/pant style over shimmer leggings and pants. This look is perfect if you want your 9 yards to give you more shape and make you look sleeker. You have more room to move without the restriction of an underskirt. Also you don't have to worry about perfecting those front pleats, because there aren't any!
6. Shirts & Sarees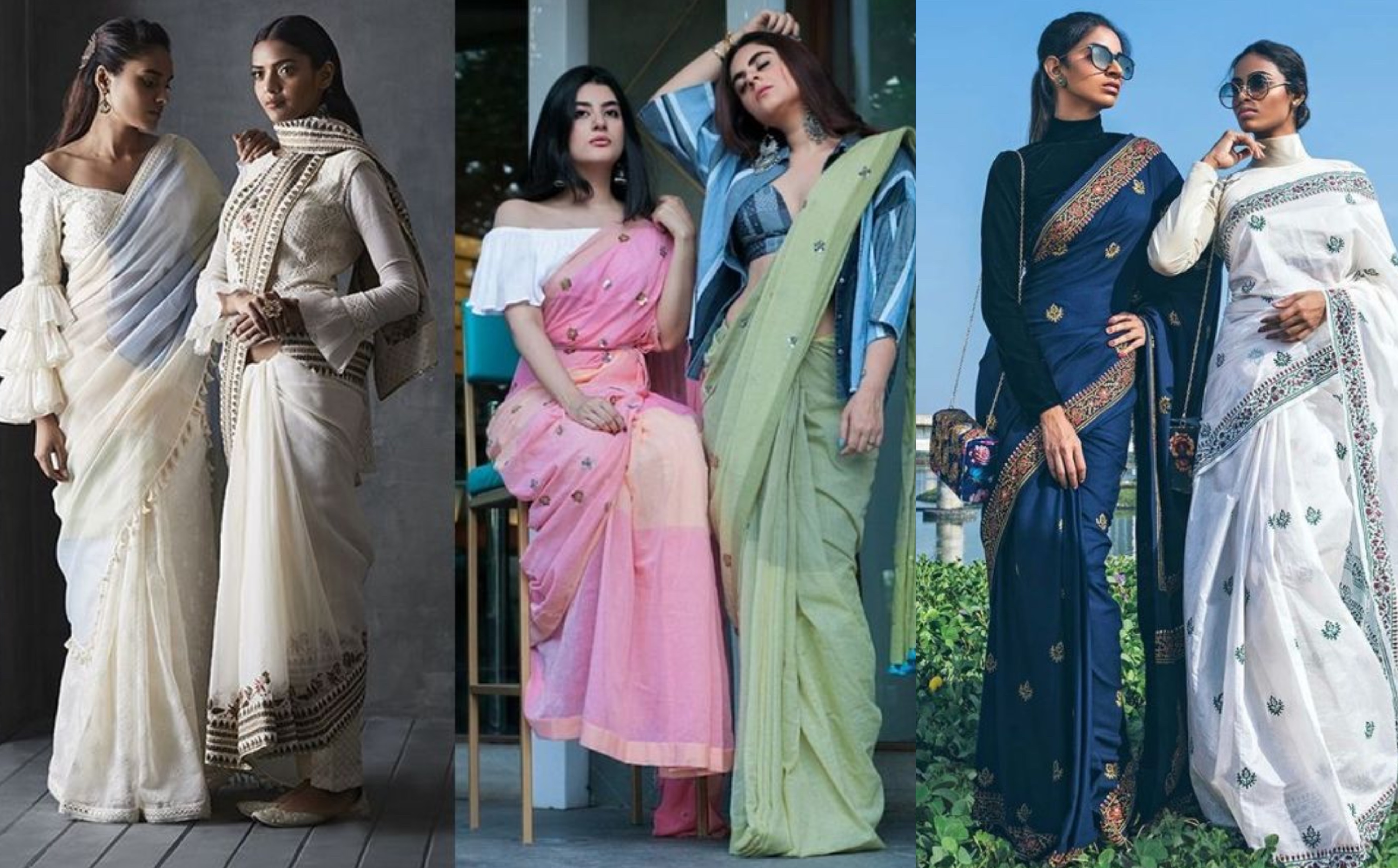 Maybe you don't want to step out of your comfort zone or don't spend coins on a new outfit and recycle an old saree (we stan recyclers). You can jazz up your old saree or steal one from your mom's closet (legally, we don't condone bad behaviour). Maybe you have a gorgeous saree but don't have a tailor to stitch you that perfect blouse or you don't wanna bother with a 'blouse piece'. Just wear a complimentary shirt/t-shirt in place of the blouse and wear your saree normally. You can also integrate the shirt more into your look by having the pallu of the saree intertwine with the shirt. The possibilities are endless with this style, and as an added bonus, you can reuse all sarees. Get more unique saree draping ideas here.
There you have it. 6 unique and exquisite outfit ideas for you to stand out amongst the crowd this wedding season. Check out the blog for more outfit ideas.