The wedding season has begun and a ton of new styles of clothing are being launched. What if I told you that you could pull a Cinderella with your humble old saree lying in your cupboard? Or make your newly purchased one that much more unique by giving it a new twist? So without much further ado, let's get right into it…
1. Belt It Out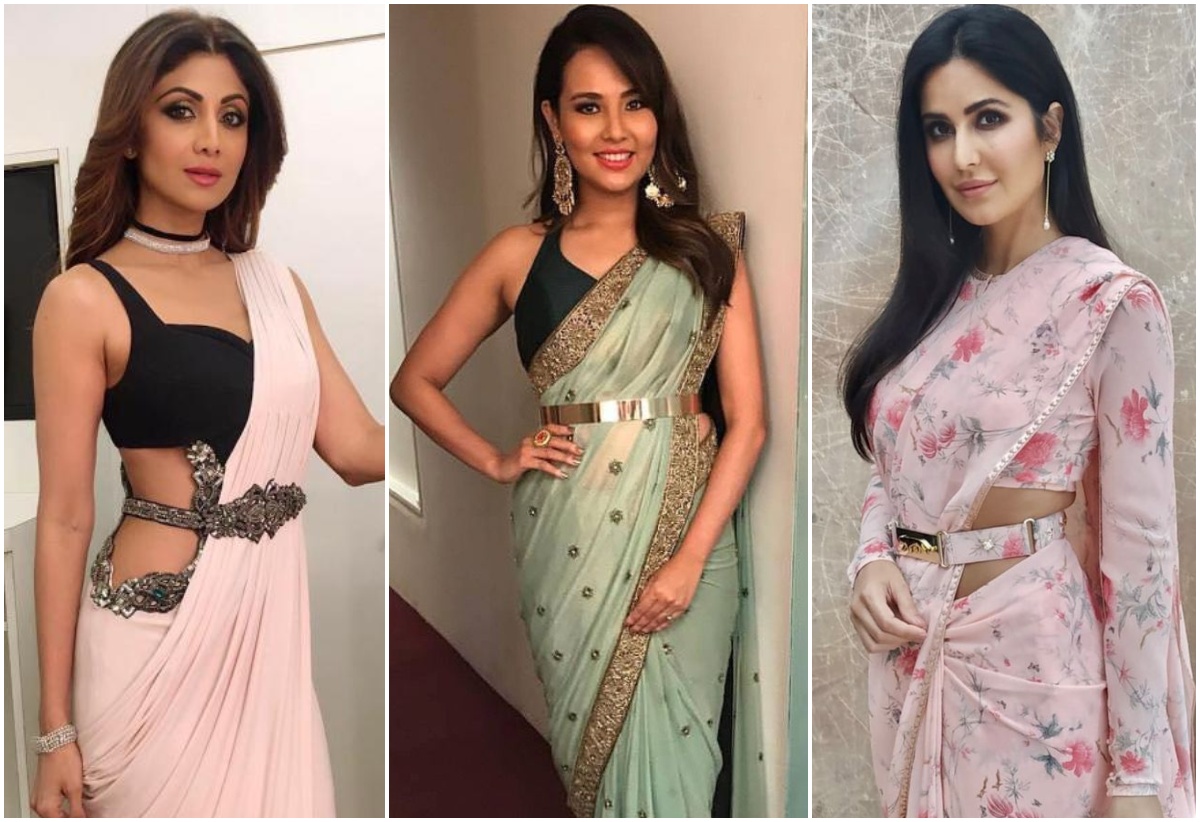 Recently made popular by Sabyasachi, a belt elevates any outfit by cinching the waist and giving the illusion of an hourglass figure. You can use belts in the same shade and design as the saree for a monochrome look, or use a contrasting colour to make it pop. Leave the pallu free flowing for a summery day look, or tuck it in the belt for a sleeker night look. You can make any saree look younger and edgier.
2. Cancan Skirts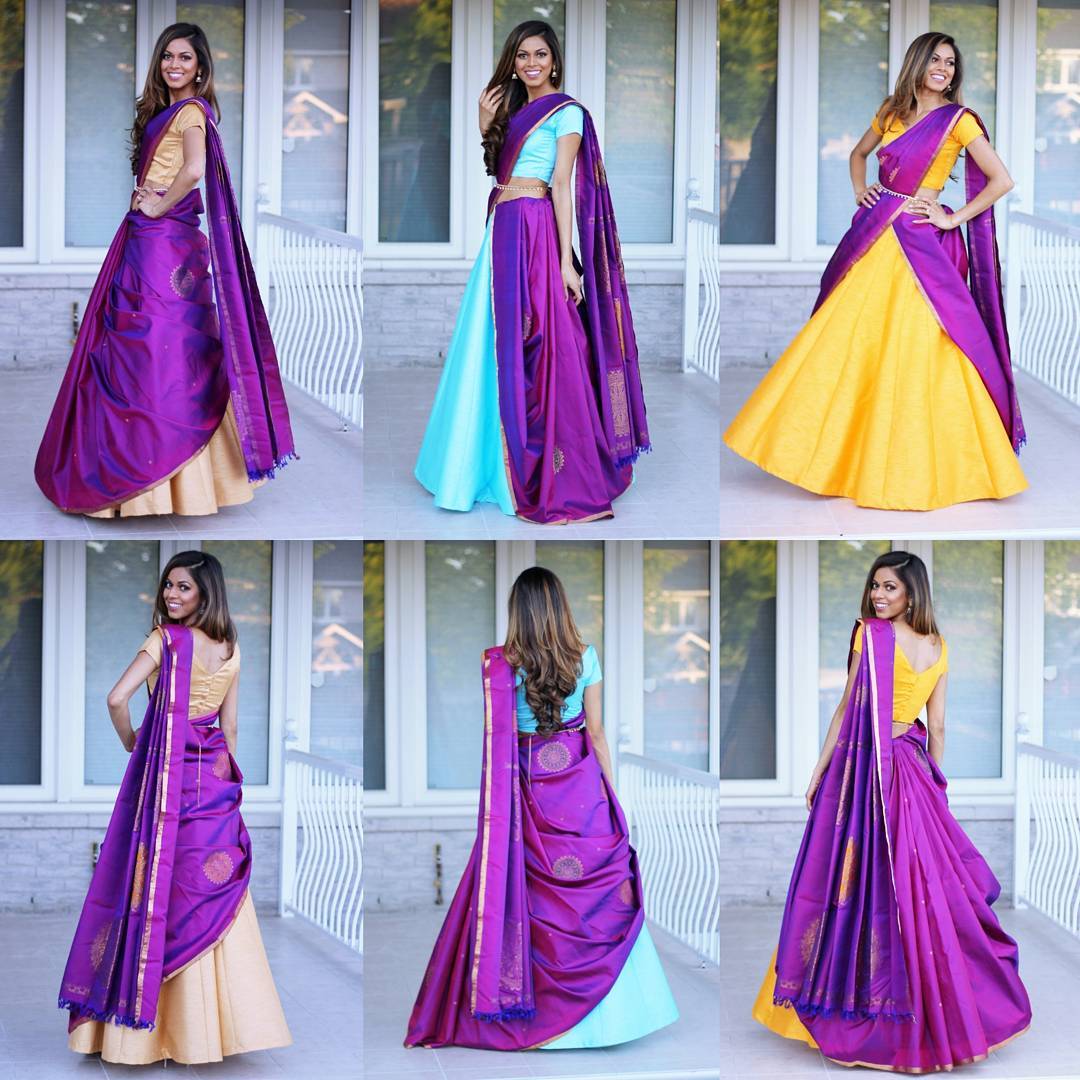 Have a heavy embroidered saree that just weighs you down and gives you no shape? Wore it once already and hesitating to repeat it? Zhuzh it up with a cancan underskirt (ghagra) to give it more flare and completely revive it. You can wear a saree with cancan instead of a lehenga because you'll get more use out of a saree compared to a lehenga which you mostly wear once or twice at the most.
3. Pants? Yes!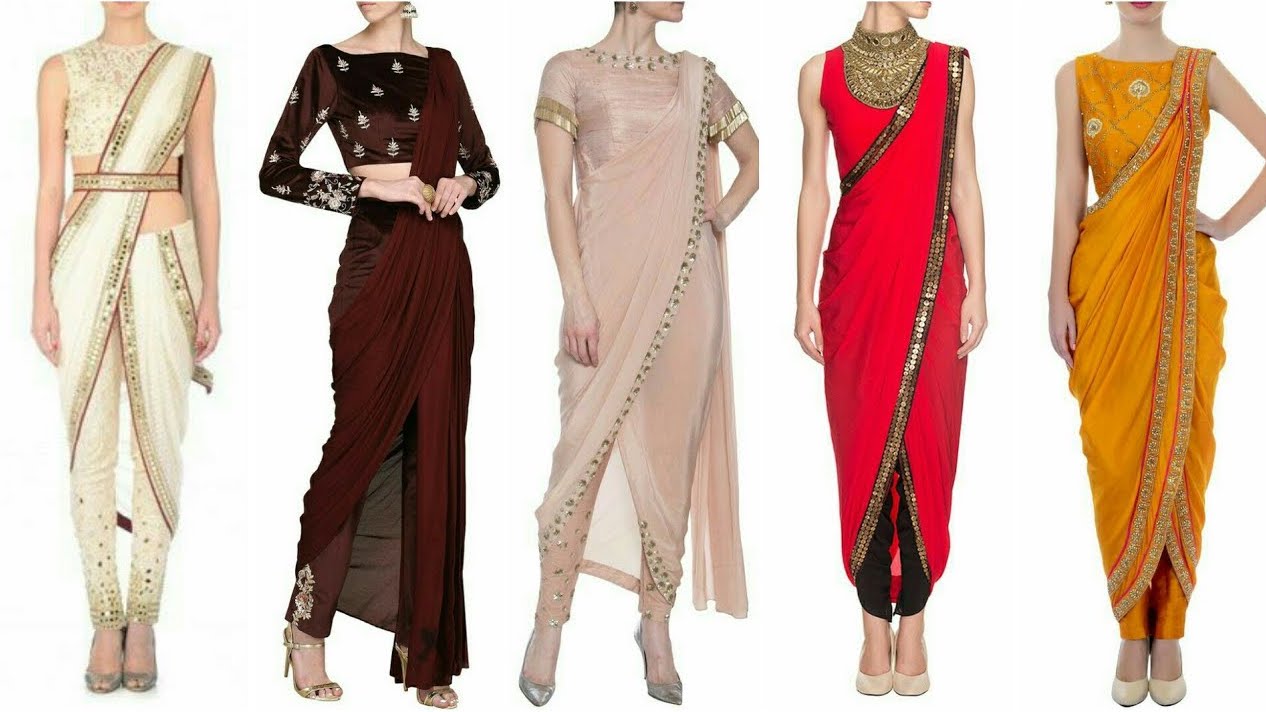 Most of the younger generation dreads wearing sarees because we just aren't accustomed to wearing an underskirt. Not everyone is comfortable sitting in them and it doesn't necessarily give a nice silhouette. So pants to the rescue! For most of us, wearing pants is like second nature. It cinches at the waist nicely and gives a very slender silhouette to the saree. You can also wear fancy sequined pants and show them off as a part of the look.
4. Modern Front Pallu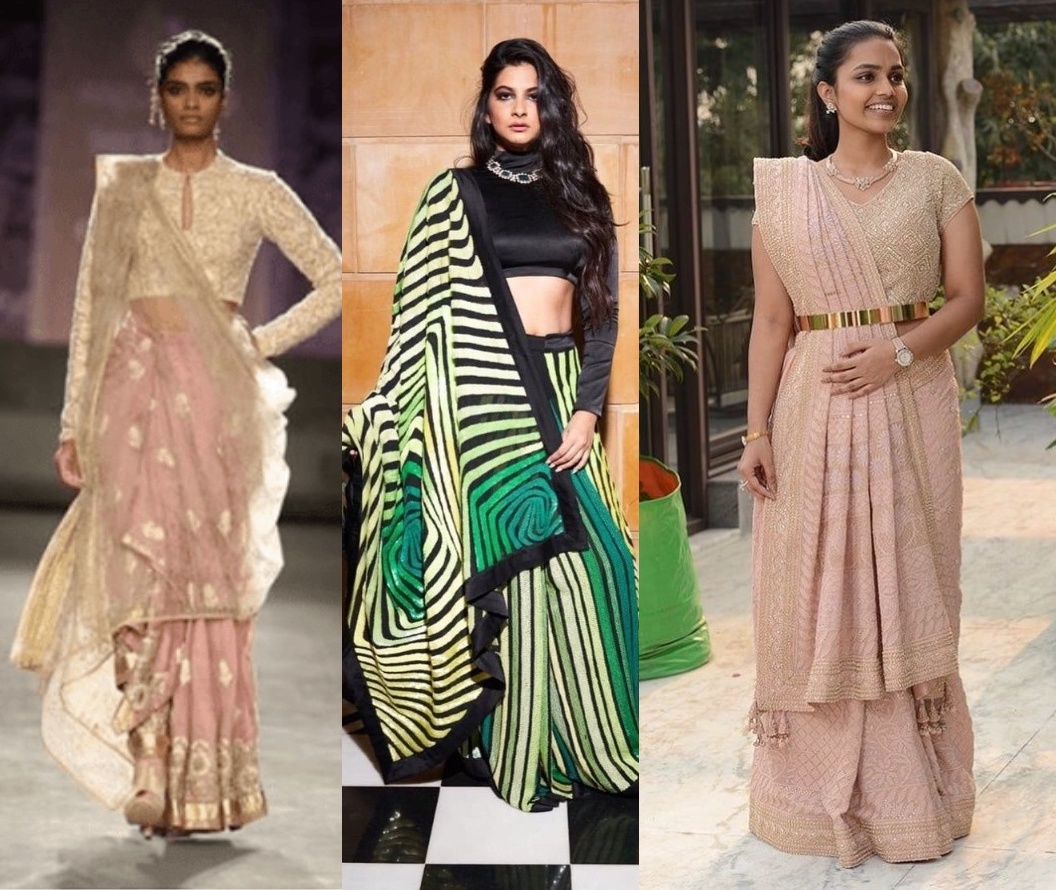 Some sarees have the most gorgeous design on the pallu. Maybe you don't want the hassle of carrying an open pallu and a front style pallu is too traditional for you, then this style is for you. You drape your saree as you normally would, but rather than tucking an end of the saree in the back. Leave it open and flared. Add a belt to make it contemporary.
5. Jacke-t Up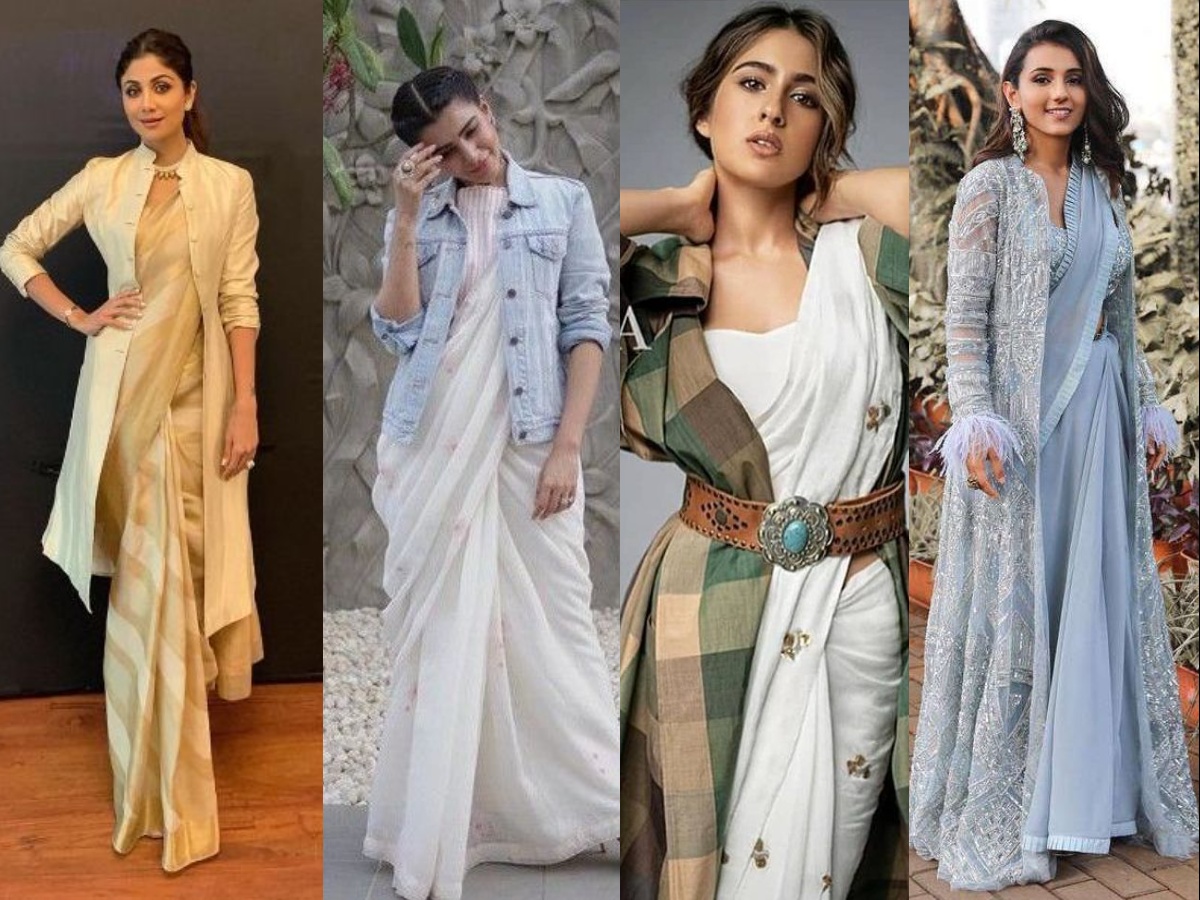 A fairly new style, brought to the forefront by celebrities, is pairing your saree with a jacket. It can be a customised jacket made specifically for the saree for a co-ordinated outfit, or it could be any jacket you want. Contrast it, blend it, the world is your oyster. You can pin the pallu on top of the jacket and make the jacket your blouse, or wear your jacket on top of the saree, like you'd normally wear it. As an added bonus, you won't be chilly in the winter.
6. Dhoti Style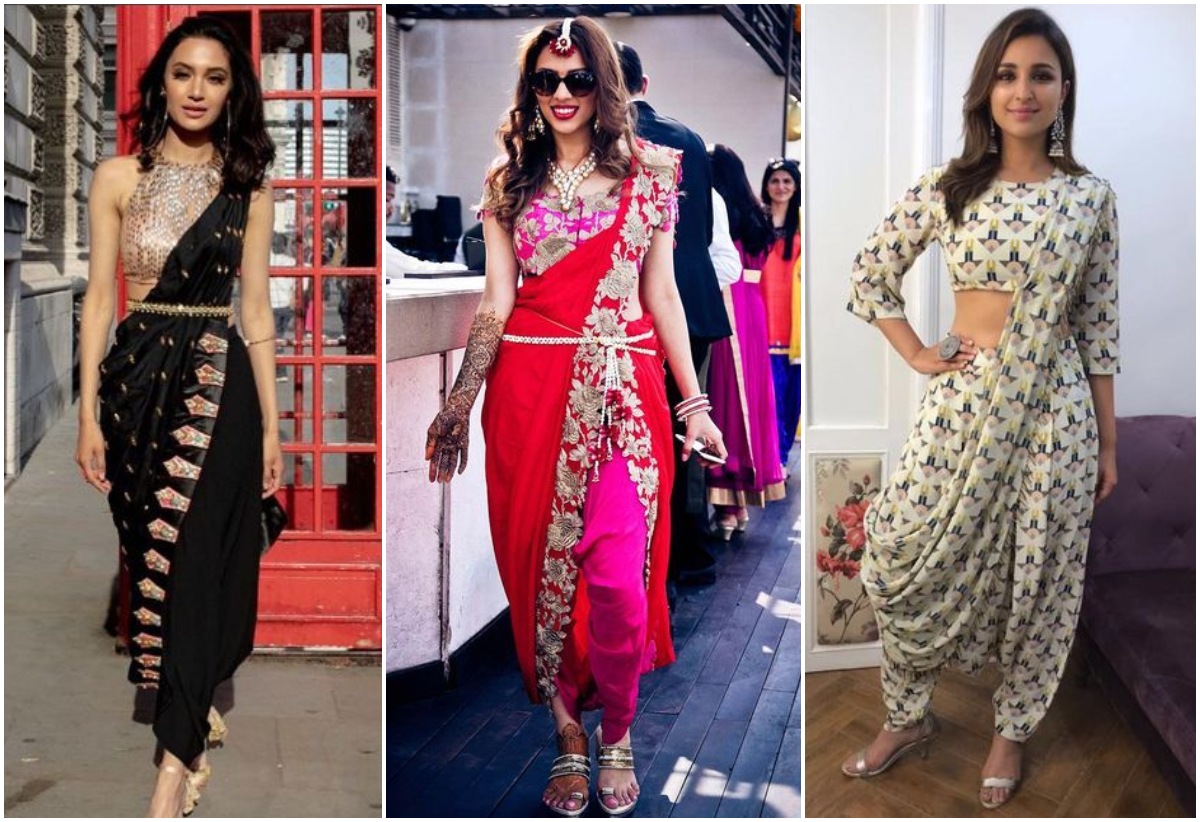 Dhoti style clothes have been very on trend these past few years. Not as constricting as pants, but still not as flowy and shapeless as a regular underskirt, this is the style for you if you like loose flowy bottoms. You can create the dhoti illusion by draping the saree over a pair of pants or leggings; or you can buy pre-stitched dhoti style sarees.
7. Dress Drape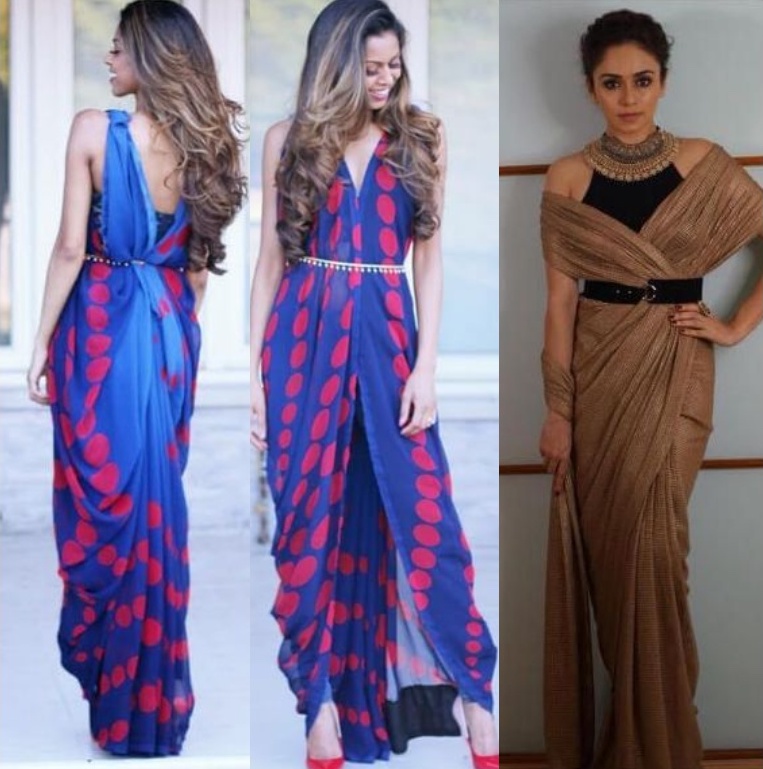 With this style, make a complete switcheroo and and make your saree unrecognisable. This style is perfect for events where you wanna move freely and not be bothered to take care of a pallu. You can have 2 outfits in one saree by draping it regularly and then draping it like a dress another time.
There you have it, 7 completely unique styles of saree draping that will add a touch of magic to your outfit this wedding season and make you stand out in all the right ways. Checkout the blog for more saree related inspiration.