Remember that "Desi Girl" look of Priyanka Chopra where she donned a designer sari with bikini blouse? Men loved that gorgeous sassy look and girls wondered how they could wear the 6-yard garment in the same way!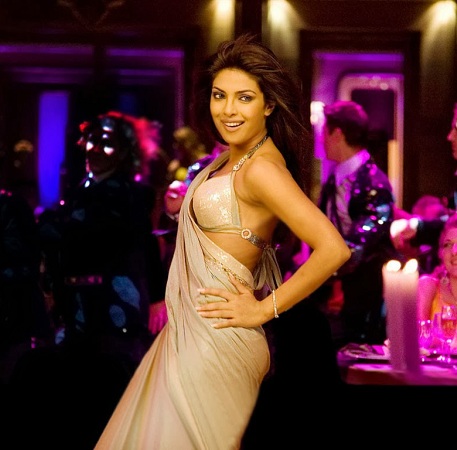 It's not just about the Bollywood celebs, the Hollywood stars like Selena Gomez, Paris Hilton, Angelina Jolie, Pamela Anderson and more, were also spotted draping Indian sari during numerous occasions and needless to mention how refreshing it looked! While looking at your favorite celebs in sari, you might think how you can drape the sari exactly like that. Don't worry. Let's just check out the tricks to look drop dead gorgeous and slim in Indian sari.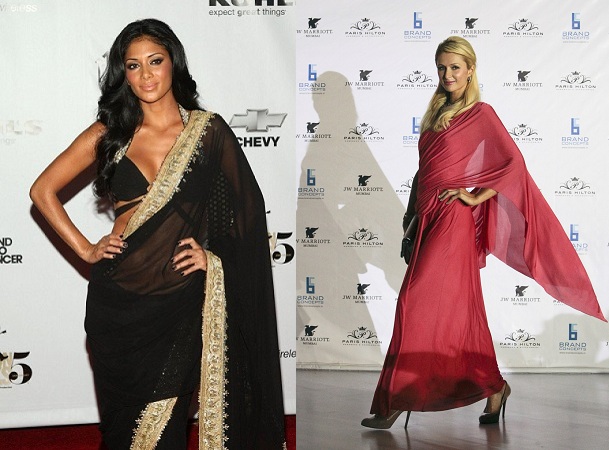 You will hardly come across any other Indian attire that complements femininity in a lady more than a sari. Fashion trends keep changing but draping sari has always been the first love for Indian women. Be it your office parties, college reunions, friend's wedding, farewells, no matter what occasion you are heading to, sari suits every occasion aptly. But if you are not aware of the art of wearing sari, you will definitely end up with a wardrobe malfunction.
Kachhanivi and Modern Nivi Style for sari draping
This one is considered as one of the easiest draping styles. Especially, for those who are novice in wearing sari, this draping style is too quick to put on. You can walk around freely since the pleats are beautifully pleated.
Two major ways are there to wear sari in this style. The first one is called modern nivi while kacchanivi is the second one. For the modern nivi style, you need to involve the easiest draping with the pallu pleated on the shoulder. And for the kacchanivi style, you have to take those pleats gently and pass it smoothly through your legs to place it into the back of the waist. Just make sure that you have taken fancy pins for the pleated pallu. Try it with 'Cholo' (kind of Nepali Blouse) for a sensuous appearance.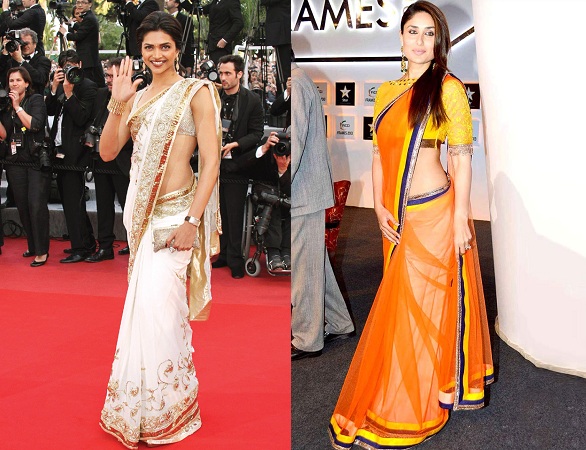 Give Yourself a Curvy Look
Flaunting a curvy look in sari is cool, go for this draping style. Pair it with backless and few golden accessories. You will not only make every turn when you pass, but also will become talk of the town. Put on a pair of sandals embellished with stones to match it with your designer sari. Make pleats out of your pallu and pin it with a beautiful brooch.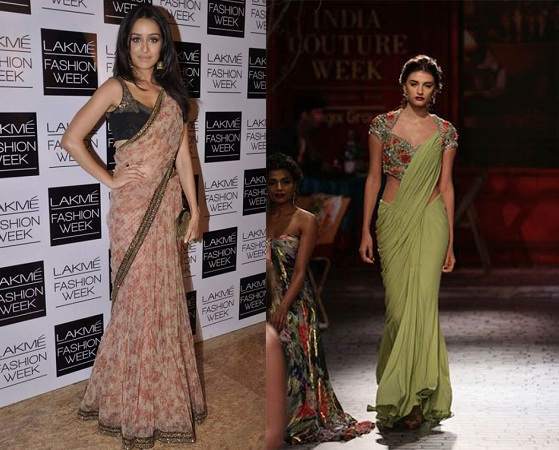 Bong Saris are Sensuous
Remember Priyanka Chopra in 'Gunday' or Aishwarya Rai in 'Devdas'? Those gorgeous ladies redefined the Bong beauty in sari. Flaunting Bengali sari draping style with a number of golden ornaments along with bangles and 'bindi' will not only make you look superb, but also bring out a new version of 'You'. Get yourself a piece of waistband to keep the flame up in every heart from wherever you pass.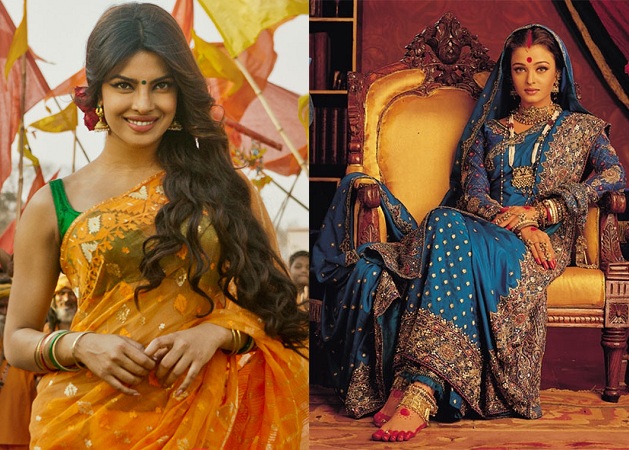 Retro-Mumtaz Style
Can you ever forget that heavenly song of Mumtaz "Aaj Kal Tere Mere Pyar ke Charche"? Possibly not. Remember her draping style in that film Brahamchari! The Diva of 60s made this traditional wear much more beautiful than any kind of western wear and till date this style is remembered with her name. Drape the sari tightly round your waist so that you can highlight the curves effortlessly. Just make sure that you are wearing a sari of decent color contrast.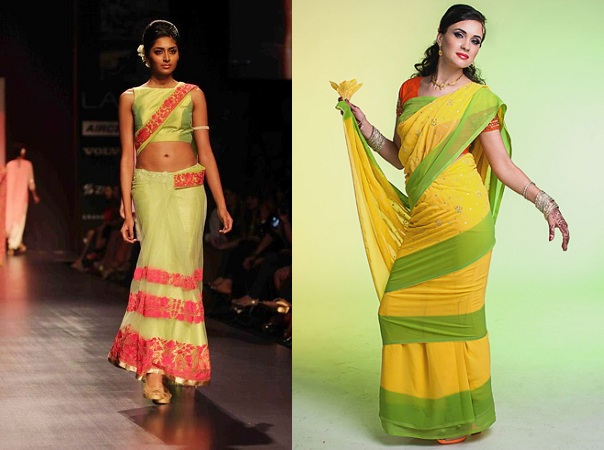 Neck Wrap Style
No need to follow the mainstream draping style if you want to look a bit unique. Make the pallu drape around the neck to give it a look and feel of an accessory. Stay minimal on accessories and give yourself a purely refreshing look. You can try wearing a belt with this draping style as an add on.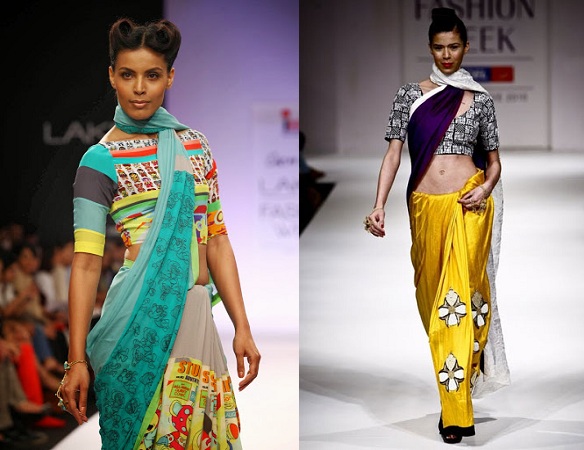 Crop Top Saris
You must have a number of crop top in your wardrobe to wear with a pair of jeans, denim or sharara pants. But have you ever thought that you can try wearing a sari with these crop tops? Probably 'No'. Drape the sari in ordinary style very first. Then take the thin pleats on the front over your left shoulder and make a wavy structure out of it. Make sure that the pleats you are creating must be too thin to look at. Whether it's a party, college prom night or wedding ceremony, you can simply rock with this style.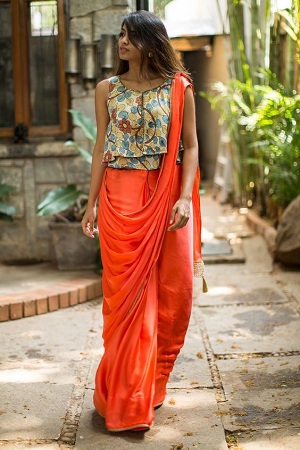 So, ladies! Just get ready to try out some new draping styles with modern flair and write us about how much appreciation you received.