Sarees are considered as a classic and timeless part of the ethnic Indian fashion. With the prevalence of fashion, sarees have evolved to encompass various traditions from all across India and these include different types of patterns, weaves, prints, appliqués, colors and motifs. Another popular type of Indian saree is the brocade saree. The name of this saree has come from the brocade patterns that are sown on these sarees. The designs of these sarees often vary and every shade makes a grand statement for any and every traditional occasion. Besides, these sarees also make amazing outfits for wedding scenarios while offering the wearers a grand look. All credit goes to the nature of patterns of these sarees.
About the fabric brocade:
Basically brocade is a type of ornate shuttle-woven fabric, which is made with colorful threads of cotton, silk, polyester and sometimes even with silver and gold threads. In fact, brocade was counted on as the most well known technique used to decorate various fabrics. Therefore, the production of brocade become more and more expensive because of the difficulty of polishing intricate designs and the pitfalls of the silk industry. Therefore, this fabric is a little different from other fabric types. Though the principle is almost same, but commonly, several shades or one highlighted shades are used in this fabric to draw greater attention to the pattern.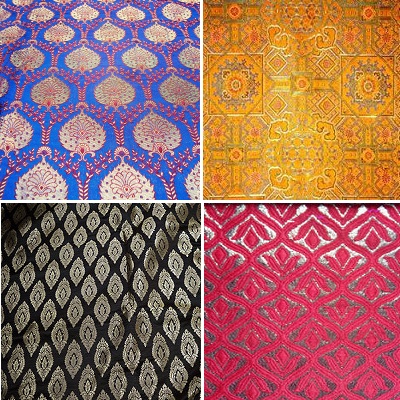 Brocade is a really versatile fabric that completes any wardrobe. This is mainly considered as a self-sufficient fabric, which doesn't need any further embellishments. In fact, brocade is one such fabric that is always associated with opulence and luxury. So, just a little touch of this fabric to any saree can also lift the entire style quotient. Therefore, this fabric has always been associated to special occasions like festivals, weddings etc. But this fabric is sometimes added to the daily wear.
There are some poetic names associated with this fabric and these are:  dhupchaon or sunshine and shade, chand tara or moon and stars, mazchar or ripples of silver, bulbul chasm or nightingale's eyes, morgala (peacock's neck) etc. Brocades are also called as Kinkhab by the kings and it means "less dream".
Details of brocade sarees:
At the present time, the brocade sarees have become one of the most elegant and royal sarees available. One of the major reasons why these sarees are so popular is that these can be fashioned according to the latest designs and trends. For instance, previously these sarees were adorned with threads and precious stones in the designs, which now have replaced with beadings and sequins. But these sarees bring a traditional look and elegance even without any work. Another great thing about these sarees is that these come with a range of options in terms of fabrics, designs and colors. Therefore, the users can choose the ones, which perfectly suit to their styles.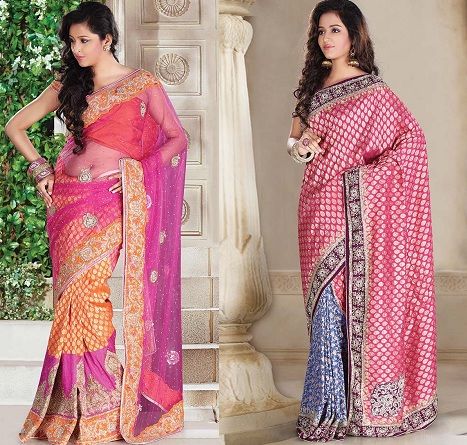 The variety of lavish and rich shades applied and contrasted on these sarees, make these visually appealing and tempting. Shades like yellow, red, green, blue, brown and ochre in different tones and shades mixed in blazing silver and gold make the brocade sarees payable as well as the most well known festive textile.
So, if you really want to don up one royal outfit without over exceeding your budget, then you should opt for the brocade sarees without any consideration. By choosing this saree, you will experience a pure display of elegance with the innate traditional appeal.
Types of brocade sarees:
Broadly, the brocade sarees are classified into two types, namely silk and cotton brocades or silk brocades and zari brocades with silver and gold threads. Use of natural colors defines the poetic association and mood of both types of fabrics.
Brocade silk sarees for a simple yet elegant look:
The brocade silk sarees are mainly a type of richly woven fabric, which is characterized by raised floral patterns either attained by weaving silver and gold threads or silk threads on the foundation of cotton and silk blends or pure silk. Being really strong, fine, smooth and durable, these sarees facilitate weaving of wonderful brocades.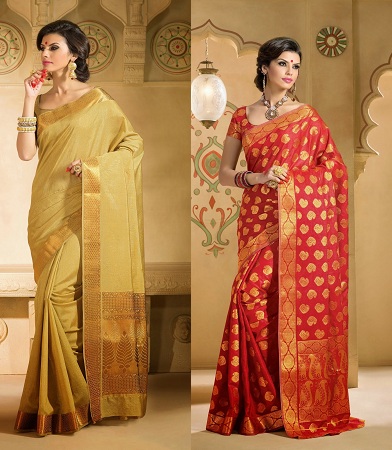 These sarees are mainly interwoven with advanced and rich traditional designs. Here the classy and typical zari is blended with bright and glossy colors of silk and these add life to these sarees. Trellises or zalis, wonderful floral borders and assorted geometrical motifs of different historical structures of India are perfectly woven in these sarees with zari on the silk or silk-cotton blend surface. This is the reason why these sarees are called as the representative of affluent cultural heritage and these dynamic and colorful patterns of these sarees attract almost every saree lover. Among all types of brocade sarees, it is possible to distinguish the Gujarati brocade sarees quite easily because of the great designs, which give these sarees a completely separate characteristic.
Weaving pattern of brocade sarees:
The work on the brocade sarees is known for the use of expensive threads and also for the rich look these offer. Basically, these sarees have a complex pattern of weaving that is mainly done by transfixing and twisting the pattern threads between a warp. Amusingly, expensive threads like silver silk, gold or cotton threads are used to weave these sarees. Once these threads are woven, the magical brocade sarees are created. Each saree includes some royal imagery and interesting patterns. Though these sarees are mainly intended to be worn on some special occasions, but the fine work of brocade done on these sarees makes these perfect heirloom treasures to possess.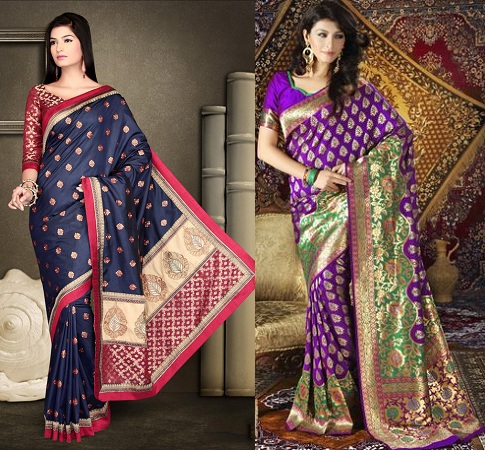 According to the experts, the ideas of colors, motifs and the work of design detailing used on these sarees are the result of external influences. Persia and Mughal court lead to enriched and heavier type of brocade. Some of the designs are also inspired from the jharokhas at Fatehpur Sikri. Apart from these, the brocade sarees also feature vivid flowering and patronage in different religions. Besides, the actions of Gopis and Krishna also remain popular among all the brocade sarees.