Sarees are as old as civilization and women in India love to wear it both as a casual daily wear and as a formal party wear. Drape close to modern saree was worn even during the Indus valley civilization. Saree is one of the most sophisticated and stylish dress in the world. It is a dress that reveals some and hides some parts to enhance the beauty and sensuousness of a female body.
Indian women are regarded as one of the sexiest women in the world because they know the art of exposing and hiding their body with a mere piece of unstitched cloth called saree. It comes in a number of fabrics, designs, embellishments and prints. The prints and designs on the saree somehow indicate their place of origin as most people that design the saree depict the culture and practices followed in their living place.
Sarees are the natural taste and dress for women and come in all kinds of monetary values ranging from a meager 150/- to 80,000/-. Price of a saree depends on a number of factors like weight of the cloth, purity of material used in making the saree and work on the saree etc.
It is not always that high value sarees are always good in quality and are latest in fashion. Today you can wear a designer saree below Rs. 500 . The quality of fabric used in the saree is good, they are designer sarees and most importantly they are in fashion.
How to get Designer saree below Rs. 500 ?
Today you can get the best designer saree for around Rs. 500 and that too one replicating a saree worn by your favorite actress in a particular movie. The important question that comes to your mind is how?
The answer is simple. The quality of fabric used in the original saree could be from a big company that commands price for its brand and the fabric for this saree comes from a small company that has no brand value. The other difference is that the saree is designed by a big dress designer that charges exorbitant amount of money for his original creation and this saree is a replica that is manufactured in a company.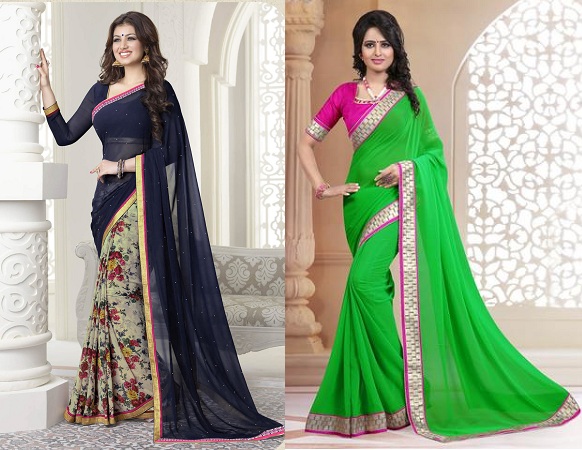 The original saree could have been a handmade single piece saree that took months to complete and this saree is made by a machine that could have taken not more than an hour to complete the same job. This is how you get imitations of all masterpiece sarees at such low cost.
Place to get a designer saree below Rs. 500
These day's you can get a designer saree below Rs 500 on the internet from any of the online saree shops. These shops have a wide variety of sarees and a number of choices for each variety as well. The varieties and the choices are clearly shown as photographs on their website along with their prices. Therefore, you do not need to ask for the price or negotiate on them.
Most of the online websites are completely dependable. However, if you wish to know more about them you can read customer reviews on the site which are available on the website itself. After you finalize your order you can order on the website and get your favorite saree on your doorstep.
Some websites charge for courier service while some include it in their price.
Kinds of sarees are available on online saree stores
Online stores stock a huge variety of sarees manufactured in different fabrics such as pure cotton, silk, cotton silk, georgette, net, chiffon, crepe etc. Further you can buy different variations of each fabric made in different styles according to the design that wins your heart.
You can buy the most fashionable and in fashion sarees at the lowest possible prices from these online stores. The sarees are elegant, stylish, fashionable and most importantly reasonably priced so that it does make a dent of your monthly budget.
Here you can buy a host of sarees below Rs 500 that you cannot even think of buying from an offline store. Since they do not have to invest on building, interiors, staff, these online stores offer these sarees for such a price.
Hereunder are some types of sarees that you can buy from online stores and may interest you:
Cotton and Cotton Silk Sarees:
Pure cotton sarees are the most preferred drape for casual and office wear. These are preferred over other materials as they are a little stiff and the air can pass through as well providing breathability and dignity. Cotton silk sarees are also a choice for many as these sarees offer the comfort of cotton and elegance of silk combined.
From these online stores you can buy copies of the latest designer sarees draped by celebrities in their movies at a fraction of their cost and flaunt them amongst your friends and colleagues.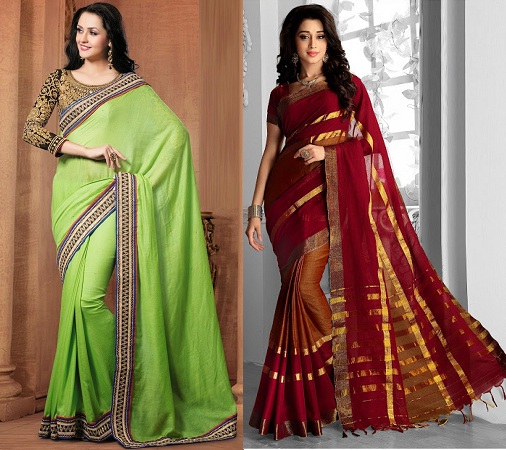 Georgette sarees:
Georgette is a free flowing material and the fabric is used to make party wear and designer sarees. Most big label designer promote the material as it is easy to embellish the material and it provides elegance and grace to the lady.
You can buy a host of designs and styles in georgette sarees from these stores. You can get the latest and the most styled embellished saree from the store at your desired price. There are so many online stores that you can virtually buy your style and color choice saree without having to spend anything extra apart from the time that you invest in searching for it.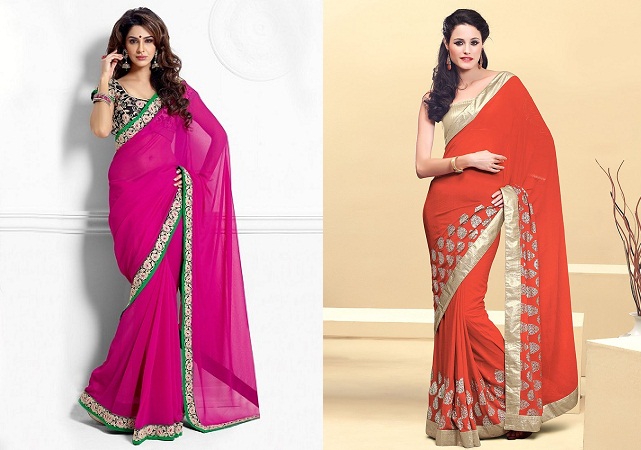 Net Sarees:
Net sarees are high on fashion and every woman is looking to buy net saree for their formal functions and upcoming festive season. If you search in the offline stores you could land up buying a net saree for a minimum of Rs 3000/- but if you search the same saree online, you could land up buying the same thing for as low as RS 499.
Further, you will get the opportunity to see thousands of colors and designs from which you can choose your favorite saree.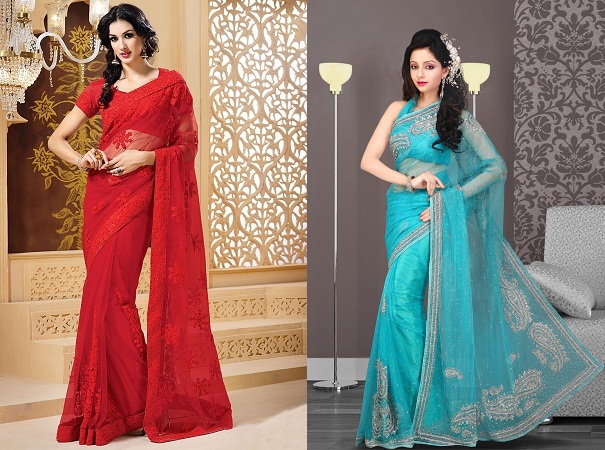 Chiffon Saree:
Chiffon is once again on the peak of designer's choice of fabric for their designer saree. The best thing about the material is that it is a free flowing fabric that is very soothing in all types of weather conditions.
Another beauty about the fabric is that you can embellish it in any manner and it will provide you the desired elegance.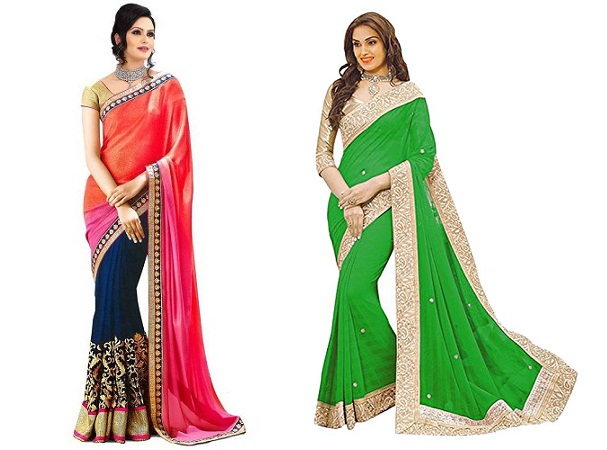 It is possible to get saris below Rs. 500/- if you are ready to research a bit.