Saris are the tradition wear of Indian women for hundreds of years. Different periods witness birth and growth of different types of sarees and each type of saree is intricate in its work and style. Style of sari also depends on the area where the saree is developed because the basic style and design of the saree depicts the culture and lifestyle of that particular place.
Kalamkari sarees find their origin in the state of Andhra Pradesh. Word Kalamkari is taken from two words 'Kalam' (pen) and Kari (craftsmanship) and includes work done by hand as well as hand block printing.
These sarees have been worn in India for ages but with the worldwide markets getting interconnected, kalamkari sarees have recently become very popular and sought after not only in India but throughout the globe.
Women from all over the globe are sourcing sarees of their choice over the internet which has resulted in the creation of huge market for this work and their saris. These saris are intricately designed and hand painted or hand block printed using natural organic colors and dyes. The dyes used for coloring the fabric and prints is strong and does leave color or fade easily.
Kalamkari sarees mostly depict floral designs and nature or temples of Andhra Pradesh which are the inspiration for the art.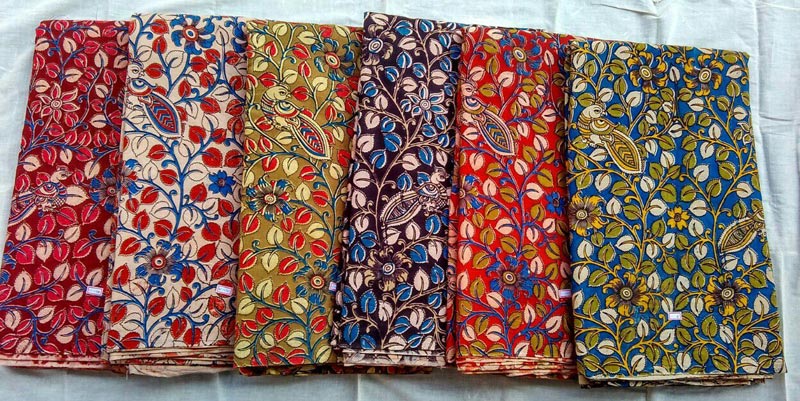 Origin of Kalamkari Sarees:
The origin of kalamkari art can be traced back to the very old times when the chitrakattis or group of painters and musicians that used to travel from one place to another narrated tales of Hindu mythology to the villagers. Later these people started using canvas to illustrate the same using natural dyes obtained from plants giving birth to the art of kalamkari or work with pen.
Much later the Muslim rulers of Golconda promoted the kalamkari work with Islamic leanings on various kinds of fabrics giving birth to kalamkari sarees and Masulipatnam form of kalamkari work which is still practiced in many parts of Andhra Pradesh.
Types of Kalamkari Work:
There are basically two types of kalamkari work that are found in India. One is the Masulipatnam style and the other is the Srikalahasti style.
Masulipatnam Style:
This style of kalamkari work is influenced by Persian style of motifs and designs. They include Tree of life, animals, creepers and nature. This style of kalamkari artwork finds its roots with the Golconda Muslim rulers and uses Alum solution to color areas red and use of wooden blocks that are carved to make beautiful patterns and designs.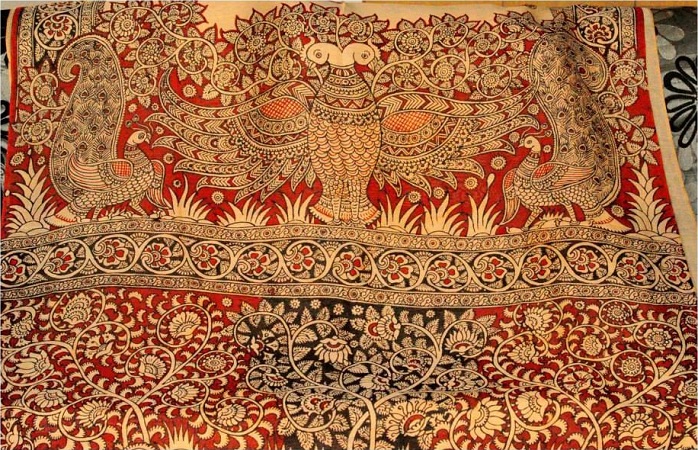 Srikalahasti:
This type of kalamkari art evolved in the areas surrounding the Hindu temples and depicts various Hindu tales from Ramayana and Mahabharata. The artwork is very sophisticated and clear and takes around 17 steps to complete one piece of artwork using hand and brush.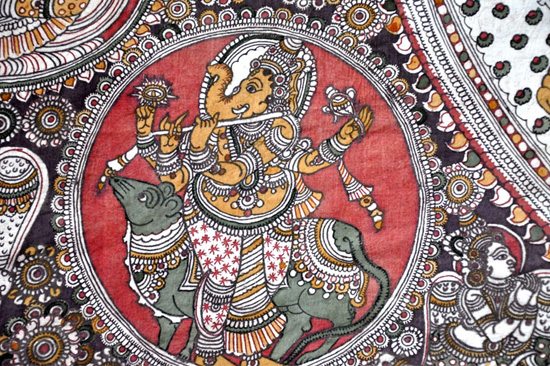 Fabrics used for making kalamkari sarees:
Originally only pure cotton fabric was used for all kinds of kalamkari sarees but today you can get kalamkari sarees in virtually all kinds of pure materials like cotton, silk, crepe, chiffon, georgette, organza, jute etc.
Vegetable dyes are used to color the motifs and subjects as these dyes are fast and long lasting. The most popular subjects on kalamkari sarees even today are the same Hindu temples, mythology tales, flowers, birds, leaves, trees etc.
Modern Kalamkari Sarees:
Now that the world is an open market and products from all around the globe are bought and sold in the same market, global influences are bound to evolve changes in the designs and styles of fabrics, outfits and their styles.
Although even after a lapse of such a long period of time and evolution of society, the basic style and quality of kalamkari work sarees have remained the same. This is due to the fact that some families of the area that have been practicing the art have passed on the art from generation to generation to keep the art form alive and thriving.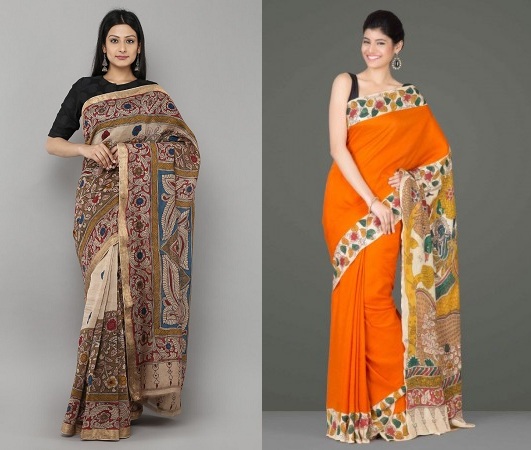 However, global influence has added new designs and pictures that are neither Hindu mythology nor Muslim leaning. The new depictions are modern and have portraits of personal choice or modern art.
Kalamkari sarees have become famous all over the globe and are being exported to many countries like Pakistan, Bangladesh, Srilanka, Bhutan, New Zealand, Australia, United Kingdom, America and many more countries.
Export to these countries is not confined only to the expatriates living in these countries but also to the natives of these countries due to the intricate and exemplary work that is being done on the sarees. Moreover, women now source and wear outfits from all over the globe and nationality of a country is no constraint.
The best thing about global influence on kalamkari sarees is that Indian fine artwork that people don't know about are coming to limelight and artisans that are pursuing the profession are getting the right price for their hard work.
Sourcing Kalamkari Sarees:
Kalamkari sarees are available at all major saree stores throughout India. However, in case you wish to see more designs and styles, you can always access the internet where you can find hundreds of online saree stores selling kalamkari sarees.
These stores have hundreds of photographs of various different types of kalamkari sarees along with clear definition about the quality and kind of material used in the saree and also the price of the saree. You can select a saree of your choice and get it delivered at your address or else if you wish to customize any kind of saree according to your choice, these online stores can also get that done for you and deliver the same at your address.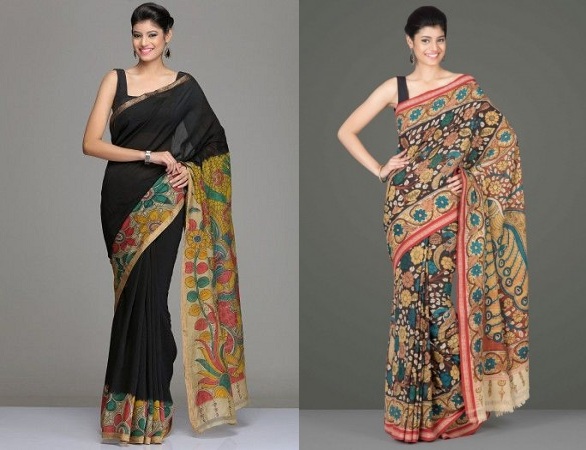 These online stores are dependable and you can the quality of saree that you desire. They have sarees from the lowest range to the highest range. It is entirely your choice for the quality of saree that will eventually be delivered to you. Some of these online stores offer cash on delivery facility to their customers. You can opt for the facility and pay the amount after the product reaches your place.