Chickankari sarees are a unique style of embroidered sarees that are exclusive to the city of Lucknow in India. Chickan work is said to have been brought in by Noor Jehan, wife of Mughal Emperor Jahangir. It is said that she was an expert in the skill and used to practice the skill herself and therefore brought the skill from Dhaka and promoted it.
Chickankari work is heavily influenced by Persian culture and was therefore patronaged by the Mughals and later on by the nawabs of Awadh. The craft saw some decline during the British period. After independence with the efforts of the government and support of local dealers, the craft regained its popularity in a very short period of time.  Today the craft and Chickankari sarees are a hot favorite of all women around the globe.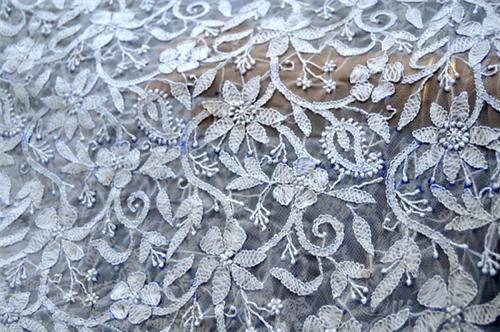 Popularity of Chickankari sarees:
Indian handicraft is very popular throughout the globe and amongst all other handicrafts Chickankari commands the biggest popularity not only amongst the Indian diaspora but also amongst foreigners from all over the globe.
Chickankari work is popular because it is a very beautiful yet very complicated style of embroidery that involves around 36 stitching styles. The embroidery is very intricate and can be done both by hand as well as by machine.
The sarees of this work are in huge demand both by the general public as well as by high profile celebrities and actresses. The popularity of Chickankari work can be gauged by the fact that even the first lady of America Mrs. Obama loves this work and has worn it in formal get-together as well.
Chickankari sarees are considered as a trademark of Lucknow city in India. Tourists from all over the globe come to the city to buy their favorite sarees and other products. Some dealers from the city have registered online companies dealing in specialist Chickankari sarees and other products for people who want to buy these sarees and products but cannot visit the place to buy.
Although Lucknow is the hub of Chickankari work in the world, cheap imitation work is available in many other places in the country. Chickankari sarees are usually made in light fabrics like cotton, viol, crepe, georgette etc as these sarees are most suitable for summers although now Chickankari sarees in silk and other fabrics are also available.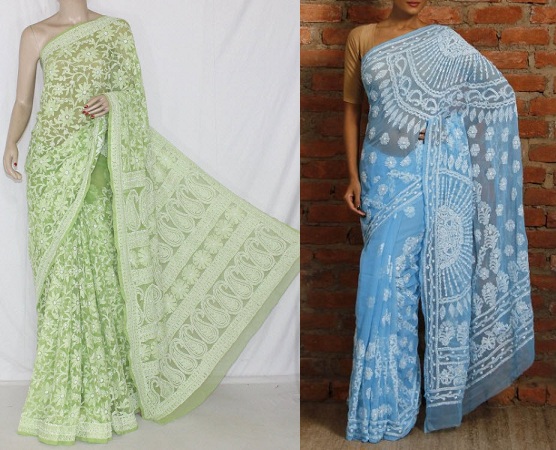 Prominent Features of Chickankari sarees:
Chickankari sarees are distinct in style and embroidery and nearly impossible to imitate. The art is very intricate and involves highly skilled labor to create the work. The craft involves lots of patience and skill which is developed over a period of time that can stretch up to 10-20 years of regular practice.
Chickankari sarees are usually made in light fabrics like voile, cotton, crepe, georgette etc with a light colored base so that the design can be first drawn on the fabric and then handmade or block printed to be embroidered at a later stage.
Sarees are usually made in all possible colors from black, brown, red, maroon to off white and white. Chickankari sarees are multi use sarees and come in a very wide variety and range to suit the pocket of each and every person of the society. Chickankari sarees can be bought for as low as Rs 500/– and the range can go up to more than one lac rupees for a single saree.
Price of Chickankari saree depends more on the quality of embroidery done on the fabric than the fabric itself. Quality of embroidery is gauged by the quality of thread used, the fineness of the thread, closeness of stitches and the kind of stitch used for the embroidery among many other factors.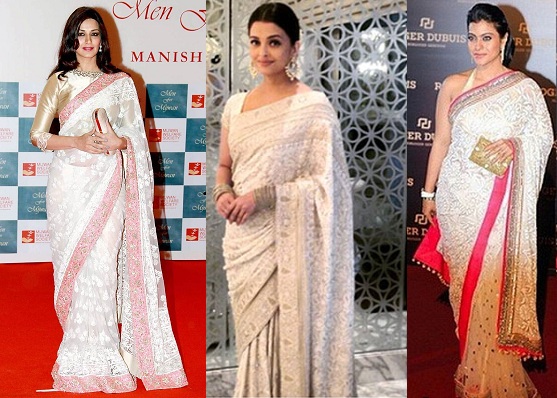 Chickankari sarees in today's fashion scene:
Chickankari work is the top priority of fashion designers in their choice for embroidery in sarees and Lehengas for bridal and formal wear. Some designers love this craft so much that they have designed their showcase sarees and formal outfits using Chickankari work.
Chickankari work sarees are the major attraction in fashion shows and high profile get-togethers where you can find top notch executive ladies wearing Chickankari work sarees instead of age old silk sarees.
Most high profile women want to look different from others and therefore prefer to custom design their sarees instead of buying readymade sarees. Chickankari sarees command high fashion patronage because you can get them custom designed. This means you can choose your fabric, the style of Chickankari work that you like, the quantum of work, quality of work and also the color on the saree as well.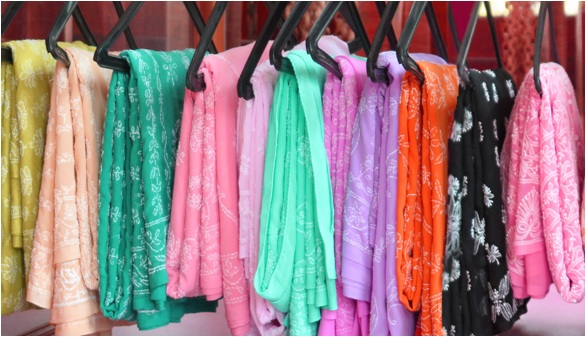 Different Chickankari style of sarees:
Chickankari is a very complex yet intricate style of embroidery on sarees with different kind of fabrics. There are many styles of Chickankari stitches that give name to their famous sarees. These are around 32 in number and have fancy names like phool jail, lambi murri, phanda, kangan keel, tepchi, dhoom, gol murri, bakhia, kapkapi, dhaniya patti, hath kati and many more.
Initially the embroidery work was done by artisans but with passage of time the work has ultimately passed on the women folk of these artisan families and they do this complex work in their homes as well as in workshops.
Maintenance of Chickankari sarees:
Chickankari sarees come in several varieties of fabrics. Some of these fabrics are recommended to be dry cleaned only while some can be washed at home. Chickan sarees are easy to maintain.  It is the fabric that requires maintenance and not the embroidery, therefore those fabrics like silk, crepe, georgette etc that require proper care must be dry cleaned while fabrics like voile and cotton can be washed at home.
Buying Chickankari sarees:
Lucknow is the hub of Chickankari sarees. Here you can get to see hundreds of Chickan sarees in all the saree stores all over the city. There are some that cater to the lower end of the customers while there are some that are exclusive and deal only with the upper scale of the society. The quality of work in these stores will be very different but you can see all the variety of Chickankari work in each store.
Apart from these stores there are some exporters and dealers of Chickankari work that also have online stores to sell their Chickankari sarees from where you can get your choice of Chickan work sarees.