Women always love to wear sarees irrespective of age group. Whatever might be the occasion which you need to attend sarees are the best option to choose. This is the only attire for women which can never go out of fashion. Sarees have been worn by women since several years and since then the number of people wearing sarees keeps on increasing. A saree is the only attire for women which would add more charm and beauty to any women who wears it. If you are planning to buy a saree you can find number of patterns, models and designs of sarees which have been made using different fabric. You can find number of sarees which are categorized in to cotton sarees, silk sarees, pattu sarees, chiffon, georgette, chanderi and much more. The chanderi sarees are most popular ones among all along with the silk and pattu sarees.
As india is a place where people from different regions and religions do live together you would be able to find range of sarees. Depending on your interest and necessity you can choose any kind of saree that would make you look the best any time. With the increase in demand for different sarees the number of stores selling sarees has also increased drastically not only in the market but also online. Many businesses are now running online so that they can cover the entire global market as well. So you can now buy any saree that you like the most from any stores. Most of the women do prefer the chanderi sarees because of the fabric quality and comfort that it provides to the wearer. You can find different colors and patterns of chanderi sarees in the market from which you can choose the one that would best suite you.
History of chanderi sarees
Chanderi is a place which is located in Madhya Pradesh. This is a historical place where you could see several monuments of sultans and Rajput's who used to live here. The place is famous for handlooms since the period of kings. When you hear the word chanderi sarees this is actually derived from here. When you look at the chanderi sarees which are made here in Madhya Pradesh these are actually made out of silk or cotton and reflect the same patterns which you can see in the temple of chanderi place. The fabric of chanderi sarees is very comfortable to wear in any season especially in summer and winter seasons. When you are planning to buy a chanderi saree it would be really very confusing for you to choose any one saree as you can find huge variety of colored and different patterns of sarees which look very beautiful.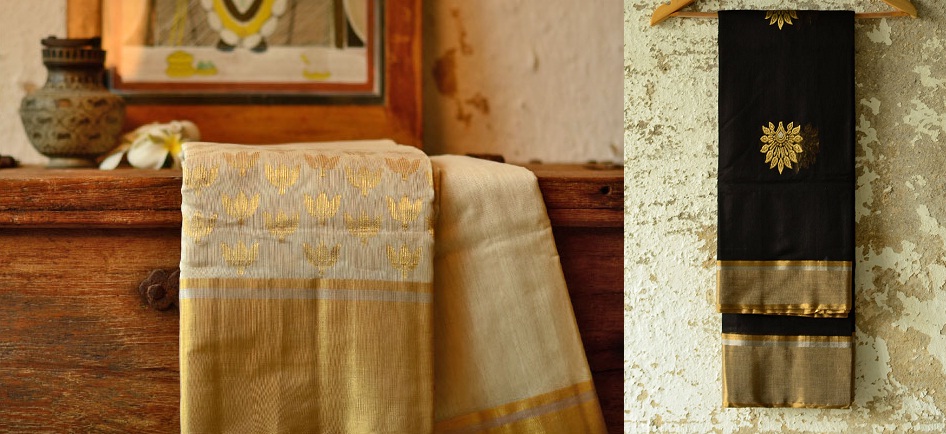 Chanderi place is well known for the hand -made or woven sarees. These sarees are very famous in almost all the parts of India and women love to go with the chanderi sarees which have been made with the combination of silk and cotton as well. Though chanderi is a very common pattern of sarees which women used to wear since ages, with the latest developments in technology and methodologies you can now find most unique and well- designed chanderi sarees according to the changing trend. When you go for the chanderi sarees you can be sure to get the best quality sarees as these are weaved using high quality fabric. These are well known for the royal look which they provide to those women who wear these chanderi sarees. The traditional form of chanderi weaving is used in making sarees and dress materials. These are mostly popular for the elite class as they are a bit expensive.
Why to choose chanderi sarees?
Chanderi sarees are one of the most elegant ones which would add beauty and charm to the one who wears them. You can find a variety of sarees in chanderi sarees which come in varying colors with range of designs as well. These sarees come with a border that would add more grace to the saree. It comes with a zari patti and you can even find that the entire body of the saree is covered with butis and motifs. These are not just restricted to sarees but you can find wide range of chanderi suits as well available in the market. With wide variety of color combination these suits look the best and most attractive. Usually you can find number of chanderi anarkali salwar suits as the shine of the fabric. Some chanderi chudidars do come with embroidery designs which would make it the best looking one.
Most of the women even choose these chanderi suits and sarees for several party occasions. The best thing about this chanderi material or fabric is that it comes with delicate gold threads or zari which comes in the borders as well as all over the saree in the form of motifs. The zari itself adds amazing look to the saree as well as the chudidars. The important thing in chanderi fabric is the type of threads that are used while weaving. Some women even go for the additional add on over the saree which might include the pearls, patch, kundan stones, crystals, other semi- precious stones thread work, embroidery work, gota work and much more. Based on your interest you can choose any kind of work that would increase the look of your saree. Once you buy these chanderi sarees or dress suits you would definitely fall in love with the collection.
Where to find chanderi sarees?
Earlier people used to visit chanderi a place in Madhya pradesh but now no one would travel so long to buy a single saree. With the latest developments you can now find number of stores in the market as well over the online sources. Chanderi sarees and suits can now be found in any saree or dress stores that you could find near your home. These are the most popular sarees or suits which can be worn for parties, functions, festivals and more. You can find huge collection of chanderi sarees of varying patterns, designs and colors from which you can choose the best one of your choice. When you go for the chanderi sarees or materials you would definitely like them because they are very much light it weight and it would be easy to carry your saree. Now a days you can find the chanderi sarees which come with a mixture of traditional and modern skills of weaving which would add more look and beauty to the saree.
There are number of online shopping sites where you can get huge collection of chanderi sarees of varying colors and patterns as well from which you can choose the one that you like the most. It is very important to choose a genuine and reliable online source before you plan to shop at a particular source so that you can spend your money wisely on right product. So for this you need to spend some valuable time in doing some market research so that you can find a good online source. Chanderi sarees are the only ones which would stand out among the huge variety of sarees that you can find in the market. To know more about the different types of chanderi sarees available for you all you need to do is to check out the relevant online sources.

Conclusion
Chanderi is the product of Indian handloom which is mostly made in Chanderi and hence the name chanderi came. You can find wide range of chanderi products such as chanderi silk sarees, chanderi cottons sarees, chanderi fabric, chanderi handloom sarees and dress materials and much more. Chanderi place is well known for the handloom sarees and materials which they weave. These can also be made with the mixture of cotton and silk as well. So depending on your interest you can choose any type of chanderi sarees that you love the most. With these beautiful chanderi sarees you can look one of the most gorgeous and beautiful women on earth. These are very elegant yet most attractive sarees which you can find. The weavers of chanderi sarees are actually the symbol of heritage as they can manage to produce amazing weaving art which has even been appreciated by the royals.
These chanderi sarees or any clothing are very expensive due to the good quality zari that comes with it. Mostly these are worn by the high class women in different occasions. If you also want to look stunning in traditional attire then you need to make sure to go for a good and most suitable colored chanderi saree. Before buying one for your needs you can check out the huge online collection of chanderi sarees which you can find at varying online sites and compare the prices and choose the best quality saree that would come within your budget. These chanderi sarees are even loved by foreigners and several Indian online stores are even getting international customers as well. These are must to have in every women wardrobe.