As we all know India is a diversified country where you can find different people of varying cultures do live together and celebrate festivals. Especially when you look at the Indian women you can see them in different clothes whether it be a saree, half- saree, lehengas or the chaniya choli, chudidars and lot more. Depending on the occasion they choose the right and suitable clothing as well. Whatever attire they choose women always look most beautiful and sexy. They have a wide range of options from which they can choose the one that they wish to wear. Usually the chaniya cholis are worn by the women in Rajasthan since several years and they wear them regularly. These can also be worn for special occasions such as for any kind of traditional day, a festival or any other occasion. Whatever might the reason if you wear a chaniya choli, you would definitely look beautiful.
Children who wear these chaniya cholis would look very pretty and even they love to wear these kinds of traditional attire on special occasions. Chaniya cholis can be worn by women of any age groups and they would definitely look the best irrespective of their age and color. These are very comfortable and simple to carry where ever you go and while working as well. The chaniya cholis are known to be one of the most traditional attire for indian women which is now little modernized and is now called as lehengas. These lehengas provide you with a royal look as they come with heavy works and designs which can be worn especially by brides. When you go for the chaniya cholis these are simple yet elegant and can be worn every day or on special and traditional days. Once you wear the chaniya choli you would definitely fall in love with your attire.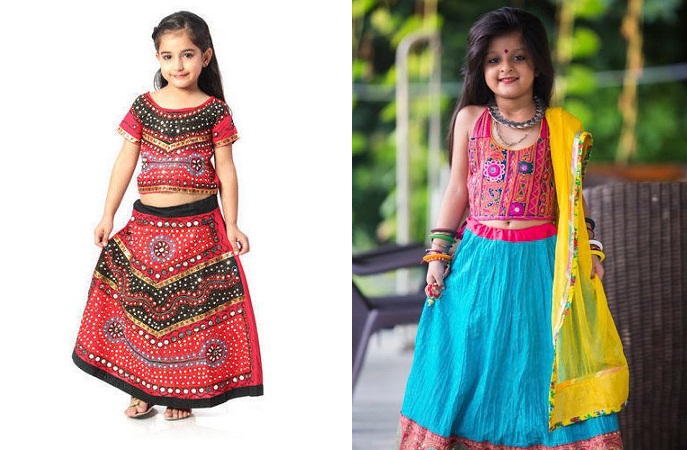 History of chaniya choli:
Usually in the earlier days women in Rajasthan and Gujarat used to wear these chaniya cholis and the lehengas and these are worn by women of modern days as well. When you look at our mythological characters you can see that radha and other gopikas who used be around Krishna used to wear these kinds of chaniya cholis. They have been used by Indian women since ages and the latest lehengas which you are wearing now days have been developed from these as well. Irrespective of the occasion, they used to wear chaniya cholis all the time and they definitely look amazing in their varying colored chaniya choli. Many historical stories prove that most of the women at that time opted for chaniya choli which is not worn by the teenagers but women of all age groups without considering their age group.
Even women in past used to wear these chaniya choli in Rajasthan, and used to walk miles to fetch water in their pots and they used to place the pots on their head and walk by balancing them. When you look at the chaniya choli you can find only two styles of clothing which might include the contemporary style and the classic style. Though these are worn by women regularly most of them do use them on special occasions and festivals all over the world. Depending on your interest and comfort you can either go for a backless choli or the one which comes with stones and beads embedded over it and number of mirrors as well. So it all depends on your how you wish to wear your choli. From children to elders any one can wear these chaniya cholis and they can be sure that they would be looking the best where ever they go.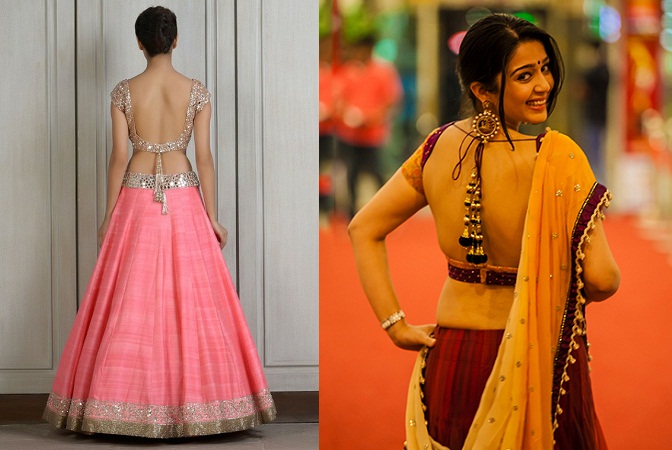 How to wear chaniya choli?
When you are planning to wear a chaniya choli you need to make sure to buy the right one in which you would feel most comfort and can enjoy your day. There are different online sites and retail local stores where you can find wide range of chaniya cholis from which you can choose the best suitable one of your choice. Though you find same designs in chaniya choli you can find varying colors and patterns to choose from. So checkout the huge range of chaniya choli available and choose the one that would make you perfect and beautiful as never before. you should even make sure to consider your personality and height while choosing the right chaniya choli. If you are taller choose the one which is more in length and if you are short then choose a shorter chaniya choli.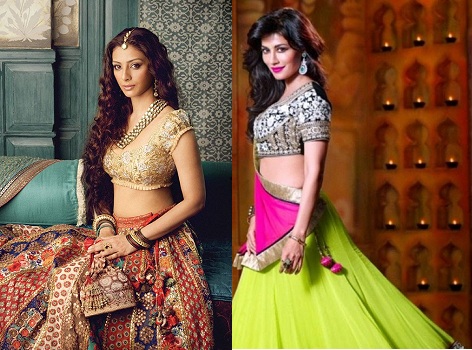 Before you wear the chaniya choli you need to make sure to wear the tank top and then the blouse or choli. This is very important to make you feel comfortable and prevent any kind of awkward situations from arising when you are in a crowd. This would be very useful especially when your blouse is transparent and see through. Different designs can be made in your choli and according to your comfort you can go for the zip locking choli or the hooked one. A zip locking one would be safer and comfortable than the hooked one as these are not strong and might come off any time. Wearing a skirt is very easy as you just need to wear it as you wear the regular ones. It will either come with the elastic or drawstrings. The right accessories would make you complete so never miss to wear the suitable bangles, necklace, ear rings and more.
A chaniya choli would never be complete without a bindi as this is the most important thing which would add more beauty to the wearer. Most of the chaniya cholis do come with a scarf which can either be draped on your neck or shoulders. When you are wearing a chaniya choli you should make sure to see that it would meet the occasion for which you are planning to attend. Most important which you need to check is regarding the blouse. Make sure that the blouse isn't transparent and uncomfortable situations when you are with a group of people. When you look at the local or online stores you can find wide range of options. But always choose the one that can provide you with the maximum discount without compromising the quality of chaniya choli that you buy. Making the right online deal while shopping will always add more grace and bring confidence to the wearer.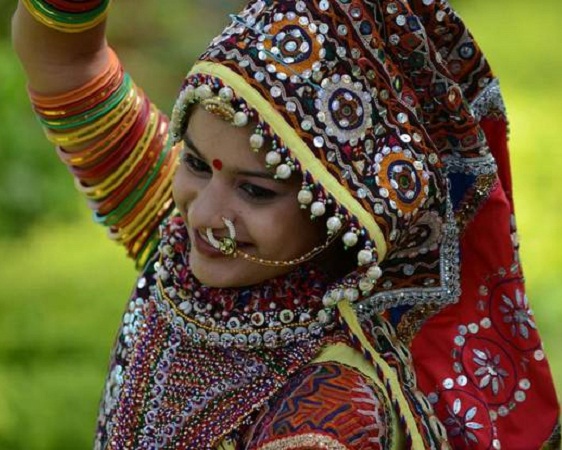 Where to buy chaniya choli?
With the latest developments in technology there has been a drastic rise in the number of online users from different parts of the world. This is the reason for which there is a great increase in number of online businesses. So whether you are looking for a chaniya choli or any other lehenga everything can be found at these online sites. A wide range of options can be found when you are looking for the chaniya choli which might vary in fabric out of which they have been made, the color combinations, the designs and patterns and lot more. Based on your interest and requirement you can choose the kind of chaniya choli and place your online order. Though there are number of online sources that can provide you with chaniya choli it would difficult for you to find a reliable source.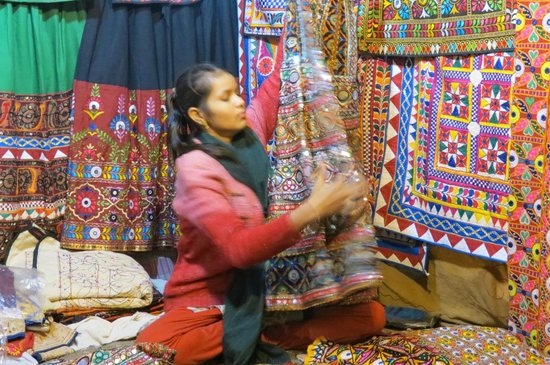 In such cases it is always better for you to spend some valuable time in doing some online market research so that you can know about the various online sources where you can find chaniya choli and can check out the right source as well. When you choose online shopping there are a number of benefits which you can enjoy while sitting at home. You need not visit each of the local stores to get the best chaniya choli. Through the online sites it would be possible for you to check out and compare the various chaniya choli options that you have and can buy the best suitable one that you like the most for the right price. So you can save your valuable time and money as well if you opt for buying chaniya choli online. There are lots of fashion designers as well who can provide you with a uniquely designed chaniya choli according to the varying need of customers online.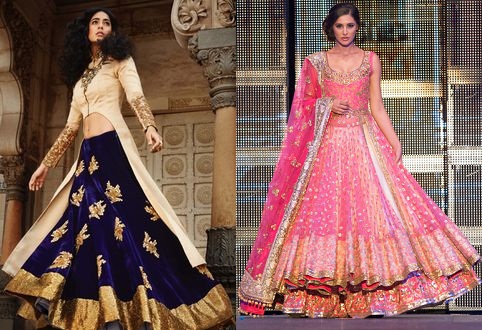 Once you are able to find a reliable online source it would be very easy and simple for you to buy a good chaniya choli that would be suitable to the occasion which you need to attend. You can find great deals and discounts when you go for online shopping. Once you like a particular chaniya choli you can place the online order and the concerned online site will make sure that they would deliver the same product within the specified time to your door step. So sitting at home you can now enjoy your online shopping at great price and variety which you might not be able to find in the local stores. To know more about the chaniya cholis you can check out the relevant online sources which can help you in this regard. You would definitely look the best when you wear the suitable chaniya choli.
Conclusion:
If you are looking for ethnic wear whether it's for a festival or a wedding season in India you can find wide range of options other than sarees that include chaniya choli which is the most common attire especially in Rajasthan. Most of the younger generation does opt for this kind of attire where they can flaunt their curves whether it is through the ghagra choli or the chaniya choli. Chaniya choli is one of the oldest traditional clothing options which is still used in various parts of the world especially in India. These are mostly worn by dancers when they do the Rajasthani dance and you can even see these kinds of attires in movies as well. Though this is an old one you can find different designs and patterns of chaniya choli that you would definitely love. Though the chaniya choli and lehenga choli look similar to each other there is slight difference between the two. Lehengas are worn by the people of royalty and mostly by the brides so that they would look like a princess of their big fat wedding day. These are not worn for a regular use as these are heavily worked on and make you look special. So they can be worn only on special occasions.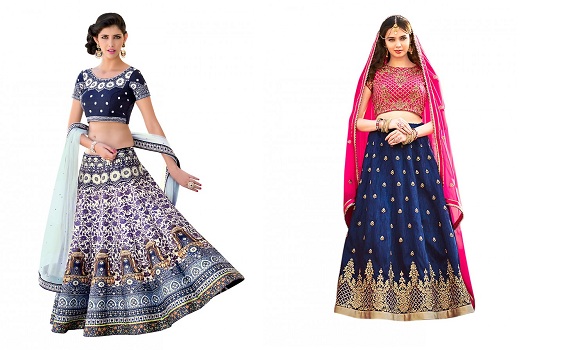 If you go for the chaniya choli you will find that these can be worn any time irrespective of special occasions. Most of the women in Rajasthan do wear these chaniya cholis during garba or performing dandiya during the Navratri festival. The chaniyas will be about 9 meters wide they would give an amazing look when they take turns while dancing. The design of the chaniya choli might differ based on the occasion for which you might need it. When you go for the regular wear chaniya choli you can find the normal cotton printed ones. You can either go for the straight line cut or an A shaped one according to your interest. The choli is usually half sleeved and hem line will cover the waist. When you go for the festival wear chaniya choli the material might change to rich silk, chiffon, or a brocade. These chaniya cholis can also be made look more featured with the varying options that you find in the market whether it be an embroidery design, stones and beads and lot more. You can even make the dupatta more stylish and attractive with different types of works available for you in the market. You can visit the various lehenga or chaniya choli stores which you can find in the market as well as online and choose the best one that would definitely make you look gorgeous and would add more grace and beauty. Let everybody praise and complement you for your looks in a traditional yet modern chaniya cholis by choosing the color that you like the most.