Saree and blouse is the traditional outfit of every Indian woman. They have been wearing this outfit for as long as the Indian culture. It was once considered as a very sexy wear as it exposed a part of woman body and covered a part of it.
Some years ago, saree wearing got lost in wake of western influence on Indian society. However, interest in wearing saree and blouse is back again largely due to increase in sales of designer saree and blouses and exposure of Indian women to the designer fashion.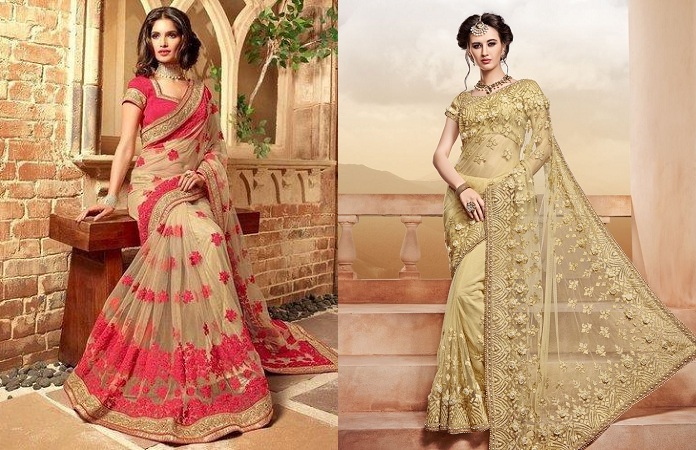 Some people believe that a saree makes a woman beautiful but the fact is that saree only wraps around the body of a female but a blouse is what exposes the beauty of a woman's body. A perfectly fitted blouse adjusts with the contours of the body to accentuate it and enhance its beauty furthermore. A blouse is that part of the ensemble that can make a sari or break a sari. It is one that makes you look the prettiest in the world or just an ordinary person, so it is not the sari that matters most but the blouse that matters the most.
Different Types of Saris and Blouses
India is a vast country that runs many fashions simultaneously. Each region has its own distinct culture and traditions and fashions accordingly. Saree and blouses are worn everywhere but the style and fabric differ. Somewhere saree is worn in one particular style while somewhere else it is worn the other way round. There are minor differences in the manner in which saree and blouse are treated but all these differences are at the local level. This means that the difference is only limited to the local inhabitants of the area but India is a place where there is so much intermingling of cultures and people that local fashions influence only the designs of the saree that are produced in the region.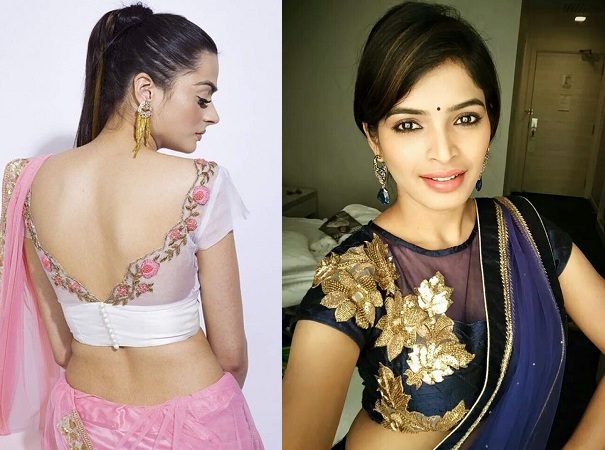 As there are so many regions in the country, there are as many types of saree and blouse designs that are popular within the country. In the rural areas, women mostly wear cotton or other synthetic saree and blouse but in the urban areas that are developed and women are fashion-conscious, they are turning towards silk as their choice of saree for parties and functions ahead of the local fabric available in the region.
Net Blouses
As a fashionable blouse is the trend of today, women are looking more and more towards different fabrics that they can use for their silk saree. One of the most sought after fabric for blouse that has taken the Indian fashion industry by storm is the net blouse. Blouse made out of net was in fashion during the 1960's but went out of favor after a while. It has now come back with a bang and displaced all other fabrics that were in use for blouses for silk sarees.
Today net blouses have completely taken over the blouse industry for silk sarees. The top designers of the industry involved in making readymade blouses and the online stores trading in blouses are completely supporting the net as fabric for blouses for silk sarees. Designers are busy rolling out their collections and arranging fashion shows for silk sarees with a wide variety of net blouses to woo the women into choosing the net blouse to give trendy, classic and fashionable look to silk sarees.
One of the greatest advantages of net blouse is that they can be used with any sari as a blouse, because they can be used as a simple plain blouse or can be made into a designer blouse as per your choice. Net blouses also find favor with women that want to stay tuned to fashion at one place but fear exposing their skin in public. A net blouse shows the skin but does not expose it. It just gives a hint of the skin.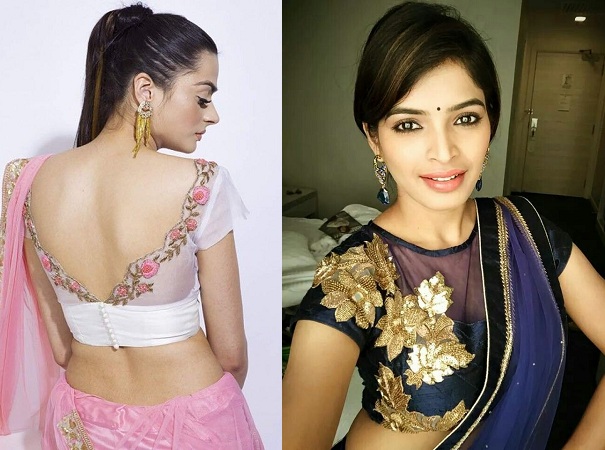 Net blouses allow you to try a host of styles and designs that are not possible with any other fabric. It can be taken as a sheer on a blouse or can be made into a blouse. It can also be used with other materials to create a new design and can even be embroidered or embellished to give a heavy look to the blouse.
Embroidery on a Net Blouse
This is a very popular style of blouse that is worn by Bollywood celebrities in their red carpet functions, award functions and other formal and informal programs. Embroidery on net is also very popular amongst the fashion conscious women in the upper and middle class households. Embroidered net blouses are used to make the top attractive and draw attention towards it. Women who love to show a little bit of their own wear this blouse.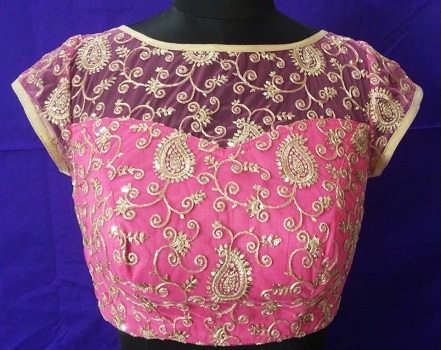 High Neck Net Blouse
When you want to give a royal look to the ensemble, you wear a high neck net blouse. The blouse is made from net and the high neck is made from some other harder material to give stiffness to the neck part. This looks amazing with a silk saree and you can actually draw all the eyes on you.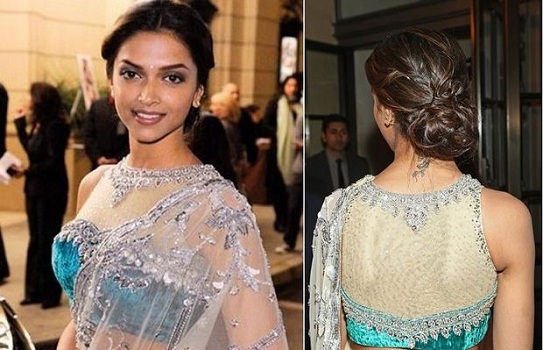 High Neck Backless Blouse
This is a high class design to wear with a silk saree. It gives you the look of a royal person and makes you stand apart in the entire party. While the high neck gives you a conventional look, the backless design gives the look of modernity and mischief. You can get the high neck embroidered or embellished along with the little back that is left to support the blouse.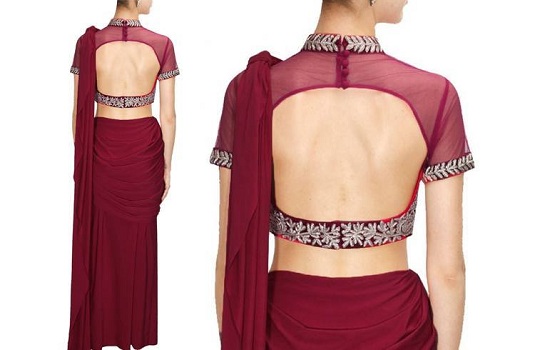 Deep Cut Backless Net Blouse
This is also a very popular design with the celebrities and is usually worn by women that want to show off their assets and become the center of attraction in the party. The deep cut in the front provides a peep into the asset while a cut in the back allows you to show off the beautiful skin.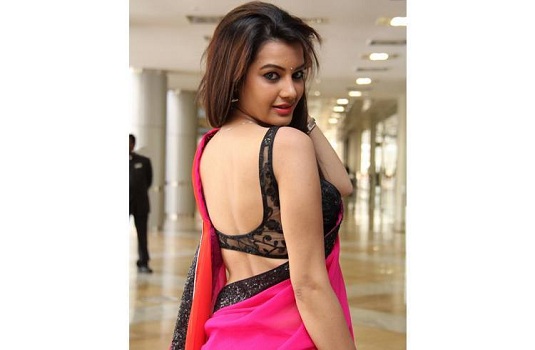 Halter Neck backless net blouse
Wear any blouse but this blouse has to be your favorite one. This is one of the finest and the most popular designs with net. It is one of the sexiest designs and is often worn by Bollywood celebrities. You can wear this design with or without sleeves. While sleeves give you a modest look, a sleeveless design will make you look really hot and desirable.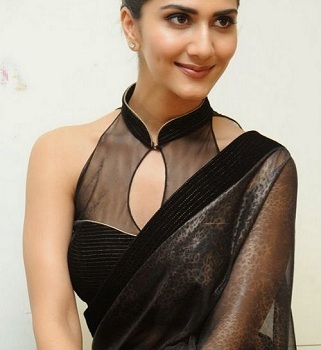 Net Blouse with Velvet combination
This one is the latest and is mainly for those women that want to flaunt their skin but fear wearing deep neck blouses. The net gives you an elegant yet sensuous look and is apt to be worn for candle lit dinners and marriage parties. You can get the net embellished or embroidered as per your choice to get noticed in the crowd.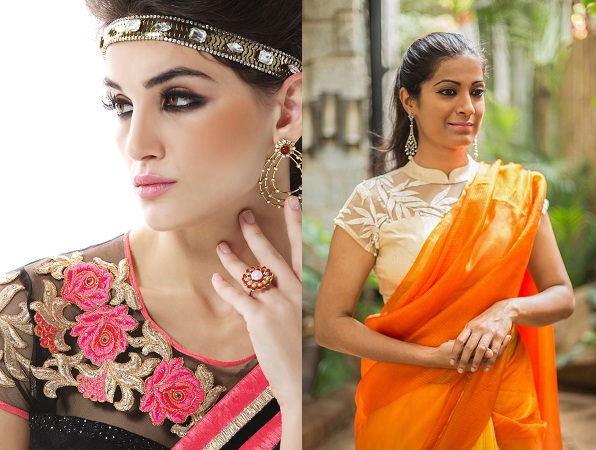 Bright colors like red, turquoise blue, sea green are the favorite for net blouses and sometimes women combine two or more colored fabrics to make the blouse more attractive. If you want to add some more glamour to the blouse you can always use floral lace like texture on the net all over the blouse and not only the sleeve and neck.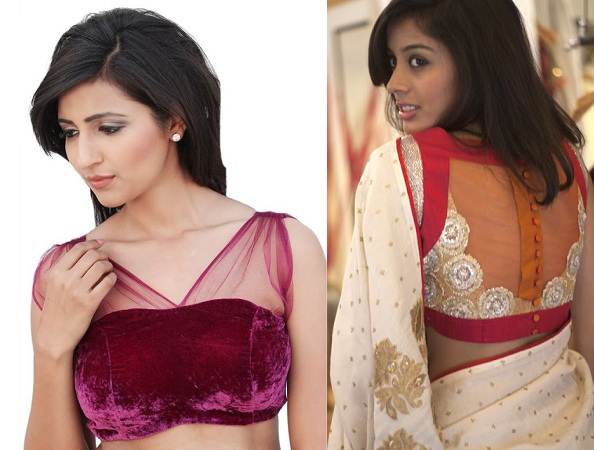 Another variant in this style is to use the same border as used in the sari to the sleeve of the net blouse. This will give the impression as the blouse a part of the saree and the blouse an absolute stunner.  Yet another variation could be that you combine velvet with nude net on the neckline to give an allusion of jewelry and silver embroidery on the net will give an aristocratic look to the saree.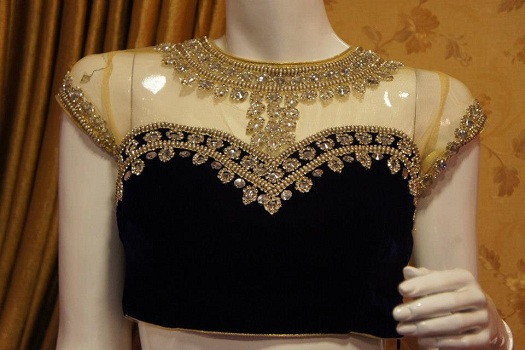 Apart from this you can get a wide variety of net blouses from a score of online stores on the internet. Some of them are manufacturers that are manufacturing blouses from all kinds of materials in a variety of styles in almost all sizes. Here you can choose your style of net blouse from an online catalogue and place the order. The manufacturer in turn will deliver the blouse to your door step and collect the money from your place. If you have any quality issues, many manufacturers and websites happily take back the blouse without any charge.
There are many designers also on the internet. They have their websites from where you can contact   them. The designers usually interact with you and try to understand you requirement and choice. Thereafter they will show some of the designs that they feel will suit your figure and style. You can choose from their catalogue a blouse that appeals you the most. You can wear the net blouse to give trendy, classic and fashionable look to silk sarees.
One big advantage of getting a custom made designer net blouse for silk saree is that a custom-made blouse will fit you perfectly and will give you the comfort and elegance that will catch all the eyeballs in the party.