Whether it is a casual wear, office wear or college wear, the kurtis are an important part of every Indian woman's life. With the easy to wear features and with the great styles, kurtis have become a hot favorite of all those women, who look for the right upper to pair with their palazzos, leggings or jeans. So, if you want to give this kurti style a western look, you can easily pair it with jeans. But irrespective of the choice, the neck designs of kurtis impact the overall look of the outfit significantly. There are actually numerous types of necklines with which one can experiment. The closed collar kurti is one of those types.
Closed collar kurtis – a few details:
Closed collar kurti is the style, which is inspired from the traditional neckline of kurta from men's collection and therefore has integrated into the neck patterns of the women's kurtis. Soon this neckline style has become really popular among the working women, because of the professional style that these kurtis bring. Besides, women prefer this kurti style as office wear is because this style offers limited scope of styling.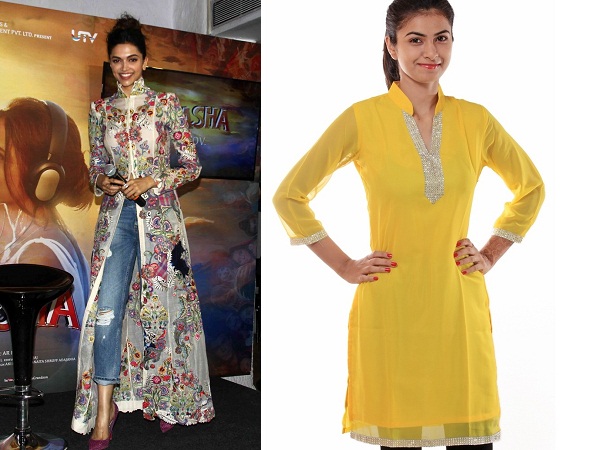 Even though this neckline is close to the neck to offer any scope of additional design, but still it is possible to make the look stylish by adding some complementary features. The neck style of these kurtis is often closed with hooks, zippers or buttons. Besides, the neckline of these kurtis is often beautified with designer embroideries. And this way, this style will deliver a great style and elegance to the wearer.
Closed neckline kurtis look just winsome while these are worn with élan. These kurtis not only add grace to one's personality, but also adds a factor of exclusivity to your aura. Often people think that these kurtis are just ideal as office wear, but this is not true. Apart from being a favorite office wear, women also choose these as a party wear attire. Here the pattern on the top looks like the ban neck design, which is often stitched with flashy buttons, zips etc.
Some features of the closed collar kurtis:
The neckline of this kurti style is really close to the neck
Often the closed neckline is decorated with designer embroideries, hand works and closed with buttons or hooks
This neckline style is really effective in making one's neck look slimmer
This neck style goes well with full sleeve, half sleeve or no sleeve kurtis
This type of kurti can be paired perfectly with close fitted jeans or leggings

This kurti style is not meant for women with broader chests
So, if you really want to blow the mind of people around you in a discreet manner, then the kurtis with closed necklines is just perfect. This style of kurti is so versatile that you can carry it everywhere with grace. In case you prefer a really unconventional appeal, then you can also opt for closed neck kurtis with hardcore geometrical influences, retro prints and rough edged silhouettes to turn others head.