Kantha work belongs to Bengal where it was the main source of employment in rural areas. Even after partition of India in 1947, it is still a primary source of income in both West Bengal and Bangladesh. The soft and silk sarees and dhoties from Bangladesh have always been considered very rich because of the intricate kantha work on their edges. Traditionally, only running stitch was used for embroidery but seeing a splurge in public demand, many other embroidery stitches along with kantha work have entered the market to offer a more attractive appeal to various fabrics.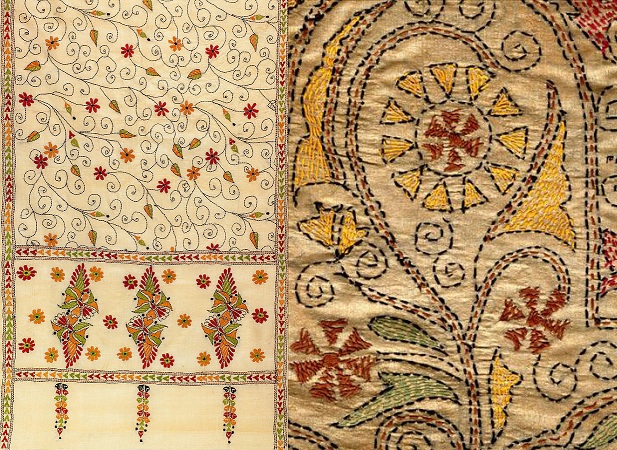 It is a well-known fact that since centuries, India has been dependent on handloom fabrics for ethnic wear. Although the new machine-woven fabrics have replaced handlooms extensively, their authenticity in the fashion designing world cannot be underrated. Soft, light, fine, and airy fabrics made from handlooms still entice people who prefer sophistication over garishness. Vibrant colors, beautiful organic dyes, and superior quality of weaving give these fabrics certain extra dimensions which distinguish them from other materials. The varied designs, themes, motifs, patterns, borders, hand paintings, and striking embroidery on these designer clothes are definitely a notch above the regular fabrics manufactured in bulk in factories.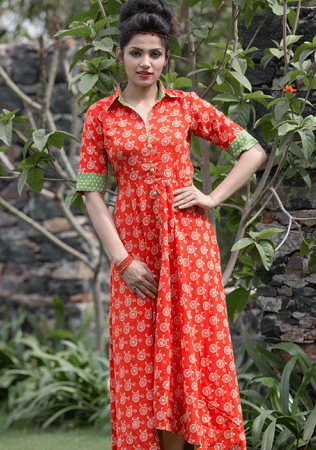 Kantha work is a perfect amalgam of utmost devotion, meticulous care, and unparalleled craftsmanship. Indian dresses made from these delicate handloom fabrics and embroidered with kantha work are so beautiful that anyone will surely love to add them to their existing collection.
Kantha work on Designer Kurtis
Kantha work on fabrics is not new to India. It is a form of embroidery which is used on sarees, kurtis, salwar kameez, and tunics for centuries in India. Cotton kurtis were the first choice for kantha work in India, Bengal's thread work being the most popular example of the elegant running stitch. Recently, colourful thread work is being used on the borders of designer kurtis to give them a rich feel.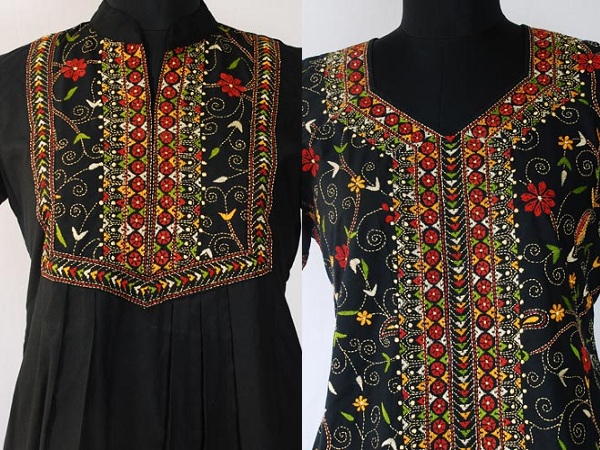 Based on the design and ornamentation of kurtis, many types of kantha work such as Sujani kantha and Lep are used extensively because they lift the fabric's texture to a new level of intricacy. Motif designs on designer kurtis with kantha work are mostly inspired from different elements of nature such as trees, animals, birds, and flowers. Some fashion designers like to take an ordinary fabric and transform it into a designer kantha kurti by highlighting it with scenes from day-to-day life and attractive geometrical shapes.
The different kantha designs on kurtis these days – satin stitch, loop stitch and darning stitch – are presented in such a way that everyone from young girls to older women, love adding them to their wardrobe. Since kurtis are currently in vogue all over the world, kantha work with excellent embroidery on designer kurtis has become a special preference among the masses.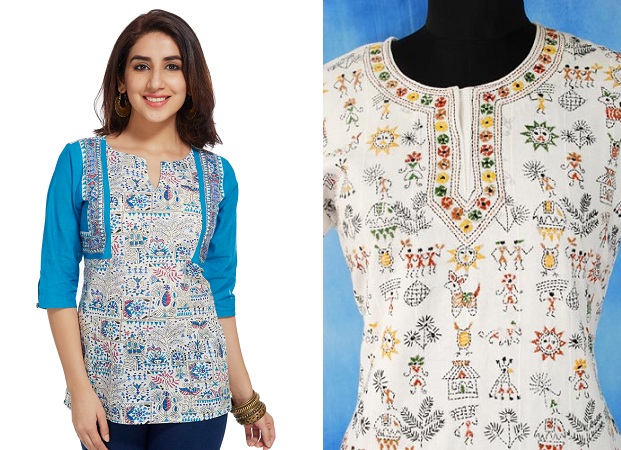 Indian embroidery is appreciated universally for its interesting history, astonishing varieties, and the exclusivity it provides to any kind of material. In fact, within the category of kantha work itself, different Indian states provide a different variety of styles and designs on all fabrics. It is this impressive variety that makes the Indian cultural heritage of kantha work all the more unique and appealing. This is a primary reason why demand for designer kurtis with kantha work has always been on a rise in Indian and other communities throughout the world.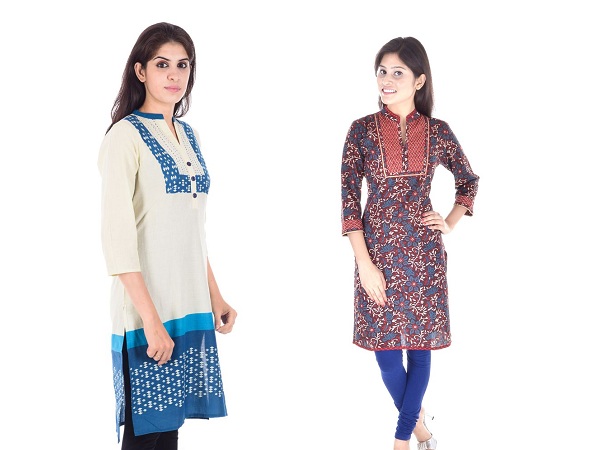 With the recent inclination towards traditional designs, Indian textile industries as well as fashion designers aretrying to find innovative ways to give the traditional look of kantha work some new and interesting dimensions. It is justified to say they have been successful in this attempt with respect to designer kurtis, much to the advantage of consumers in and outside India.