Narendra Modi is right now one of the most popular people in India by virtue of being the Prime Minister of the country. As it happens with any and every popular individual out there, his or her sartorial signature is wilfully imbibed by other people that look to emulate and walk in the path shown by him. This has meant an increased amount of popularity for the jackets worn by him. These are essentially the same jackets that were once worn by Jawaharlal Nehru, the first-ever Prime Minister of India. It is perhaps a testament to his popularity that these jackets have now come to be known as Modi jackets.
Wool felt sleeveless fitted jackets
As may be evident from the name itself, this kind of Modi jacket is built from wool. As is the case with these jackets, this particular variation happens to be of the sleeveless nature as well. However, before buying these there are a few things that you have to keep in your mind. Since these are made from wool you would not be able to wear them at anytime other than during the winter. Also, these are fitted! This means that you should be slim in order to buy and wear them without looking out of order. They are mostly available in dark colours and if you wish you can pair them with peach and off-white kurtas as is the wont these days.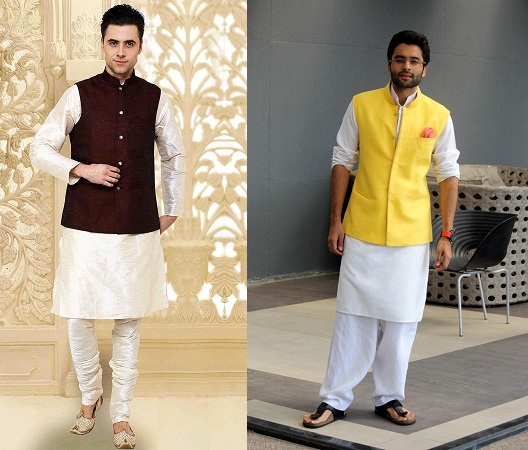 Silk sleeveless Chinese collar jackets
You may be surprised to know this but these are normally less costly compared to the woolen jackets. These are basically Chinese collar ones, which means even if you do not have a prominent neck you should be able to carry these off. Since these are made using silk you should be ideally wearing them during festive occasions only. Once again they are mostly available in colours such as brown and would look really well with bottle green kurtas. A word of caution over here – do not wear them in the Indian summer especially if you are not going to be inside an air-conditioned hall.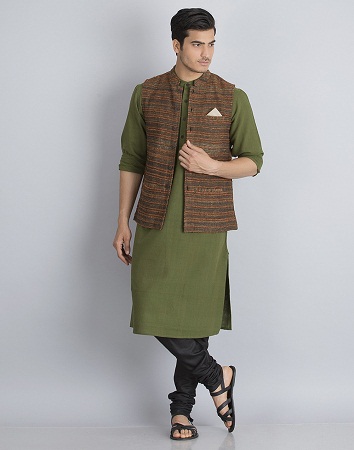 Tussar Ghicha striped sleeveless jackets
Tussar jackets can be quite heavy as well and the same caution – as has been stated above – would be applicable for these as well. Choose the stripe depending on your body type. If you are a slim person please go for horizontal stripes as they would make you look broader. In case you are short and stocky you can go for vertical stripes as they would make you look taller. They are normally available in colours such as light brown and you can team them with bottle green kurtas.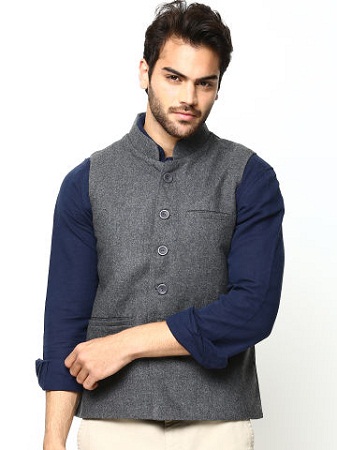 Tussar Ghicha Chinese collar sleeveless jackets
These are just the same with the only difference being in terms of the collar patterns. Chinese collar is like a god-sent for people without a neckline to speak of. These are normally available in brighter colours such as red and golden yellow and would go really well with ochre or dark golden yellow kurtas, and deep or bottle green kurtas.