Gone are the days when sarees used to be the most prevalent choice for women when they wanted to rock any traditional festive function or wedding ceremony. In the modern times, lehengas and similar dresses have swayed the market and made a special place in the wardrobes of women. From big Bollywood celebrities to trend setting fashion designers and to the small town women, all would agree to the fact that lehengas add to the grace and overall beauty of the wearer. Lehengas come in a great assortment on the basis of designs, cloth material, blouses, prints, embellishments, necklines and the list of variations goes on.
If you are planning to purchase a trendy lehenga this year, following are some of the types that will help you to find an apt lehenga for yourself:
Fish-tail lehenga
Fish-tail lehenga is a new trend which suits those with slender lower bodies as the lehenga gets narrower as it flows downwards. The trail of the lehenga appears lavish and ravishing. Such type of lehengas can possess the work of watery sequin that will give an astounding look to the ensemble. Pair a tube-top blouse or the one with transparent net in the shape of sweet-heart. This mermaid lehenga is in great demand by young ladies of 2017.
Cape and poncho style
This is so 2017 vogue. Go for a plain blouse with lightly embroidered lehenga, showing off your midriff. Add a layer of cape or poncho of net on the blouse with little embellishments and you are ready to rock the ramp with your looks and appearance. Words fall short to describe the beauty of the attire and so the adorner. This all new trend is sure to make you look chic and elegant.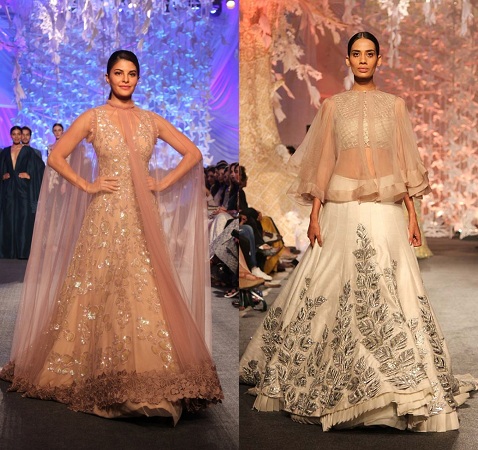 Layers and Ruffles
Layering and ruffling may not be something new. Its origin can be traced back to the retro movies and ball gowns of those old golden times but the trend has made a come back. Be it a gown or a lehenga, layering and ruffling makes it look like Barbie style and you are no less than a princess coming straight from her dreamy castle.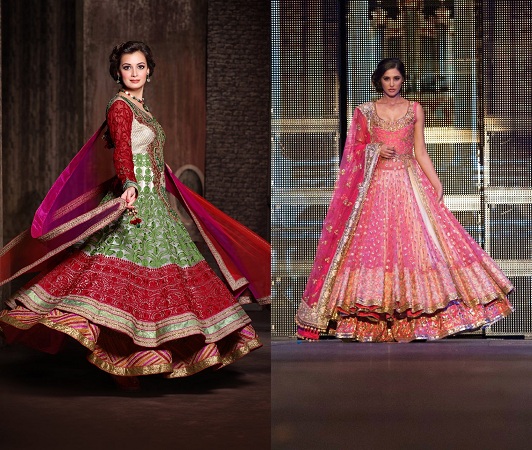 Jacket lehenga
Wearing many layers never fails to give elegant and formal gaze to your attire. A crop top blouse with simply pleating lehenga can be effectively carried with an overflowing jacket that may end at your midriff or flow as long as an Anarkali or may end up around your shin. Materials such as net, velvet, georgette or silk can be chosen for the jacket and you can play with the embellishments in the form of thread-work or stones or cut work as per your choice and preference.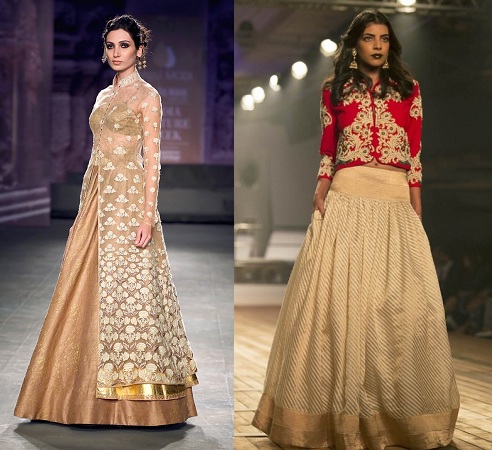 Off-shoulder blouse with lehenga
Though off-shoulder was in huge trend last year, it continues to embark its fame in 2017 as well. You can experiment with the sleeves like have one side off-shouldered or full sleeve with off shoulder or Barbie sleeve or any other kind. Off-shoulder makes you look chic, sexy and stylish as the nape of your neck and the curve of your shoulder give a sensuous touch to your traditional outfit.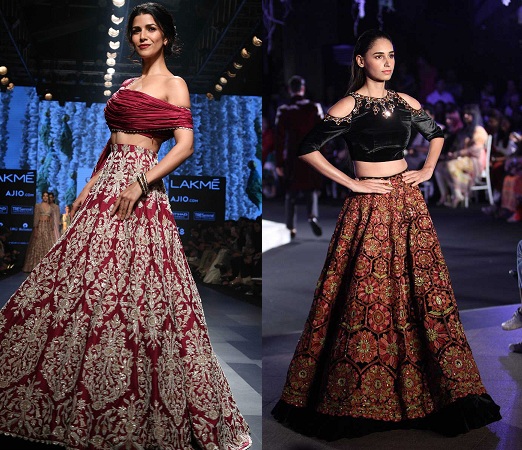 Heavily embroidered or architectural motifs
The year of 2017 brings with itself a new embellishing pattern in the face of architectural motifs on the skirt of the lehenga. You can get temple embroidery or heavy sequin embroidery all over the base of your lehenga and grace the occasion with your benign presence. This is sure to make everyone go agape.
The above mentioned designer lehengas are definitely going to be the outfits of the year 2017 and make the wearer the queen of fashion.