Culture and tradition is highly reflected from one's clothing. India is a land of varied cultures and this can be seen from the type of clothes adorned by the people of the land. Attires have been blemished and improvised with the evolution of time. Blending and mixing two different combinations to come out with something unique and exceptional to stun the onlookers comes no longer as a surprise to fashion freaks. Be it traditional attire or modern ensemble or a mix of both, you just need to have the art of styling and dressing yourself in the outfit.
For the purpose of wedding or formal dressing or for semi-formal occasions, sarees and lehengas have been common since long but combining both of them together as lehenga sarees with stunning blouse design is what is called as smart dressing. Many young women are opting for a chic look by choosing this combo. Following lehenga sarees with blouse designs are sure to blow your mind and generate a craving in you to have one of them as a part of your wardrobe:
Jacket style lehenga sari
If you are wishing to wear something not so traditional, jacket style blouse with lehenga saree is an apt choice. Jacket style blouse with a regal high neck is a sure shot selling point of such ensemble. A full sleeved or any length sleeved blouse in velvety or net fabric with absolute embroidery is sure to take anyone's breath away. It just needs to be paired with perfect dupatta that is draped like a saree to give a unique and amazing glance.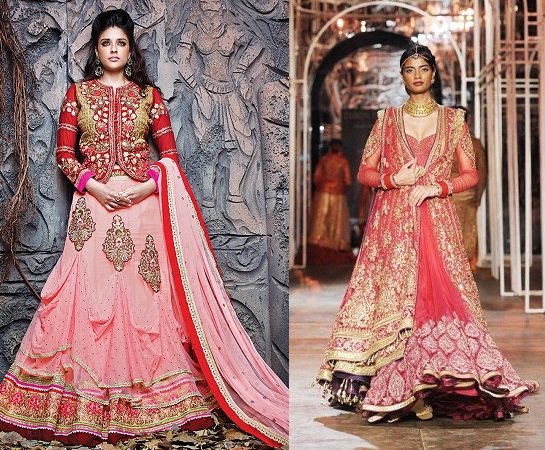 Mermaid style lehenga sari
Mermaid style lehenga saris never go out of trend and highlight your curves perfectly at the right places. Ideal for the slim ones, mermaid styled lehenga saris can be paired with tube blouse with a sweetheart neckline. A corset style blouse and the mermaid lehenga when draped with elegant dupatta give an appearance that goes beyond description.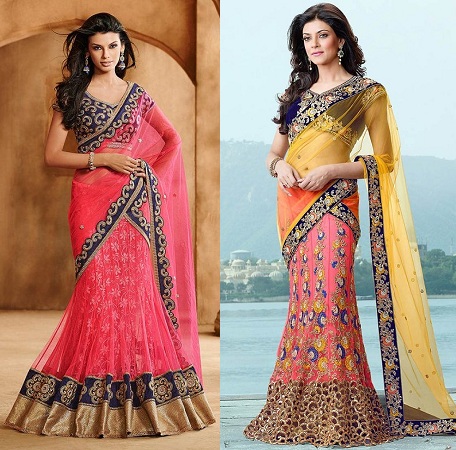 Flare style lehenga sari
Every girl wishes to look at the top of the world with her stunning looks. Giving flair to your lehenga sari with the right quality cloth material and pairing it with mirror worked blouse will give you an unbelievable and mesmerizing appearance. You can have a boat shaped neck with off shouldered blouse or t-neck as per your choice and comfort. Choose pastels or bright colours to add to the grace.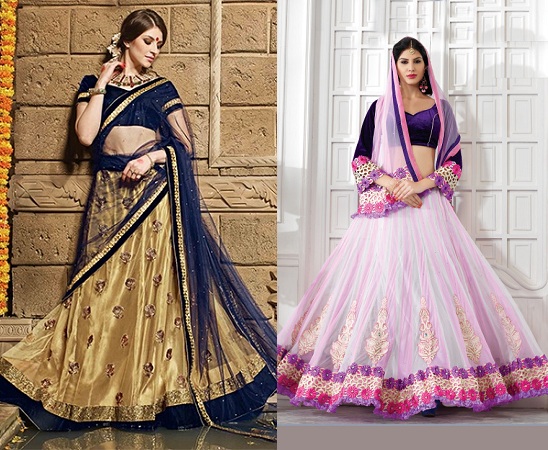 Brocade lehenga sari blouse design
Having the right choice of the cloth material is the most important factor to rock the outfit and when you want something formal and not appear over-dressy at the same time, brocade is the right choice. Available in bright colours like red, purple, green, blue, off-white, etc. brocade can be chosen as a material for lehenga saree or blouse. Pair it with a perfect neckline and exact dupatta that will hype the look of the entire outfit.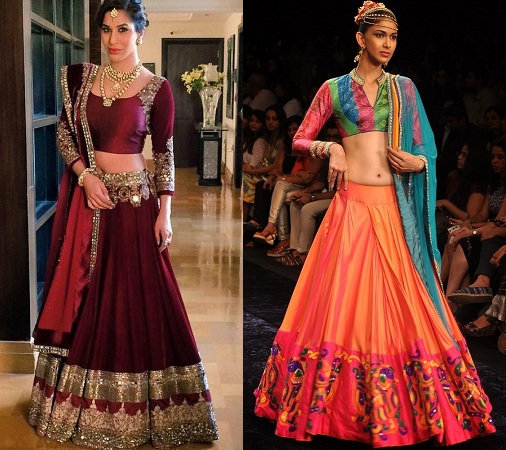 Backless dori blouse with lehenga sari
Backless blouses are in great vogue for women with toned backs and bold dressing styles. Perfect material and designer neckline are sure to lure the hearts of the people of the gathering. Gracefully falling lehenga saree with ideal backless dori blouse and splendid dupatta will complete the look you desire and always aspire for.
Lehenga sarees have swayed the markets and have much to offer for those wishing to have something unique and different yet stylish. Such combinations have been successfully tried and tested by famous designers like Sabyasachi, Manish Malhotra, Ritu Kumar, Sandeep Khosla, etc. Perfect blouse design with lehenga saree is sure to capture all the charm that you wish for.