Kurtis have a lot of variations when they are tailored to suit your needs. Different types of floral prints and style shave become popular in the market and people love experimenting with them. You can choose the kurtis from the different colour variations that flock the market. So, when you are choosy about dresses, you will get a vast variety of clothes to choose from.
Give a flowery lovely look to your appearance with Floral Prints kurtis:
Flower is one such element of nature which makes anyone feel good and crazy.  When you add this floral concept in your kurtis then that will give you a feel of freshness and surely will make you look elegantly beautiful. In present time the craze and preference of floral prints are so high that you will get to see that every alternative day some new designs are coming up.  Searching online will give you a rock solid idea about the trending floral print kurtis in the market.  You will get to know from the online stores which are the most in demand floral kurtis in market. If you are a good designer and want to get your kurtis designed by your own on floral concept then do take a look at the floral kurtis online for great ideas.
If you are looking for tailor made floral kurtis then pick the design you like from online and show it to your tailor and get the kurti ready for you. Again in case you prefer to go with readymade kurtis designed by some of the best fashion designers of the industry then you can visit the online stores and get to see the best collection of kurtis in this category. Shopping online is easy now and you can do it just with few clicks of your mouse. Just select the kurti you love to buy and add it in cart. Then proceed to make the payment and don't forget to add the shipping and billing address.  Payment need to be made using debit or credit card. Once payment done the online store will get the kurti delivered at your door step within given time frame. The best part of using the kurti as regular outfit is that you can try it with different lowers and it will give a different look every time.
Popular yet elegant floral print kurtis available online:
Here are some of the most popular floral prints and styles of kurtis that you will find interesting. We are sure that these designs will tempt you and you will surely buy the one which you will love the most.
Green Printed Rose-Pattern A-line Kurti: This is really unique and trendy attire that you would like to wear. There are green and red combinations in the pattern which people love the most. The dress comes with a red waist line, which looks beautiful. So, you will get a nice summer look when you wear the dress. This is one of the most stylish looks and you will definitely like to bump up your looks when you get in touch with the dress.  Well, this is best customised to go for dating and you will cherish the grand yet trendy beauty of the kurti.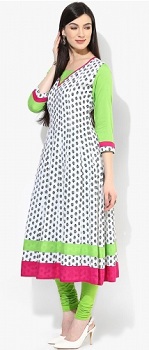 Floral Printed Long kurti for Party: This is an ideal kurti which you will be able to use as a party wear. There are beautifully printed strokes and you will be able to choose from a variety of available choices. These can go well with other accessories and bright coloured ornaments. After all, you can get a peculiar party-look when you get in touch with the kurti. There are lovely designs that will blow your mind. Apart from that, the foliage at the sides and bottom will also live up to the trends of the decade. Then there are printed side panels which can be matched well with a number of leggings. The best look is achieved when you put on the dress with an orange legging, bright in colour, which will boost up your beauty.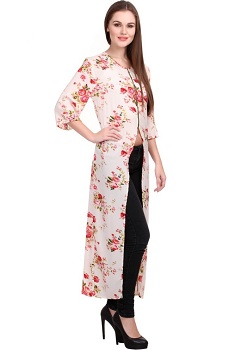 Multi-Colour large floral printed kurti: Flowers are colourful, and when you get in touch with the large kurtis that offer a lot of floral designs, you will definitely fall in love with the new inclusion to the variety. There are a number of colour combinations to choose from and you will get the ideal opportunity to use the best available designs to get a nice look. The floral patterns are large and you will be able to make the perfect choice when it comes to optimisation of choice. These are best to wear in the hot summers and deliver a sizzling look to you when you get in touch with them. And when you get the right hair style to suit the dress, you will bear one of the most fashionable looks that you can fancy.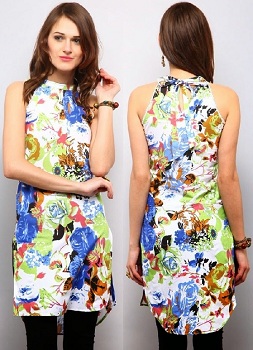 Dynamic jacket type kurti: When it comes to bridging the gap between two types of attires, you can definitely get in touch with these kurtis. These are elegant looking and beautiful and delivers the right kind of weight you need for your personality. This has an asymmetrical pattern and you can choose the best floral designs that you can avail from the kurti. Apart from this, you will also be able to make the right combination with accessories that you wear. The kurtis are generally made of cotton, and have long sleeves. So, you will find the perfect attire to match your taste when you choose the perfect design and cutting. There is another great advantage that you will get from the kurti. As it comes with full sleeves, it will protect your skin from the heat of the sun in the summer months. So, the trend of buying this type of kurti is seen especially in the warmer months. You can use baggy pants, jeans or leggings with this kurti and it will give you cool look after all.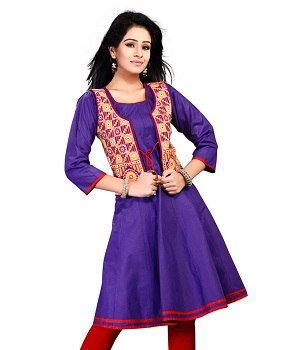 Black and Pink Classy Floral Printed Kurti: This is one of the most popular styles of kurtis when it comes to cross cultural fashion. This kurti has the right kind of blend, combining Indian and western styles of dressing. You will bear a new look when you wear the kurti. This goes well paired with dark coloured or pink leggings. These are ideal for the college girls, especially for those who have a skinny figure. It comes with the A cut design, which is tapered at the top and flares at the bottom. The most attractive feature of the attire is the metallic zipper in the front side, which makes it look elegant and gorgeous.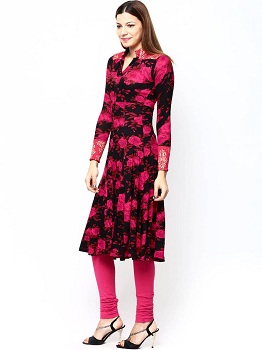 Lilac Coloured Cotton Floral Kurti: You will find the right radiance of colour when you get in touch with this kurti. These are light in colour, and are best suited for people with a fair complexion. This particular kurti has a baggy bottom. If you have a pear shaped body, this is the right choice for you. These will go well with green leggings and you can wear a fair bit of fashionable accessories with this kurti.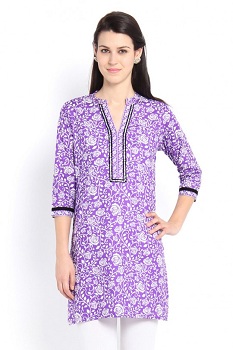 Black Floral Cotton Long Kurti for Office: This is a kurti customised for official purposes. There are white floral designs that will make the right combination with the black background and this will make your professional clothing complete. So, you will be able to get the kurti with three quarter folded sleeves, and admire the official look that you get.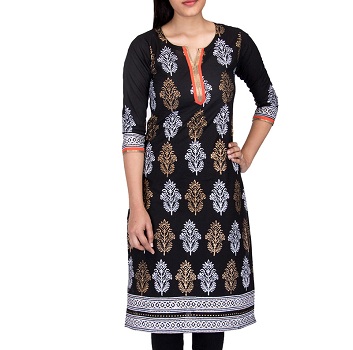 Customizing the Floral print kurtis:
Floral designs are common especially in the summer months. There are a lot of people who love to get the grand look of the flowers that bloom in the season when they wear matching attires. These can be further customised when you chose the right bracelet, sunglass or footwear. After all, you will be able to customise the choice of kurtis to perfection when you have such a wide variety. However, people differ in terms of taste and preference, and you just need to pick out the right colour design that you will need. All the varieties are popular in the market and you will have to make the right choice when you opt for them. In case you are feeling confused as which type of floral print kurti will make you look best then in that case we will ask you to check 3 things: What type of figure you have? What type of complexion you have and what type of fabric you feel comfortable with.  Depending on the above three points you need to make the selection of the floral kurti.
The prices will vary depending on the fabric used in its making and also the designs made. We can give you assurance about one thing that kurtis will make you look good if the selection can be done in a perfect manner. Without waiting much, start your shopping today for the best floral print kurti. Online stores are the ultimate destination where you will find the best quality and elegant designed floral print kurtis.