If you are enthusiastic about clothing, you would definitely like to get in touch with the aztec prints for kurtis. There are a number of variations across which you can get them. One popular variation is the aztec variety, which offers you a number of cuts and designs in the kurtis. People who love to experiment with the looks will definitely like to wear these kurtis for a change, and once you start loving it, it will be a part and parcel of your wardrobe in the long run.  This particular type of traditional print has been inherited from the people who used to wear these types of prints long time ago. There are different types of clothes where aztec prints are applied, and among them, the kurtis are ruling the market. There are so many variations and types that you will probably be confused which one to buy and land up in a dilemma. All you need to keep in mind is that you have to make the choice according to the colour complexion of your body.
So, here are a few designs of the aztec kurtis that you will like to wear.
Black aztec kurti with white designs: These are one of the most popular varieties of the print. You may feel that the black and white combination may create a sort of monotony, but that is far from the fact. This is one of the coolest fashions of the century and one would like to get a touch of the fashion that has been in the market for quite some time. Apart from his, people with a moderate complexion can wear these as casual wear and get a chance to glorify their beauty. These are generally worn as a part of casual wear, although occasional visits to parties for a change are not bad.
Pink aztec kurti with white designs: These are trendier in looks and cater to the taste of most of the people. There are both sleeveless and the normal variations of these kurtis. Apart from these, you may also avail the ones with a brighter shade of pink or a lighter one, according to the colour of your skin. All you need to do is to personalise the kurtis to perfection, so that you need not brood over the designs. All the designs are good, but you need to choose the best ones that go well with your body. Apart from that, keep the shape and design of the kurtis in mind when you opt to buy them. These types of kurtis have big pink patches along with white borders along the internal divisions. One may look really charming with this particular variety.
Deep blue aztec kurti with white cross designs: To make a change in the grades of clothes you are wearing, you can choose this option. You will look really elegant when you get in touch with the deeper colours of the design. So, you just need to see if the design matches you and count on it. This variation brings to you a kurti with the upper part in deep blue and the lower part with inter-locking designs of narrow strips of blue and white. With the perfect combination and blends, this matches to people with a fair skin. You can wear a black legging along with this one.
White aztec kurti with red floral spots: This is a perfect combination of floral design of kurti and the aztec variation. There are small spots, red in colour, with perfectly contrasting whitish background. Along with these, you will have a good scope to experiment with all the shades of red, according to your choice. There are differences in the distribution of the red spots too, and these have descended down the traditions over the years. To make the choice better, you can go for a different design, and customise the shape of the kurti for better fittings. The V-necked kurtis in this variation are better than the other types, and you can wear a red legging, bright in colour, to complement the colour of the flowers.
Green floral designs in aztec kurtis: These are more fashionable in nature, with floral designs all over the green background. There are images of leaves and creepers, in a darker shade of green, over the lighter background of light green. These are generally round necked, and the lower part of the kurtis is darker in shade. One will find the right blend of tradition and modernism in this sort of kurti, along with a popular contrast in colours. This is one of the best kurtis that you can wear in occasions and as a casual wear. A dark coloured, preferably back legging will go well with the kurti.
A dense combination of blue and black: If you are fond of heavier designs, you will definitely like to get in touch with this variation. So, you will be glad to wear the designs in navy blue, sky blue and black, all in a single print. There are intricate designs that look old and traditional, and you will definitely like to make a difference with this variation. Even people with darker skin can opt for this variation and there are a number of colours and contrasts that you can get in the market.
Orange and yellow combination: This is a bit different from the other varieties of aztec print for kurtis. You can wear these kurtis to get a brighter and vibrant look. The attire in yellow and orange can be made even more charming by adding a few stripes of black. So, you can customise what you need and get a good look. Additionally, you will also be able to wear a matching legging, and this will create a good combination.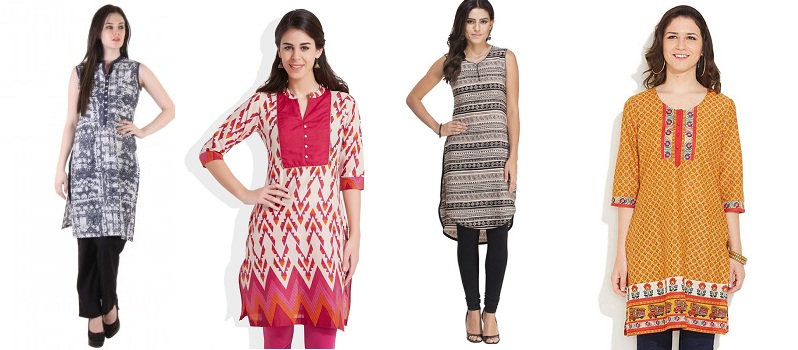 There are several other variations of the prints for the kurtis, and you will definitely like to wear them all. However, keep the combination and contrasts with your skin when you buy these prints for kurtis.
Types of sleeves found in Aztec print kurtis:
There are different varieties of sleeves you can find in the kurtis which are available with Aztec print. Below are some of the popular trends in the market.
Full sleeve: In case you are having a solid structured figure then full sleeves will be the right choice for you.
3/4th sleeve: Another excellent style of sleeve is ¾ Th or in short say quarter sleeve. It looks awesome on any style of kurti
Half sleeves: Half sleeves generally give a cute and sober look to the lady wearing it.  If you are having a slim fit figure then this style of sleeve will look good on you.
Cap sleeves: This sleeve is even shorter than half sleeve and a step below sleeve less style. For slim figured and tall lady this type of sleeves looks good.
Sleeveless: What can be the best choice for you especially in summers other than sleeveless Aztec print kurtis? The look of lady gets more feminine in a sleeveless kurti
Strappy: Many of us don't prefer to go with much burden with sleeves and look for the simple but sexy styles of sleeves. Starppy styles are the best for a cool sexy look in any festive season or in any informal event.
Halter sleeves: If you are stylish and sophisticated in picking the best kurti for any special occasion then we are confident that you will love the style of halter sleeves.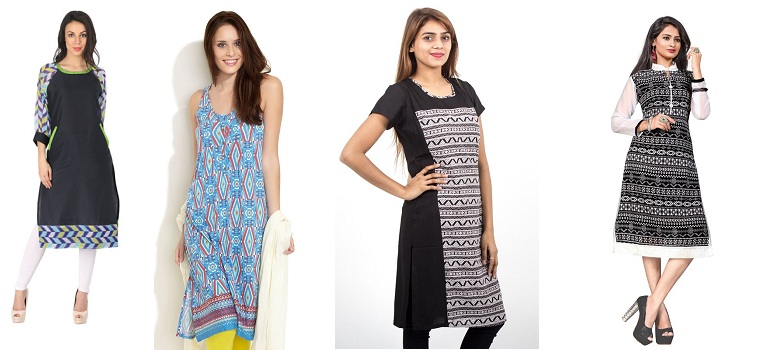 All the above styles of sleeves are too perfect to go with Aztec print kurtis. If you search online then you will get the latest print with these sleeve styles for your collection. If you can have at least one for each class of sleeves then you can call your wardrobe perfect and stylish for any occasion.
Available lengths for Aztec print kurtis:
How the kurti will look on you depends largely on the length of it. If you are having a slim and tall figure then long lengths will look awesome on you. If you are having a short figure with solid muscles then knee length will go well with your personality. Apart for long and knee length there are various other lengths in this category which you may like to go with. Options like mid thigh, above knee, calf and ankle lengths are there in the market available for your collection.
Online stores for best collection of Aztec print kurtis:
Time has changed and fashion conscious people prefer to go for shopping online. Online shopping is fun and here you get the chance to check varieties of designs, patterns, cuts, colours before making the final buy for you. You don't need to face the crowds in the market for your shopping for kurtis. Just visit the reputed fashion stores online and pick the latest designs of Aztec print kurtis. With few click of your mouse you can buy the one you like to have in your collection.