Summer is incomplete without crop tops with maxi skirts. This summer, dress up like a superstar with this latest trend. Both crop top and maxi skirt are comfortable and airy thus during hot and humid summer days these look gives you comfort and allows your skin to breathe. Women wear crop tops with jeans or shorts but they look graceful when worn with maxi skirts. The different cuts bring out your different looks that are just mesmerizing.
You just need to wear these two wisely to get a fantastic look. You can easily wear a crop top with a maxi skirt to summer date, any kind of lunch or dinner and even the red carpet! This is the trendiest look for summer. You can play with hues, patterns and also different cuts of skirts and crop tops. The materials like cotton, silk, chiffon, etc. look good .You just need to wear them wisely.
Balancing your look:                        
A tight fitted top on a flared loose fitted maxi skirt seems like a match made in heaven. This look balances the features of your body. This also creates a perfect tone for your body. This look highlights all your curves and other body features and the look you get, is just chiseled and perfect. Make sure the top is fitted not too tight and the maxi skirt is not too long that it becomes difficult for you to walk.

You can also get the vice versa look a flared crop top with a pencil maxi skirt of a solid color. Both of these looks are very comfortable and beautiful.

When both the top and the skirt is flared it creates a graceful look. A flowy crop top with a flowy maxi skirt is always an eye-catching outfit. Play with colors wisely and get a flattering outfit that is just perfect for a summer day. This look is perfect for those who are not willing to flaunt their curves and yet look pretty.

Solid colors and color blocking                          
Playing with hues is the trendy thing now. Pastel hues, bold colors are preferred by the new age women. So you easily team up a solid color crop top with a colorful and vibrant maxi skirt or vice versa. The colors must contrast and accentuate each other. The colors must be vibrant enough to get a standout look among people. For example, you can wear a black maxi skirt with a blue or fuchsia pink crop top as these colors balance each other. You can add minimal accessories to this look so that the colors are highlighted.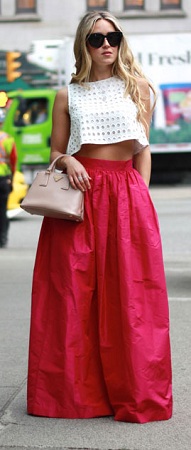 Monochrome magic
No matter in which generation we belong monochrome always steals the show. Whenever you are in worry which color to wear, monochrome is the only option. It looks fabulous on any skin tone and makes you look gorgeous yet subtle. You can accessorize this look with chunky bracelets or wear a few neck pieces together to get the red carpet look. You can even carry a great sling bag of a contrasting color to jazz up this look.  Many Hollywood and Bollywood stars prefer monochromatic tight fitted crop tops and maxi skirts.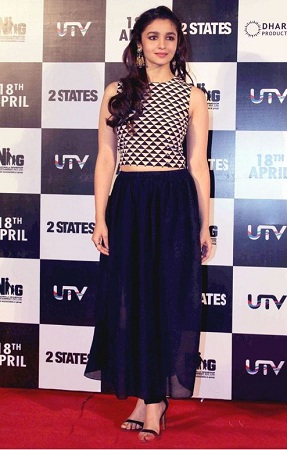 Play with the patterns and prints
If love patterns you always have better options. Patterns and prints sizzle up any outfit. The animal prints, the Aztec patterns, the polka dots and even mere lines look great on maxi skirts teamed up with a white or solid colored crop top. It creates a balance of the colors and justifies your look. Patterns break the monotonous look and bring out the free-spirited look in you. But never use patterns on both the skirt and the top and try to avoid crazy colors with patterns. The benefit of playing with patterns is that you do not have spent money or time, getting perfect accessories to wear with it.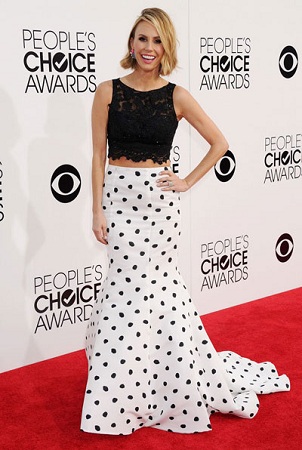 The sizzling slits 
A maxi skirt looks good with slit and even better with a high slit or slits. Slits have always been the favorite of red carpet celebrities. The sizzling slits always add a gracefulness to the skirt.  If you are bold enough to flaunt your toned legs then you must surely get some slit maxi skirts. These days, red and black slit maxi skirts are preferred by women. This look is perfect for kind of party. It gives you a very exquisite look.
Create a layered look
If you are not bold enough to wear a crop top then you can surely wear a shirt or a flared shrug on it. It creates a layered look at the same time looks gorgeous. You can even stack up a few bracelets on your wrist or wear a few neck pieces together. You can also get full sleeved leather, cropped jackets that look great with maxi skirts. You must layer your outfits and accessories wisely so that they all are highlighted properly. You can also add dual tone to your accessories and outfits that are mixing you silver and golden accessories or tones of outfits.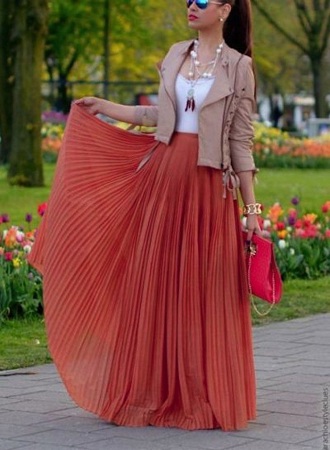 Grab the perfect outfit for yourself
If you are buying the crop tops with a maxi skirt from any online apparel store make sure that the skirt and top you select are of perfect size and be careful about choosing a tight fitted top it must fit you properly. The skirts with slits should have a perfect cut and a proper slit that looks great on you. Look out the material of the skirt and crop top too. For example, if you want to get flowy, look for outfits that are made with dreamy chiffons as the flow of the material is very beautiful. Select the pair of shoes that goes well with the outfit.
The bottom line
No matter in what size or shape you are crop tops with a maxi skirt can just seal the deal. You look graceful and bold. The balanced look helps you to highlight the great body features you have. These days this look is preferred by most of the models and actresses throughout the world.