The word 'fashion' denotes a popular style of clothing which facilitates a stipulated behavior towards modernity or the latest trend. Besides this, it is also true that any such component related to fashion whether it is western or of other types goes through an evolutionary phase before it becomes popular among the people. Similarly, Crop Tops with high waisted shorts took a long time to get materialized in the West. It is partly due to the prevailing colder weather in the West and added to this, the orthodox western tradition regarding the dress code which was relatively meant to cover the body part as much as possible played an important role. The latter was prevalent in the case of the Eastern Hemisphere also. It is why crop tops with high waisted shorts could not win over its place in the very beginning but later somehow it managed to intrude into the modern phenomena of fashion and came to be known as a new trend.
Regarding The Origin Of Crop Tops With High Waisted Shorts:
Now, if you try to look for the origin of the crop tops with high waisted shorts, it is so difficult to ascertain how and where it came into existence at first, as it witnessed a broad change over a period of time and were evident in the historical cultures of Egypt, the Middle East, and Asia. Eventually, thrown by the Egyptian influence during the later half of the 19th Century a garment called 'Beldah' gained popularity among the westerners which was actually designed for the belly dancers. It was for the first time Crop tops with high waisted shorts intruded into the domain of modern fashion and after the second world war, this became a characteristic feature of the modern day style.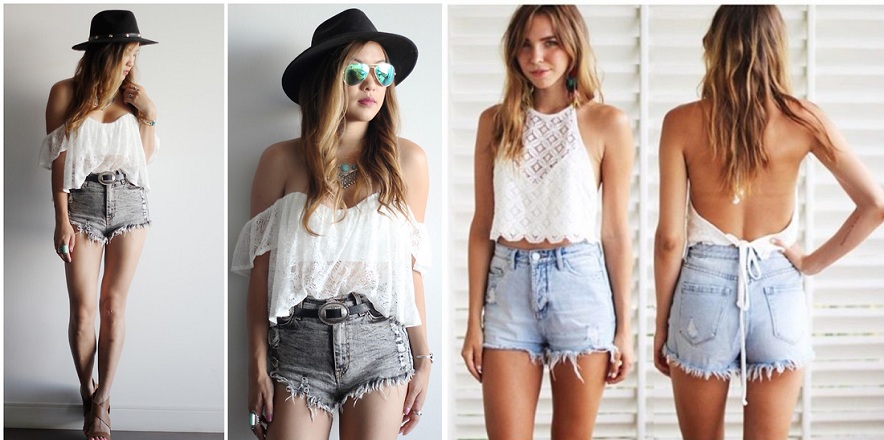 Crop Tops Like An Old Wine In A New Bottle Of Modernity:
During the hay days of 1980's when the modern fashion was taking its classical form, Crop Tops with high waisted shorts were enjoying the status at its zenith as it found its adequate room in the wardrobes of such personalities like Madona. But therefore it had been disappeared from the scene for a while. But now they are back again. Despite the fact that crop tops with high waisted shorts had a popular acceptance, you may get slightly shy to reveal your skin but as it has gone through a major evolutionary process, the latest grew up version of these with their former teenybopper ties and aerobics  would obviously make you confident enough to go for it.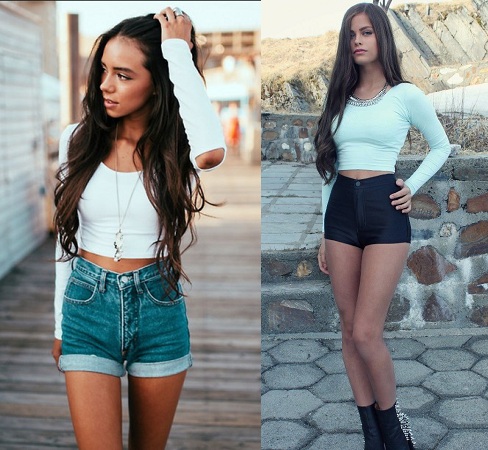 About Some Easiest Ways To Go With Crop Tops & High Waisted Shorts:
Now the question may be raised why your crop top should accompany with your high waisted shorts. Since you are aware of the fact that the hem of your crop top has been cut short, you may seek some tricks which would allow you to reveal lesser part of your skin of your upper body part on the one hand and on the other hand would ensure an essence of the good sense of fashion. It is as follows.
It is why by adding additional height to your waist by using high waisted shorts would just have a glimpse of your glowing skin of your upper body part.
If you wear bright colored high waisted shorts, its color would help to steal the attention from your visible body part.
In order to maintain a proper balance between your crop top and high waisted shorts, you may also go for long sleeves.
An another important point you need to remember if you get nervous while putting on crop tops accompanied with high waisted shorts, the tops you are choosing to wear should never be skin tight, rather you may try the biggish type of crop tops.
If you want to add some more spice to your crop top with high waisted shorts, then you may tie the lower ends of your top.
There is an additional way to go away with revealing lesser skin on your upper body part that is to wear the types of crop tops which are longer in the back and shorter in the front.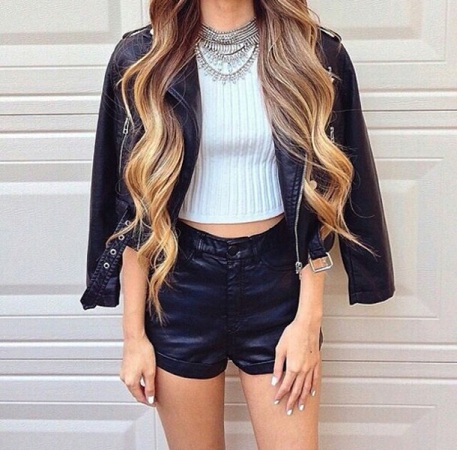 Regarding The Accessories Suitable With Crop Tops & High Waisted Shorts:
Crop Tops accompanied with high waisted shorts are actually suited for the summer fashion. But before trying these you need to ensure some other pairs which would go with it easily and will have you a perfect look. These are as follow.
You may pair your top and short with some suitable accessories such as the plain tank or flat sandals.
If you pair them with thigh-high socks, it will have you a cool look. In this case, along with thigh-high socks, you may also try high heel shoes.
There are some additional components which should be taken care of on your part. As an example as an additional accessory, you may also use the belt on you high waisted short.
You can't actually have a formal look with crop tops and high waisted shorts but you may add some salt of formal behavior on your super casual look by simply putting on a fancy blazer.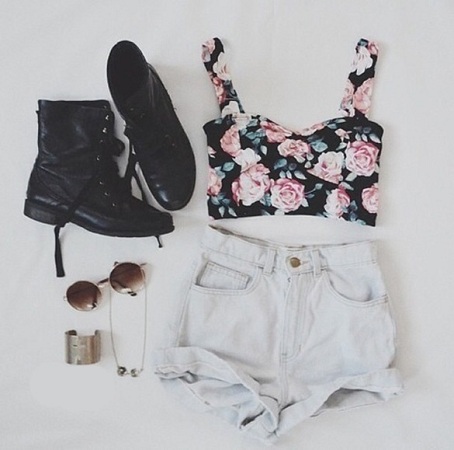 Be Bold & Confident And Embrace A New Trend:
Last but not the least you should consider that crop tops with high waisted shorts are actually too much short which showcases some part of your skin and besides this, they are found to be a little bit of cheeky. But fashion is meant to go with the new trend which can be bold too. It is why you need to admit that crop tops with high waisted shorts are particularly meant to reveal your skin. So you are advised to be confident enough about your body and try to wear what you want. Please don't get unnecessarily nervous. If you are curious about trying any such modern trend, don't worry about your visible skin just try crop tops with high waisted shorts without any hesitation.