Never tried a pair of cufflinks till date? Then you are missing out on the unparalleled style statement of men that can be ornamental as well as functional. Though cufflinks are conventionally paired with the semi formal wear of men, now they have become a vital part of your wardrobe staple.
If you are not yet friendly with the term 'cufflinks', let's define it first. Cufflinks are the small but elegant clothing accessories that help in fastening the cuffs of your shirt. Generally, they are chosen as mind blowing substitutes for the ordinary and fragile buttons on the shirt cuffs. Cufflinks are removable and they can be separated from the shirt cuffs easily. They serve the purpose of formal as well as mainstream clothing along with the decorative party wears. Simply like the buttons on your shirts, these cufflinks are available in various shapes, materials, sizes and styles but more appealing and ornamental than buttons.
When it comes to purchasing these small clothing accessories, an enormous range of variations are available in the market. Given below are the most common types of cufflinks you must know.
Bullet Back cufflinks with Toggles:
The bullet back cufflinks are in use from the very beginning as it's too easy to use. The backing of this cufflink is supported by a narrow cylinder inside the frame. You can flip the bullet vertically up to 90 degrees while lining it with the posts, inserting through the button holes and securing the cufflink in its perfect place.

Whale Back Cufflinks:
The Whale back cufflinks have brought a surprising deviation from old cufflink styles with their flat heads, straight post and whale tail at its end. Thanks to its size, design, weight and shape, for making it more handy and secure to use. The whale tail is horizontally flipped back against the straight post to make insertion to the cuffs easier and keep the cufflinks in their correct position. This is one of the regular styles of cufflinks you will come across in the market.


Chain Link Cufflinks:
The Chain link cufflinks have two identical heads affixed with a small fine chain. Though it remains little floppy if compared to other cufflinks, the perceptible decoration of the buttonholes is winsome. So, if you are looking for an artistic appearance, this is for you.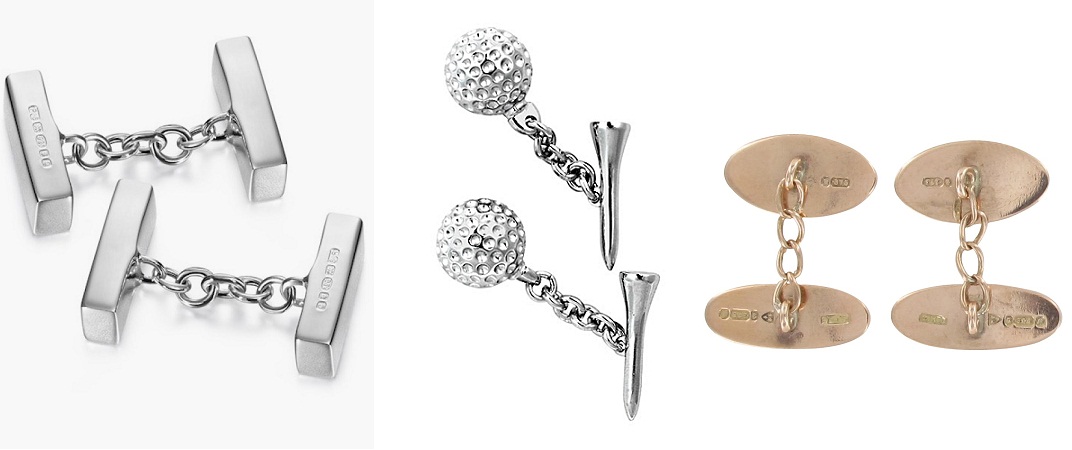 Fabric Cufflinks:
The fabric cufflinks may have any kind of fastener style. Its special feature includes the fabric button on the top which is considered as the ornamental face. Since these cufflinks are willfully designed for casual style, you can try them for house parties, holiday office parties or casual dates.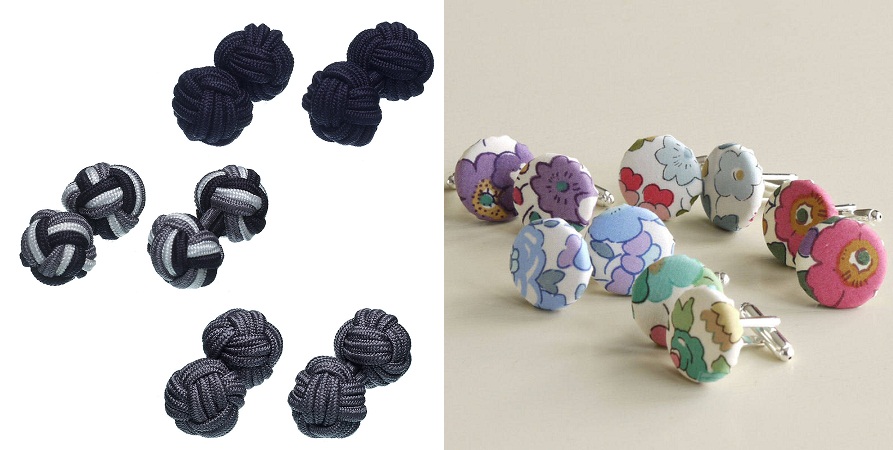 Ball Return Cufflinks:
The ball return cufflinks are expensive as they are made out of precious metals, featured with curved post holding a small yet heavy ball under the decorative top. Their fastening is looser than the hinged ones but tighter than the chain cufflinks.


Button Style Cufflinks:
Button style cufflinks are known as studs or fixed backing cufflinks as well. The name itself suggests that these cufflinks are immovable and possibly, this is the reason why they are too resilient to be used in the long run. Instead of any hinge mechanism, these cufflinks have large heads, straight posts with an interior head. The smaller interior head is tilted. It is placed through the button hole of the cuff and straightened to lock securely in the place. Depending on the shape of the fixed backing cufflinks, they might be a little harder to be inserted. These cufflinks are also available with reversible varieties. You can switch them to the side you are willing to show off. As an add-on, you can use these cufflinks in any occasion, irrespective of formal and casual ones.


Knot Cufflinks:
Known as the most pocket-friendly style of cufflinks, these knot cufflinks are generally made of silk and cotton (this is occasional). This knot style helps in fastening your shirt cuff easily for both the business and casual attire.


When & How Should You Wear Cufflinks?
If you ask when men should put on cufflinks, we will say wear anywhere and everywhere with the single or double cuff shirts which do not have button holes. But stay away from the shirts holding both the single and double cuffs. When you are going to attend a black tie social event, try the fashionable sterling silver cufflinks. Precisely, the choice of cufflinks depends on your class, personal choice, taste, standard of living and sometimes, the dress code of the parties also.
In spite of having numerous pairs of cufflinks, guys have strange tendency of wearing them infrequently. So, it's better to go for a trial with the cufflinks before heading towards an important business meeting or social event. Matching the attire with your cufflinks can be the biggest reason of your fashion disaster. Try to coordinate the style of your cufflinks with your business suit instead. If you are wearing other jewellery along with the cufflinks, consider whether they will complement your look or not. And for those who like to try the bow ties in formal events, they should team it with the studs or fixed backing cufflinks to enhance both the functionality and appearance.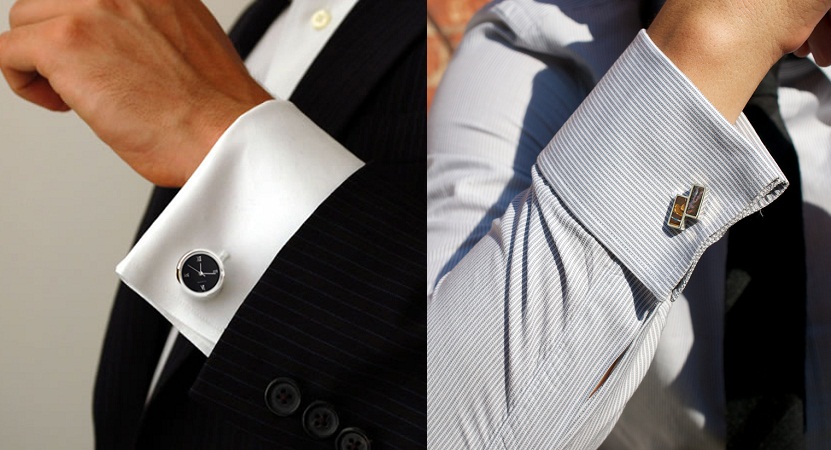 Mostly, men prefer wearing cufflinks for a sophisticated look. But at the same time, a classy pair of cufflinks add an extra scale of vivacity even to the dull colored shirts. So, as long as the long-sleeved shirts are your preference, these awesome little fasteners will keep drawing attention from everyone around you.
Still waiting for some more information? Enough said. Just try them out and get complimented in every occasion for your fabulous personal style.