The gorgeous mommy-to-be Kareena Kapoor Khan is still rocking the social media as one of the most ravishing Bollywood actors and inarguably, that glow of pregnancy has only enhanced that. Just a few days back, Kareena was seen with her BFFs, namely Amrita Arora and her sister Malaika Arora in a picture posted on the Instagram while celebrating the early Christmas bash. This picture keeps radiating with the beauty of this mom-to-be as she poses in front of the camera with a big smile of satisfaction and happiness on her face. You can also trace that brightly decorated Christmas tree behind these happy folks. It seems that these beautiful ladies have already started celebrating the holiday spirit, isn't it? And it's pretty much justified too as this is going to be just a matter of time since our beloved star Bebo delivers her first child. So, let's just wish Kareena Kapoor, "A Merry Christmas & may Santa bless her with a sweet and healthy baby soon!"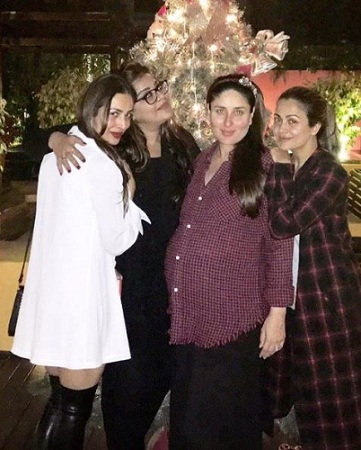 Alia befriends Little Abram – the Cutest Thing You will find on the Internet
The pictures of Alia Bhatt with the cute little Darling AbRam are possibly the cutest thing you will probably find on the Internet. Well, we all know that papa King Khan always likes to take little man AbRam on his shoots. But did you know that when AbRam is traveling with Daddy dearest on his sets or just traveling with the film crew of SRK, he becomes the leading man while displacing his father? Yeah, it's true.
Such thing happened when the entire team of 'Dear Zindagi' was returning from New Delhi. Cameras were all set to capture the small munchkin who was getting the entire attention from Alia Bhatt. The cutie patootie held onto Alia's hand and casually made his way out of the Mumbai airport, not caring much about the photos.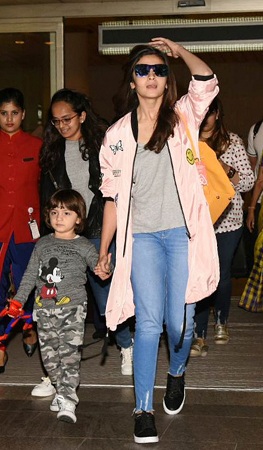 With an unbelievable fan following at this tender age, the little King SRK set some oodles of stardom to the media outing of team Dear Zindagi.
Alia Bhatt spent very good time with little AbRam while the making of SRK's new movie, 'Dear Zindagi'. In spite of their age difference, these two people instantly connected as friends. As it is said by an eyewitness, "Alia listened to AbRam's stories carefully, and soon turned to his reliable companion during the shooting of 'Dear Zindagi'. It was like little AbRam had to transfer his undivided attention from his 'Daddy Cool' to the sweet young co-actor of his father."
Alia says, "AbRam is such a cutie pie. Only a fool would not want to be friends with him. He is my buddy." Parineeti Chopra is another popular actor of the B-town, who is quite lovable to little AbRam.