It is fascinating to see how different events throughout history play a great role in changing people's way of dressing but some fashions stand the test of time and never goes out of style, just experience little changes in order to keep up with the trends. But there many clothing that gains popularity for some time, these fashion trends often depends on the taste of particular groups of people. World events such as war or economy also influenced fashion. In the early days, workmen, peasants, artists used to wear blouse made up of cotton or silk, that blouse had loose design and used to gather at the waist by a waistband or belt. During the 1940s, rayon and viscose replaced cotton and silk for formal tops instead of a blouse. Today the term blouse means a loose woman's shirt. But during the 19th-century blouses were considered unfashionable and informal, and was rarely a part of woman's wardrobe.
Evolution of blouse:
The 1890s was the period when blouse emerged as a practical formal wear becoming part of normal working women's outfit. Plain skirt with simple blouse was the standard dress code for women employed in an office. Between 1900 and 1910 "lingerie blouses" ornamented with lace and embroidery was becoming extremely chic. Designed with tucks and pleating "Gibson girl blouse" was highly fashionable. Slowly the blouse became a daytime as well as informal evening staple. All kind of women's tops in the 20s were called by the name blouse or a shirt. Blouses became so much popular that in almost every occasion women used to wear a skirt and a blouse, it was not only easy to wear but also it allowed women to create different outfits by pairing together different colors and styles.
In the 1920s the silk jumper blouse and the low cut V-neck shirt came into fashion. Cotton or silk made jumper blouse with a sailor collar usually paired with a belt or a sash, to hip length, was the new trend in fashion during the 1920s.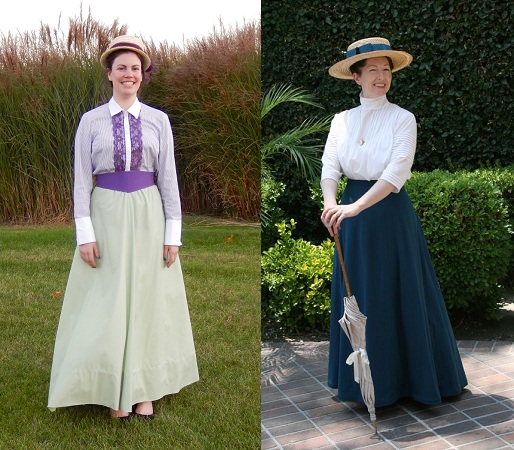 Fashion trends during the post-war period:
The 1920s saw a significant Change in fashion. Various geometric prints and design with embroidery came into fashion. Beautiful beadwork and lace collars adding visual impact and femininity were in trend. In the post-war period, women blouse often featured "wild" patterns. Hand embroidery slowly came into the fashion world which is now very hard to find. However, in India, the trend of wearing blouse was the contribution of British. This is because, during the Victorian era, majority of Indian women did not wear a blouse and used to go bare breasted, beneath the sarees. However, the Victorian principles were against it and implemented blouse as the norm. Jnanadanandini, the wife of Satyendranath Tagore, was the first Indian Lady who popularized blouses; after being refused to enter clubs under Raj for draping the Saree without wearing a blouse.
Get trendy with vintage clothes:
Nowadays, most of the designers are trying to reconcile the elegant past with contemporary style. 1920s trend is back, fashion designers are blending past with contemporary style; like Sonam Kapoor by bending the rules and taking risk has proved herself as the ultimate style diva of Bollywood. She doesn't prefer to follow the conventional fashion trends and has succeeded in making a style statement of her own.
Sonam Kapoor collects vintage clothes. A unique blend of the classic with contemporary can be found in her 'fashionista'. Blouse with Chinese collar that was in trend around two decades back, blouse with a high neck, transparent top blouse designs, backless blouse, off shoulder blouse, halter neck designs and much more; Sonam Kapoor has successfully experimented with them all! Sounds too good to be true?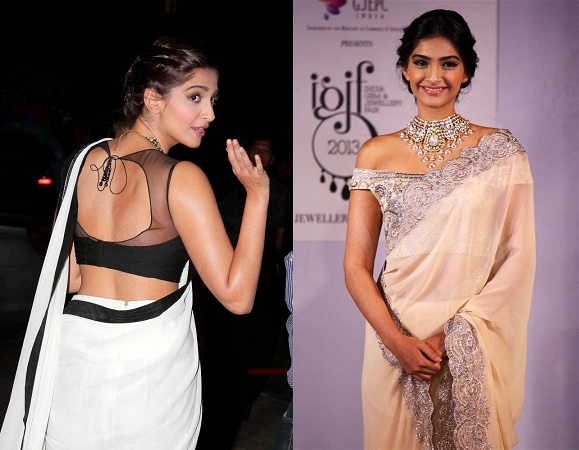 The all new fashion trends:
Every woman who loves to wear sarees tends to headhunt for a designer blouse with amazing patterns. The designer blouse has gained a large popularity in the fashion world, today. We all love to be in trend. Indian women apart from looking gorgeous also uphold their culture and traditions with their apparels. So a proper blouse design is essential, to complement a gorgeous saree. Now we shall discuss some of the blouse designs that are in trend in 2016.
Princess cut design:
Being one of the most versatile neck designs, it gives women a blend of conventional and contemporary. A lot of leading ladies of B-town including Sonam Kapoor has worn sarees or lehengas with this style.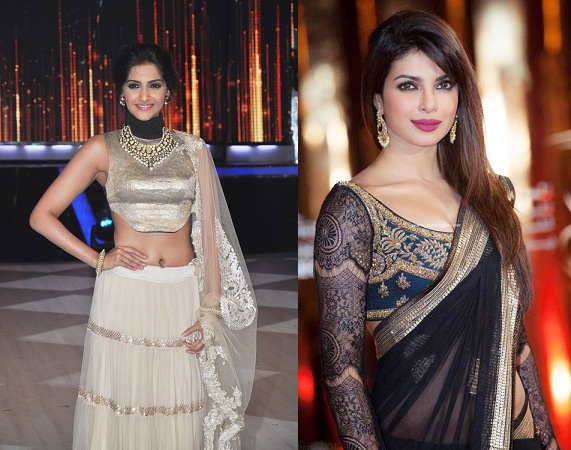 Chinese collar blouse:
This style was in trend during the 80s, evergreen actress Rekha used to wear this style. Look sensuous even with a covered back.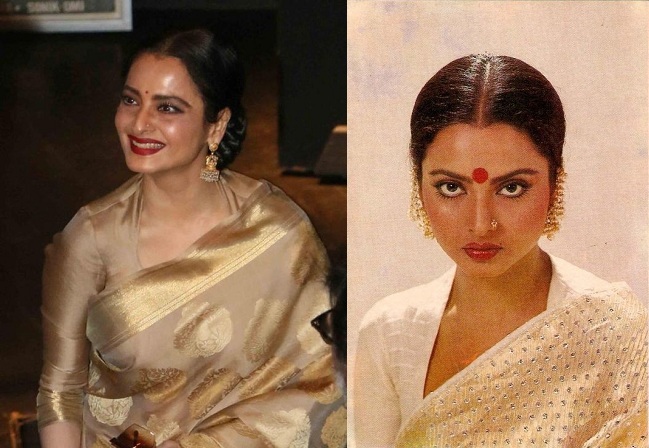 Full sleeved blouse with transparent sleeves:
You will fall in love with the intricate look and the unique design of this blouse. Apart from being trendy, it is also very sophisticated. Having fabric work on the sleeves it helps you look seductive.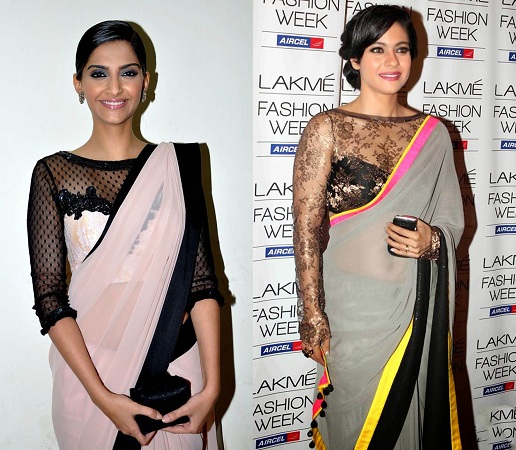 Top blouse design :
This blouse is appreciated by many women. The upper portion of the blouse having been blended with a transparent see-through material help you flaunt your shoulder and collar bone.
There are much more such designs that are in trend today. Though this trend will change consistently with the passage of time but as mentioned above, some will stand the test of time. Saree being the oldest and the only surviving unstitched garment have successfully passed the test of time, so the blouse forms an indispensible part.
There is a popular saying that it was from the Mesopotamian civilization the art of weaving cotton into fabric came to India. As it is an economic and easy to wear the garment, suitable for work, luxury or leisure women prefer to wear it. But blouse has a different history. Some of which have been mentioned above. However, saree and blouse are an integral part of Indian women's dressing style since time immemorial.