Indian fashion has a long tradition. As it believes in unity in diversity, India consists of varied textile heritage, where each region of India is marked by its own native dress and traditional costumes. In India, the human body has a various interpretation, rich sculptural tradition reflects human body, and thus decorating the body conveys meaning and personality. India had contact with different cultures like Greece, Rome, Arab, and Chinese from the ancient period.
What played a great role in the evolution of Indian Fashion?
Early Indians did not know the art of sewing; the Muslims brought the art of sewing into India with them. In early India, sewn garments were not in use and women used to wear Dhoti or Sari as a lower garment while stanapatta or breast band were used to cover up the breasts. They were all unstitched. Events throughout history though changed people's way of dressing but some dresses have been successful to stand the test of time like Dhoti, Saree. They are an integral part of Indian fashion even today.
Desi fashion during ancient period:
Stitched cloth was not in use in India until the coming of the Muslims. Though the art of sewing was known is evident from the seals of Indus Valley civilization and was used for many other purposes but it did not make an inroad into clothing till the coming of the Muslims. In fact, the earliest sculptures from the Maurya, Sunga period represent women with minimal clothing. India being a tropical country led to the encouragement of these type of clothing. People wore what was suitable in order to survive in this climate. But during the Gupta period i.e in the 7th and 8th century, we get evidence of a little different clothing style.Three pieces of cloth were worn by the men namely uttoriyo, neebi and dhoti and women used to cover their breasts with stanapatta and used to wear Saree which was the long version of Dhoti.
Desi Fashion During Mughal Era:
It was the period when stitched clothes made an inroad into Indian Fashion. Finest muslins, velvets, silks and brocades were used to stitch clothes. There were three types of Muslins that were used for clothes; namely, Ab-e-Rawan (running water), BaftHawa (woven air), and Shabnam (evening dew). Shabnam was brought from Dacca and was popularly known as Dacca Malmal. Their clothing style was influenced from Persia and Central Asia. They used to wear "Bast Agag" which was an unlined jamamainly worn over a paijamawith a patka that was tied around the waist. The word jama in Persian means garment, coat or gown, chogha which was a long sleeved coat up to knee length or hip length. Churidar, shalwar, dhilja, garara and many other dresses were there, all these dresses belonged to the Mughals.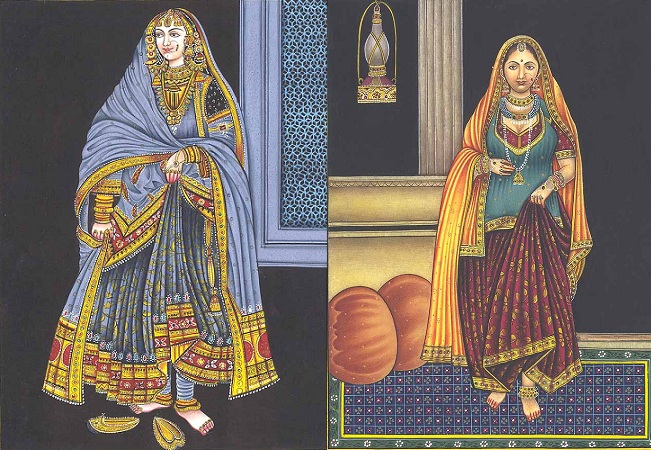 Desi Fashion During The Period of Raj:
The advent of "modern fashion" is the contribution of the Raj. Although both cultures had an impact on each other but Britishers contribution in bringing about changes in Indian fashion is vast. Their own cultural values and identity, fashion statement and clothing left Indians to admire the Gora Sahibs and the Memsahibs. The average Indians having a desire to look special imitated their styles. They were regarded as superior to the Indians who grew up under the awe of the white men. It was the aristocrats who initiated the change by adopting "western fashion statement".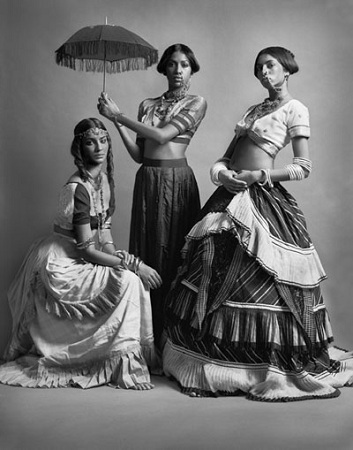 So the new trend was to dress up like Britishers and look modern, speak and read English, and smoke pipe, eat with the fork. Western influence made Hindu women uncomfortable to wear saree. Thus they took wearing jackets, skirts, jumpers. Janadanandini was the first woman who invented the modern way of draping saree with blouse, after being refused entry to clubs under raj for draping saree without wearing a blouse. During the Victorian age, women used to go bear breasted but the Victorian custom was against it and implemented blouse as the norm.
Desi Fashion Shows:
Indian fashion is creating a powerful buzz in the market, today. The celebrities are welcome Indian fashion with open hands. Designers are busy giving birth to unconventional style layered with the flavor of ethnicity. People in a desire to highlight India's past bringing back the old traditional fashion. Their aim is to establish uniqueness in Indian fashion and also glorify India's past. Indian fashion trends are acquiring maximum responses and demands worldwide. In the Hollywood Red Carpet as well as in Bollywood Film Festivals, the popularity of Indian fashion is huge. Traditional lehenga, exquisite Saree, ethnic salwar suits are in vogue creating ripples of success in the fashion world.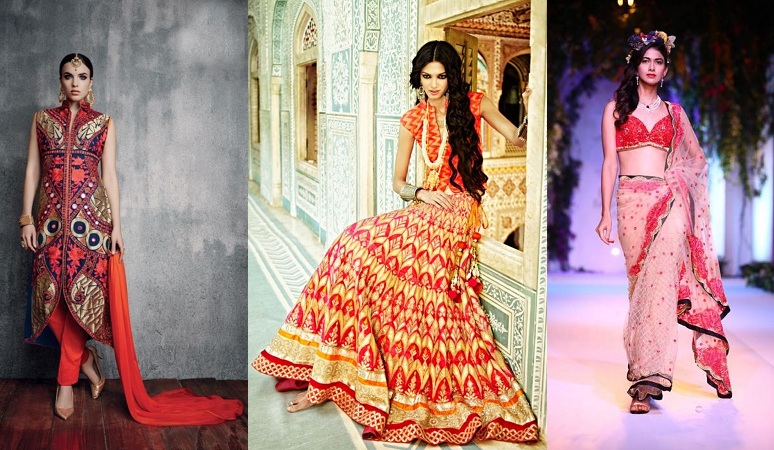 Desi Avatar of Sonakshi Sinha:
Millions across the world admire the celebrity fashion. Abundant trend setting styles have been created by Indian celebrities, thus ranking up the glamour quotient. All closets have designer outfit and attires, nowadays. Parties and gatherings witnesses different fashion radiations and style combinations. Celebrities like Sonakshi Sinha are pulling off desi styles, and leaving everyone mesmerized in ethnic outfits. Recently she worn a Chikankari Kurta set from Rimple and Harpreet Narula and has succeeded in making everyone fall in love with the way she dressed. Dress in bridal lehenga from Anita Dongre for a shoot made her look breathtakingly beautiful.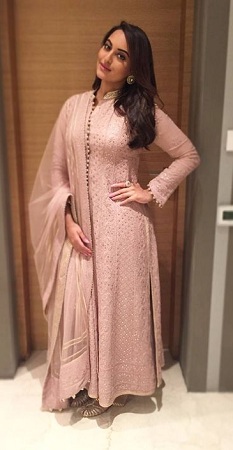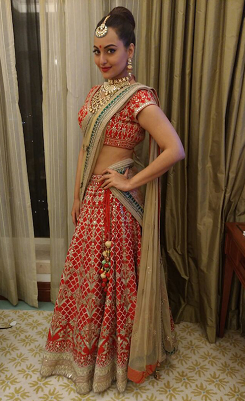 Indian society is marked by a sharp contrast between ancient tradition and modernity. Indian style nowadays represents a blend between ethnic and western fashion. For example men wears Kurta paired with jeans, peplums and kick flares are given to lehengas, saris have been reinvented as sari gowns or are paired with blazers or shirts. In this way nowadays Indian fashion is blending tradition with modernity.
The fashion taste of Indians has shown a change. It is indeed fascinating to see how different events throughout history changes people's way of dressing but some fashion trends succeeds to stand the test of time and never goes out of style, one such dressing style is saree, dhoti or the unstitched cloths which have been prevalent in India since the beginning of history, and are called the "traditional Indian style".