India is a place where women wear different clothes and saree is one of the most famous attire. As you can find people of different cultures living in India you can know about the various ways of wearing the saree. Though sarees are known to be the Indian tradition, with the modern and latest changes in trend and the style of wearing the saree below the navel had made women appear so hot and most attractive. You can see that in most of the Indian movies women are always shown wearing the sarees below the navel so that they would be the most sexiest and attractive. Men always watch movies just to see their favorite heroine and her sexy looks which they can find in the movie with the naval sarees which they use in most of the scenes.
You can see that most of the south Indian films are glamor oriented with exposing heroin. In most of the films the heroin wear the navel sarees showing of their navel and the belly button to attract men. In this attire women would definitely look the most beautiful and attractive. Even the Bollywood celebrities to go for the navel sarees irrespective of their age group. You can wear any saree below the navel so that it would make you look sexier. Usually most of them do go for the thin sarees such as georgette, chiffon, net sarees through which it would be possible to see the belly button. If you also want to wear a saree showing your navel then you can go for the thin and light weight transparent sarees which you can buy anywhere in the market. You can find huge list of sarees of varying designs and patterns to choose depending on your budget.
Reasons for wearing saree below navel:
Men always love to watch the women wearing sarees. This is because saree is the only Indian attire in which women would look sexiest and most of the men do fall in love with such kind of girls. As a women we are blessed to have such an amazing attire i.e. the saree which would add beauty and glow to the one who is wearing it. There are several advantages of wearing a saree and few of them would be listed below. When a women ties the saree below her navel, you can't imagine the impact that it would create in the heart and minds of the opposite sex. Another reason why women should wear the saree below the navel is that when you wear the saree low waist you would actually realize how healthy you appear and can have a check for the tummy and the tires which might come out.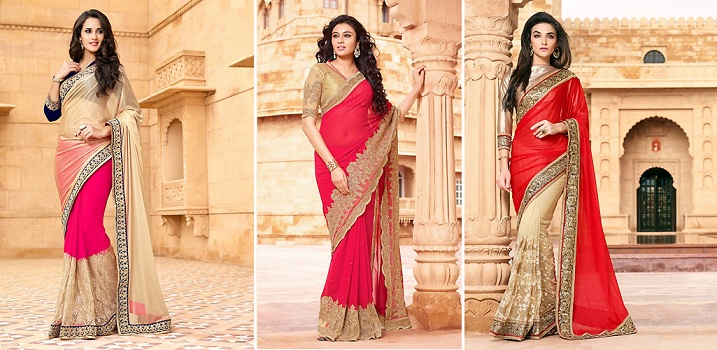 So if you wear the saree below your navel you could become more health cautious. Though you might not be able to manage to look like your most favorite celebrity, you can at least get motivated when you look at them and their sexy thin waist line. This way it could create sort of jealous and motivation with which you might get to the importance of being fit and healthy. So in a way it would help you to work on your own body so as to achieve the best results with which you can now wear the saree in the most attractive way i.e. below your navel region. Let your husbands or other men flaunt for you with the most beautiful figure and sexiest saree. You can find different thin sarees which would add more beauty and attractiveness when you wear them below your navel.
Way to express your beauty:
Women always love to look the best and wish to get complements where ever they go. They always compare in the other women around and like to be prioritized first in the group. So if you want to gain your self -confidence and feel good about your personality and figure then the best way with which you can attract others is by showing your beauty. Showing off doesn't mean that you need to expose your body more but instead you can just wear a navel saree that would do all your work. It's the best way with which you can show your perfect figure to the men around and make them dumb with your beauty. Men always love to look at the women and their navel region and if you can manage to wear a saree below navel then what else you would need to do.
The concept of wearing the saree below the navel would always work especially when you wish to make someone fall in love with you.Every men would like to have a girl who wears a saree and which would add more beauty to her. It is not just the matter of attracting others but it's the way with which you can boost your self- confidence which is very much essential in managing your day to day tasks. When you wish to go for navel saree then it would be best if you choose a net saree or a thin saree which would show off your entire navel but in a tempting way. Nowadays most of the Bollywood women are wearing the navel sarees so as to add more glamour and beauty to themselves. This is the reason why generally most of the Indian women are also choosing the navel sarees.
Why do men look at the navel in women's saree?
Navel is a part of women's body which is usually not exposed since years and men always wish to have a glance at least at the women's navel. But now a days with the changes in trend and modernization most of the women are now going for the western wear with the short shirts and by tying the saree below the navel region so as to increase the attractiveness towards men. Women always wish to get complements for the sexy looks and body which they have and this can be made more prominent when they wear the navel sarees. You can find wide range of navel sarees which you can wear for night parts and which is not traditional. Wearing the saree below the navel region is not considered traditional and most of the elder people oppose. But with the increase in number of celebrities who flaunt their looks with the stylish navel sarees, common women are also getting interest in wearing them as well.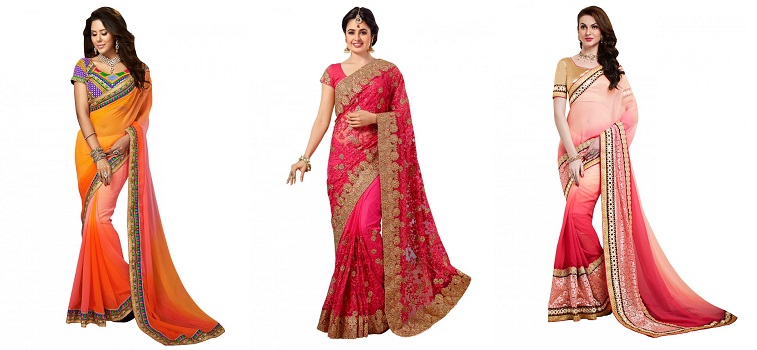 Men always get stimulated when they are able to look at the women's navel region. They feel the sexual arousal and as the navel region is not exposed by one and all they feel more curious to look at that particular part of women's body especially when they wear the sarees which are below their navel. Men always watch films just for their sake of their favorite heroin or to look at her sexy looks and the navel sarees which they are commonly wearing in films. Most of the films do concentrate on making the heroin most attractive for men so that more men would watch the film. It's the way of marketing their movie so that they would get huge profits. Now a days wearing the navel saree has become common and you can even see that the ordinary women are also wearing these kind of sarees.
Conclusion:
Usually the actresses are very much beautiful and so is their body structure and when they wear the navel sarees the men would definitely fall in love with their appearance. They wouldn't wish to blink their eyes as well. So the directors use the heroin in order to get or pull more crowd to the theaters. You can even find that the ever green beauties of Indian cinemas who have been in the cine industry since several years still look much sexier in their navel sarees. Irrespective of age group most of the women are now going for these navel sarees whether they are married or not. This is because this is the best way with which they can increase their appearance and make their husbands or loved ones go mad at their looks. These kind of sarees would be best suitable for anyone who is medium to thin sized figure.
There are several online sources where you can find huge list of sarees at various online sources. Whether you are looking for the net sarees, the georgette or any other light weight saree which is transparent and would make you more attractive then you are at the right place. Over the internet you can checkout the various online designers who can provide you with the best and most uniquely designed navel saree that would definitely make your look the most beautiful and gorgeous women in the world. If you too want to change the way of your dressing and in turn look the most attractive and sexiest women on earth then all you need to do is to go for the navel sarees.