From being an affluent homemaker to an impactful person in charge who boosts her business transactions, a woman has various responsibilities on her shoulder and a number of roles to play. Hence, their garments are very imperative as it makes things a lot more uncomplicated for her. Ethnic wear like saris are good for parties and formal events. Whereas for everyday wear at work the most comfortable attire undoubtedly are kurtas and due to the rise in popularity of online stores, one can buy them from the websites too. Many working women have busy schedules and hence buying them online is a great option. Kurtas come in a variety of fabrics and patterns like embroidered and printed kurtas designer kurtas, bandhni, floral printed and sequins studded kurtas, simple cotton and crepe kurtas, etc. And the variety of sleeves is also numerous like three quarters, half, full, sleeveless. By donning a kurta one feels unrestricted and simple yet stylish at the same time.

Dressing up in a cotton kurta is very advantageous as it feels very light and is good during throughout the year irrespective of the season.  Many showrooms and shops along with web stores have a number of options in kurtas. The advantages of wearing cotton kurtas are that since cotton breathes well they make the wearer feel relaxed as they keep the body cool during summers and warm during the winters. The durability of these cotton kurtas is unquestionable and the soft fabric does not rub against the skin as well. A lot is known about western attires, and it is now time to put the spotlight on Indian ethnic wear which share the same amount of popularity in western nations chiefly where NRIs reside. Like it has been mentioned, that irrespective of the climatic conditions, working women view kurtas as such a kind of attire that can be worn in moderate weather and also several traditional or semi-formal gatherings.
Beautiful casual and semi formal wear
Kurtas are trendy and in vogue which symbolizes both sophistication and style. Of the vast assortment in styles, cuts and designs one can very smartly can make their choices according to the season and events.This article will provide a comprehensive basis on various ongoing styles for kurtas like indo-western kurtas, formal, semi-formal and casual kurtas as they come in a variety of fabric, design, style, length, color, neckline and size.
The modern day Indian woman loves to dress up in the most stylish and trendiest attires and since kurtas come up as one of the most comfortable and stylish dresses for all occasion, the designers in India have moved a step ahead with the patterns of kurtas and at present, a huge collection of kurtas have come up where ladies from all spheres of life can be dressed in and that too for any occasion.With summers kicking in, every working woman would want to wear a garment that is comfortable in the high temperature and also apt for the program or occasion. So ladies, if you are on the search for such a garment that would help you to survive through the summer heat then cotton kurtas are just the right solution for you. Nowadays, one can find a variety of kurtas that can be worn as a regular wear in office, stylish and chic wear for parties, simple wear at home and other unique occasions like small gatherings and festivities too. For office wear, one can pick from a collection of knee length kurtas which has either full or three quarter sleeves and match it up with a well fitted pair of leggings or salwars. For a casual wear, one can choose a sleeveless short kurta and pair it with Patiala bottoms, jeans or ankle length leggings.
Designer Kurtas
The designers along with the manufacturers have been conducting lots of experiments to produce diverse and inventive versions of the cotton kurtas and these kurtas are available in a vast range of different motifs and designs. The versatility of the material cotton is not hidden and designer kurtas also have cotton as the base and the soft fabric does not produce any kinds of irritation to the skin and pure cotton does not give rise to skin complaint  and inflammations or any such kind of reactions on susceptible and sensitive skin. On the whole, cotton kurtas only provide with maximum comfort to the wearer.
Cotton Kurtas Collection
Another important fact with reference to cotton kurtas is that the better the quality is, the enduring they are and if preserved well, they can be used for a couple of coming years as it looks almost new. So it can be summarized that cotton kurtas are in actuality the most comfortable during all types of climatic conditions and so it is mandatory to have a few of them in your wardrobe. One can shop for these kurtas at retail stores and additionally online too. Indian working women have diverse variety of outfits such as saree, salwar suits and many other marvelously stunning and gorgeous ethnic attires.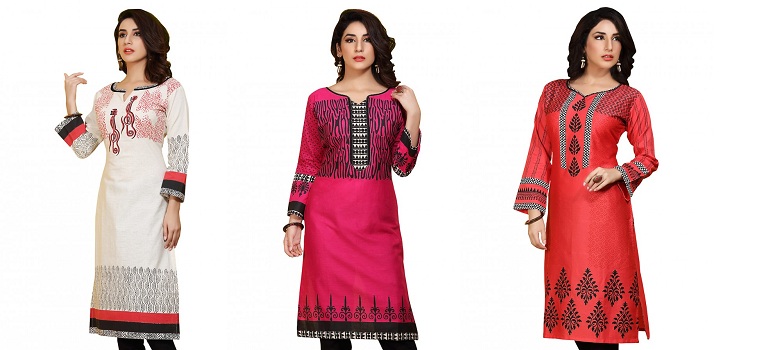 Working women in the attempt to don fresh and exclusive stone studded work sarees, have come up with a new trend from this amalgamation widely known as the designer kurtas. This item of clothing is a simple and not much adorned top which can be paired up with trousers, jeans, churidars or salwars. This fresh and innovative clothing style is generally worn by girls of all age groups, and it also provides style with comfort. These are again available in different sizes and styles which attracts to women of all ages and taste. India is a land of occasions and girls are likely to be dress up to their best. Events like social parties, marriage receptions, casual and semi formal parties or even a simple but fun kitty party are examples of gatherings where kurtas can be worn.
Rise in demand of these ethnic wear
And the exclusive designer kurtas are progressively becoming the superlative choice for young girls and ladies of all age groups across the Eastern Asian subcontinent and also abroad. These kurtas are seeing a rise in demand by college and university students, since it provides with utmost relaxation in the scorching weather conditions. Both the short and long lengths of this apparel are stunning and are preferred as they provide with and are presented in many diverse styles for the ladies, be it college girls or working women to choose from. The long length kurtas can be worn unaided as a tunic which is in trend now and provides a chic, stylish and elegant look. Nowadays, working women do not always want to be draped in sarees or western attires constantly. They also want some different kinds of looks and attires to spice up their wardrobes and everyday life that adds more to their personality.
And when it comes to selecting a substitute and elegant choice of clothing,  the kurtas paired up with a simple leggings comes into the picture as the preferred alternative, as it is easy to wear and very comfortable. A number of fashion designers have consequently inaugurated their lines and brands of designer kurtas which can be purchased online in just one click. This trendy and chic look appears smart for small house parties and saves time dressing up as well as feels comfortable. Talking about everyday office wears; this new mixture of ethnic as well as contemporary flair of outfits still takes the day and offers an official appearance which is also appropriate for the office.
A short knee-length designer kurta paired with formal trousers is the best apparel for ladies who want to look smart and trendy at the same time. And it can be said that it is the most comfortable outfits as it does not come with a dupatta. The best feature of this clothing style is that, it can be worn by women who come from different cultural backgrounds. Even a comparatively broad looking girl can also wear the kurta very easily since it is made in nearly all sizes that starts from small to extra large.
Assortment of designs, prints and cuts including sizes
Some of the cuts and styles include the anarkali style, umbrella cut, Indo western and long kurtas. These styles are also appropriate for the best selection for any type of events. A wide range of kurtas are also available in these designer clothing lines, with many kinds of motifs, designs, textile and cuts. Additionally the assortment may even be made broader depending on the lady donning it, because the way one dresses up, replicates ones persona and taste.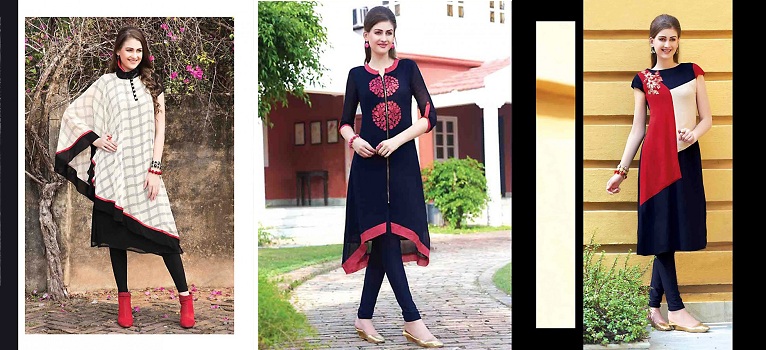 With the rising admiration and multiplicity of stylish clothes in the market, working women are getting more and more motivated to purchase the clothes that guarantee not only the style quotient but ease at the same time. Of the variety of options and designers kurtas available in the retail market and online stores, ethnic wear like ladies kurtas never wipes out of trend and is quite apparent with its better demands. They can furthermore be paired with accessories like clutches, pendants, belts, bracelets, etc.; and these garments will never let you go unnoticed in gatherings.
With the changing trends in the fashion scenario, it has become significant to keep oneself-modernized and stay forward in the league of trend and vogue conscious people. This can be made conceivable by integrating some state-of-the-art changes in the closet while highlighting on blends of patterns, contrasts, etc. While modernization-goes along withthe assortment of styles, motifs and patterns, yet the right choice of the garment should be made on the foundation of comfort. Amongst a vast collection of the latest and trendy ladies' garment that is available these days, the kurtas are doing exceptionally great and it is one such anticipated garment that can never go wrong in any event.