Since fashion industry has taken the world by storm and everyone desires to look and appear at his or her best, there has been a constant play for the designers trying their hands on different types of clothes and attires to try and satisfy the ever-demanding population. When it comes to Indian or ethnic wear, there are abundant options available for women to choose from. Who doesn't wish to wear a chic and sexy outfit when you do not have to compromise with your comfort. Kurtis are such type of ethnic outfit that can be worn at any and every occasion with much ease and comfortability.
A kurti can be both formal as well as casual. All you need to pay more focus on is the neckline of your kurti. Following are some of the designer necklines that you would surely want to have on your kurti this year:
Ban collar:
This is the most popular form of neckline for any kurti. It is a kind of half collar that is open from the front part and runs in full at the back of the neck. The front part of the necklines is usually supported with V-shape or small buttons that appear absolutely mesmerizing. For a formal look, have a brocade or embellished ban collar for the neckline of your kurti and you are ready to set the gathering on fire with your stunning look.
Dazzling Angrakha:
The trend of Angrakhas has been in vogue since the time of Mughals and works perfectly to impress the onlookers. The neckline goes towards the left denoting the Angrakha and ends in laces or threads. The long skirt suit is called Angrakha due to its unique neckline that is shifted to the side.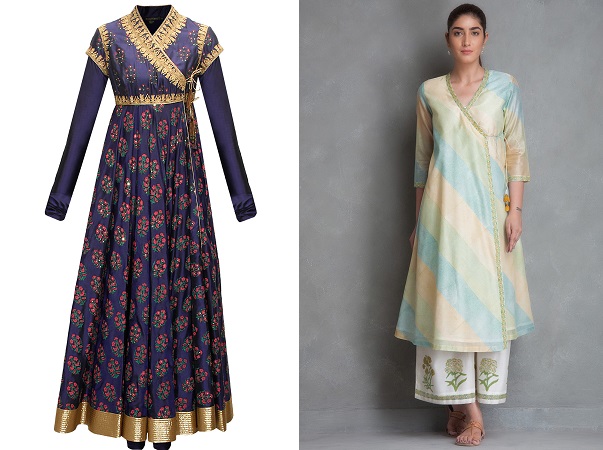 High necklines:
High necklines appear amazing and sophisticated when you do not wish to show much of your skin. Different from turtle neck, high neck does the task of luring the charm making you look taller and smarter. Pairing it with shimmery leggings and well accessorizing is very important for the better gaze.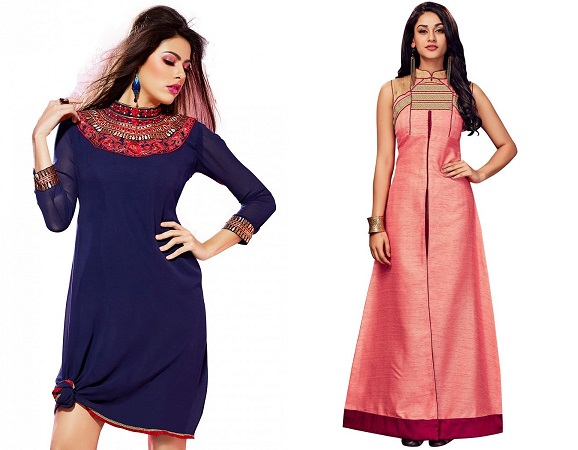 Asymmetric necklines:
When you want to add a western touch to your Indian ethnic attire, you can always rely on the asymmetric neckline. The beautifully cut uneven patterns at one side of the shoulder make up for sexy, chic and bold look. Giving the gaze of a young modern woman, this versatile kurti can possess hand embroidery, patch work or design in the collar of the kurti only as per the taste and preference of the adorner.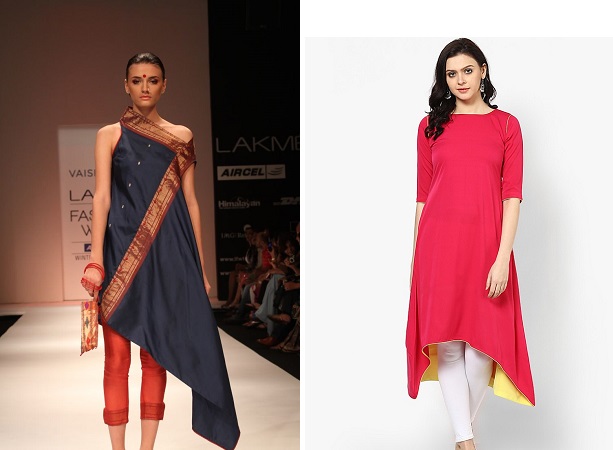 Ice cream scoop neckline:
As the name suggests, this neckline is usually framed with a deep round cut or an oval cut. This type of kurti can be padded or worn with a plunging deep inner to avoid a fashion disaster. Best suited for petite women, it adds volume to your appearance. You can get hand embroidery or beautiful thread work crafted at the deep neckline for a formal look.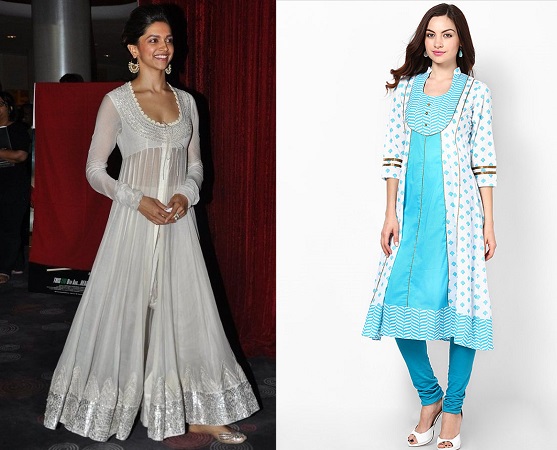 The above-mentioned necklines are sure to be in great demand this season. You can order one for yourself online or visit retail stores for your perfect outfit.