Tired of all those heavy lehengas and sarees? Festivity calls for dressing up and showing off your taste and preference in terms of clothing to your friends, family and the like. But while displaying your taste in the best possible manner, most of you tend to forget your comfort level and end up getting too tired or exhausted. All the fun and charm of the function is drowned when you are too engaged in setting and carrying your heavy designer ensemble. So, this time try ditching your heavy lehengas, suits and sarees and put on a designer kurti for the perfect glam at any of the party, function or festivity.
Renowned designers like Manish Malhotra, Sabyasachi, Ritu Kumar, Sandeep Khosla, etc. have tried giving new look on the traditional kurtis and have brought up something unique and modular for ever demanding fashionable ladies. Nowadays, women have become very stylish and updated that they make all the efforts to design their kurtis and other outfits by themselves.
Ways to carry a designer kurti:
Add on a short jacket:
You can always rely on a short jacket embellished with beautiful mirror and thread work. This not only makes your kurti a glamorous one but also adds to all the required charm to your outfit. You can wear this short jacket kurti on occasions like mehndi, sangeet or any other festivity that calls for ethnic wear. You are sure to be the stunner of the gathering with such extraordinary outfit.
Choose perfect material:
Usually, kurtis are worn in cotton stuff but when you are thinking of making it bit formal, choose fabrics like cotton silk, silk, raw silk, glaze cotton, etc. and get embellishments and embroidery as per your taste and preference. Keeping it simple and trendy is something that is in vogue. Be subtle in your choice and your kurti will speak wonders for you.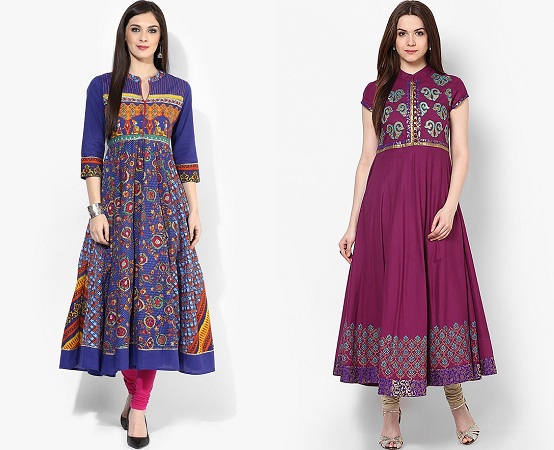 Perfecting neckline:
When you are going for a simple kurti or even the one for a formal occasion, opting for a perfect neckline is absolutely essential. There are various types and styles in which you can glam your kurti neckline like a deep V-neck or round neck or Chinese collar or just a ban collar. Get a thread work or mirror or stonework or even some sequin work around the neckline to attract the attention of the onlooker.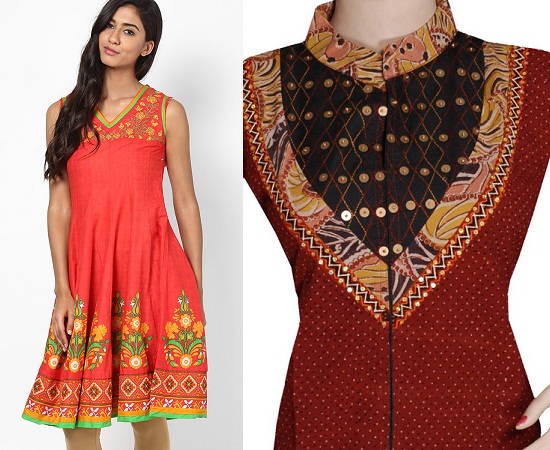 Pair with a perfect lower:
Kurtis can be worn in versatility. You can pair them with palazzos, leggings, jeans, salwar, harams or pyjamas. Make a contrast or mix match the ensemble to add perfect maze to your outfit. Since kurtis go with anything and everything, you can have a comfortable and trendy lower. Palazzos are much in demand by women from all age groups.
Accessory:
Though kurti is a bling in itself, if you feel the need you may carry a simple dupatta or a stole that compliments your entire look. Light earrings or jhumkis will definitely add to the glitz and dazzle to the outfit and the adorner.
Kurtis never fail to fall up to the expectations of the wearer be it in terms of comfort, designing, styling, glamming up or showing up your best looks. If you are expecting a hectic day, kurti is the best outfit to choose to make a perfect style statement as it represents simplicity at its best.