Also referred to as Tussar Silk, Kosa Silk, and Wild Silk, Tussar Silk is a delicate thread used in the making of a fine looking fabric. 'Kosa' in Sanskrit means Desi Tusser. Manufactured on a large scale in India, especially Jharkand and Bengal, Tussar silk is valued mainly for its gold colors derived naturally from the yellowish brown colored moths called Antheria Proylei, Antheria Paphia, and Antheria Milita. These wild winged moths feed on the leaves of Asan and Arjun plants. The multiple varieties of Tussar silk are derived from the type of silkworm as well as the plant the silkworm feeds on.
Very little information is available with respect to the exact time of origin of Tussar Silk. However, considering raw silk and its historical background, it can be conveniently assumed that Tussar silk was discovered during medieval times. There is no trace of silk being produced artificially or from a natural product prior to medieval times.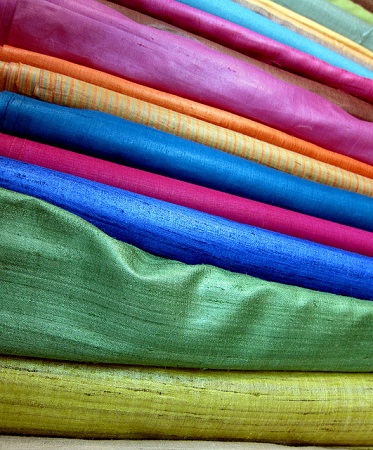 The reason Tussar silk is available at a reasonable price as compared to other varieties of silk is that silkworms in the former case are not mulberry fed. It is the process of rearing Tussar silkworms, in fact, which makes this silk variety cheaper than the others. Having said this, Tussar silk is as graceful and lavish as any other form of silk.
The Industry
Producing Tussar silk is a form of rural art. Since olden days, women from certain rural and tribal communities learned different skills involved in rearing silkworms and weaving silk from their cocoons. As is the case with many other textile-making traditions, producing Tussar also became a mechanical process to manufacture this silk on a larger scale.
Even today, the Tussar industry employs tribal and rural labor extensively. A large part of the industry comprises of women trained in the weaving of this silk variety and creating fabrics from the threads obtained from this weaving. It takes 3 days on an average to finish a 10-meter cloth made out of Tussar. Thus, every laborer is required to weave a minimum of 10 Tussar sarees by the end of the month.
Although Tussar silk is also used as a base fabric for stitched apparel, furnishing fabrics, and handicrafts, sarees so far, are the most popularly manufactured product using this material. Many fashion designers recently have started making use of this silk in very innovative ways. These designer garments produced using Tussar silk are known worldwide and exported to different countries such as the United States, Europe, and the Persian Gulf.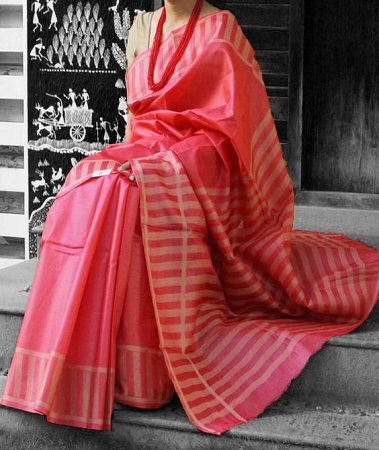 Tussar Silk Sarees
The exotic Tussar silk sarees from Bengal are usually available in natural colors like cream and beige with a pallav and colored border. Sarees are then dyed into a variety of vibrant colors. Beautifully woven paisley and floral motifs all across the sari are a common pattern seen in most of these sarees. Recently, some of the contemporary patterns such as geometric and striped designs are also being used to give the authenticity of these sarees a modern touch. The plain fabric of a Tussar sari is generally adorned with beautifully embroidered, colorful Kantha patterns that form the pallav and borders.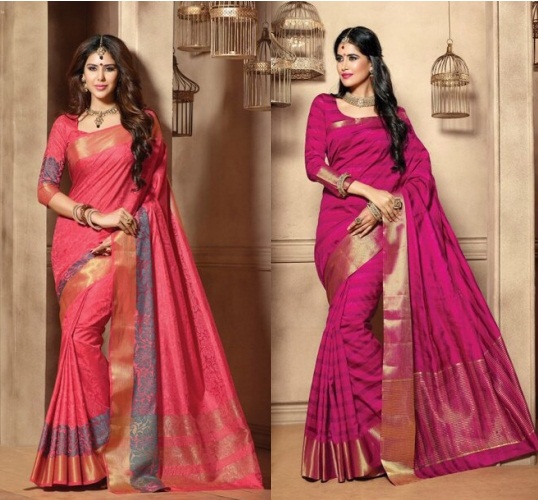 Tussar silk sarees have many interesting properties. Some of these have been elucidated below:
It is the authenticity of Tussar silk that makes sarees produced from it an evergreen luxury that can be confidently worn for any occasion. The untamed and exotic spirit of the silkworms producing this silk can be seen easily in its color, sheen, and feel.
Clothes made out of Tussar silk have impressive thermal properties. This characteristic of Tussar silk makes sarees made out of it wearable in all parts of the world and all year around. They can be worn in both the cooler as well as the warmer parts of the world. Moreover, they keep you cool during summers and warm in winters.
Tussar silk itself has many sub varieties such as machine reeled, thigh reeled, Ghhichha, and Katia. These sub varieties are further subjected to several permutations and combinations and two such resultant subcategories of these groupings are Mulberry Ghiccha and Tussar Ghichha.
Tussar sarees come in an impressive variety of colors. From lighter tones of golden honey or beige to brighter and darker hues like reds and pinks, there is a plethora of colors and shades to choose from. Usually the lighter shades like beige are combined with a bright-colored blouse such as red, green, or pink. The overall grace emanated from such a contrasting color combination instantly gets everyone's attention in a function and gets them talking for ages to come.
The material itself is not very difficult to maintain. In order to ensure that your precious Tussar sari doesn't lose its luster and sheen, get it ironed and dry cleaned at least twice a year. Also, avoid staining it because that washing the stain off will not be a good idea for the fabric of your sari.
Another interesting property of a Tussar silk saree is that it is more porous and breathable than other silk sarees. It also features a lot more textures than other silk varieties.
The tradition of flaunting one's favorite ethnic fear during special occasions as well as family gatherings is a deep-rooted custom of our culture which has, fortunately, been retained even today. When it comes to dressing up traditionally and expressing one's sentiments with respect to any occasion, Tussar silk sarees become an impeccable symbol of happiness and togetherness. Since they are made of silk, Tussar sarees are slightly heavier on the pocket than sarees made out of any other material. However, the stunning textures and rich colors of these sarees definitely deserve the price and value attached to them.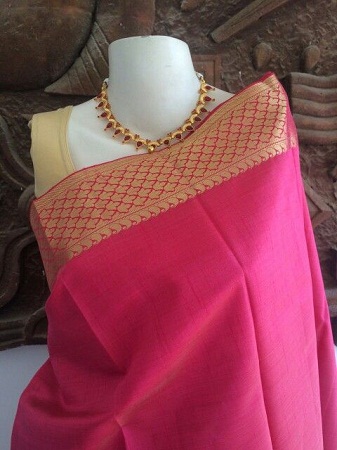 Today, if you wish to purchase a Tussar saree, you don't necessarily have to visit an offline retail store. With Tussar silk recently having taken the world by storm, there are many websites you can access online and choose and order your favorite Tussar saree easily. In fact, these sarees are now available in the international market as well. So regardless of where you are located in the globe, you can easily own this sophisticated piece of clothing without any hassle.
With so many festivals being just round the corner, there is a splurge of demand for Tussar sarees. Among different styles and varieties of sarees, Tussar silk is one of the most preferred ones when it comes to dressing elegantly for an occasion. Today, you can choose from an assortment of exquisite sarees made out of this beautiful fabric and order one as soon as possible. At least a couple of these traditional sarees are a must-have for every woman's wardrobe.