Sambalpuri Saree originates from Odisha, India. These are hand woven traditional sarees wherein the weft and the warp are the first ties, dyed and then carefully woven. Usually, they are produced in Sonepur, Bargarh, Sambalpur, Boudh and Balangir Districts of Odisha. Sambalpuri sarees especially are known for the use of traditional motifs resembling its association with this beach state such as sankha or sell, phule or flower, and chakra or wheel. At times in some of the sarees, animal motifs also are used for enhancing the look of the pallu and borders.
The most enticing part of these sarees is their association with Bandhakala- the traditional art of tie-dye. In this method, first, the threads are well tied and died and then they are used for weaving. This entire process usually takes more than two weeks to get completed. Sambalpuri sarees which are made completely from fabrics woven intricately on handloom are highly popular throughout the country. Again you will be amazed to know that there are about 5 different variants of Sambalpuri saree which are namely Soenpuri, Bomkai, Bapta, Barpali and Pasapali sarees. Among all these, Bomkai, Barpali and Bapta are highly in demand.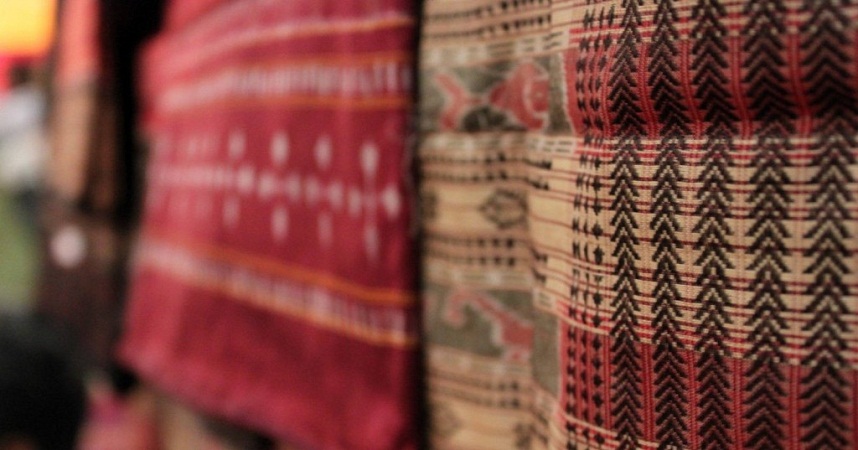 Fabric and motifs used in Sambalpuri Saree :
As mentioned before, these sarees resemble the traditional hand woven style known as "bandha". In the early days, craftsmen come up creating baandhas with enticing geometrical patterns and images of fauna and floras. Taking off the modern days, new Baandha types resembling flower pods, landscape and portraits are also designed to add a new dimension to the sarees. Again and again what becomes more important to know about this type of sarees is that they adhere to a tie-dye technique. As per the pattern decided to be designed, weavers tie the yarns for preventing these parts from absorbing the dyes.
It is the set of yarns or the yarns produced which is known as Baandha. What is unique about the design is that they are identically reflected on both the sides of the fabric. Upon being dyed, the fabric can never again be bleached with another color. Due to regular usage, the fabric might turn thin and damage gradually but its colors remain the same. Both cotton and silk fabric is used for making Sambalpuri sarees and with the use of this versatile designing technique, the weaver not only gets a change of weaving myriads of colorful patterns but also convey a message or thought through them.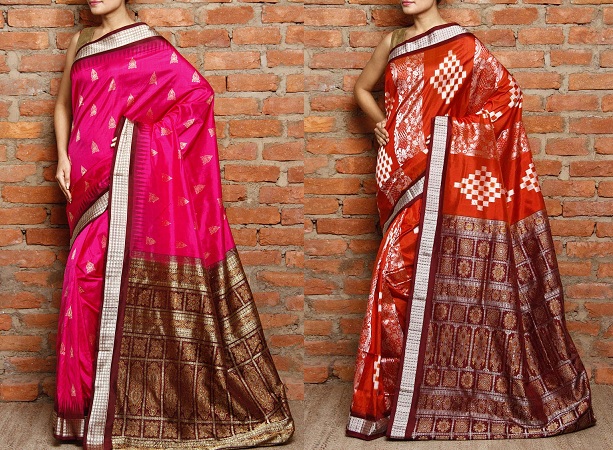 A brief look at the development and growth of Sambalpuri Saree :
Baandha Fabric today has been remand by its cultural and geographical name "Sambalpuri". Moving into the development of Sambalpuri sarees, it is said that the pioneer of these sarees, Sri Radheshyam Meher had brought a historical improvement in both the product quality as well as the craftsmen skills.
In the year 1926, Sri Meher first designed the handloom for weaving textiles measuring 90 inches in width. It is his passion in Baandha art as well as his motivational ability which instigated the weaving community in Sambalpur to enhance their creativity. Also, these craftsmen were provided with the necessary training as well as incentives which helped them to work putting in their best for earning recognition and fame for these sarees.
First, they gained prominence outside Odisha when Indira Gandhi, then Prime Minister took up wearing them. Around the late 1980s and the first half of 1990s, these sarees gained popularity all throughout India.  However, despite the popularity of these sarees, the fate of the weavers was still in dark. Hence to make their future secure as well as help the Sambalpuri sarees retain their popularity and fame, manufacturing of these sarees in Berhampur and Sambalpur were taken under the geographical Indications Registry of the Government of India.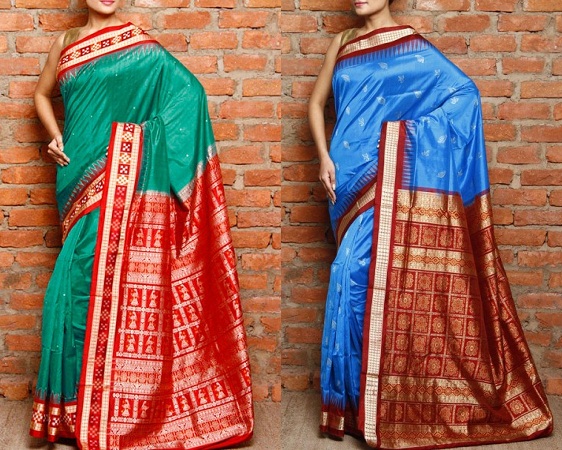 Difference between Baandhi and Sambalpuri Saree:
People often mistake distinguish them from the Baandhi saree.  Well in this context it needs to be mentioned that though the baandha pattern is common to the Baandhi sarees from Gujarat as well as the Sambalpuri Sarees from Odisha, the difference is that they come with different motifs and art. While Baandhi sarees come with only square shaped motifs, in the case of Sambalpuri sarees, you get to explore new patterns including that of birds, animals, fish, conch shell, flower, wheel, landscape and much more. Draping these sarees you get the relish the authenticity of Odisha.
Variants of the Sambalpuri Saree:
Sambalpuri sarees as mentioned before comes in both silk and cotton fabric. While the cotton sarees are meant for daily use, the silk ones are meant for festive purposes such as puja, wedding, various parties and others. Gone are the days when the reach of the these sarees was limited to the state only. Now even top most designers are also using these sarees to create a new fashion item. It is now the traditional and modern mix which has made all the variants of Sambalpuri sarees popular even outside India. Take a look at the specialty of the these saree variants:
Barpali: These sarees are made in Barpali, a small town situated in the western corner of Odisha about 70 kms away from Sambalpur. The specialty of these sarees is their weaving pattern of Sambalpuri ikkat fabric.

Bapta: This is another variant of the Sambalpuri saree prepared mixing both the silk and cotton fabric. Also in these sarees, gold colored threads are used which eventually enhance their elegance. Mostly they are suited for use during festive purposes.

Bomkai and Sonepuri: these are traditional designs produced in Bomkai village in Ganjam District, Odisha.

Pasa: Pasa is the name given to the gambling game and it is from this term that the name "Pasapali" has been derived. This is because the Pasapali variant of Sambalpuri saree resembles chess board coming with contrasting colors. Traditionally red and white or black and white colors are used to design the squares. The boarders are done with traditional motifs and at time with golden threads.

It is Sambalpuri Bastralaya Handloom Cooperative Society Ltd which is recognized as the largest Sambalpuri handloom society in Odisha as well as India. Further in the year 2013, Odisha Saree store come into play for the promotion of Sambalpuri sarees. Also weavers apart from making sarees, offer you here with Sambalpuri bed sheets, curtains, dewan sets, sofa covers, dress materials, salwarkamiz, dhila, kurta and towels. On a concluding note, it is must to say that alike all other sarees you have in your wardrobe, it is mandatory to have a Sambalpuri saree too. So get yourself one and enhance your beauty.