Getting an opportunity to flaunt your perfectly sculpted shoulder is a thing of joy. Not every day do you get a chance to do the same! Not every day can you flaunt yourself the way you would want to. You may be a part of a work environment with strict dress code. You just may not have the time to deck up the way you would want to… always. That is perhaps the reason why a chance to present yourself to the world just as you would wish to – should be grabbed and made the most of.
It's all about flaunting your curvacious shoulders!
Flaunting your shoulders – We were talking about flaunting those carefully sculpted shoulders that deserve as much appreciation as perhaps your eyes or your lustrous mane do/does. That's not happening until you are "letting it happen". Read on to unravel just what we mean.
Western Outfits are not the Only Way to Go!
Now, how often do you flaunt your shoulders at those happening parties and night-outs? Those cute off-shoulder dresses or upper halves may have brought you quite a few compliments from your friends and acquaintances. If you are not already showing off your wondrous shoulders to the world then perhaps you should start doing it because they deserve to be seen. And, let us tell you that your off shoulder sartorial choices don't really have to be confined to the western outfits. You can jolly well slip into a pretty one side shoulder blouse and saree at a party or happening social do and be a cynosure of all eyes as well.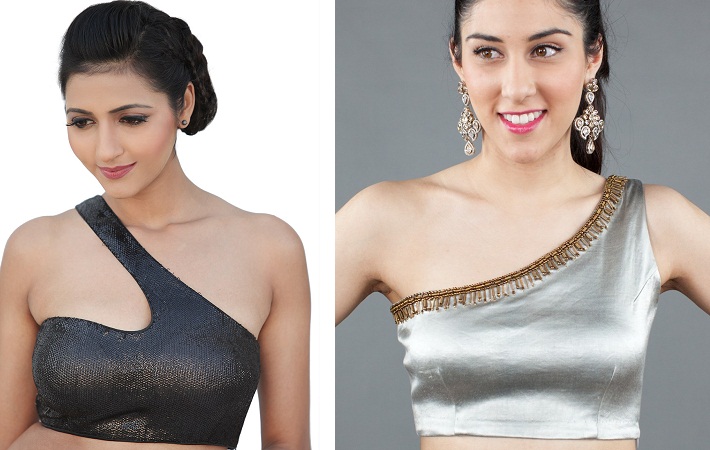 One shoulder blouses – that's what we will be talking about today! Right here! Teamed with a body-hugging chiffon or a brocade piece (read saree), your one-side shoulder praise can complement your look in more ways you can imagine—drawing a few envious sighs there and glances of admiration there.
One side shoulder blouse: A treasured sartorial choice!
Now, one of the most notable pros of these blouses are that they can be sported by women with broad shoulders and by the ones with a more petite but athletic frame. The key is to make sure that your shoulders "are in order". Only those with impeccably chiseled shoulders should try these blouses on.
Who wore them in Bollywood?
As is the case with most of the other dresses, one is bound to turn to Bollywood for some inspiration. Yes! The versatility of this particular piece can be tracked here only. Look up the list of Bollywood and South Indian actresses who have embraced this sartorial piece—Kareena Kapoor, Tamanna, Sameera Reddy, Trisha and so on…
So, you can well gauge that women having variant body types can actually wear them in order to stand out from the crowd. What more! The one side shoulder blouses are a regular feature of runways as well. Someone like Gaurav Gupta is quintessentially associated with "the edgy". Look up the internet to find out how gracefully Jacqueline Fernandez carried off the one side off shoulder blouse (A Gaurav Gupta creation) at the Delhi Couture Week in 2011.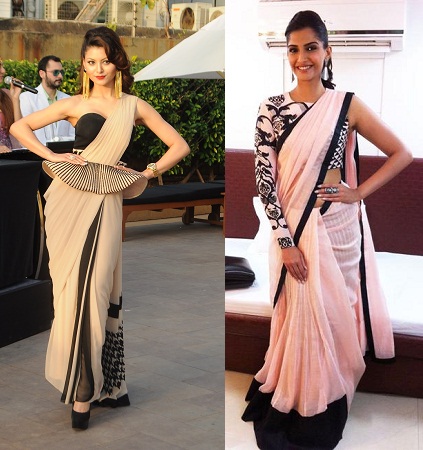 Choose a piece sagaciously
Depending on your body type you can choose to sport the drape in a string of variant ways. While taller women can bring the anchal forward, the shorter women are advised to settle for the conventional "back-anchal" look as it creates an illusion of "height".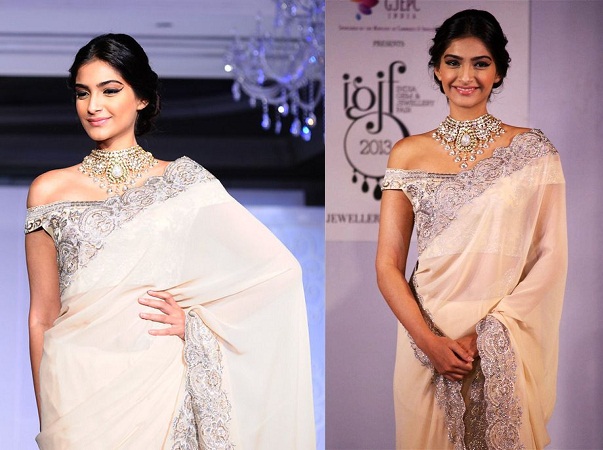 While off-shoulder blouses turn out to be too bold for someone's liking, let us tell you that a tasteful selection will never make you look obscene. Go for the right cut, the right saree, the right accessories and choose the right occasion prudently and you're sorted!