There are a number of bottoms wears that you can wear along with the kurtis to get a classy look. One of the best bottom wears is the palazzo pants. They are trendy and fashionable. They go well with different types of kurtis. With all these features, you will find good pairings with the kurtis and can live up to the best of fashions. Trends of fashion change and along with it, the designs of the pants also keep on evolving.
What is Palazzo pant?
Palazzos are typical pants or we can say it is long trousers for women with a cut in a loose style, followed by extremely wide and flattered leg which flares out right from waist. Well this type of bottoms are a hot favourite for the summer seasons and you will find many women in India started matching kurtis with Palazzo and it really looks awesome. It gives an Indo-western look to the lady wearing a kurti with Palazzo.  The reason behind the popularity of this pant is that it gives a chance to the legs to breathe and not feel congested during the summers.  Fabrics which are mostly used in the making of these pants include silk, crepe and hosiery materials.  This type of pants is a perfect NO for winter seasons and you will not find hardly any woman in Palazzo during this season.  This type of lowers first came into existence in the year late 1960's and now its popularity reached the peak in the world of fashion as almost all women across finding this type of pants highly comfortable, classy and perfect for any occasion casual or formal.
If you can manage to take a look at the latest style statements of the Bollywood Divas then you will get to see that many of them are preferring it and appearing in many films in this outfit and celebrity events. We are pretty confident that almost every fashion conscious woman in this world will have at least one Palazzo in their wardrobe as now it's in fashion. It gives a bubbly and lively look to the lady wearing a Palazzo with kurti. One important fact is that women, be fat or slim can try it as it looks awesome on all ladies on all body types.
Check out the latest trends in Palazzo section:
Here we present you with some of the best varieties of trendy wears that you can avail in order to get a classy look.
Checked palazzo pants: This is a simple looking palazzo pant with black and white checks all over it. With the right combination with the kurtis, they can give you a classy look. You can get in touch with black-based kurtis and this will be one of the best looking combinations. Apart from this, it will go well as a formal wear as well as a decent casual wear. After all, you will be able to live up to the best of tastes when you get in touch with the palazzo pant.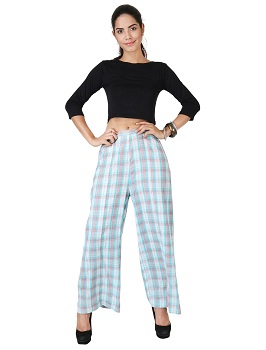 White based flared palazzo pants: The white based pants are fine with all the colour variation. Especially, with the lighter shades like green, blue or pink, they are compatible and you will get the perfect match when you wear them. If you wish for a trendier look, you can get in touch with the flared variations of these pants and this will give you the look that you were just looking for. So, you have a lot of options to choose from and in the end, you will be able to live up to the best of tastes. The white-based palazzo pants can also be used as a part of formal wear and you will be able to get in touch with the professional looks when you make the right choice of kurti.
Pink based-skirt type palazzo pants: This is a comparatively new trend in the market and you will enjoy this style with blue and yellow based kurtis. With the accurate choice of accessories, you will get a great look. There are a number of options that you can avail when it comes to the choice kurtis. The green kurtis will go well with the pink bottom wear. Apart from this, other shades like orange and white will also match well. There are different occasions where you can wear this combination. For instance, parties and celebrations are common places where people are found to wear these combinations. The pink ones go well with people with fair complexion. Altogether, you will get a classy look when you wear this type of palazzo.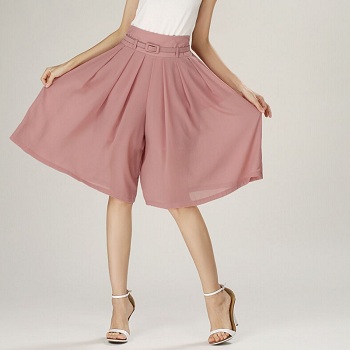 Black printed palazzo: These are really elegant looking and rich, and bring you the right type of looks when you wear it with equally dark combinations. For instance, you will have a good combination if you pair it with Pakistani kurtis or the narrow ones black in colour. There may be embroidery work to a limited extent and you will enjoy the grand looks that the combination delivers to you. In order to try out better combinations, you can opt for a different variation. For instance, the flared ones look like the bottom of frocks and these look well with people with have a healthy figure. These are mainly meant for party wear and fashion events, but one may occasionally wear them to make a change in the monotony.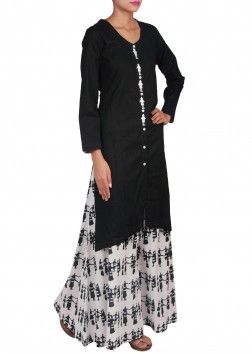 Flared palazzo with a net at the bottom: These are royal looking outfits that you can wear particularly at parties. But it may be difficult to make movements, as the bottom of the pants is large and not for casual use. There are a lot of variations in the colours and designs that you can avail. The best way to get them customised is to make a combination with a bright red or cream coloured kurti and you can use a dupatta as a part of the combination when you look out for a change. So, the right colour combination needs to be determined according to the figure, and you can opt for different variations. These can be customised for people with apple or pear shaped bodies and can be personalised according to the density of the net at the bottom. After all, this is the ideal outfit for you if you are looking for a royal look.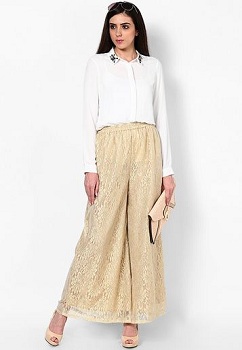 Yellow straight palazzo: This is a good colour for people with a fair skin and can be used in pairing with a number of kurtis. The yellow colour goes well with darker shades like red and orange, and even dark green. With the straight shape, it can also make the way into the formal dresses. All you need to do is to make the right choice when it comes to choosing the kurti. There are a few colours that will not go well with the palazzo, like dark brown and pink. You may wear these as a regular part of casuals. After all, you will be able to get the sophisticated desi look when you have this palazzo. There are darker and lighter shades of palazzo that you can choose and at the end of the day you will be able to get the right match with this combination.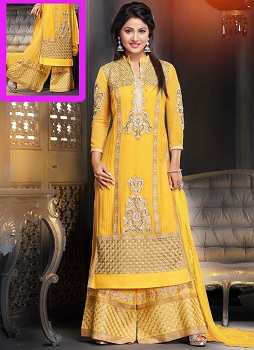 Embroider palazzo: When it comes to embroidery palazzo, there are a number of options for you to choose from. Basically, there are a number of combinations based on blue and yellow. Apart from these, you will be able to choose from a vast variety of darker shades with intricate designs. When you choose the design, keep in mind the type of kurti that you are going to avail. So, you need to make the right choice with the designs and prints.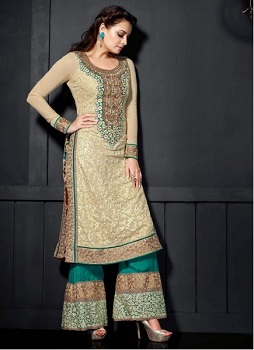 When you make the right decision with respect to designs and combinations, the kurti and palazzo perfectly complement each other and make sure that you will get the best of looks.
There are many other styles of Palazzo which are now available in the market and you can try them out too for your collection. In case you are in search of the latest designed Palazzo then nothing can be the best destination for you other than the online fashion stores. Almost all leading fashion stores are now having exclusive collections of Palazzo pants which you will love to buy. The prices are also very reasonable and you will find the same fitting your budget.
There is no need to compromise on quality as in budgeted price you will get some of the best palazzo for your wardrobe.  Don't forget to match up a kurti which goes well with your palazzo color and design. In the online stores, you will also find some matching kurtis with Palazzo set. Pick any of your choice and present yourself in a completely different look like never before. We can assure you that people will appreciate your taste of fashion and your look. So do not waste time and go for online shopping of Palazzo with kurti today.