Indo western kurits are now is fashion and women of all ages are true fan of this outfit. The Indian women of the era are liberal in thought process and they actually love to experiment everything new in the world of fashion. Expressing the beauty of being a women – Is the only wish of every woman.
Dressing up in style is one of the best expressions to prove that we are going with the trend. The world of fashion believes in recycling, renovating and then introducing a new style which is completely different from past trends in fashion.
It's time to make a smart move and go for trying some new in Indo western kurits styles. You can surely make a unique style statement in kurtis. There are different styles, patterns and looks of these kurtis and you need to understand which one will go with your figure well and make you look pretty and beautiful.
The best part of this form of kurtis is that it not only gives a traditional look but also provides a sizzling touch of western look too. Teenager's first choice is these kurtis and it offers the desiring look to them.
Popular types of Indo western kurits:
There are N numbers of kurtis style are now available in the market. Some of the popular styles of indo western kurtis which are loved and preferred by all are mentioned below:
Tail Cut kurti: If you are looking for the best pick in kurtis for any formal function then this style will be a perfect choice for you. It comes with layered pattern. One side of the Kurti will be short than the other side to give a tail like look. For teenagers and young ladies this kurti is the ultimate one. You can match up both leggings and jeans for a stylish look. It is available in various lengths. Depending upon your height decide the length which will go well with you.

Kurti in Dhoti style: This is one of the most wonderful designs of kurtis trending in the market. In this kurti the look which a lady will give will impress the audience completely. The style is loose and gives a comfortable feel to the wearer. Some of the designs are now coming with belts near the waist for a combo indo western look. You can try it with or without bottom. Without bottom it looks more stylish and trendy. If you are pregnant then this kurti can help you hide your baby bump in a fashionable way.

Kurti in style of Gown: If you are looking for the perfect Diva look with a gown style kurti then this form will give you the desired look. This kurti will be perfect attire for any evening party. If you research well on the latest Bollywood trends then you will find that almost every Diva of the Bolly world tried this style and all of them look just awesome. In short we can say that it gives a Greek Goddess look. It keeps the whole body covered and so there is no need of any bottom.

Kurti in straight cut style: Long straight cut gives a slim fit look to the wearer. Now you can find enough stuff in Indo western style kurti. If you are in search of kurti for office outfit then go for this style as this will give a stylish professional look. Mostly the style of kurtis are available in full sleeves as this gives a compact look which is eye catching and smart too. Leggings will be perfect match with this kurti.

Shirt style kurti: Love to go with a fusion style? Go for the Shirt style kurti. This is a perfect combo of Indian kurti and western shirts. Mostly the prints you will get in this kurtis will give a look of a shirt. If you want to try some casual outfit on the weekends in office then try this out. The colours used are fresh and vibrant and so you will look both trendy and stylish in every way. Some of the kurtis are available with belt and some are not. Pick the one which suits you. Try leggings with it and not churider.

Kurti in Kaftan style: Kaftan a style of western world when matched with Indian kurti style, it introduced the Kurti in Kaftan style, which are hot favourite among stylish Indian women for casual parties and get together. Teenagers also love it. It is must to have at least one kurti of this style in your collection. Try it out with leggings or slim fit jeans. You can get it in both short and long length. Pair it up with high heels and modern accessories for a stylish look.

Popular prints of Indo western Kurtis:
Floral Print: Floral prints are always the first choice of every woman. You can find exclusive collection of floral pattern print in Indo western kurtis. Big and small size floral prints are equally popular for kurtis of all style.

Check Prints: Check prints are suited best for casual kurtis. You can find this print used on shirt style kurtis. It looks smart if you are having a slim trim figure.

Plain Print or solid print: One colour plain print dress materials are always in fashion. The kurtis in one colour print looks fab on any lady of any age.

Aztec print: This is tribal print which gives a contemporary style look. The placement of line, thickness as well as structure of design is more visible on Aztec print designs. It looks awesome when a kurti is made out of this type of print material. It acts as a perfect material for designing a kurti in any of the indo western style kurtis.

Some other commonly used prints for indo western style kurtis are Paisley, Colour blocked, Ombre, Novelty Print, geometric, animal prints, polka print, stripes print and many more are there.
Popular necklines of Indo western Kurtis:
Quite a good numbers of styles are available for necklines for kurtis of indo western styles to help the lady flaunt in style:
Collar neck: One of the smart, unique and trendy necklines for kurtis. It makes the lady look absolutely trendy and smart. Teenage and college going girls can try this out to enhance their bubbly look more prominently.
Decolletage Neckline: This neckline highlights the cleavage as well as displays a wide area of the neck
Crew neckline: It's a modified version of round T neckline. The crew neckline is designed very close to the neck. Use of stones and other embellishments can be done in the neckline to make it more visible and attractive.
Jewel Neckline: This neckline is decorative one covering the collar bones completely. Floral or other decorative patterns are use to design this neckline. It gives an Egyptian pharaohs type look which is very royal. You don't need t add any jewellery when you select kurti with this style of neck.
Off shoulder Neck: This neck is lower one and deeps down the shoulder height to give a complete visibility to the shoulders.
Queen Anne neckline: It is basically a V cut neckline with a combo of jacket style with high neck. It gives a royal look to the dress bearer and named as queen Anne neckline.

Fabrics used in the making of Indo western kurtis:
The quality of fabric used in making of any dress acts as one of the most important reasons to make the outfit look pleasing, attractive, stylish and trendy. Indo western kurti itself is one of the trendiest outfits available in the market. The quality of fabrics differs from one style to that of the other. Enlisting below some of the popular fabrics used in making of this particular type of dress:
Cotton: One of the on demand fabrics for the summer season is cotton. Cotton fabric is light and gives a very comfortable feeling. The best part is that you can try out any type of styles and cuts on cotton fabric for designing the trendy indo western kurti especially for the summer months.
Silk: Silk remembers you about the luxurious feeling which you always look for while dressing up for any party or special event. Silk fabric fits on body so creatively that gives all together a new look to the lady. For any festive season you can try out kurtis of latest style and pattern made out of exclusive quality silk materials. In silk also you will find different varieties.
Georgette: Georgette fabric kurti with long sleeves and in long length are a perfect choice for any season. Georgette material gives a very graceful look to any lady of any age. The beauty of a lady gets a new dimension when this sophisticated fabric takes the shape of the body giving an elegant bouncy look.
Chiffon: Chiffon is another world class fabric which is a perfect combo of cotton, silk, nylon, and rayon. If you are looking for an indo western kurti for any evening party, then select the one made out of Chiffon. It is very light in weight and bit slippery in its texture. It offers a sophisticated look to any dress made out of it and thereby making the dress more appealing to the audience.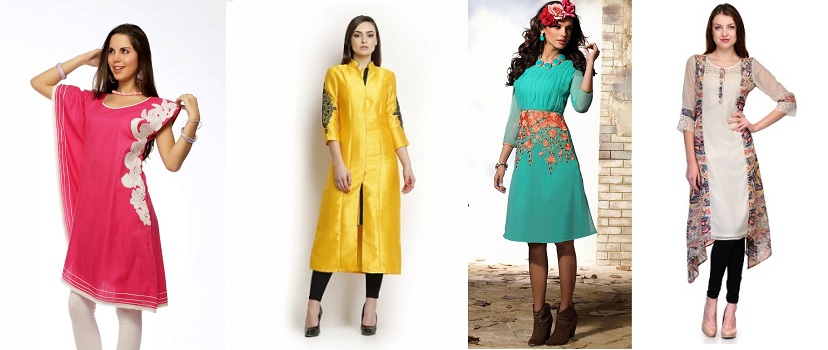 Reasons behind the popularity of Indo western kurti in India:
As we already mentioned that with every passing day the popularity of Indo western kurti is increasing at a rapid speed. But what exactly made it so popular? Check out few reasons for the same:
You can find kurtis of various price ranges. You can find kurtis starting from INR 300 to even some thousands of rupees. The variations in the prices made it possible for females of all age groups and all financial backgrounds to find something or the other for their stylish look.
There are several patterns and designs available which suits to various occasions and even for casual days. So in crisp form what we can say is that an indo western kurti can make you look fab and fashionable in every celebration of life at an affordable budget.
Multi style bottoms can be used to pair up with the kurtis. You can match one kurti with leggings, jeans, Capri, churidar and many more styles of bottoms. All in all one kurti can give you multiple look and style when paired with multi style bottoms.
Kurti of Indo western styles are occasion friendly. Take name of any festival or occasions, you will have something on the other in stock on the display section of the online stores.
Kurti is one of the user friendly dresses one could ever have in collection. You can dress up in just few minutes if you are in love with fashionable and trendy kurtis.
Where to buy the most affordable and trendy indo western kurtis for wardrobe collection?
As long as the online world is there for our shopping support there is nothing to worry. You can find some of the best collections of indo western kurtis on the online portals. One of the biggest advantage of shopping with online branded store is that here you will get the best quality products at an affordable price which is difficult to get when you visit any retail store or even a mall. Aside to this you can do online at the comfort of your home and that too with few clicks of your mouse. You can shop during any free time of the day and the purchased product will get delivered at your door step within given timeline. You can pay using your debit or credit card. Cash on delivery options are also available with most of the online stores. Check the reputation of the store well before you make the final purchase. Look Beautiful and enjoy life like a Diva in Indo Western kurtis.