Marriage is a time when you want to look your best self. You want to wear your best clothes, put on the best make up, wear your best hair style and what not and if it is a friend's marriage, the excitement knows no limit. All the friends gather together and make all sorts of plans for the marriage. You plan the functions, songs, dances and all the fun that you people want to make during the marriage days and most importantly the dresses that you all are going to wear during the marriage functions.
Indian marriages are not just a one day affair. The rites and ceremonies go on for a couple of days. This means that you need to get different outfits for different functions. While the other Indian dresses like Anarkali suits, lehengas or simple suits can be worn for most functions, you must wear a sari for the main event or the wedding day.
Sari for Special Occasions
Now that you have decided to wear a sari for the main events, you need one that makes you stand apart from the crowd. Indian women like to wear heavy sarees that are embroidered or embellished with stones, beads, sequins or a combination of all these. When you are wearing a heavy saree for a special event, the blouse too needs to be complementing the saree. You can get an equally heavy blouse with similar embroidery or embellishments or get a contrast blouse that has different yet complimenting work.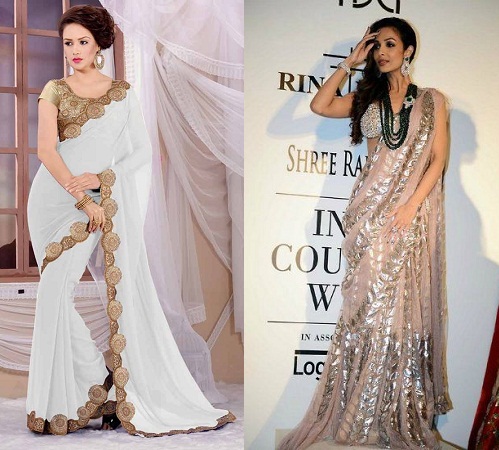 However, you can also go for a contrasting look and choose to wear a light weight saree with a heavy blouse. You can go in for a heavy embellished designer blouse pattern with plain sari for your friend's wedding which makes you look gorgeous among the crowd.
Plain saree with a heavy embellished blouse pattern is very much in fashion and all the top sari designers are coming out with their exclusive sari and blouse patterns to woo the women. Top designers that have already launched their fashion line have come out with their branded exclusive wear for the season and are also collaborating with online stores to promote them.
Comfort Quotient of Heavy Blouses
This is a very pertinent question as to why a heavy blouse instead of a heavy sari. The answer is that a heavy sari will weigh too much and it will become more of a trouble handling the sari instead of enjoying the party. On the contrary, with a heavy blouse and a plain sari you not only balance the ensemble, you look extremely beautiful and you are also able to enjoy the party to the fullest.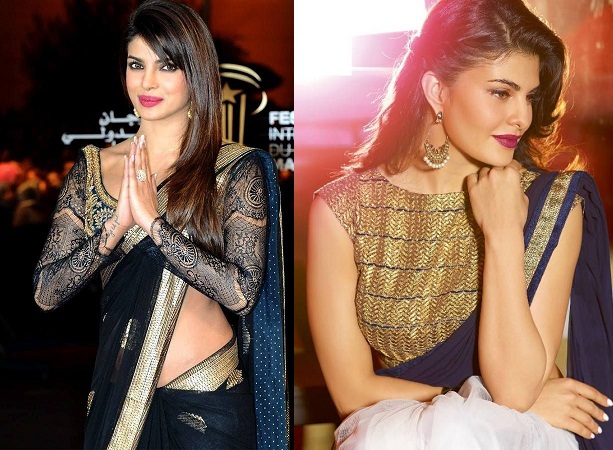 A heavy sari is for the bride because not only is she the main focus of the marriage and therefore should look beautiful. It is also the tradition for brides in India to wear a heavy sari or lehenga for their marriage. As for you, your motive to go there is to help her out and chill out with other friends but with a heavy sari or lehnga it will be virtually impossible for you to enjoy. Therefore stay light with a plain sari and get all the stares and looks from the heavy embellished blouse that you wear.
In any marriage there is always a lot of movement and you need to go here and there for some reason or the other. When you are wearing a heavy saree along with high heels, movement would certainly be restricted. Therefore, to be comfortable on your toes, you must go in for a lighter saree with a heavy blouse.
Cost of the Embellished Blouse
If you compare the cost of a designer embellished sari with the cost of a designer embellished blouse you will be able to save enough to spend on two to three dresses. While the cost of a heavy embellished sari may start from INR 15000 and go up to 1 lac rupees, the total cost of a plain sari with a designer heavy embellished blouse may not be more than INR 6000.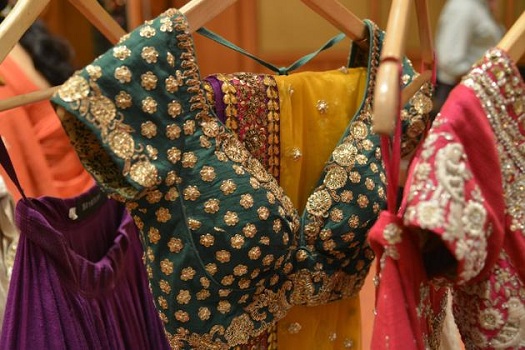 Usefulness:
Usually the designer heavy embroidered saris are a total waste as they are so heavy that they cannot be worn in for smaller scale parties and events. Such sarees are usually kept in the wardrobe till the next marriage and often it happens that by the time you want to wear it next time, the fashion is already out and you need to get a new one made. On the other hand a plain sari is never out of fashion and can be worn anywhere and any number of times. As for the heavy embellished blouse, since only the blouse is heavy you can wear it for small events as well to give it a formal look.
Design:
Heavy embellished designer sari blouses can be made in any design in which an ordinary blouse can be made. Moreover, these blouses are in high fashion and are being worn by women belonging to the super rich and high society that are the fashion leaders in the country and the ones that are up to date on the latest trends in the Indian and global fashion world.
Suits Different Body Types:
The style of heavy embellished designer blouse with a plain sari goes well with almost all body types with minor adjustments here and there. We are going to discuss how it can suit the different body typed women.
For Women with Heavy Upper Body:
If you are a woman that has a heavy upper body, heavy embellished designer blouse is not a big problem. You can get it made with a minor change in design that you avoid heavy embellishment on the front and rather get it embellished heavily on the neck or the sleeves. The embroidered neck and sleeve will shift the focus of the onlookers to the embroidered part sparing you from ugly stares.
For a Peer Shaped Body:
Most women in India have a peer shaped body which means having a slim upper body and a heavy bottom. With this type of body, heavy embellished designer blouse poses absolutely no problem as your problem area lies at the bottom and by wearing a heavy top you are balancing the problem area by shifting the focus to the top. Wearing an embellished blouse with a plain sari will give you a perfect look.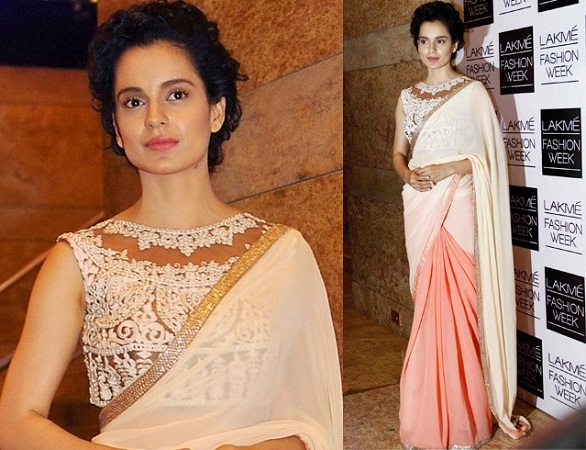 For Slim Body Type:
If you are a woman with slim body type, a heavy embellished designer sari blouse with plain sari pattern for your friend's wedding makes you look gorgeous among the crowd. You can be the crowd puller as a slim and toned body is a designer's dream body for which a designer designs his blouses and saris. You will look absolutely stunning with the combination but the only adjustment that you need to make is that you have to get it embellished more on the front rather than on the back. You should also ensure that the blouse fits you perfectly.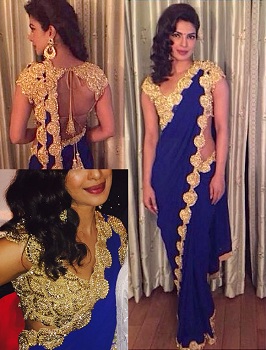 For Short Neck Body Type:
If you are a woman with a short neck body, you can wear a heavy embellished designer blouse but you need to design the blouse such that the fault line in your neck is covered. This means that you have to avoid getting a high neck or a close neck blouse made. Your focus should be to get the blouse embellished in such a manner that the focus shifts from the neck to elsewhere.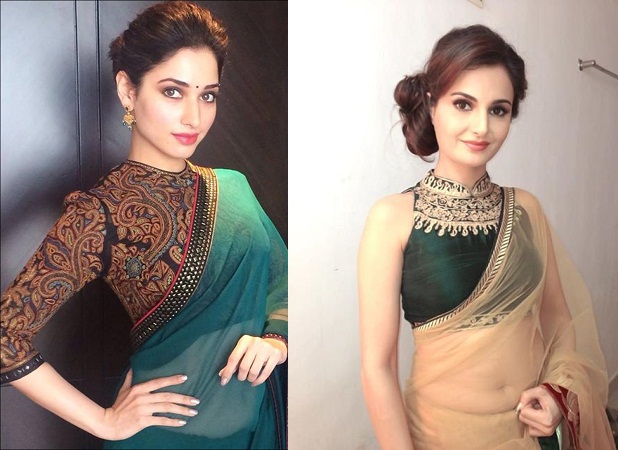 Broad Shoulder Body Type:
Most women with broad shoulders feel conscious about wearing a heavy embellished blouse because they feel that they will look manly and therefore tend to wear ordinary blouses with sari but you need not be conscious about your broad shoulders. Instead you only need to get a blouse with broad neck line that shows you collar bone and your beautiful hands. You should get sleeveless or cut sleeve blouse made for yourself with heavy embellishment done on the entire blouse.
In case you have a heavy chest along with broad shoulders you can avoid heavy embellishment on the chest part and get rest of the blouse heavily embellished.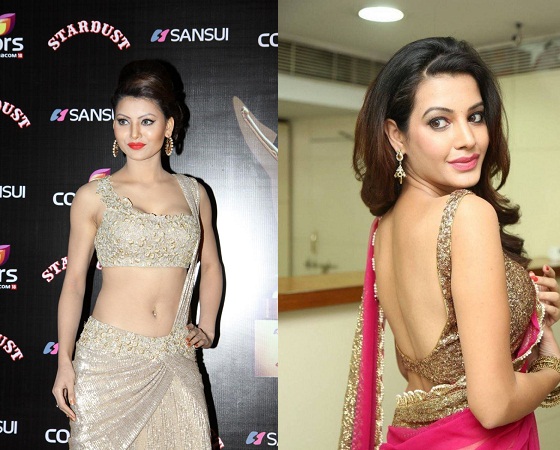 Long Neck Body:
If you are a woman with a long neck, most chances are that you will also have a slim body. For women with such body type you can have a blouse with any type of cut with a collar of any design that suits your style and get it embellished to your choice and wear it with a designer sari. Designers look for models and females with long necks for their designs to exhibit the class of their designs as most designs are created with perfect body structure in mind.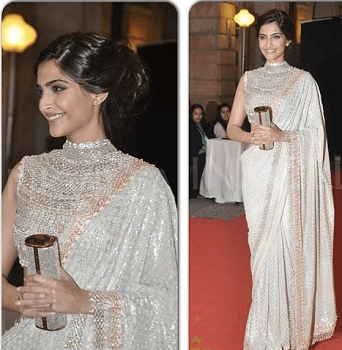 Therefore, as can be understood, embellished blouses with plain saris look good on most body types. You only need to be a little careful about the embellishment that you get done so that it does not accentuate your figure.