Sarees in India have a really long history and these are also intertwined inextricably with the Indian cultural history. Patola is one such saree that has a rich and long history. Originated in the Patan district of the state of Gujarat, India, these sarees work as the pride of the traditional textile heritage of India. In fact, the richness of double ikat dates back to the home interiors and closet place of the princely Salvi caste of Rajasthan during 12th century. Patan got famous because of weaving of patola or double ikat cloth. This is a type of normal silk cloth, which was first held sacred and therefore this changed various forms with time. Located 127 km North of Ahmadabad, this small town Patan inherits the enriched cultural heritage of Gujarat.
Importance of patola sarees:
With the passage of time, these sarees have been symbolized as a sign of social status as well as a stature of royalty. Besides, these sarees have also become a part of the dowries of the Gujarati women. Besides, these sarees are also exported to different countries like Burma and Indonesia. Therefore, spinning, weaving and dying these sarees in pure silk is considered as a form of art, which needs special expertise and skills.
The best part of this saree, which also distinguishes it from any other textile, is that the color of this saree never fades away even after heavy wear and tear. The reason behind it is that while making Patola sarees, resist dyeing process of tie and dye is used on both the weft and warp silk fibers. But once the process is done, these sarees look very much pleasing to the eyes and therefore these sarees make prized possession for the owner.
So, it can be said that Patola sarees are one of the most intricate and time consuming saree produced in the western part of India. These sarees mainly come with elaborated five color designs. Due to the expensive exquisiteness of these sarees, these have become a complete status symbol.
Making of patola sarees:
Since the creation of these sarees more than 700 years back, these patola sarees take form in the shapes of handmade sarees worn by women on wedding ceremonies and important religious occasions. The most important procedure involved in creating patola sarees is the tie and dye by using various natural dyes like cochineal, catechu, natural lakh, turmeric, indigo, madder roots, Harde, manjistha, katha, ratnajyot, pomegranate skin, kesudo, marigold flower, henna etc. These bring vibrant colors in these sarees or saree fabrics. Apart from that, copper sulphate, Alum, tin chloride, ferrous sulphate, potassium dichromate and some other mordents are also used in the dyeing process.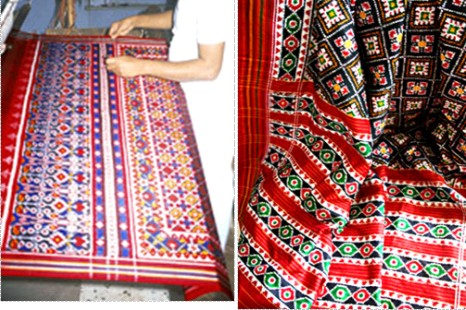 A special technique is basically used to weave the patola saree. Here both the weft and warp threads are tied to stop the process of dyeing in the parts of saree as per the design pattern. For all the shades, this process is repeated so that these can be present in the final woven fabric. This special technique of dyeing both the waft and warp thread is known as double ikat and it needs special skills and knowledge to both arrange and wrap the threads before starting the dyeing process to obtain the desired effect. These colorful sarees and the intricate geometric pattern make these really famous. Conventional designed that are weaved in these sarees include: stripes, boxes, squares, floral or leafy patterns along with five flowers or "panchphool". In some cases, the patola sarees also come enriched with kundan, zardousi and sequins.
The total procedure of weaving a five to six meters patola saree is tough and often requires months of labor and therefore the end result is wonderful and it spells out elegance and grace. So, it is quite obvious why these sarees are called as prized possession for every owner.
Types of patola sarees:
Patola sarees are mainly categorized in two main types and these include:
Rajkot patola: These are the single ikat sarees and these are the most recent part of patola sarees. Besides, these are not as costly as Patan patola.

Patan patola: This type of saree is also known as double ikat and it is more expensive and traditional saree. The main unique feature of these sarees is that it comes with same design on both sides. Therefore, these sarees can be draped in both ways. Double ikat is mainly created by tying both the weft and warp before weaving. As a result, the process involves various tie-dye resist techniques. Special skills are required to create these sarees by weaving precise patterns. This premier form of ikat is one of the most expensive saree types as proper skills and a great amount of labor are involved to create these.

Different designs of patola sarees:
Four different patterns are there, which are basically woven to create patola sarees. In the Hindu and Jain communities, double ikat sarees are woven with the entire designs of flowers, parrots, dancing figures and elephants. At the same time, the Maharashtrian Brahmin wear patola sarees with dark colored and plain body and borders. Sometimes, a bird design is also created in these sarees, which is popularly known as Nari Kunj. On the other hand, Muslim people wear patola sarees with flower patterns and geometric designs on the special eves of their life like weddings and other important occasions.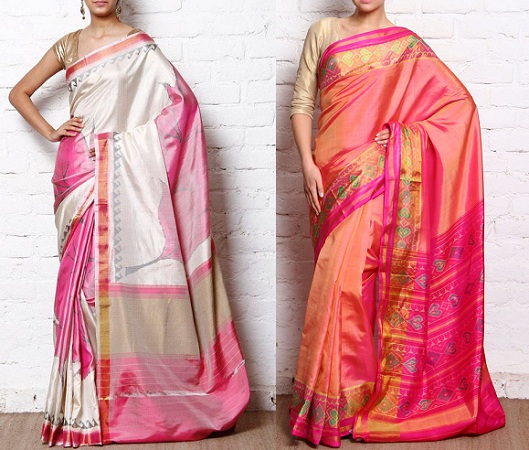 How to recognize patola sarees?
It is quite simple to recognize patola sarees through the different and colorful flower motifs, elephants, parrots, dancing figures and geometrical patterns. These sarees mostly look similar from both sides as both sides of these sarees have similar designs and color intensity.
So, before buying this saree, you should check the weave for finding out the tell-tale zigzag ikat pattern where it is possible to see the white thread weave. But in some cases, these patterns are also painted in these sarees instead of weaved. One thing to consider is that painted patolas are not real. Therefore these must be avoided.