Priyanka Chopra is one of most versatile actress in Bollywood and so are her dresses. She has the knack for pulling off the most daunting and fascinating dresses in style and look ravishing too. She has that magical attitude that makes her so special. Her commitment for work and fashion is just unflinching.
Priyanka has great fashion sense that shows in each and every appearance of her in any movie, serial or an event whether it is in India or abroad.  Her passion for fashion is evident in the way she has chosen every gown for each and every event in her milestone career.
According to Priyanka Chopra she does not pre-decide the dress that she will wear on an event. It is the way she feels on the day, that makes her decide her choice of dress and color. She says "I can't be put in an outfit if I'm not feeling it". This tells us how she creates the feeling that we can see every time that she poses for photographers at all major events whether it is the Miss World Pageant or the ABC show Quantico, 2016 People's Choice Awards or any other red carpet event.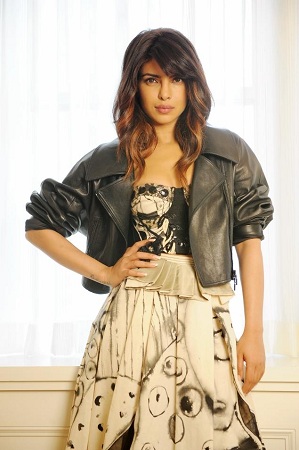 Her outfits include her special footwear for which she has deep fascination. She has a massive personal collection of most high end brands like Jimmy Choo, Louboutin, and Doir. The fascination is so deep that she has almost every single design for these high ends in her foot rack. Not only does she attract attention on her most daring and stylish outfits, but also the most gorgeous and smart footwear.
MTV Music Awards 2013:
PC the rock star bowled each and every person present on the occasion with her simple vintage poster printed gown. The gown was a simple turtle neck, full sleeve gown without any risqué cuts. However, she bagged all the attention with the backless outfit that fitted her body like a second skin.
Britannia Film fare Awards 2014:
On this night Priyanka floored all by the self textured uneven gown by Elena Perseil. This was the first time such a gown was worn on an Indian red carpet. Priyanka the diva is the only one who could have risked such an outfit at such a function, but she has the guts and confidence to pull off the no risqué outfit by the sheer confidence that she exudes from her style.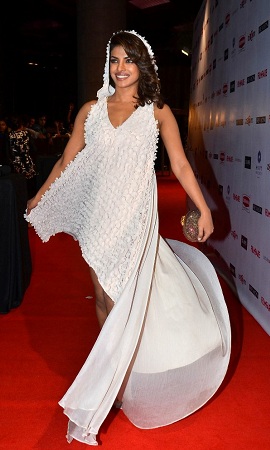 PC at Fashion Awards Ceremony:
On a fashion awards ceremony Priyanka Chopra donned peach colored turtle neck Victoria Beckham crop top and skirt to completely stun one and all. This outfit was enough to show off her fashion style and her passion for fashion. Priyanka also gave a strong message to people that fashion style is to experiment and evolve and not just follow.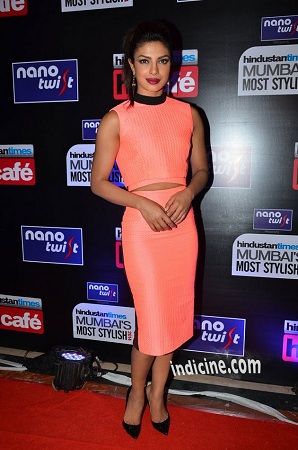 Cocktail Party on release of her single in New York:
She completely rocked all the guests present at the release of her single at a cocktail party hosted by a paper magazine by wearing the bold backless outfit by Prabal. The outfit completely mesmerized the guests and she stood far ahead of her competitors in style.
Oscar Awards Ceremony:
At the Oscar award ceremony she once again stunned the entire fraternity with the creation of Lebanese designer Zuhair Murad when she was called on stage along with Live Schreiber to present the award for the 'Best Editing' category. She mesmerized the entire crowd with her dress and the way she carried off the ensemble.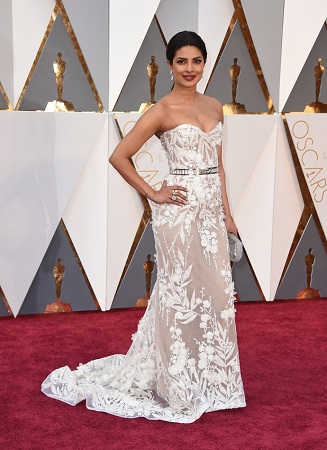 2016 People's Choice Awards Ceremony
She just looks gorgeous and stunning every time she steps out for a red carpet event. She has just that right amount of sparkle in her to catch the attention of every person in the event. She is not afraid to show her bold style of fashion which was very much there when she wore the silver and gold Vera Wang  dress at 2016 People's Choice awards.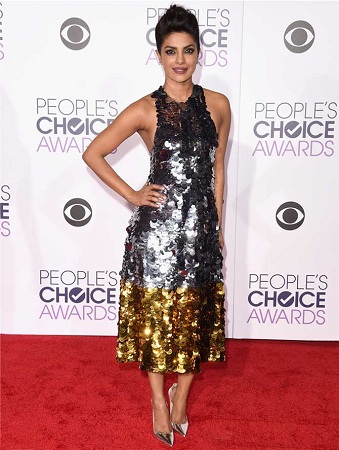 International Film Festival
She has that athletic shape and body that allows her to look absolutely flawless like the way she did at the premier of Mary Kom at Toronto International Film Festival. The Gauri and Nainika dress and in fact the entire ensemble looked just perfect for the occasion the way she wore and presented herself.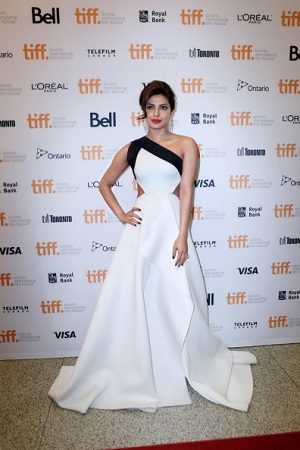 Star Guild Awards:
Again Priyanka made a dashing effect on her fans by wearing the Toni Maticevski outfit. Priyanka looked so ravishing in the outfit that it became hard for fans to keep their eyes off Priyanka. She carried the outfit with elan and it looked effortless.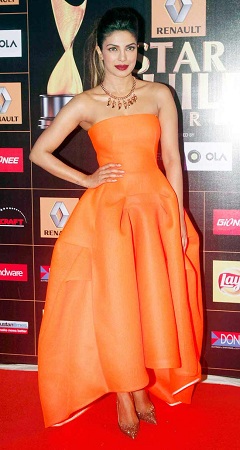 She has the style and the charisma that everything that she does looks perfect and stylish. She makes the outfit look even more beautiful the way she presents herself and she looks completely at ease with the dress.
Fashion Lessons from Priyanka Chopra:
All Voluminous outfits are not Misfits:
Most people believe that voluminous outfits are not good for their figure. This is not true. Yes women with heavy back may have problems with a voluminous outfit but most Indian women can take cue from Priyanka who has shown time and again that with ankle grazing skirts or dresses you could look like a modern day princess.
Try new Styles instead of tried and tested styles:
Priyanka has shown that experimenting with new styles, hemlines, prints, textures and fabrics can be interesting and help you create your own new style. Instead it is good to try new styles and modern fabrics as they will give you a unique style that is different from others.
Risk with daring styles:
Priyanka Chopra is considered as the epitome of fashion sense in Bollywood because she has risked her career and image by trying new styles, cuts and fabrics that many settled actresses don't try in order to save their career. If you are in the fashion business or wish to create a name in fashion then try daring styles, plunging necklines, exposing fabrics and super styles.
These styles look risky but are pretty safe if you have the confidence and attitude, you can carry off any outfit and create a name for yourself.