If you associate ruffles with the 15th and 16th centuries, you are not on the right track. It was a popular trend during that period and you may find several portraits of aristocratic ladies wearing marvelous dresses with ruffles on their neckline. But the trend has stood the test of time and evolved in such a way that even the modern women have embraced this fashion. Designers and the popular brands of outfits all over the world have explored ruffles and gave them modern looks to make it suitable in the present era. Any fashion can be the fashion of the day if you wear it in an intelligent manner. The most important part lies there. How to wear them? As you read on, you come to know about the various ways in which you can wear ruffles.
The Everyday Office Look:
Going to the workplace is your daily pilgrimage, whether you like it or not. Whatever be the case, you need to look good even in your boring office attire. That's one of the most difficult things to achieve. But that's not impossible. With the ruffled blouse that suits your office look, you can look both fashionable and formal. You can pair it with the right kind of trouser that goes well with it. You can also pair it with a pencil skirt and steal away the attention of your colleagues.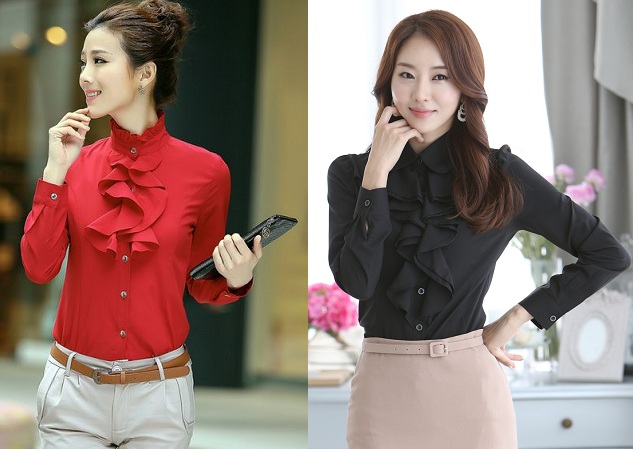 Ruffled Sleeves:
You can make your sleeves the center of attraction by wearing the ruffled sleeves. A regular dress with chic ruffled sleeves will result in a rare combination of the elegant and the casual. This will be the best way to look casual with a touch of elegance to it that not only makes you worthy of attention but is also perfect for a day out.
Ruffled Skirt:
Ruffled skirts have the lady look that is much coveted by most women. Just visualize yourself flaunting the frills on your ruffled skirt and arresting the gaze of your onlookers on the streets! Yes, it can't be better! It is the ruffled skirt that goes with any kind of top such as shirts, crop tops and even cool cropped T-shirts. So, it is time to celebrate the stylish woman in you with ruffled skirts.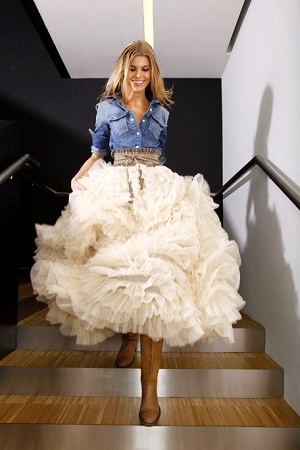 Enhance Your Features And Make Up For The Troubled Spots:
Ruffles can enhance your features and also, at the same time, fool your onlooker's focus of attention away from the trouble zones. Yes, you can balance your long neck with neck ruffles, add volume to your bust with horizontal ruffles, make shoulders seem broader with ruffled sleeves and so on. If worn in an intelligent way, ruffles can be one of the best ways to enhance your features and hide your shortcomings.
Avoid Accessories:
The best way to do justice to ruffles is by avoiding accessories. This is because ruffles are like accessories themselves. They are the key attraction of the outfit you are wearing. It enhances your look and has the potential to arrest the attention of your onlookers. When ruffles are there, accessories are redundant. Moreover, accessories, added to ruffles, can spoil your outfit by making your appearance louder.
Ruffled Necklace:
If you are too keen about accessories, then you can make ruffles your accessories. No, not as extensions of your outfits. Rather, as individual accessories. The ruffled necklace can serve the dual purpose of a frilled neckline and a necklace. The ruffled necklace, which can be available in many colors and which can be made at home (provided you are good with needles), can be the center of attraction in your whole attire. You can own a number of these necklaces of different colors and styles a flaunt each one of them on different occasions.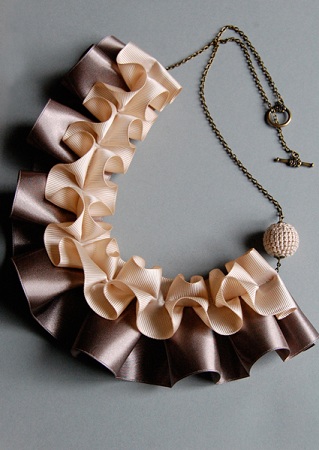 With these ideas, you can add yours and can come up with better and innovative ways to wear ruffles. You can experiment with these ways and make yourself look outstanding for any occasion ranging from a casual day out to partying with your friends. In any occasion, you can steal away all the attention if you know how to deal with ruffles like a pro.