The advent of jeans has revolutionized the fashion world and eventually it has become a part and parcel of every wardrobe, irrespective of gender and age. Made of dungaree or denim cloth, this innovation was not meant for everyone in the past, rather was designed for heavy workers who did heavy physical work like miners. Later it became famous style statements for cowboys that everyone admires. The journey of jeans in the fashion industry is quite ecstatic. Different styles and designs have emerged since the dawn of jeans. To make a proper style quotient it is important to learn about the type of shoes that go best with a pair of jeans.
All about Jeans:
Jeans are a type of trousers that are usually made from denim cloth. Jeans was invented by Jacob W. Davis in partnership with Levi Strauss & Co. In 1871, the partners got the idea patented in 1873. Before the patent was filed, the term blue jeans were used by a number of people to indicate trousers and pants, which were blue in color. Jeans were originally designed for cowboys and miners, as they were the ones who worked in rugged conditions and needed a clothing material that was comfortable yet durable at the same time. In the middle of the 1950s, jeans became immensely popular among the teenagers, especially the members of greaser subculture. The people belonging to this subculture use to work in heavy mechanical industries like shipping or motorcycle manufacturing. The popularity of jeans continued to skyrocket due to its rugged and tough style statement, and it became one of the most sought after fashion icons of the 1960s and onwards. Famous brands like Wrangler, Lee, and many others bought the rights to manufacture jeans and till date jeans remain the most popular casual style clothing. With time, numerous types of jeans came into the market. The contemporary fashion platform has varieties of jeans to adore. The most popular style of jeans that are available in the market is as follows-
Skinny Jeans;
Slim Jeans;
Straight Jeans;
Cigarette Jeans;
Boot Cut;
Low Waist;
Narrow Bottom ;
Bell Bottom;
Flare;
Distressed jeans, which are a common term for worn out and old jeans is a common trend among the fashion world. Because of this trend, pre-factory distressing is a common process which the jeans undergo before leaving the manufacturing unit.
2010 saw increased sales of jeans, as a casual wear around the world. Though jeans come in many styles and colors, blue jeans are mainly associated with American Culture and the Wild West. The blue denim probably is the most sought color that everyone falls for. The toughness of the material imparts protection to the person who does strenuous jobs like cattle bearing, mechanical work or motorcycling. The rugged and durable material fit the personality of the tough people. Wearing a pair of jeans implicates one's tough daily life in the past but now it is worn to make a cool fashion statement.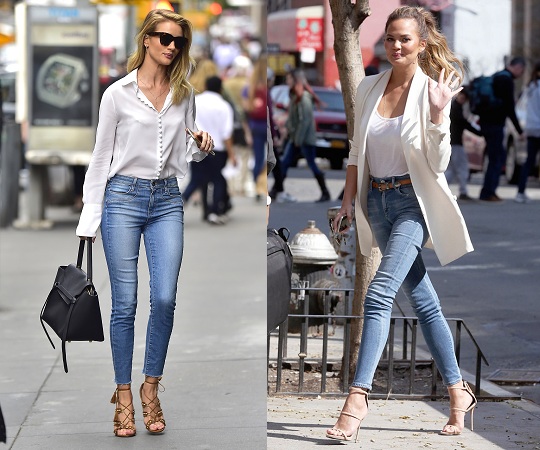 About Skinny Jeans:
Slim fit pants, commonly known as skinny jeans, are probably the most widely sold variety of jeans around the globe. Though these types of jeans didn't appear on the market until late 1950, the style of wearing narrowed pants goes as long as 1660. In 1660, people in parts of Europe used to wear, skinny and slim down pants, which served as a necessary part of their daily wardrobe.
When Skinny Jeans first came into the market, they were known as drainpipes. Commercial manufacturing of skinny jeans started in the early 1970s. Slowly and steadily the jeans gained popularity and celebrities like Elvis Presley and Bon Jovi was seen carrying it with style in the mid-1980s and 1990s. In 2010, skinny jeans came as a trend in men's fashion and men from all corners of the world are seen wearing them on a daily basis. Skinny jeans reached their popularity among both genders in this contemporary era. The trend spread like a wildfire and men and women from all over the world are seen including skinny jeans and also chinos in their wardrobe.
Medical Conditions Associated with Skinny Jeans:
Though a pair of skinny jeans is a fashion statement, there are a number of medical conditions associated with it. Below is list of the various claims made by eminent doctors and medical practitioners-
During the Victorian Period, doctors claimed that wearing skinny jeans was the main cause of the outbreak of apoplexy in New York. This claim was not proved, and it is highly doubted by doctors today, as the medical concepts of that time were not so strong and well developed.
In today's world, some doctors believe that skinny jeans cause numbness due to the compression of nerves for long hours. Due to this, people start suffering from meralgia parenthetical.
A recent study conducted by the Korean Doctors Association found that skinny jeans cause a disease known as varicose veins. The study also found that skinny jeans cause dyspepsia among men. It is a condition caused due to the prolonged overheating of tests and groin region of males.
A documentary recorded in 2015 showed that skinny jeans causing diseases like bilateral peroneal and rhabdomyolysis.
Shoes with Skinny Jeans:
In today's world, everyone has at least one skinny jeans in their wardrobe. Skinny Jeans is a style quotient among the contemporary youths but a perfect pair of shoes is required to go with the pair of skinny jeans. To help you in assisting with choosing the perfect shoes for the perfect attire below is a list of amazing ideas-
Classic Sneakers– Classic Sneakers is arguably one of the most on demand shoes at the moment. If you choose wisely, classic sneakers are the best shoes for your skinny jeans.

Converse– Though Classic Sneakers is at the top of the best shoes to go with your skinny jeans; you can never go wrong with an all white converse. Go for contrasting colors to make a bold statement.

Flat Sandals– If you are going for a casual walk to a shopping complex or to get your daily coffee to the corner Starbucks, flat sandals go best with skinny jeans. Simple yet classy, Flat Sandals are your best fallback option for your daily casual walks.

Pointy Flats– Pointy Flat shoes are not only your daily wear, to and from office. Pointy flat shoes go parallel with your skinny jeans if you choose the right color and right design.

Slip N Sneakers– The other on-demand shoe at the moment other than the above is slip N sneakers. Choosing the right colors and the right design can have a great impact on how you look and feel. Experiment with different colors and designs and you will be on the top of your friend's fashion statement.

Wearing the right shoe with the right jeans can make a great change in your style statement. Trust your instincts for the right color that goes with your looks. There are a lot of options out there for choosing the right design. Think wisely, do your research and you will look great in your next office party this weekend or that long awaited picnic with your beloved ones.